Chilli Beach, a must-visit destination on the way north to the rip of Cape York, is sandwiched between the reef and the rainforest. It is near the north-east boundary of Kutini-Payamu (Iron Range) National Park, reached by 4WD off Portland Roads Rd. The best time to walk Chili Beach is on an outgoing or low tide, when there is plenty of beach. Check the tide chart at Portland House.
Chilli Beach is an excellent spot to see the many coastal and seabird species that freuent the area, including pied oystercatchers, little terns and white-bellied sea-eagles. The spectacle of the metallic starlings flocking offshore from Chilli Beach can be seen during the warmer months from September to April. Palm cockatoos large black parrots with distinctive crests and red cheeks can sometimes be seen feeding on the ground around the camp sites. Double-eyed fig-parrots small green parrots with pale grey beaks may also be seen.
Spotlighting at night around the road or camp sites at Chilli Beach may reward visitors with a glimpse of nocturnal birds, including owls, owlet-nightjars and Papuan frogmouths as well as snakes, frogs, giant tree geckos and mammals, such as spotted cuscuses, striped possums and sugar gliders.
Chilli Beach has a popular campite. From this campsite for self-sufficient campers you can take the 5 km walk to the mouth of Chilli Creek at the southern end of the beach. Chilli Beach is 32 km north of the ranger headquarters and 24 km east of the Gordon Creek camping area. Chilli Beach and campsite campsite is located in Kutini-Payamu (Iron Range) National Park. Advance bookings are required for camping.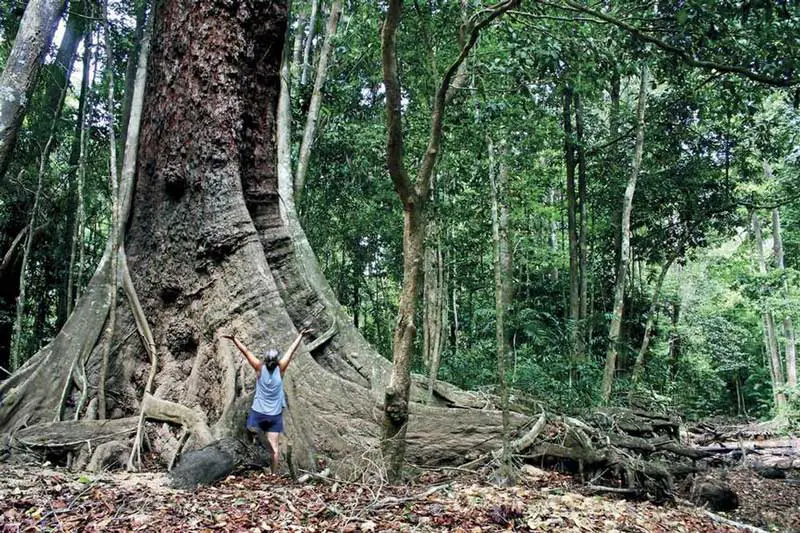 Kutini-Payamu (Iron Range) National Park
Protecting a range of magnificent wildlife, including the palm cockatoo and green python, Kutini-Payamu (Iron Range) National Park is a stunning natural reserve on the east coast of Cape York Peninsula. William Bligh landed here in 1792, goldminers came through in the 1930s and American troops were sent here during World War II. Access to the national park is by 4WD only. This coastal park offers spectacular views from the beaches and headlands to the heath-covered Tozer Range, which rises 543 m above sea level. The park is also of international significance as it contains the largest remaining area of lowland rainforest in Australia. The National Park has four camping grounds, numerous walking tracks, four wheel drive tracks and allows trail biking in sections of the park. Fishing is not permitted in any freshwater rivers or creeks within the national park.
The Gordon Creek bush campground is on the banks of Gordon Creek at the Portland Roads Rd, about 8 km north of the ranger HQ and less than a kilometre west of the Cooks Hut camping area. There are no facilities so you need to bring self-sufficient supplies, including water and a gas/fuel stove. Advance bookings are required for camping.
Cooks Hut is near the Rainforest camping area on the banks of the Claudie River, near the junction of Portland Roads and Lockhart River rds. The campsite surface is a combination of dirt and grass and there are 4 defined campsites within the space. There is a hybrid toilet but the site is for self-sufficient campers only. A recommended activity is the 10 km return bushwalking track from the Rainforest camping area through open woodland. Advance bookings are required for camping.
Pascor River crossing on the way to Chilli Beach
Roads into and on Kutini-Payamu (Iron Range) National Park are suited to four-wheel-drive vehicles only. The roads and camping areas are not suitable for caravans. Turn off the Peninsula Development Road onto Portland Roads Road 35 km north of the Archer River Roadhouse. Drive 97 km along the well-formed gravel road to its junction with Lockhart River Road. From here, continue along Portland Roads Road to Rainforest (3.9 km), Cooks Hut (4.8 km) and Gordon Creek (5.5 km) camping areas. A further 17.4 km past Gordon Creek is the turn-off to Chilli Beach camping area (which is an additional 6 km from that junction).
Campers must be self-sufficient. The only facilities provided are toilets at Chilli Beach and Cooks Hut camping areas. Take plenty of drinking water there is no fresh water available in the park.
Important: Crocodiles live in the rivers, creeks, along the coast and offshore of Kutini-Payamu (Iron Range) National Park (CYPAL). Crocodiles are potentially dangerous to people. Never take unnecessary risks in crocodile habitat. You are responsible for your own safety, so please follow these guidelines and be crocwise in croc country.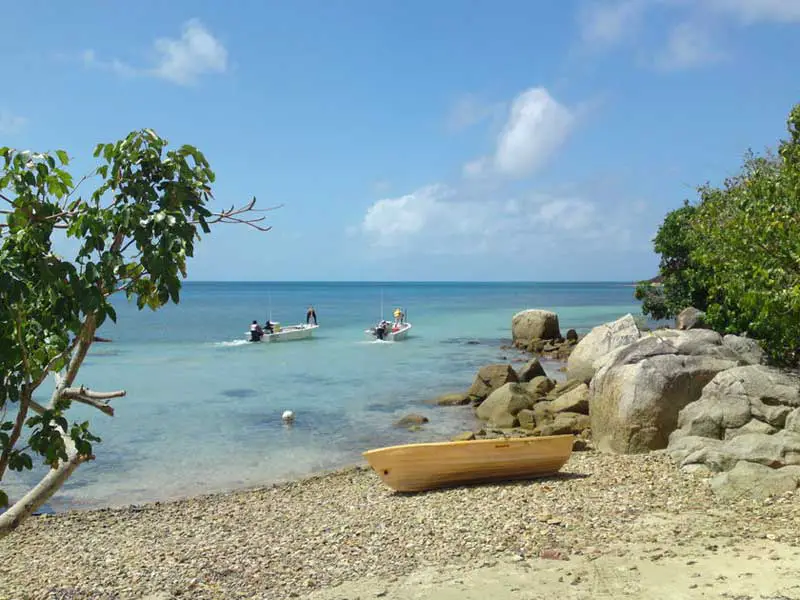 Portland Roads
Named by Lt James Cook in 1770 after the Duke of Portland, the latter part of its name is an old maritime term 'roadstead' or 'roads' a place where boats could safely shelter. After hours of jarring roads, the last stretch of the drive is much gentler and a sign of things to come at this little corner of paradise miles from anywhere. It one one of the smallest communities on the peninsula but offers a warm wecome to those willing to put in the hours to get there. Get the locals to open up about the area and they'll share with you about indigenous stories from centuries gone by, the early European maritime explorers who passed by here, the ill-fated Kennedy expedition of the 1840s, the gold rush, and tales of more recent times. Talk a walk along the wateffront and see rangipanis and palm trees and feel the south-east breeze coming in off the Coral Sea.
The Out of the Blue Cafe has built up a reputation as The best on the Cape, specialising in locally caught seafood and homemade desserts. Bookings are essential for evening meals as they are a small facility and often fully booked. Contact Greg and Sheree on 07 40607161.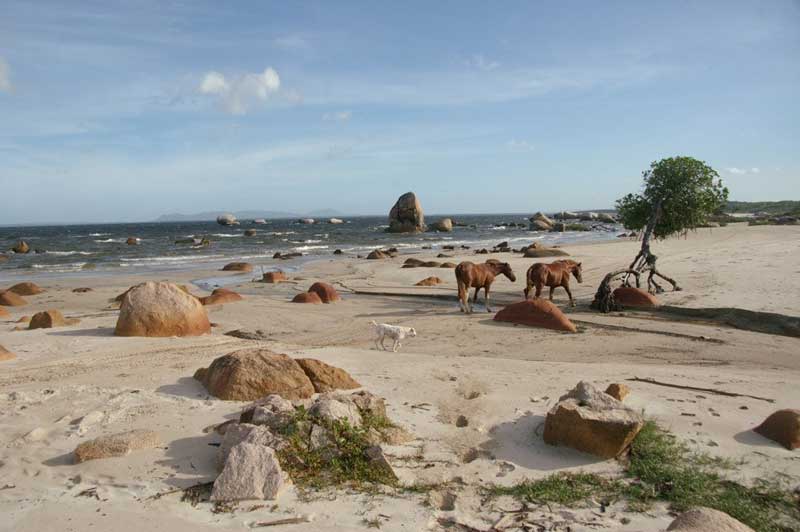 Quintel Beach, Lockhart
Lockhart River
Formerly an Anglican Mission and a centre for Sandalwood trade, Lockhart River covers 354,071 hectares with an approximate population of 800 people with the majority being of Aboriginal or Torres Strait Islander origin. The Lockhart River Community comprises the Kuku Ya u, Wuthathi, Umpila, Kanju and Uuthalganu peoples plus a number of smaller clan groupings is located on the northeast coast of Cape York Peninsula (directly opposite to Weipa) and approximately 800 kilometres North of Cairns. Lockhart has a vehicle repair and service centre, health clinic and a retail store where EFTPOS is available (maximum of $100 cash out). It stocks sufficient foods for day to day living and diesel and unleaded fuels are available at the bowser. The community has an airstrip airstrip run by the Lockhart River Airport Corporation. Contact Lockhart River Aboriginal Shire Council on 07 4060 7144
The artists of Lockhart River Art Centre have been recognised for many years, both nationally and internationally, as 'The Art Gang'. The Art Gang formed in 1995 with a group of young artists just out of school. In the same sense that those who worked on the roads were called the 'The Road Gang', this young group of teenagers worked on art. Today, many artists spanning different generations visit the art centre to work in the mediums of acrylic painting, ceramic, weaving and carving. In addition, many others come in on an ad-hoc basis to paint when they feel like it or as part of our community development activities. Open 9am-5pm Mon-Fri, closed in December. Phone: (07) 40607341.
Iron Range Airfield
Iron Range Airfield, also known as Lockhart River Airport was built by the United States Army during World War II. They also built a road from Portland Roads inland to the airfield area. Three runways were built: Claude 1, Claude 2 and Gordons (bomber strip) for use by the U. S. Army Air Force medium and heavy bombers. The Gordons runway is still in use today, known as "Lockhart River Airfield". The other two runways are disused since the war and overgrown. A Memorial Wall was established on ANZAC day, 25th April 25, 2005 to remember those who were based here during the war, and specifically the eleven personnel who were killed during the night of 15th November 1942, when B-24 Liberators of the 90th Bombardment Group took off on their first mission against Rabaul, one of which crashed and three others were damaged.