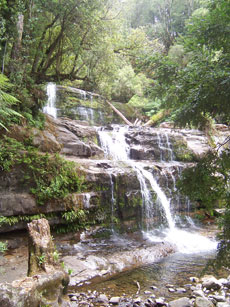 Liffy Falls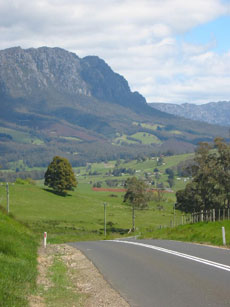 Gt Western Tiers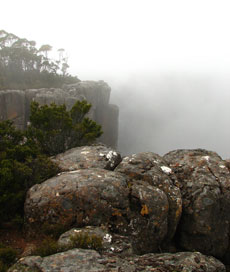 Devils Gullet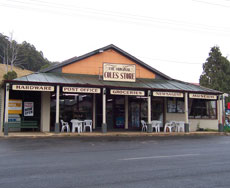 The original Coles store, Wilmot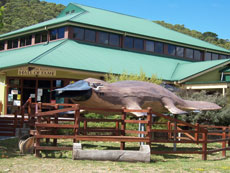 Giant Platypus at the Australian Axeman's Hall of Fame, Latrobe

One of the unusual letterboxes near Wilmot

Marakoopa Caves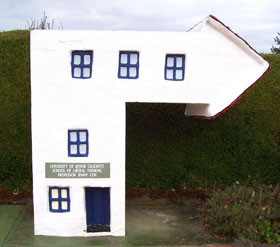 University of Lateral Thinking, village of Lower Crackpot
The Great Western Tiers are the northern face of the Tasmanian Central Plateau, which rises up to 1420m above sea level and is dominated by Cradle Mountain. In the foothills of the Great Western Tiers can be found a wide range of attractions both man made & natural which can be explored on this drive.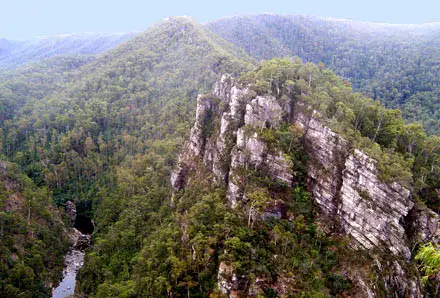 Alum Cliffs
Allow a full day for the drive; add additional time if you are contemplating taking any of the bushwalks in the area or spending more time than a quick visit. The Great Western Tiers are the gateway to Tasmania's best known National Parks - Cradle Mountain, Lake St. Clair and Walls Of Jerusalem - as well as an alternative route to the west coast of Tasmania.
Location: north western Tasmania.
Length: 170 km plus additional travel to points of interest within the region
Suggested return journey: this drive is a loop that starts and finishes at Devonport. Due to its proximity to Launceston, it can also start and finish there. In such instances, drive to Deloraine from Launceston rather than Devonport. Other details of the drive are the same.
Features/attractions: Mole Creek caves - 300 caves and sinkholes including Marakoopa and King Solomons Caves; scenic lookouts - Devils Gullet Lookout, Alum Cliffs, Walls of Jerusalem; waterfalls - Lobster Falls, Meander Falls, Liffy Falls; bushwalks - Cradle Mountain, Lake St. Clair, Marakoopa Fern Glade Walk, Pine Lake Walk, Alum Cliffs, Walls of Jerusalem NP.
Minimum duration (one way): 3 hours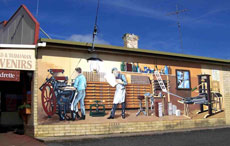 What You Will See: on the way to Deloraine you will pass through the historic town of Latrobe (Australian Axeman's Hall of Fame; Giant Platypus). The drives passes through Railton (turn-off to Sheffield, 14km away, with its famous murals, see photo right) and Elizabeth Town, where you can indulge in chocolate, cheese (Ashgrove Cheese) and berry tasting (Christmas Hills Raspberry Farm). Breakfast or morning tea at the Berm Farry is highly recommended. Picturesque Deloraine is the gateway to the Gt western Tiers. Take Lake Highway south as far as you choose to go before returning to Deloraine (Visitor Centre; Sculpture Trail; museums; arts and crafts galleries; YARNS Artwork in Silk; venue for the Tasmanian Craft Fair, held every November). Off this road and worth a look are Liffy Falls, Quamby Bluff, Meander Falls, Drys Bluff and Quamby Bluff (1,226m), Pine Lake Walk. If time permits, the historic villages of Westbury (hedge maze; Steam World museum) Prospect, Hadspen and Carrick on the road to Launceston are worth visiting. They feature a range of dining places, and arts, crafts and antiques galleries.
From Deloraine, travel west towards Mole Creek. On the way you will pass Trowunna Wildlife Park (Tasmanian Devils are hand fed here); the Tasmanian Devil Research & Education Centre; a couple of honey farms; turn-offs to Alum Cliffs walk and lookout, Meander Falls.
The village of Mole Creek is central to Lake McKenzie (recreational fishing); Marakoopa and King Solomons Caves (underground streams; glow worms, rim pools, shawls and flowstone); Devils Gullet (views of the Fisher River valley).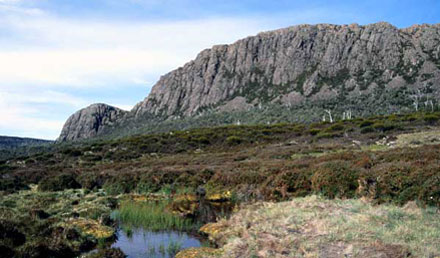 West Wall, Walls of Jerusalem National Park
From Mole Creek, continue west through the foothills, following the signposts first to Cethana, then Wilmot. You will pass Lake Cethana and the Cethana and Wilmot Hydro electric power stations. Upon reaching Erriba with Lake Barrington on the the right, the Great Western Tiers are behind you and ahead are the rolling hills and rich farmlands of Tasmania's north west. The quaint village of Wilmot is home to the original Coles store (stop for a souvenir) and an historic church. Follow the road from Wilmot to Devonport on a road lined with the most interesting and unique array of letterboxes you are ever likely to see.
The Whimsical village of Crackpot
If you see a signpost to the village of Lower Crackpot, take it. The very popular Village of Lower Crackpot at Tasmazia is a whimsical model village built to 1/5th scale. Each building has a story to tell, and is connected to real people. There is the Cathy Freeman Sports Centre. Sir Joh Bjelke Petersen is the member for Lower Crackpot, complete with ivory tower. The village is dedicated to all those in middle life who, in this new economic age, are 'adjusted' out of their jobs, professions, businesses, farms, careers and thrown onto the economic scrap heap, there to start again, some way, as happened to its creator, Brian Inder at age 54. The village, at the entrance to Lake Barrington International Rowing Course, is meant as an inspiration to these people - you can pick yourself up and succeed in a new life, you can thumb your nose at the "new order" and still have a ball.