Alexandra Headland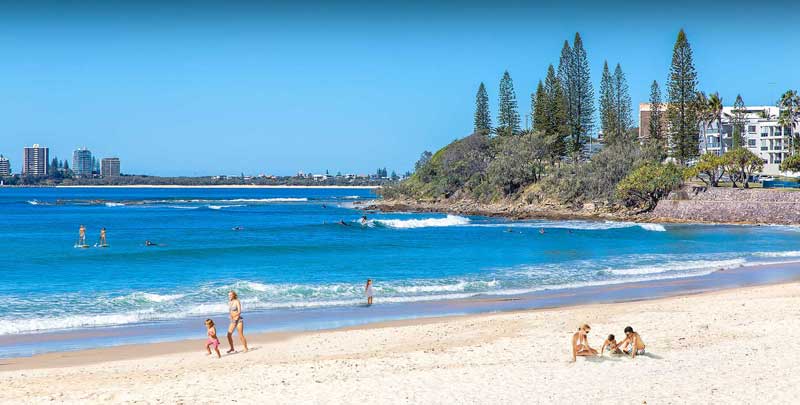 Alexandra Headland, known to the locals as 'Alex', is a coastal community located on a beautiful spot on what is known as the Sunshine Strip - it sits between Mooloolaba and Maroochydore. The town, with its laid back atmosphere and inviting beaches, has become a popular spot for surfers.
Location: 100 km north of Brisbane on the Sunshine Coast.
Plan And Book

Alexandra Headland beach and its surf lifesaving club are located 2 km to the south, 300 m north of the headland. The club house and adjoining foreshore reserve are wedged between the main road and the beach. The club was founded in 1924, indicating the long popularity of this beach. While waves are usually 1 m or less, care need be taken on these beaches owing to the common presence of rips and the rocks on the headland beach. The northern end of Maroochydore Beach also contains deep tidal channels and shifting bars and is particularly hazardous. Likewise, there is a strong permanent rip against the rocks at the southern end of Alexandra Headland Beach.
The best surfing spot is the break off Alexandra Headland. It works in a moderate to high swell and can provide some good right-handers. There are also beach breaks all the way up to the river mouth. The river mouth and the headland are the most popular fishing locations, together with beach fishing into the rip holes, when present.
Brief History
The land was subdivided and sold as allotments along the ocean front and Buderim Road in August 1915. It was during this time that O'Connor renamed the area Alexandra Headland. Seaside cottages were built on the Headland during the 1920s. These were mostly built by the local residents from Woombye and Palmwoods. With the ensuing upgrading of transport services and roads as well as further land sales saw the continued progress of Alexandra Healdand as a holidays resort. The Headland now boasted a holiday resort with all facilities, including a patrolled surf beach on its northern edge.
Origin of name: Potts Point was the original name given to the rocky headland between the estuaries of the Maroochy and Mooloolah Rivers. It was named after John Potts, William Pettigrew's (prominent land owner and businessman) overseer. It was renamed Alexandra Headland in honour of Queen Alexandra.