Buderim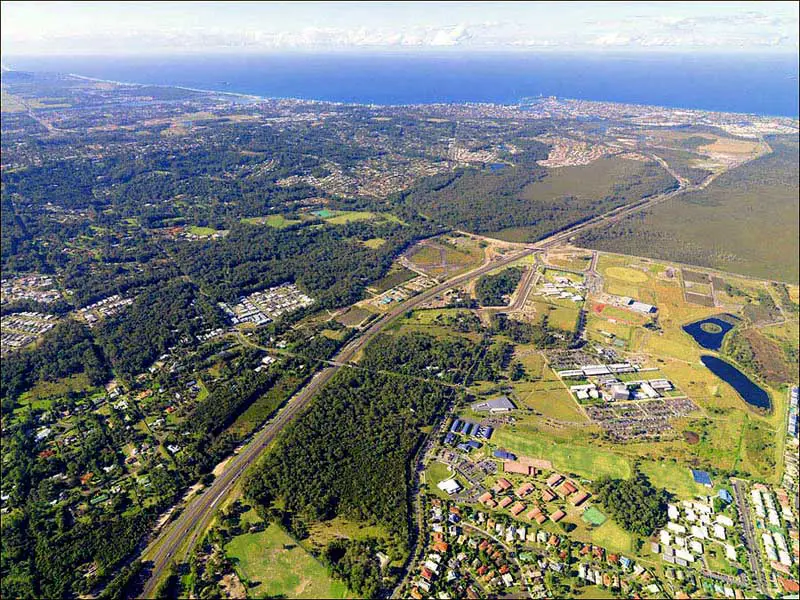 An attractive, leafy and tree-lined township on the ridge above the holiday resort towns of Maroochydore and Caloundra.
Location: 92 km north of Brisbane.
Substantial rainforest remnants remain around Buderim, especially in the protected area known as the Foote Reserve which provides well-maintained public walking paths and BBQ facilities. There is also ready access to the picturesque Buderim Falls. The area is home to an abundance of native wildlife, notably colourful king parrots and lorikeets. Brush turkeys are also a common sight, as are families of kangaroos and wallabies.
Plan And Book

Buderim Forest Park
This is a 45 hectare secluded oasis, hidden on the northern side of Buderim, less than a kilometre from the Buderim Village. This is a rainforest world of tall trees, ferns, babbling waterfalls, cascades and bird calls.
The upper entry point at the base of Quorn Close has a good amount of parking and a memorial garden in memory of Edna Wallings. Edna is famous for creating many gardens around the world and actually retired here to Buderim in Lindsay Road. Also at the top you will find picnic tables and barbeque facilities.
The lower Lindsay Road entry begins with a huge park, there are electric barbecues and picnic tables available. At the end of the short loop road, you will find an elevated wooden boardwalk, which carries you through the forest, criss-crossing Martins Creek at several spots. The boardwalk is excellent for disabled walkers and wheelchairs. Ultimately this walkway becomes a fairly rugged trail which is not suitable for anyone with walking difficulties or a low level of fitness. Keep following this trail and the reward is a sensational wander through serene bushland along the creek, past babbling cascades and ultimately to the Buderim Falls.
Buderim Ginger
For 70 years Buderim Ginger has been the home of the some of the world s finest ginger. Situated in Yandina, on Queensland s beautiful Sunshine Coast, Buderim Ginger s products are superior in taste. A visit to the Ginger Factory is one of the Sunshine Coast s largest and most popular tourist attractions. Drop in and enjoy educational tours, entertaining rides, great shopping facilities and a whole lot of fun. See how ginger is grown, harvested and turned into a delicious range of products. Then taste for yourself and discover why we produce The World's Finest Ginger. Located at 50 Pioneer Road, Yandina, The Ginger Factory is just over an hour's drive north of Brisbane.
Pioneer Cottage
Buderim contains a significant heritage relic of the early days in the form of Pioneer Cottage, restored and cared for by the Buderim Historical Society. Between 1915 and 1935 a railway ran from Buderim to Palmwoods, carrying a wide variety of produce. A substantial section of the old track has been cleared and now provides a fine scenic walking trail. The magnificent old Krauss steam locomotive which previously hauled the carriages along this track is currently undergoing restoration and is already on static display. Location: 5 Ballinger Cres, Buderim. Ph (07) 5450 1966.
Foote Sanctuary
Situated on the ocean side escarpment of Buderim, the beautiful Foote Sanctuary is a tranquil, idyllic place to visit. It provides short and longer walks in peaceful calm, surrounded by lovely trees and birdsong. The walks themselves range from super easy to more difficult but all are manageable and there are tables and BBQs if you want to stop for lunch. A large rotunda provides shaded seating with plenty of room nearby for the kids to run around.
Buderim Lions Park
What appears at first to be just another local park, Buderim Lions Park offers far more than first impressions indicate. Besides BBQs, picnic tables, toilets and a children's playground, there are grassed areas and a coffee shop nearby, but the major reason visitors come here is its location. Being at the top of Mt Buderim, it offers extensive views out across the Sunshine Coast and out to sea. On a clear day Stradbroke Island is clearly visible in the background beyond Kawana Waters, Little Mountain and Caloundra. Location: Burnett Street, Buderim.
Brief History
Richard Jones was the first of many timber getters who moved through the area in 1854, eager to extract the cedar, beech and pine trees from the mountain forests. The town was first surveyed in 1869 and the following year houses were built and crops of sugar cane, citrus fruits, bananas and coffee planted. The first sugar mill was built in 1876. At that time the local farmers had begun using Kanaka labour on their sugar plantations. The crop which did the most to boost the economy - ginger - was first grown in the area as early as 1916 although it wasn't until 1941 that the Buderim Ginger Growers Co-operative Association was formed. By the 1970s, Buderim had become one of the country's major producers.
Origin of name: from the early times of European settlement the mountain was known as Buderim, though it was sometimes spelt 'Badderam' and 'Budderum'. It it is now widely accepted as being the local Aboriginal word for the hairpin honeysuckle which flourished on the mountain.