Caboolture
A pleasant commuter town north of Brisbane that acts as the southern gateway to the Sunshine Coast. It services the local industries which include dairying, mixed farming, timber, cattle and tropical fruit.
Location: 45 km north of Brisbane; 15 m above sea-level.
Plan And Book

Caboolture Markets
A very busy market with many owner operated stalls, it's easy to pick up a bargain especially around closing time for fresh produce. Open every Sunday morning at the show grounds. Location: Cnr Beerburrum Road and Old Gympie Road, Caboolture. Ph (07) 5495 2030
Caboolture Regional Art Gallery and Library
This excellent regional gallery has a workshop program with artists talks running regularly through the yea. The smaller gallery outside the main gallery is a great place to see local and emerging talent. Location: Caboolture Hub 4 Hasking St, Caboolture. Ph (07) 5433 3700.
Abbey Museum of Art & Archaeology
One of, if not the finest collections of ancient and medieval artefacts in Australia. The Museum takes visitors on a journey through the centuries from prehistoric hunters, the age of bronze and gold, Rome's iron legions, fierce Saxon and Viking invaders, plague-ridden towns, knights and manors, the clash between church and state, Europe's golden age of Renaissance, the Industrial Revolution and distant empires.
Location: 1-63 The Abbey Place, (off Old Toorbul Point Road), Caboolture. Ph (07) 5495 1652
Caboolture Historical Village
Caboolture Historical Village houses a wonderful collection of over 100,000 historical items restored and displayed within more than 70 buildings in a pioneer village setting. See demonstrations of historical skills such as the village blacksmith, wood crafting and others.
Within the grounds of the Caboolture Histori Village is the Avicultural and Poultry Museum. Apparently it is the only type of museum like this in the southern hemisphere. A little gem of a place, it has interesting displays on pigeons in war, poultry in farming, showing and breeding as well as birds in conservation.
Location: 280 Beerburrum Road, Caboolture. Ph. (07) 5495 4581
Caboolture War Plane Museum
On display is an an extensive collection of World War II memorabilia, including engines, static displays, photographic displays, collections and aircraft such as a Winjeel, a Tiger Moth and even a Russian MIG 17. There are aircraft in various stages of restoration. Location: Hangar 104, Caboolture Airfield, McNaught Road, Caboolture. Ph. (07) 5499 1144
Surrounding Area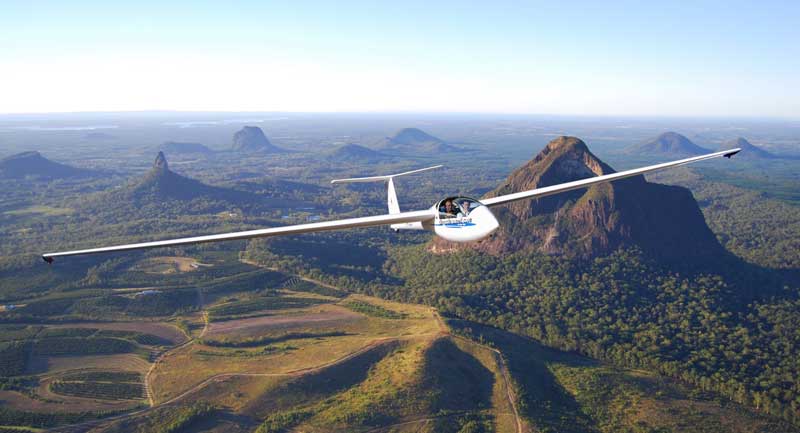 Come Gliding
There are opportunities to go gliding at many airports and airstrips around Australia but few offer the scenery you can experience here. You can glide along the beach of the Sunshine Coast to Noosa and back, fly down to Brisbane and Moreton Bay or head inland and see the magnificent Glasshouse Mountains from a totally different perspective. You will be gliding with a senior gliding instructor who will demonstrate to you how to fly these sophisticated gliders. It is then your turn to take the controls and enjoy the rewarding experience of flying like a bird. Location: Caboolture Airfield, Caboolture. Ph 1300 667 042.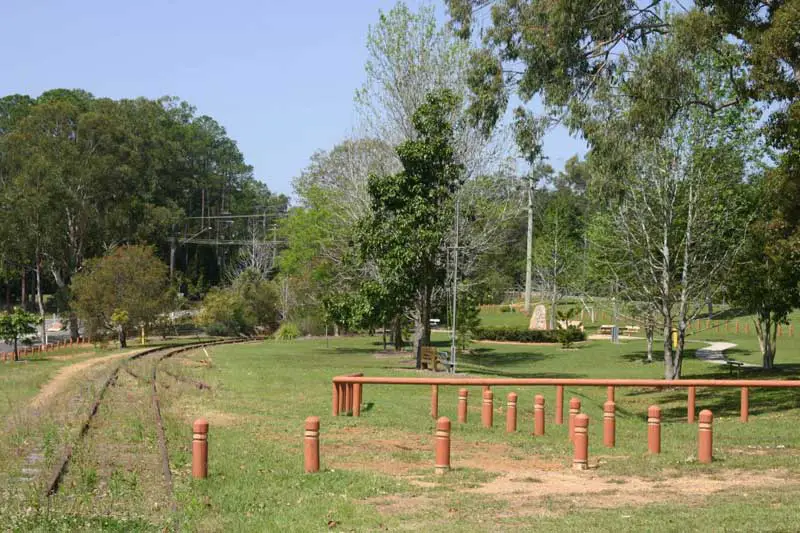 Wamuran station reserve
Caboolture - Wamuran and Loop Rail Trail
This 11 km trail winds through state forest near the Glasshouse Mountains. It is an attractive walk or ride and is included in Bicycle Queensland's book Good Rides in South East Queensland. The railway line is not used but it is apparently not officially closed either. Closure seems likely and it is proposed to develop a high standard trail along the alignment. A shared path already runs beside a short section of the trail in Caboolture. We understand some other sections may already be being used as an informal trail. The railway from Caboolture to Kilcoy was fully opened by 1913 and was closed back to Wamuran in 1964. Regular service to Wamuran ceased in 1996.
At Woodford, 13km north west of Wamuran, a short section of the old line has been developed as a tourist railway. The original station buildings from both Wamuran and D'Aguilar can be found there. The 1km railway has been built to 2 foot (610mm) gauge and is based around locomotives from sugar cane lines. Passenger operations are generally on first and third Sundays of each month from 10.00am to 3.45pm (Last train departs 3.30pm). The Woodford Lions Country Market also occurs on the third Sunday of each month.
Aboriginal bora ground and fish trap
At Bestman Road, Toorbul Point (13 km east), there is a well preserved bora ground of the Ningy Ningy Aboriginal clan, rings of stones where tribal ceremonies were held. In 1841, visiting missionaries recorded over 2,000 Aboriginal people attended a ceremony there, and among them were people from the 'Noosa area and Bonya natives'.
There is also a stone fish trap near the shore line. Aboriginal people were recorded calling in wild dolphins to help them catch fish here. The Pebble Beach Fish trap is one of the largest stone structures probably built by Aboriginal people to harvest the mullet runs into Pumicestone Passage. What remains of the fish trap can best be seen at low tide. There is also a Hanging Tree, a stark reminder of the impact of European settlement.
Caboolture: Brief history
The Kabi indigenous people are the traditional custodians of the area now known as Caboolture. The name Kabultur is derived from the Yugarabul dialect meaning "place of the carpet snake". The Kabi people harvested bush food, fresh water mussels, oysters, fish, and some game animals, moving around the land to take best advantage of seasonally-available produce. Each year in March, the Kabi people would hold Bunya Festivals to feast on the plentiful and nutritious annual nuts of the Bunya Pine. These huge trees provided a food source which could sustain large numbers of people. Neighbouring clans were invited to the festivals, where singing, dancing story-telling, trading and arranging of marriages took place.
White settlement commenced in 1842 when the land around the Moreton Bay penal colony was opened up to free settlers. By the mid-1860s experimentation with sugar cane and cotton had begun. In 1867 a tiny settlement was established to service the needs of miners travelling between Brisbane and the Gympie goldfields. The local shire was constituted in 1879 and in 1888 the railway line from Brisbane was opened.
Origin of name: It is thought that the town's name is derived from the word 'cabul', 'kabultur', 'kabul-tur' or 'rabultja' from the local Yuggera language Aboriginal Yugarabul dialect, meaning 'carpet snake' or 'place of the carpet snake'. The spelling 'Caboolture' was first used in 1848.