Caloundra
A beachside resort city to the north of Brisbane at the southern end of the Sunshine Coast resort area. Once a major Qld retirement town, Caloundra has now home to a mixture of young commuters from Brisbane and retirees, as well as being an increasingly popular spot for holiday makers.
Where is it?: Queensland: South East. Caloundra is 91 kilometres north of Brisbane.
Plan And Book

Events: Caloundra Music Festival - first weekend in October
Caloundra and the surrounding area are blessed with unbelievably spectacular scenery. From a choice of eight very different beaches with fascinating rock pools and clear Pacific waters, to lush rainforest, rolling green hills, splendid waterfalls, and intriguing mountains. From Pumicestone Passage to the Glasshouse Mountains to the unbroken miles of beaches between Currimundi and Alexandra Headland, there is a myriad of unsurpassed beauty.
Caloundra's Beaches
Though there are a variety of attractions and recreational activities in and around Caloundra, the main attraction is its wide, unspoilt beaches and crystal clear waters.
Kings Beach
Kings Beach is Caloundra's main surfing beach. It is located adjacent to the centre of town and is ringed by apartments and holiday flats. There is an elevated pool on the rock platform, a large car park across the road and a grassy reserve, fronted by a seawall, running from the pool to the surf club, 200 metres down the beach. The waves are reduced by Moreton Island and average 0.5 to 1 m, which maintain a continous attached bar usually cut y three rips. The southern end terminates at Deepwater Point; a low, rocky headland and platform, together with a rock groyne. Beyond the point are the shifting sand bars and channels of the Pumicestone Channel mouth, a large tidal creek that runs behind Bribie Island.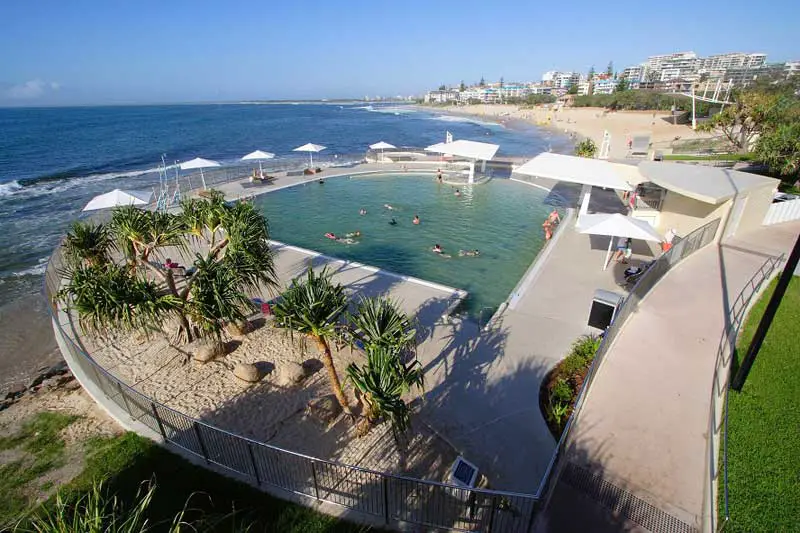 Caloundra s tidal swimming pool on the stunning Kings Beach foreshore is equipped with shade sails, and has a free 25-metre sea-water lap pool, children s swimming pool and wading area with disabled access. It has a 25m salt water swimming lap pool, children's swimming pool and with disabled access to the water.
Bullock Beach
Bulcock Beach and adjoining Deepwater Point form the highly variable northern bank of the large mouth of Pumicestone Channel, a 30 km long tidal channel that runs the length of Bribie Island to connect with Moreton Bay. Consequently, strong tidal currents run in and out of the entrance. The Esplanade runs along the base of the spit, providing good access to the ocean and channel sides. Be very careful if swimming off the point, as it usually has very strong tidal currents, as well as rip currents, together with the deep Pumicestone Channel. The shifting bars and trough do generate some occasional good surfing breaks. Deepwater Point is a popular spit to fish the deeper tidal channels, as well as deep tidal and rip holes along the beach.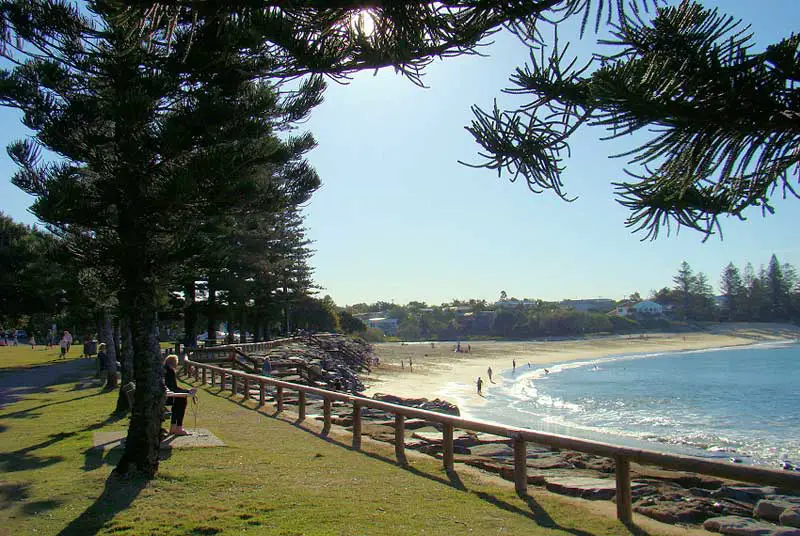 Moffat Beach
Moffat and Shelly Beaches lie north and south of 30 m high Moffat Head. The head, together with Caloundra Head 1.5 km to the south, forms the northern boundary of a protruding bedrock peninsula that is occupied by much of the city of Caloundra. There is good access to the beach, with a caravan park behind the southern half, a grassy reserve in the centre, a car park to the north and houses on the bluffs behind. Moffat Beach offers the safest swimming under normal low wave conditions, however both beaches have strong rips when waves exceed 1 metre. "Moffats" on the southern point can produce a good peeling right during high swell for surfers. Both are very popular beaches for rock and beach fishing, as well as the small Tooway lagoon.
The Moffat Beach playground and picnic facilities are very popular and the alfresco dining creates a cosmopolitan atmosphere. Shelly beach is not patrolled, but there are electric BBQ s, tables, toilets and the great coastal walking track continues on to Moffat Beach.
Dicky Beach
Dicky Beach is a lovely spot for a beach walk. The caravan park is adjacent to the patrolled surf beach and there are convenience shops including a grocery store, bakery, butcher, coffee shops, newsagent, chemist, gift shop and restaurants just across the road. You can walk to the north as far as Currimundi Lake and to the south to Moffat Beach. It was named after the SS Dicky grounded near the beach in 1893 to avoid damage from the local headlands during a severe storm. Remnants of the wreck remain on the beach. Facilities include electric BBQ s , picnic tables, toilets, outdoor showers, children s playground, skate park, and a good selection of take-a-way food shops nearby.
Currimundi Lake
Currimundi Beach is an east facing beach with good beach breaks for surfers and bodyboarders and is patrolled during the summer months. Currimundi Lake is also popular for small children, canoeing and fishing, with picnic areas and alfresco dining at the edge. There are also some great spots to jump off the rocks or ropes for the more adventurous. The Currimundi Environmental Park is on the northern side of the lake and provides walking trails through the native vegetation. From the northern side of Lake Currimundi, there is a continual stretch of eight kilometres of beautiful beaches leading up to the spectacular headland and lighthouse at Point Cartwright. The stretches at Wurtulla and Buddina are patrolled during the summer months.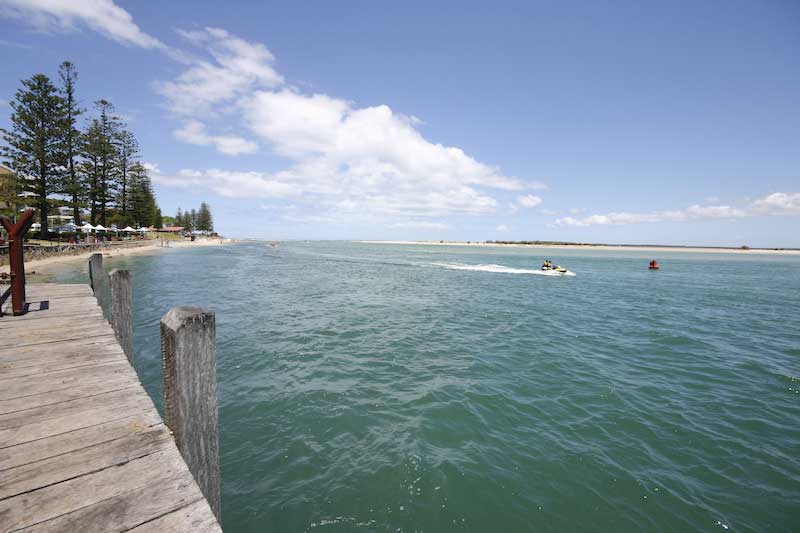 Golden Beach Esplanade
Paradise Beach is a beautiful east facing calm water beach on Pumicestone Passage which is a tidal lagoon - the waters are mostly very shallow and calm. More commonly known as Golden Beach Esplanade, this beach is a perfect beach for families with little kids. It is ideal for safe swimming, windsurfing, boating, canoeing and fishing. The picnic, playground, and BBQ areas are excellent. There is some nice shade here close to the beach where you can sit if you are not swimming but still be close to the water's edge. There is also a fenced playground for kids and a clean shower, toilet block and BBQs right near the beach. It's a peaceful place to relax, read a book, have a picnic, or maybe paddle out on Pumicestone Passage to Bribie Island. The beach area is patrolled during the summer and Easter holiday period.

Around Town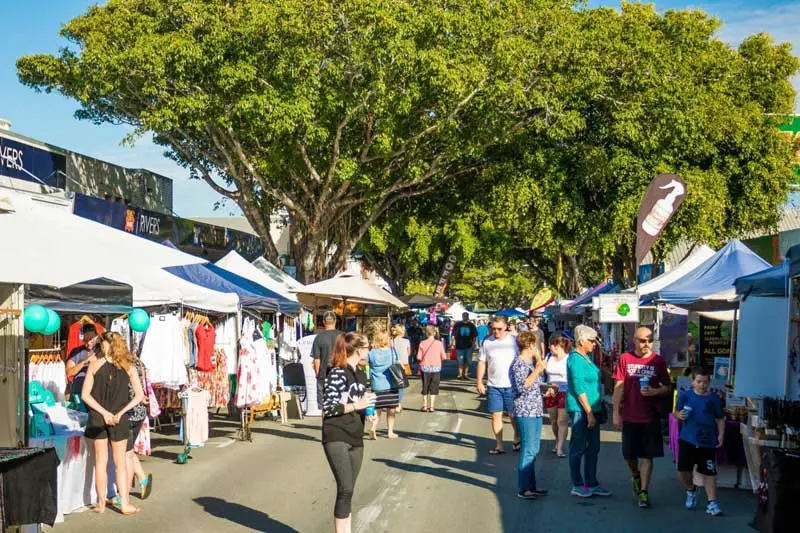 Caloundra Street Fair
Held every Sunday from 8am to 1pm. The Caloundra Street Fair is more than just a market. It's a concoction of over 200 unique arts and crafts stalls, live entertainment, fresh produce and tasty treats plus local cafes, boutiques and over 50 speciality shops are open in the street. Have a relaxing Sunday breakfast or lunch under a canopy of beautiful shaded trees, then take a short stroll or swim on nearby Bulcock Beach. Location: Bulcock Street (between Otranto and Knox Avenues), Caloundra. Ph (07) 5492 5977.
Ben Bennett Botanic Park
A pleasant bushland reserve nestled between busy urban sprawl, Ben Bennett Botanic Park has the feel of little pocket of coastal ecosystems untouched There are lots of walkways and seats sprinkled throughout. If you are lucky you may see some native animals, sit quietly and do a bit of bird watching. The park has ample parking and plenty of picnic tables. Location: Queen Street, Caloundra
Queensland Air Museum
For lovers of all things related to aircraft you will find this place mesmerising. Well set out and easy to get around, there is plenty to look at and lots of information available on all planes. The collection includes everything from the Australian built Whiraway to the F1-11, some are still capable of flying. If you ever get a chance to visit this when it is an open cockpit day - do it. This is when planes are open for you to actually sit in the pilots and navigators seats! Otherwise visit on a big noise day when they fire up some seriously powerful engines. Location: 7 Pathfinder Dr, Caloundra. Ph (07) 5492 5930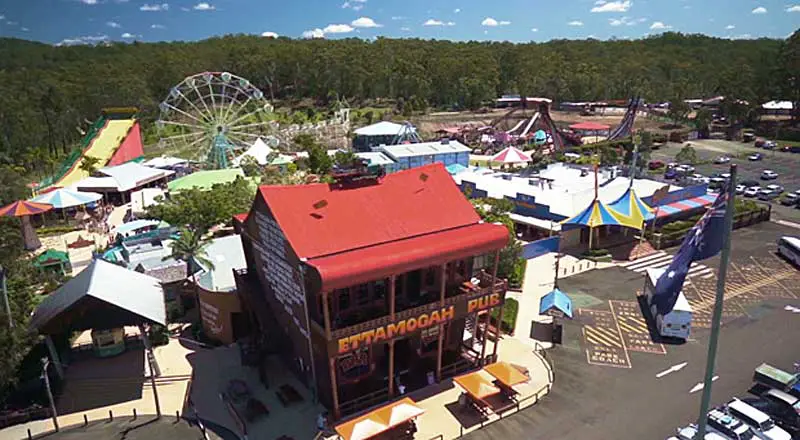 Aussie World
If you're looking for thrills and excitement then you will find it all at one of Australia's popular entertainment parks. There are rides that will get you soaked, make you green and dizzy, there are simulators and slides, bumps and coasters! For the kids or the big kids at heart, they offer fun for all ages. Aussie World has been awarded the 2014 and 2015 Travellers' Choice Award. Open every day from 10am to 5pm. Entry fees apply. Location: 73 Frizzo Rd, Caloundra. Ph (07) 5494 5444
Caloundra Regional Art Gallery
Open every day, except Mondays, and with free admission, and located located in the Centre of Caloundra, this Gallery is well worth a visit. They constantly change their displays of local and national art, so you could possibly see a different exhibition each time you make a visit. They have an annual major national exhibition where you can vote for your favourite artist, and put on workshops for children during school holidays. Location: 22 Omrah Avenue, Caloundra. Ph (07) 5420 8299.
Photo: Queensland Government
Caloundra Lighthouses
Climb the old lighthouse and travel back in time to when the ships relied on the lighthouse for safe passage past Caloundra. Great views and worth a look. The precinct has a sign board with historical information. The volunteers guides are helpful and there are is a display of great old photos of Caloundra in the early days. From the top of the lighthouse you can right back to the Glasshouse mountains and also across the ocean as far as Moreton Island. Opened in 1896, the Old Lighthouse served as a harbour light as well as a coastal light and is the oldest surviving building in Caloundra. The Post Office was situated in the keeper's house in the third bedroom. It is the only remaining example of two Queensland lighthouses that were fitted with corrugated iron cladding; the other was located at Lytton Hill (dismantled in the 1990s). Location: 10 Canberra Terrace, Kings Beach, Caloundra.

Surrounding Area
Glasshouse Mountains
The Glasshouse Mountains are a series of spectacular volcanic plugs that rise dramatically from the coastal plain and dominate the landscape of the Sunshine Coast hinterland. They are formed of rhyolite and trachtyte, lavas which hardened inside the vents of tertiary volcanoes that have been greatly reduced by about 25 million years of erosion. The Glasshouse Mountains offer some spectacular walking tracks through open woodlands and heaths to panoramic lookouts and mountain summits. The walks range from easy to challenging grades.
Bribie Island
Bribie Island, separated from the mainland and Caloundra by the Pumicestone Passage, was named by Captain James Cook, who noted small floating pieces of pumice. Much of the island is national park, so it offers non-polluted, unspoiled forests and white beaches. Centuries old natural bush, which is growing at the water's edge, is home for more than 350 species of birds. The waters provide protection to dugongs, turtles and dolphins as well. Cruises are operated along the passage by tourism operators to allow visitors to have a look at this wonderful scenery.
Blackall Range
Australia has more than 20,000 km of coastline but there is just 200km of that vast coastline on escarpments that combine panoramic views of the hills and the sea. 20kms of that special escarpment is in the Blackall Range, in the hinterland of Queensland s Sunshine Coast. The Range, as it is locally known, was created by 200 million years of constant interaction by volcanoes and water which left behind a mass of hills, valleys and waterfalls. In summer the rainy season fills the rivers and creeks making strong powerful waterfalls. A trip through the Blackall Range along the most scenic drive on the Sunshine Coast is a great day out. As the Blackall Range is just over an hour's drive from Brisbane, it's just as easy a destination to reach if you are based in Brisbane as on the Sunshne Coast.
Bellingham Maze
Get Lost in this living hedge maze with 2 metre high rows of fragrant cypress pine hedges. Appealing to all age groups. Bring a picnic lunch or treat yourself to Devonshire tea or Lavazza coffee. Location: Tanawha Tourist Drive, Tanawha. Ph (07) 5445 2979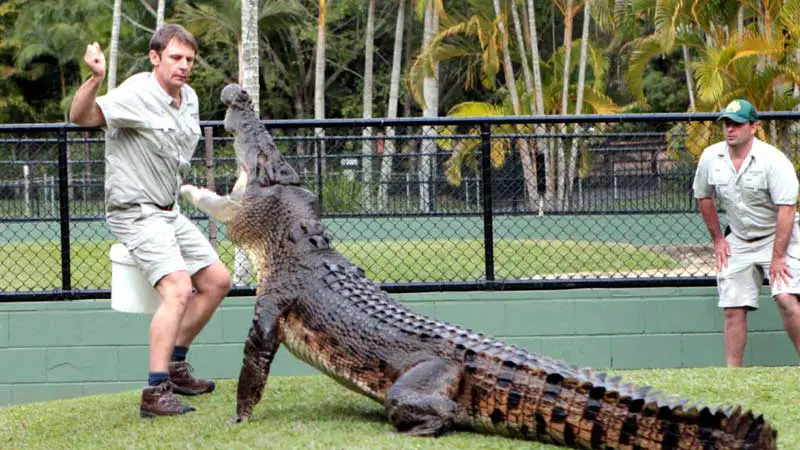 Australia Zoo
The world famous Australia Zoo established by The Crocodile Hunter, Steve Irwin, is a 25 minute drive south west (24 km) along Steve Irwin Way. Australia Zoo offers a full day of wildlife actin and adventure, where you can check out all the amazing wildlife, set on over 70 acres of natural Australian bushland. There are over 10 shows where you can watch the free-flight bird show, snakes slithering, tigers at play and the huge saltwater crocs. Open every day 9am - 5pm. Location: 1638 Steve Irwin Way, Beerwah. Ph (07) 5436 2000.

Caloundra: Brief History
The name Caloundra derived from Caloundra Head, which from the Aboriginal word "cullowundoor", taken from Kabi language "kal-owen" indicating beech tree (Gmelina leichhardtii) and "dha" place.
The Blackall Range was occupied by the Gubbi-Gubbi people prior to European investigation. They gathered once every few years on the banks of Obi Obi Creek at Baroon Pocket to feast on Bunya nuts. The first European settlers arrived in 1862. With a 2000 pound reward from the Queensland government, explorer William Landsborough purchased 2372 acres of what is now Golden Beach, on Pumicestone Passage, in 1882. It was during the 1880s that Caloundra began to acquire its reputation as a seaside resort. The first hotel was built in 1885 on Shelley Beach.