Gayndah
The service town for Queensland's premier orange growing area on the Burnett River. It lies at the heart of Queensland's citrus area and proudly claims to be 'The Orange Capital of Queensland'. This claim to fame is given some added weight by the huge 'Big Orange' at the end of town.
Location: 366 km northwest of Brisbane; 144 km west of Maryborough; 104 m above sea level.
Places of interest - Burnett River; Duke and Duchess Mountain; Ban Ban Springs, 926 km south); Mt. Walsh National Park; Coalstoun Lakes National Park; Goodnight Scrub National Park; Thomas and Charles Archer Lookout; Council Chambers, The Soldiers Memorial Hall and Town Hall Theatre (1935); Ellendale Orchard; Big Orange tourist information centre; localities of Coalstoun Lakes, Biggenden, Dallarnil, Ban Ban Springs; Gaypak fruit processing factory; Gayndah and District Historical Museum (1864); old school house (1861); Mellors Drapery Store (one of the few buildings in Australia which still uses a 'flying fox' to deal with transactions).
Gayndah & District Historical Museum
This Museum is much more than just another rural folk collection of local memorabilia. It boasts an eighteenth century grandfather clock (which was made long before Australia was settled by Europeans), a Leyland truck which dates back to 1913, and the Ban Ban buggy which dates to 1896. As well there is a tractor dating from 1903 and a rich and interesting collection of memorabilia which is well displayed.
In the complex there is also the old Ban Ban Station which was removed from its original location and rebuilt in the town. One of the earliest buildings in the area it is a typical Queensland slab cottage. The museum is open daily from 9.00am - 4.00pm. Details: (07) 4161 1698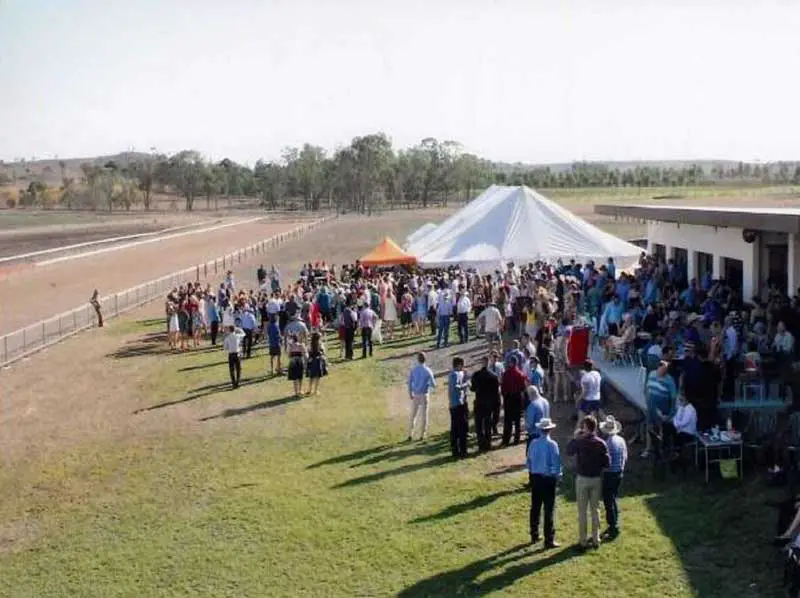 Gayndah Racecourse
Gayndah Racecourse was built c. 1855. The 180 acre racecourse reserve was surveyed in March 1862 and the land grant signed by Sir George Bowen, the first Governor of Queensland, on 26 March 1863 at a quit rent of one farthing "as a racecourse and for no other purpose". Gayndah hosted the first Queensland Derby held in Queensland. This is a classic race for three-year-olds run over one and a half miles and was first held in 1780 at Epsom in England, being named for the 12th Earl of Derby. The course is still in regular use for horse racing. It was added to the Queensland Heritage Register on 12 September 2005. Location: Fisher Avenue, Gayndah.
Surrounding area
Thomas and Charles Archer Lookout
Visitors wanting to get a good overview of the town should drive or walk to the Thomas and Charles Archer Lookout on the top of the Duke and Duchess Mountain where a 360 degree view over the surrounding countryside puts Gayndah into a larger and more interesting perspective.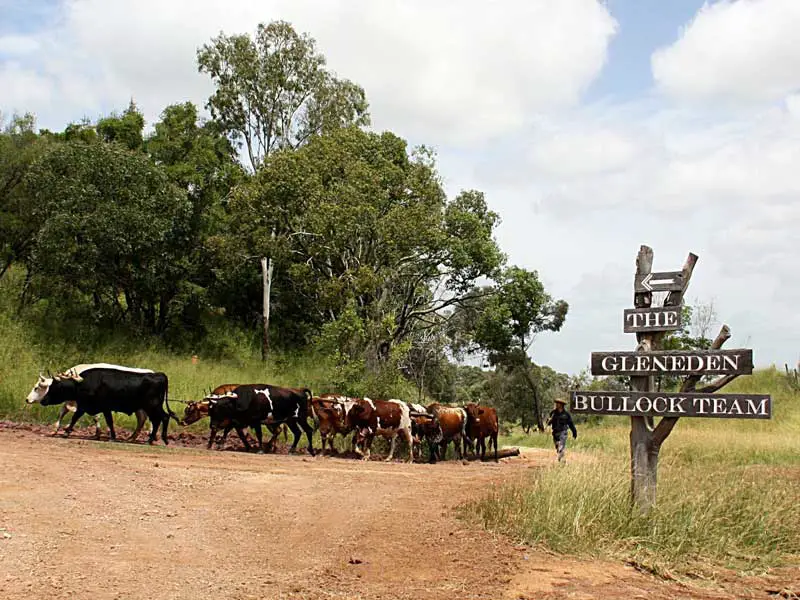 Gleneden Family Farm
Gleneden Family Farm (25 km north west) is a picturesque property with a wide range of animals and plants for food production. The farm's growing methods are natural, ethical and sustainable, with organic farming and regenerative holistic farming as our guiding principles. Gleneden Family Farm welcomes visitors for farm pantry produce sales, holistic farming tours, working bullock team/bush skills displays and eco-camping. Visitors can witness and enjoy the rare and memorable sight of a bullocky and his bullock team at work, in an historic location. Rohan the Bullocky practices a diverse array of heritage skills which can be included in your display. Open daily by appointment. Location: 375 North Branch Road, Maryvale, Qld. Ph: (07) 4666 1273.
Good Night Scrub National Park
Located in hilly country in the Burnett Valley, Good Night Scrub National Park protects an intact remnant of once extensive hoop pine rainforest. Good Night Scrub has a long history of logging both hard and softwood stretching back to the early 1900s. The history of logging included timber workers living on the park and a well established Forestry Office with workshop and accommodation set up at the base of One Tree Hill. While no formal walking tracks are provided you can walk along an extensive network of firetrails. Enjoy the scenic view from One Tree Hill lookout. On a clear day, you can see from Bundaberg to Mount Walsh. Access to the lookout is only possible in dry conditions in a four-wheel-drive vehicle.
Good Night Scrub is between Gin Gin and Gayndah. Access within the park is on gravel road that is only suitable for conventional vehicles in dry weather. The road can be impassable to four-wheel-drive vehicles in the wet. The steep access road to One Tree Hill lookout is only possible by four-wheel-drive vehicles in dry conditions.
Coalstoun Lakes National Park
Rising 200m above a broad cultivated valley, Mt Le Brun contains two large craters which occasionally fill with shallow lakes. The crater lakes are protected in Coalstoun Lakes National Park. Formed more than 600,000 years ago, the mountain is one of the youngest volcanic formations in Australia. Coalstoun Lakes National Park is located 46 km east of Gayndah.
Mount Walsh National Park
Mount Walsh and The Bluff Mount at the northern end of the park are prominent landmarks in the Biggenden area. Steep forested slopes, sheltered gullies, rugged ridge lines with spectacular exposed granite outcrops and cliffs support an amazing diversity of vegetation. The park is a wildlife refuge for a large variety of wildlife including amphibians, reptiles, mammals and birds. There is no formal camping area at Mount Walsh National Park. Bush camping is available in remote areas. The Bluff has a shelter shed, toilets, barbecue and tank water for picnics and bushwalking.
Mount Walsh National Park is 66 km east of Gayndah. The northern tip of Mount Walsh National Park is approximately 5km due south of Biggenden township. Turn off the Maryborough-Biggenden Road 2km east of Biggenden or 80km west of Maryborough. Travel a further 5.3km along the signposted National Park Road to the picnic area.
Gayndah: Brief history
In 1843 Henry Stuart Russell made his way into the Gayndah region and became the first European to see the Burnett River. In 1847 James Burnett surveyed the river which was eventually named after him. The following year the first land settlement occurred in the Gayndah area and large holdings were established at Ideraway, Ban Ban, Wetheron and Mount Debateable. A tiny settlement known as Norton's Camp sprung up as a crossing point on the Burnett River. Its name was later changed to Gayndah which, according to local legend, was the Aboriginal word for 'thunder'.
By 1849 there were enough people settled on the banks of the Burnett to have Gayndah declared a township. It was an appropriate leap in status as it was that year that the first pub, the Corinth Arms, was opened and a Post Office was set up in the town. By 1850 the town had its own Police Courts. It is claimed that Gayndah is the oldest town in Queensland but this is somewhat semantic. Both Ipswich and Brisbane are older but they are now cities not towns.
The town continued to grow. In 1861 the Burnett Argus was printed and the first regular coach arrived from Maryborough. Two years later the first school in the area was opened and in 1864 the town got its first bank. It is entirely appropriate that the following year the town's one truly interesting moment occurred when the Queensland bushranger known as 'The Wild Scotsman' held up the town. He was presumably interested in the contents of the new bank. 1864 was also the year when the brick cottage, which is the centrepiece at the town's excellent museum, was built.
The turning point for Gayndah came in 1892 when local farmers realised that the soils along the Burnett River floodplain were rich enough for intensive agriculture. In that year a local farmer named William Seeney planted 106 orange and mandarin trees. This move to citrus fruits was hastened by the realisation that the area was unsuitable for sheep.
Origin of name: of Aboriginal origin, the name means 'thunder'.