Gympie
A sprawling, former goldmining town - it calls itself 'The Town that saved Queensland' - that is today a regional service and administrative centre. Gympie hosts The Toyota Country Music Muster every year in August and the Gympie Gold Rush Festival in October.
Location: 166 km north of Brisbane; 95 m above sea level.
Places of interest: Mary River; Six Mile Creek; localities of Kybong, Goomboorian, Wolvi, Ganalda, Greenwood, Amamoor, Glastonbury, Kandanga, Imbil; Gympie Gold and Mining Museum (Retort House of the Scottish Gympie Gold Mines); Andrew Fisher's Cottage (Fisher was Australia's first Labor Minister for Trade and Customs. He later became the first Prime Minister to hail from Queensland); Woodworks Forestry and Timber Museum; Court House (1900-02); Murphy's Convenience Store (on the front of the building there is a tethering ring for horses); The Australian Hotel (1883)
Gympie hosts the Heart of Gold International Short Film Festival in March. The festival is five days of fun, inspiration, and stimulation. Highlights include short films from all corners of the planet, special features and documentaries, parties, seminars, intimate Q & A sessions with filmmakers, and an award ceremony.
Around Town
Gympie's Mary Street offers a wide array of bars, cafes, banks and stores with stunning 19th Century Victorian architecture. The historic Railway Hotel was built in 1915 and is listed on the Queensland Heritage Register. In 2011, the Gympie Town Hall Reserve Complex was added to the Queensland Heritage Register. The two-storey building was built in 1890 and has a clock tower.
Fifth Light Horse Military Museum
The horse in war has long since been obsolete leaving many with very little of no conception of how and where the Light Horse served, and ignorant of the many deeds of sacrifice, courage and bravery they performed in the service of their country. The Gympie Museum has emerged since its founding in 1991 to be one of the leading institutions to display the weaponry and uniforms used by the Light Horse. The Museum contains extensive photographic records of individuals who served with the 5th Light Horse Regiment together with display of service medals from ex serving member of the Regiment. Location: 215 Brisbane Road, Gympie. Ph (07) 5482 3995.
Gympie Gold Mining and Historical Museum
The Gympie Gold Mining and Historical Museum houses memorabilia from the early gold mining era, as well as displays showcasing military, rural, transport, communications, and steam development in Australia.
Lake Alford Park
A great place for a stopover on your way into or out of town. The ducks ponds are teaming with bird life - you'll see black swam parents, several varieties of ducks and turtles. If you want to have a picnic there are nice uncovered BBQs and tables etc. On the first, third and fifth Sundays of the month there is a market adjacent to the park with lots of fresh local produce for sale. Next door is also the Gympie Gold Mining Museum. Location: Bruce Highway, Monkland, Gympie.
Gympie Regional Gallery
A place of quiet contemplation and a feast for the eyes and brain, the gallery exhibits local art as well as small scale exhibitions which may also have been shown at mainstream galleries throughout Australia. The building itself is heritage listed and is interesting in itself. Open Tues to Sat, 10am - 4pm. location: 39 Nash Street, gympie. Ph (07) 5481 0733.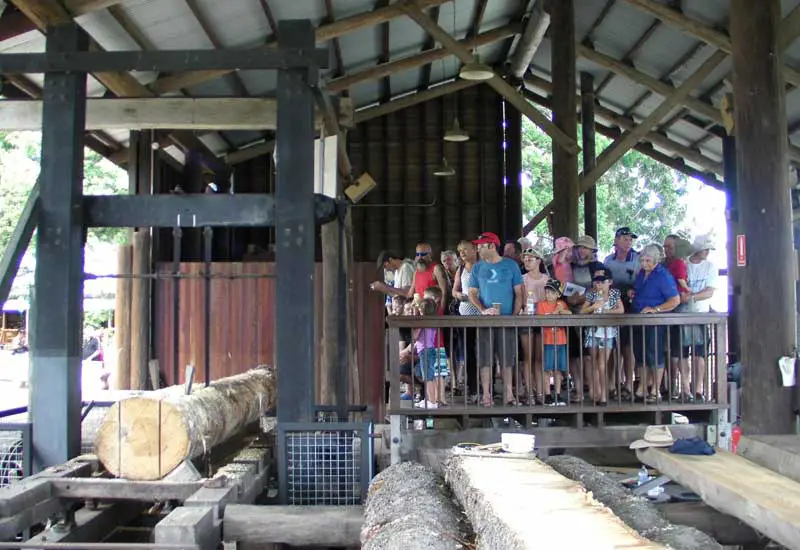 Woodworks Museum and Interpretive Centre
The Australian Forestry story has deep roots in Aboriginal culture, European settlement and pioneering, industrialisation, expansion and still, today in all aspects of Australian life. If you admire the skills and toughness of our forefathers or would like to learn more about how they harvested huge logs and created all manner of products from them to build early houses and implements then this is the place to go. The Centre is set in pleasant park-like grounds with picnic and BBQ facilities, all surrounded by some impressive examples of native timber trees. Open Mon - Sat 10am - 4pm. Location: 8 Fraser Road, Gympie. Ph (07) 5483 7691.
Mary Valley Rattler
The Mary Valley Rattler is a heritage steam train which unfortunately is presently not operational, but scheduled to be back up and running in December 2017. The train wound its way through the backyards of the southern side of Gympie and then continued west into the scenic Mary Valley where it crossed and then follows the Mary River to negotiate the valley and the Mary's main tributaries. The tourist train began operations in 1996, providing a spectacular journey through the valley beginning at the Old Gympie Railway Station. Location: Old Railway Station, Tozer Street, Gympie. Ph (07) 5482 2750.

Surrounding Area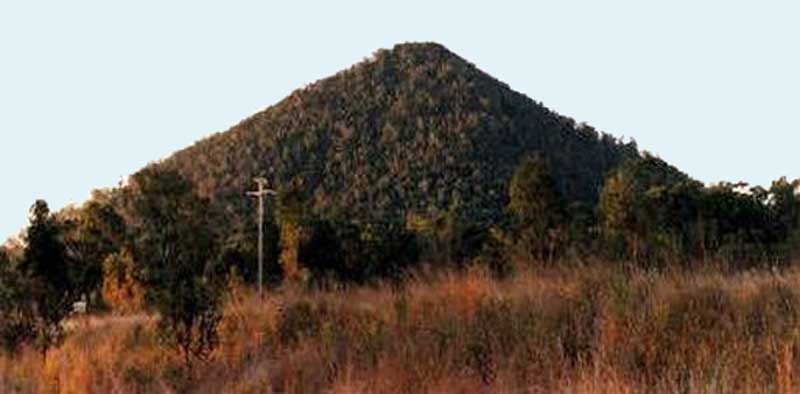 The Gympie Pyramid
The Gympie Pyramid, also known as Rocky Ridge, is a low terraced hill located in the outskirts of Gympie, probably created by European immigrants in the late 19th or early 20th century. The feature is subject to speculation, especially suggestions by fringe authors that it was constructed by an unknown civilization, such as Egyptians, South Americans, or Chinese. Author Rex Gilroy claims that he discovered the Gympie Pyramid in 1975 and claimed that the "Pyramid" was created by Egyptians who had mining operations in Australia centuries ago, with bases of operation reaching as far as the Blue Mountains in New South Wales. Pye' theory was based on supposed local legends and taboos that warned against intrusion into the pyramid area, the predominance in the area of a cactus of South or Central American origin, a statue (the 'Iron Man' or 'Gympie Ape') of non-aboriginal manufacture found nearby, and some crude inscriptions on a stone block dug up in the area.
An amateur archaeologist, Marilyn N. Pye, became convinced that the "pyramid" and other features were evidence of ancient settlement in Australia by the Incas of South America. While Pye argues the "pyramid" is of Incan origin, Gavin Menzies states that it is "direct and persuasive evidence of the Chinese visits to Australia" and that "its size, height and shape are typical of Ming Dynasty observation platforms and it would have been wholly logical for the Chinese to build observatories to determine precisely the location of the phenomenal riches they had discovered."
Research suggests a more banal answer, that it was part of a retaining wall built by an Italian farmer to stop erosion on a natural mesa on his property. Significant work on the origin was undertaken by a Gympie historian, Dr. Elaine Brown, during the 1990s and early 2000s in which she proposes that the terraced structure was constructed by a Swiss horticulturist in the late 1880s.
Rocky Ridge is now the subject of an Aboriginal land rights claim. Kabi Kabi Aborigines claim the artefacts found at the site, including grinding stones, are the work of their ancestors and show a strong and recurring Aboriginal identification with the site. Kabi Kabi activist Wit-booker claims the area and its artefacts are vital to the wellbeing of his people and the preservation of their culture. Rocks in the hillside show indentations which he says have been worn into the solid stone by centuries of use for grinding grass and other seed grains to make the original damper.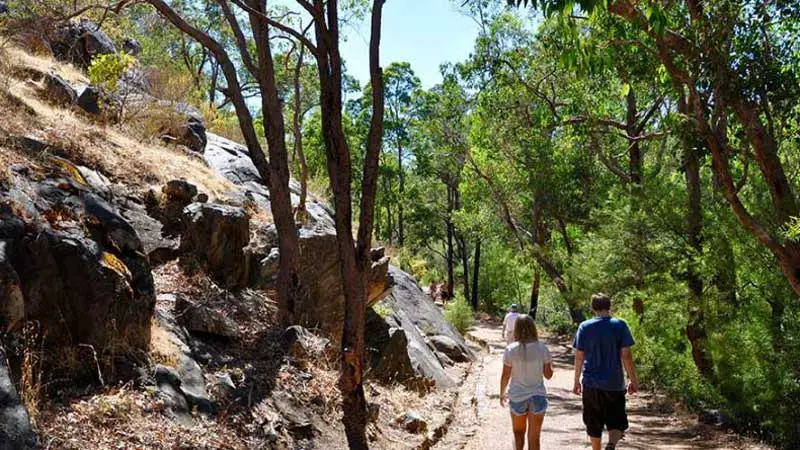 Victory Heights Trail Network
This local trail network for passive recreation (walking, mountain biking, horse riding) is located within 3km of Gympie's town centre between the historic Victory Hotel and Gympie North Railway Station and is accessed from Bath Terrace. The trails weave through 60ha of mature eucalypt forest providing unique and accessible nature-based recreation options for locals and visitors. Currently 9km of signposted mountain biking trails have been constructed ranging in difficulty from beginner to experienced levels, including a purpose designed kids/challenge track that is suitable for smaller children and novice riders. There are also 12km of shared-use fire roads and multi-use trails that are suited for walkers, cyclists and horse riders.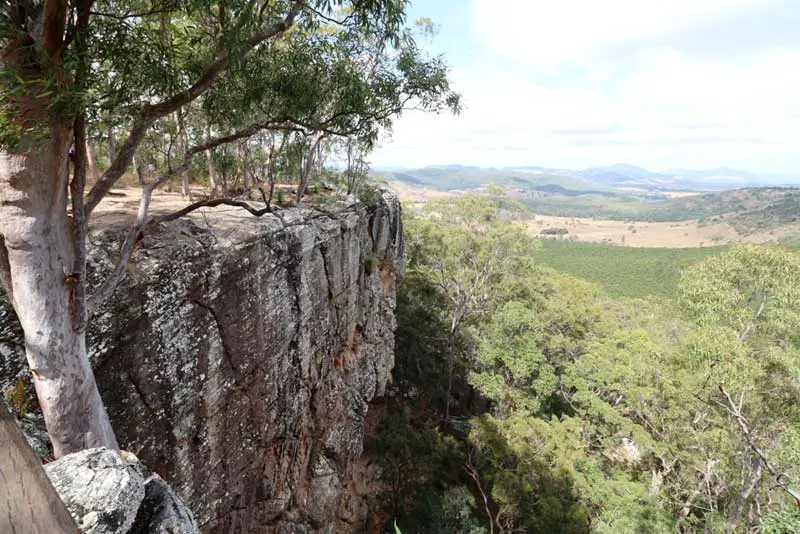 Point Pure Lookout
Brooyar State Forest
Just to the north west of Gympie, Brooyar State Forest has numerous tracks and trails and some of the best camping spots in the area. With a large number of big open areas, there is enough spots for everyone, even in the busiest times. Glastonbury Creek flows through and is great for a swim, with much of it being shaded and running quickly to stay clean. Watch out for the big Goanna's coming in for a cool drink. Friendly as they area, they will run up your back like a tree trunk. The view from Point Pure Lookout at the summit is spectacular.
The top areas of the forest have some large rock formations that are great for beginners and professional climbers. There is a camp ground at the base of the mountain that is quite popular with climbers. Please abide the safety signs and always climb with someone. There is very little or no phone service in the forest areas and help could be many hours away. Let someone know where you are going and when you are due back. Camping attracts a fee and needs to be paid online before you arrive.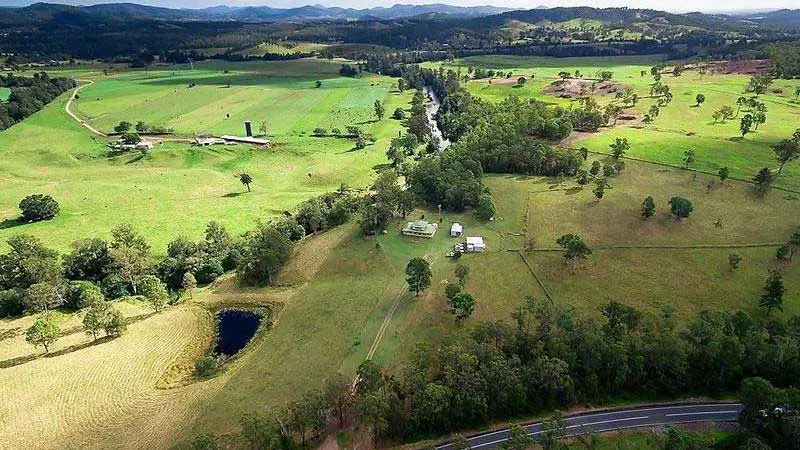 Mary Valley Scenic Drive
The Mary Valley has a landscape of rolling green pastures and many beautiful forests. The countryside is spectacular with an abundance of curves, gradients, and bridges. Steep slopes portray a patchwork of pineapples, macadamia nuts, and other crops. The towns of the valley include Dagun, a pretty little ten-house town and Amamoor which hosts the National Country Music Muster, held annually in August. The muster is held over six days and nights in the Amamoor Forest Reserve. Featuring 13 venues full of diverse music, the muster is the largest outdoor country music festival in Australia. The Mary Valley Scenic Drive also travels through Kandanga and Imbil.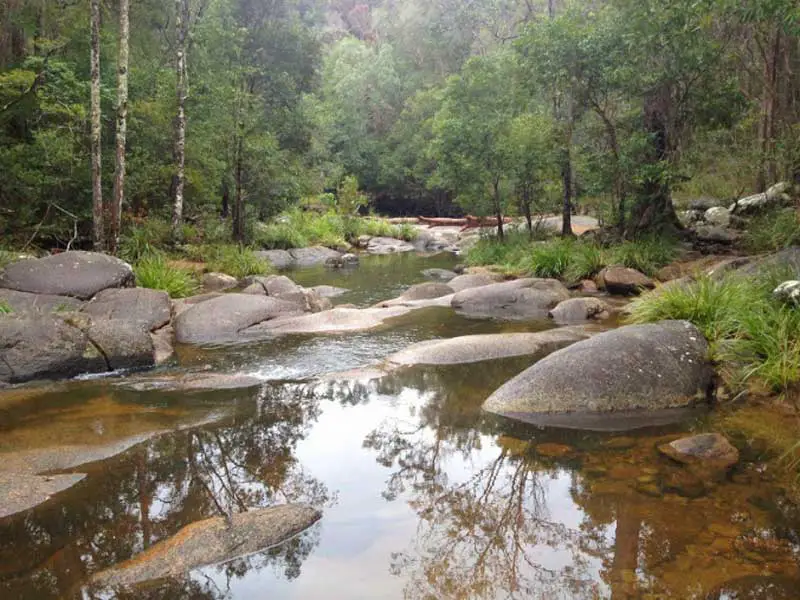 Mothar Mountain rock pools
About 15 minutes south-east of Gympie, subtropical rainforest and spectacular rocky creeks make the Mothar Mountain rock pools a popular retreat for locals and visitors. Crystal-clear water gently cascades over ancient granite outcrops at Woondum National Park. Facilities include picnic tables, barbecues, firewood, fresh water, amenities, and bush-walking tracks. If you are feeling energetic, enjoy one of the nature walks. There is a short 500 metre (20 minute) forest walk or a rather more serious 3.5 kilometre (2 hour) walk to explore. Access is by dirt road - a four-wheel-drive vehicle is not essential but recommended. Location: Noosa Road, Mothar Mountain.

Brief History
In 1867 and less than a decade old, Queensland was facing possible bankruptcy with widespread unemployment and many businesses folding in Brisbane. James Nash's discovery of 2.7kg of gold in six days near the present site of Gympie brought overnight wealth to Queensland as its first goldrush exploded into existence and pulled the state back from potential disaster. Nash's discovery began a gold rush which quickly led to the development of Gympie.
The famous Curtis Nugget, discovered near Gympie, weighed 37kg, and was the largest ever single nugget found in Queensland. Gympie soon had a population of 25,000 people. It was proclaimed a municipality in 1880, became a town a decade later and was a city by 1905. The railway arrived in 1881 and in 1888 it became one of the few towns in Australia to have its own stock exchange. Goldmining continued until 1925, by which time the town was servicing a well established agricultural industry which spread from the coast into the hinterland.
Origin of name: Named after a local stinging tree which the local Aborigines reputedly called 'gimpi gimpi'. The locality was briefly called Nashville after James Nash had discovered gold in the area, however it officially became Gympie in 1868 when it was a shanty town of endless tents, numerous small stores and liquor outlets.