Kenilworth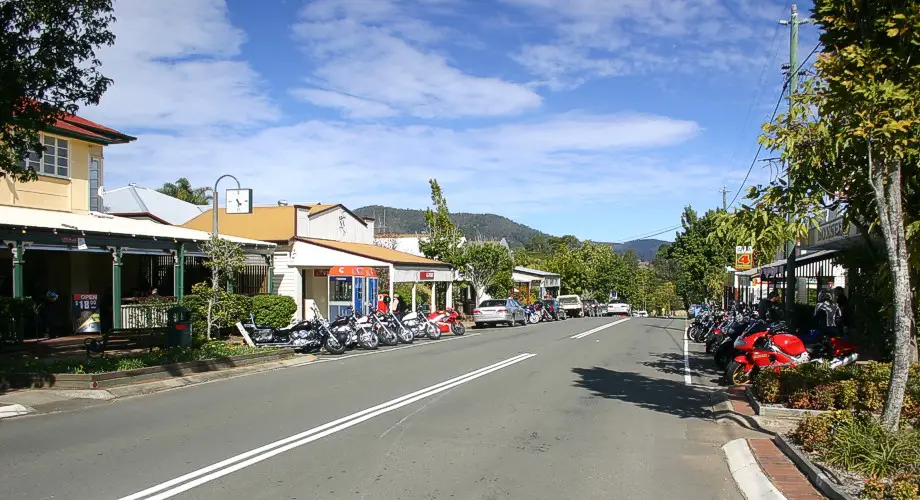 An attractive village situated in the hills of the Sunshine Coast hinterland.
Location: 154 km north of Brisbane to the west of Nambour.
Events
The town hosts the Kenilworth Scarecrow and Limerick Festival held every year in September or October.
Kenilworth Cheese, Wine and Food Fest is a celebration of local produce and food products, held on Easter Saturday each year in the Cheese Factory and the Town Park.
Kenilworth ArtsFest is an annual festival with art competitions and exhibition in early October.
Kenilworth Show and Rodeo is held on the third Saturday in September each Year. The event features Show Jumping, Show Horse Events, Side Shows, Woodchopping competitions, Pavilion and Trade Exhibits, BBQ and Food Stalls.
Kenilworth Historical Museum
A volunteer run museum of Kenilworth and local history and artifacts, including dairying equipment and stationary engines and incorporating the Roxy cinema with audiovisual presentations. Featured displays include a schoolroom, dairying, timber industry, the Kenilworth Tanners Store and the Ed Sims Memorial Machinery Shed. Open Sunday only 10am - 2pm (February to November), other times by appointment. Location: Alexandra Street off Phillip Street.
Kev Franzi Movie Museum
Kev Franzi, is a Documentary Filmmaker and Photojournalist and now a Film Historian and 'Elder Statesman' of the Industry. Kev s fully working Movie Museum, at Kenilworth Queensland, houses his unique Australian Cinema Heritage Collection and his latest venture CinemaWorks - the catalyst and stage one of the Australian Image Hall of Fame - to Entertain, inform and inspire. Over the years, he has amassed a priceless collection of memorabilia including wooden hand-cranked cameras, projectors, film reels and some truly historic items which he said had been gathered over a "simply wonderful" career in film. He shares it all with anyone who is interested at a movie museum he has established under his house near Kenilworth. It is a wonderland of photographic and video history, complete with a life-sized cutout of Marilyn Monroe and a camera used to film the iconic "Skippy" TV series. Location: 2655 Eumundi Rd. Kenilworth (3kms from town). Ph (07) 5446 0341.
Natural features: Mary River; Blackall Range; Kenilworth Forest Reserve (Little Yabba Creek; Booloumba Creek; Booloumba Falls; Goldmine Walk Interpretative Trail; The Breadknife rock formation; Peters Creek Walk); Conondale National Park (Conondale Range); Gheerulla State Forest (Gheerulla Creek)

Surrounding Area
Kenilworth Homestead
Kenilworth Homestead was once part of a sprawling 10,000 hectare cattle station. Today, the property covers just fifty hectares beside the Mary River, and is available to the public for a range of activities, including horse-riding, swimming, canoeing, gold-panning, wildlife spotting, orienteering and of course camping. location: Eumundi Road just 1 km from Kenilworth.
Borumba Deer Park
A working deer farm 2kms below Lake Borumba, 16 km from Kenilworth, this park offers unique family enjoyment and relaxation, modern amenities, an under cover area, BBQ's and friendly hosts. 9 Yabba Creek Rd, Imbil, beside Yabba Creek. Phone: (07) 5484 5196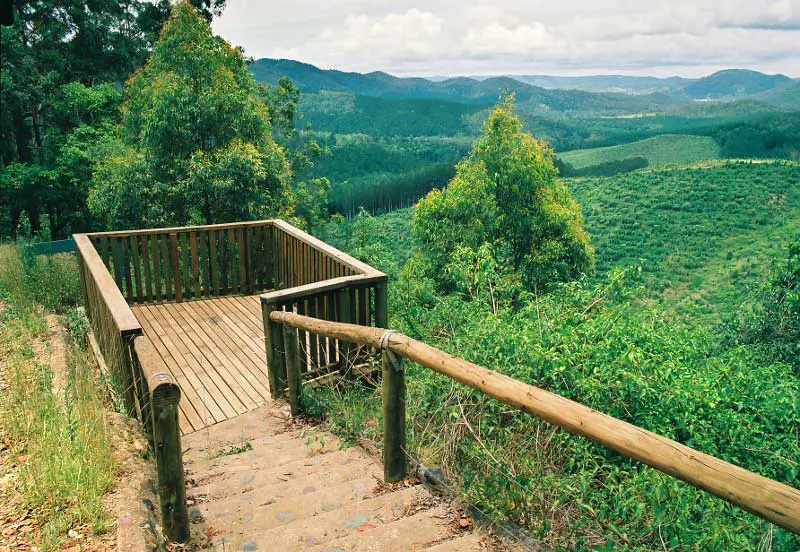 Kenilworth State Forest Lookout
Kenilworth State Forest
Booloumba Creek Forest Park on Booloumba Creek has four camping areas. Tent site fees apply. No bookings required and self registration operates. Deposit cash, cheque or credit card no. at the registration hut. Location: 8 km from Kenilworth off the Maleny Rd. Booloumba Creek Forest Park is situated in Conondale National Park.
Little Yabba Creek
Fig Tree Walk
If you'd like to visit the surrounding rainforest, Fig Tree Walk at Little Yabba Creek is a good place to start. It is a short rainforest walk with impressive fig trees. Location: Maleny Rd about 4 km from Kenilworth. Open access.
Imbil State Forest's Charlie Moreland camping area, on Sunday Creek Road, is accessible by conventional two-wheel-drive vehicles. Charlie Moreland Forest Park on Little Yabba Creek is 7 km from Kenilworth off the Maleny Rd. Tent site fees apply. No bookings required and self registration operates. Adjoining Conondale National Park, this area provides easy access to the features of both Imbil State Forest and Conondale National Park luxuriant rainforest, tall eucalypt forest, mosaics of plantation forest, waterfalls, boulder-strewn creeks and spectacular scenery make this area well worth a visit.
Conondale Range
The Conondale Range has been rightly described as the 'hidden treasure' of the Sunshine Coast hinterland. A short journey from the coast brings you in contact with cool and beautiful forests as far as the eye can see. The Conondales are the largest patch of subtropical rainforest and associated eucalypt forest remaining on the Sunshine Coast.
The forests contain many hundreds of different plants, birds and animals that depend on this ecosystem for survival. It is literally the last stand for many of our endangered species - some of which are absolutely unique in the world. It is a refuge set apart from the hustle and bustle of everyday life. It is a place to explore, to drive through or, better still, to stop and to walk, to picnic, to camp, to relax and to marvel at it all. Bushwalkers will be rewarded with hidden pools and waterfalls. Birdwatchers will be in seventh heaven.
While many visitors are content to set up camp at either Charlie Moreland or Booloumba campgrounds, others ponder what lies in the forest-clad ranges to the west. There are some wonderful walks will satisfy all, from the novice bushwalker, to the most experienced trekker.
Kenilworth: Brief History
Early explorers who passed through the area included Ludwig Leichhardt and several sheep farmers. In 1850, Richard Smith selected the Kenilworth cattle run of 16,000 acres on the east bank of the Mary River. The 1884 Land Act led to pastoral land in the Kenilworth area being resumed, surveyed and made available for selection. Farm sizes in this area ranged between 160 and 640 acres. The new settlers in the Kenilworth and Belli areas developed a varied economy in the early period. Most grew maize and vegetables.
More and more dairy cattle were brought to the Kenilworth area in the early years of 1900. The town of Kenilworth was surveyed in 1921. The influx of people to take up the new farms made Kenilworth one of the big growth areas in the Maroochy shire during the 1920s. Kraft opened a dairy factory in 1952. After Kraft withdrew in 1989 the factory was locally acquired and converted to speciality cheese-making.
Origin of name: Richard Smith set up a cattle run on the east bank of the Mary River in 1850. At the time his wife was reading Sir Walter Scott's novel "Kenilworth" and she decided to name the property "Kenilworth" after the novel. The book's title recalls a town in Warwickshire, England. The town was surveyed off Kenilworth Station in 1921 and took the name of the Station.