Kilcoy
A quiet rural centre which was made famous by reports of a mythical Yowie wandering about in the woods. Official statistics record over 3,000 sightings of Yowies throughout Australia between 1975 and 1979. A statue, based on descriptions from claimed observations, is in Yowie Park in Hope Street, Kilcoy. For unbelievers, there is also an indoor sports complex in Yowie Park.
Location: 94 km north west of Brisbane via the D'Aguilar Highway; 50 km west of Caboolture; 125 m above sea level.
The Jimna Forest Fire Tower was opened in 1977. A 47 metre structure it afforded panoramic views of the surrounding ranges including hoop pine plantations and native forests. Despite its listing on the Queensland heritage register in 2000, the wooden based tower was threatened with demolition since 2006.
The Kilcoy region is a rich Aboriginal cultural landscape. Mount Archer was known as Buruja, and also the name of a wetland near Villeneuve that was one of the main camps of the Dungidau clan. Bora rings existed at Wellcourt on Somerset Dam and at Sandy Creek east of Kilcoy, Oaky Creek and Waraba Creek The junction of the Brisbane and Stanley Rivers was known as Gunundjin, meaning a hollow place , and a sacred place, called Gairnbee Rock, recalled a dreaming story of a girl who went swimming there and was turned by her father, a gundir (clever man) by magic into a rock to save her from a dangerous evil spirit. The Stanley River was also called Gairnbee, meaning the water gum. The Brisbane River was known as Mairwar or Mairrwarrh, meaning platypus in Dungidau.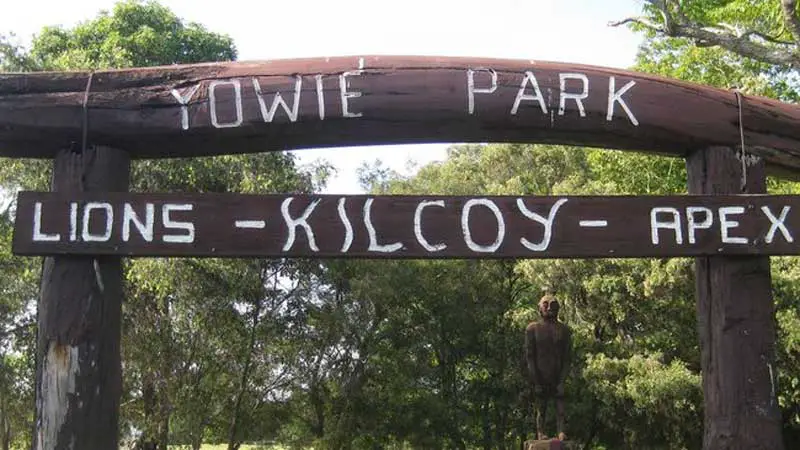 The Fred Greensill Lake and surrounding reserve is an ideal place for a quiet picnic. Nearby is a statue to the Yowie, reputed to be half-man half-beast. the Yowie is Australia's equivalent of the Himalayan Yetie (sic) or America's Big Foot and it appears in Aboriginal folk lore dating back thousands of years. Official statistics show that over 3 000 sightings were reported throughout Australia between 1975 and 1979. A picture beside the statue which allows visitors to put their head into a hole and be photographed as a Yowie.
Natural features: Yabba Creek; Conondale Range; Red Bluff; Sheep Station Creek; Conondale National Parks
Heritage features: Kilcoy Station Homestead (6 km north-east, 1850s); The Australian Narrow Gauge Railway Museum Society
Surrounding Area
About 64 km north of Kilcoy is the Kilcoy Station homestead (1854) built by Captain Louis Hope, one of the station's owners. Much further north there is the Conondale National Park (1999 ha) with numerous mountain creeks and complex plant communities, including Bunya pines, listed on the Register of the National Estate.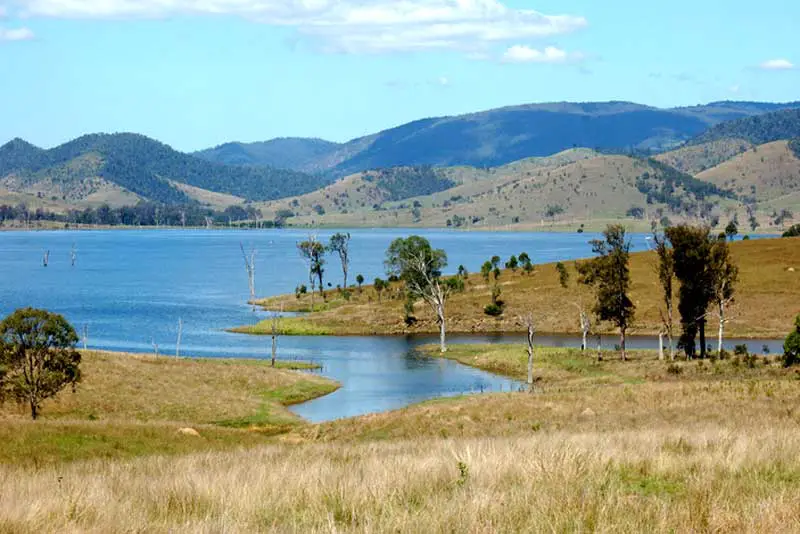 Somerset Dam
Somerset Dam was constructed between 1935 and 1959 with suspension of construction during the Second World War. The dam is situated on the Stanley River approximately 220 km upstream from the mouth of the Brisbane River. It was first used to supplement Brisbane's water supply in 1943 and it was completed - with a 305 metre dam wall - in 1959. The dam has 237 km of shoreline, a catchment area of 340 square kilometres, an area of 8,100 hectares and a storage capacity of 904,000 megalitres. It extends 56 km upstream from the dam wall. Today the dam supplies water to Brisbane, Logan, Ipswich, Redcliffe, the northern end of Gold Coast City, and the shires of Beaudesert, Esk and Kilcoy. Somerset Dam is a great place for a swim, as well as other water sports and fishing. There are also camping facilities for an extended stay.
The drive from Kilcoy to Esk around the foreshores of Lake Somerset is a wonderland of hidden valleys, bushland and quiet rivers. The lake is ideal for barbecues, boating, camping, canoeing, fishing, jet skiing, kayaking, sailing, swimming and walking. There are excellent viewing points and picnic places around the edge of the dam. There is also an attractive drive which can be taken by crossing over the river south of Somerset Dam and heading towards Wivenhoe.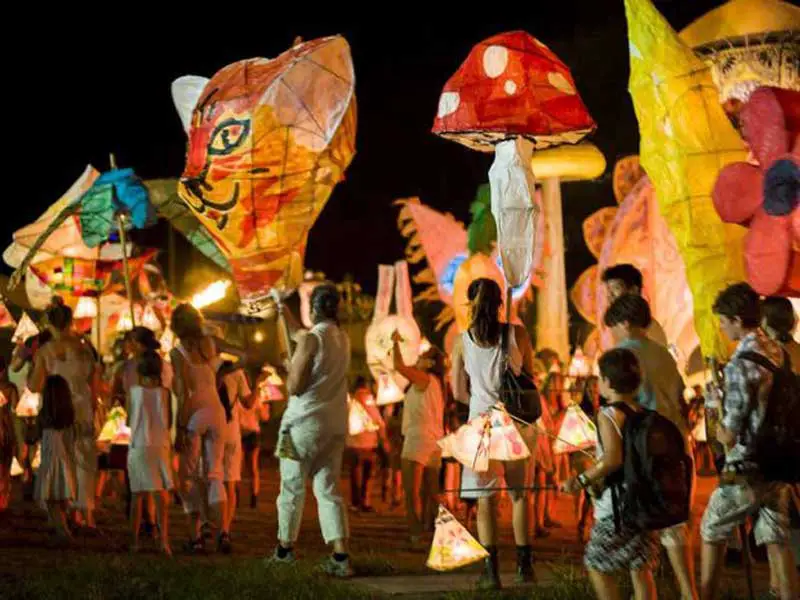 Woodford
Woodford is located 21 km east of Kilcoy. The famous Maleny Folk Festival, which had started in 1987, is now held in Woodford where it is now recognised as the largest music and lifestyle festival in Australia. It is held each year over the New Year's Eve weekend starting on December 27 and reaching a climax on January 1. The festival attracts up to 100,000 people, more than 2,000 performers and includes as many as 450 acts at 35 different venues, along with films, dance, street theatre, parades, workshops, drum-ups, folk medicine, craft workshops, a truly spectacular closing ceremony on New Year's Eve, as well as hundreds of stalls selling food, clothing, crafts, musical instruments, and all things alternative.
Kilcoy: Brief History
Scottish migrants opened up the area in the early 1840s and cleared land to run beef and dairy cattle. In 1842 on the outskirts of Kilcoy Station, 30-60 Native Aborigines of the Kabi Kabi (or gubi gubi) died from eating flour laced with strychnine or arsenic. The Mackenzies were admonished for this mass killing by attorney-General John Hubert Plunkett (1802 - 1869), who threatened prosecution if an official complaint was lodged. Up until the early 1990s Evan Mackenzie was a prime suspect but recent research suggests that he himself was probably not responsible for the massacre, since he was in Sydney at the time. The property's English overseer disappeared upon Mackenzie returning. Mackenzie appears to have organised a conspiracy of silence to protect the Englishman.
Mackenzie sold the property in 1854 to Capt. Louis Hope who built the heritage listed Kilcoy Station Homestead. Timber felling and milling was also important in the early development of Kilcoy, which was founded in the 1890s.
Origin of name: derived from the name of a pastoral run, the name first used in 1842 by pastoralists Sir Evan (1816-1883) Colin Mackenzie, after the Mackenzie's birthplace of Kilcoy in Rosshire, Scotland. Originally called Kilcoy, the township changed its name to Hopetoun 1892 (after Capt. Louis Hope (1817-1894) grazier, sugar miller and planter, who ran the Kilcoy pastoral property, 1858-94). It was then was changed back to Kilcoy 1906 because of confusion with similar place names in Victoria and Western Australia.