Montville
A township in the Blackall Range that has been developed on the lines of an European mountain village complete with Swiss and Bavarian chalets, mills and Tudor cottages, which were built to promote Montville as a kind of European mountain village. The village also home to a remarkable proliferation of arts and crafts galleries, gift and specialty shops, tea rooms, restaurants and cafes.
Location: 60 km north of Brisbane.
Natural features: Blackall Range; Obi Obi Creek; Senses Trail/Razorback Lookout; Lake Baroon; Kondalilla National Park (incorporates 327 hectares of lush subtropical rainforest; Kondalilla Falls, 90 metres high; Skene Creek; Picnic Creek).
Built features: various galleries, craft and glass blowing studios; Settlers Rise Vineyard and Winery
Surrounding Area
Kondalilla National Park
Kondalilla National Park incorporates 327 hectares of lush subtropical rainforest and tall open forest on the western edge of the range. The most popular attraction therein is Kondalilla Falls which drops 90 metres from Skene Creek into some picturesque water pools below. The latter make for some ideal swimming in the summer. Picnicking is popular. There is no fresh water available in the park but facilities include a parking area, picnic facilities, barbecues, shelter sheds, toilets, a lookout and three walking trails which start in the picnic area west of the car park.
There is a 400-metre walk (one way) through open forest to Picnic Creek, the Picnic Creek Circuit (2.1 km) which takes in a lookout over a rainforest valley from the top of Kondalilla Falls, and the Kondalilla Falls Circuit Walk which winds down from the aforementioned lookout to the base of the falls. The latter walk is 2.7 km from the top of the falls or a strenuous 4.8-km return trip from the picnic area.
The Park is home to the Bunya Pine, which drops cones weighing up to 10 kg, containing large nuts on which the local Gubbi Gubbi people once fed. Fauna includes the rare spotted tailed quoll, the peregrine falcon, the red goshawk and many reptiles and frogs.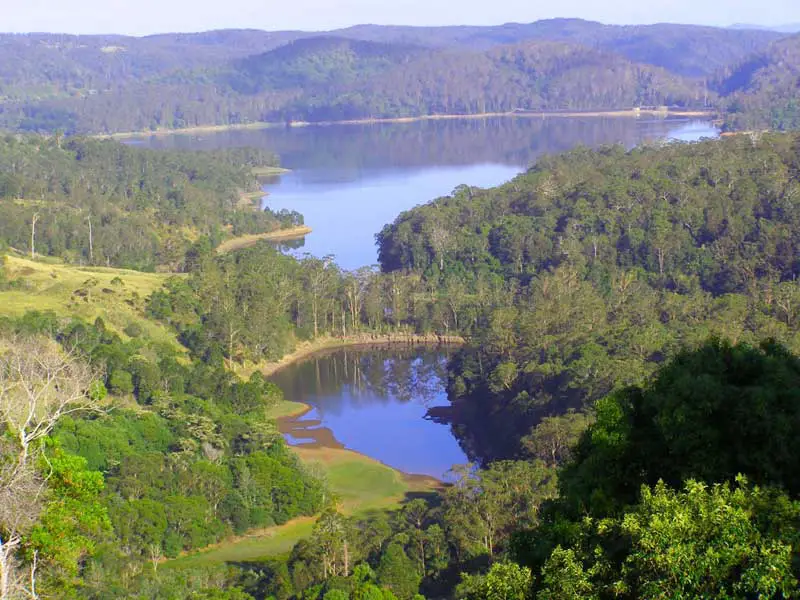 Baroon Pocket Dam
Baroon Pocket Dam, constructed in 1989, is fed by the Obi Obi Creek, a significant tributary of the upper Mary River, which drains the basalt capped Maleny plateau. Water runoff statistics have been kept in this area since the 1940s showing that the average annual rainfall is 2,037 millimetres and the runoff into Baroon Pocket Dam receives annually about 64,000ML. Since its construction the dam has become an important recreation area for the Sunshine Coast hinterland. The Baroon Pocket Dam holds about 61,000 megalitres of water and the treatment plant supplies about 150 megalitres of treated water to the Sunshine Coast daily.
There is a sailing club, naval cadet unit, boat ramp, fishing club, accommodation, and picnic facilities. Camping is not permitted near the lake. There are picnic areas by the lakeside while viewing platforms and a rainforest walking track through Obi Obi Gorge, are located near the spillway. Fossil fuel motors are not allowed on the lake.[2] A council permit, obtainable on site, is required to use an electric outboard motor for the use on dinghies, but not on canoes. Location: 7 kilometres north of Maleny.
Lake Baroon is stocked with bass, Mary River cod, golden perch and silver perch, while eel-tailed catfish and spangled perch are naturally present.[2] A council permit is required to fish in the dam.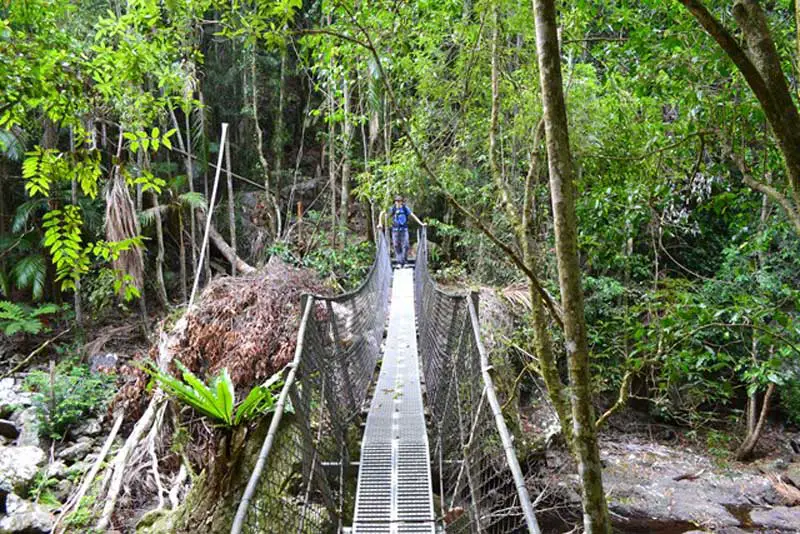 Sunshine Coast Hinterland Great Walk
Warm subtropical rainforest, tall open eucalypt forest and picturesque waterfalls in secluded areas of the Blackall Range feature on this 58.8km, four day walk, with bush camp sites. Day visitors can access short half-day and full-day walks within the Great Walk route. This Great Walk was constructed with multiple access points to give visitors different walking experiences along the top of the Blackall Range meandering through three reserves. You can walk the whole track (58.8km) and camp in beautiful settings or do shorter sections as half-day and full-day options.
Baroon Pocket is one of four major access points. Drive from Montville and follow the signs towards Baroon Pocket Dam via Western Avenue and Narrows Road. Turn right into the Great Walk (GW) entrance car park just before the Baroon Pocket Dam picnic area. Kondalilla National Park also has an entry. Access is via the Montville Mapleton Road, turn west into Kondalilla Falls Road.
Montville: Brief History
The Blackall Range was home to members of the Kabi tribe who gathered every two or three years on the banks of the Obi Obi Creek at Baroon Pocket to feast on the fruit of the Bunya Pine (Bonyi Bonyi). White timber getters entered the area in the 1850s but another 30 years would pass before the land was subdivided and opened to dairy farmers. Within a short time, the cultivation of tropical fruits was commenced.
Origin of name: originally called Razorback, the local residents led by storekeeper Henry Smith requested Montville, an artificial name from mont, meaning mountain, and ville, meaning town. It was changed officially to Montville in November 1897. It has been said that Smith's sister, Emma Irons, lived in Montville, Connecticut, USA. The first two suggestions -Razorback and Vermont - were rejected because those names had already been used.