Noosa
There was a time not long ago when Noosa, at the northern end of Queensland's Sunshine Coast, was a sleepy village surrounded by tropical rainforests and nestled beside the Pacific Ocean. Those days are long gone. Noosa is today a glitzy high-end resort town, where up-market shops, outdoor cafes, restaurants and beauty salons line its iconic main thoroughfare - Hastings Street - and five star resorts line the beachfront, however the rainforests and sandy beaches are still there.
Where is it?: Noosa Heads is 160 kms north of Brisbane, 1,100 kms north of Sydney and 20 km east of the Bruce Highway.
Plan And Book

In the late 1960s, developers, looking to create a more up-market alterative to the Gold Coast on the Sunshine Coast, saw the potential of Noosa and began transforming it into the iconic tourist destination it is today. And while the older locals bemoan the changes to their beloved Noosa, the idyllic location that attracted the developers here in the first place remains intact and is as much a drawcard for visitors as the glitz and glamour that characterises the resort town today.
The Beaches at Noosa
Noosa has long been a popular beachside destination, with a surf lifesaving reel placed on the beach in 1915 and the Noosa Heads Surf Life Saving Club founded in 1927. This section of shore, with its four small, pandana-lined beaches, five point surfing breaks and backing national park, is one of Australia's most scenic and most popular. It is a delightful spot, which accounts for the crowds that flock there year round. The main beach runs from the base of the heads to the mouth of the river. The river is now trained with an entrance wall that forms the northern end of the 1.2 km long beach. A rock groyne has been built across the middle of the beach and a seawall constructed along the southern half of the beach.The beach faces almost due north, and receives low waves which have to pass around Noosa Heads.
The safest bathing is in the main patrolled area east of the groyne. However, there is also a lifeguard stationed west of the groyne. Watch out for rip channels and be very careful if swimming near or west of the groyne, as rips are usually present. Also beware of the river mouth, which has shifting shoals and strong tidal currents.
Noosa is a prime surfing spot, with only beach breaks at the beach, but some of Australia's best right hand breaks along the north side of the head. The Noosa coast has five recognised breaks on each of the points; beginning out at Granite on the eastern side of Granite Bay, and again off Tea Tree Bay, Boiling Pot point, along the boulder shore paralleling the car park, called National Park, and finally off Johnson Point, called Jonhsons. A larger east to south swell is required to get all the points working, with length of ride also increasing with swell size.
Between the beach and head is a 3 km long rocky shoreline backed by the steep slopes of the Noosa National Park, with a road, car park, then walking track out to the head. Little Cove is a 100 m long pocket of north-west facing sand lying just 100 m east of the main Noosa Beach, around small Johnson Point. It is backed by some beachfront houses between the road and the beach, then wooded slopes.
Noosaville
A suburb of Noosa, Noosaville has its own distinct village character and is located close to essential modern conveniences such as supermarkets and shopping centres. The Thomas Street area of Noosaville is fast becoming the boutique restaurant centre of Noosa, offering a wide variety of international cuisines.
Lake Weyba
Nearby is Lake Weyba, a big but quite shallow tidal lake that is best visited at high tide. More of a lake for splashing around than swimming, Lake Weyba is crystal clear on a still day, making it ideal for stand-up paddleboarding and for kayaking. On a windy day it's perfect for kite surfing. This hidden gem is a very unspoilt area with plenty of licnic spots to choose from.
Tewantin
The original settlement in the Noosa region, Tewantin is today one of its three major centres. Tewantin was originally a timber town. In 1869, it was the river port for the Noosa area. The House of Bottles, located in Myles St, Tewantin, is a fascinating building constructed from more than 35,000 bottles and includes a bottle museum with over 10,000 bottles ranging from 2,000 year old antiquities to recent ones.
Noosa National Park
Occupying the headland at Noosa, the National Park encompasses a rocky wild coastline dotted with sheltered beaches and coves. A series of tracks through the National Park offer visitors a chance to explore tranquil rainforest, open forest, Wallum headlands, scrubland and grass lands. The park entrance is located a short distance from Noosa town centre, which explains why it is one of Australia's most visited national parks.
Laguna Lookout
A short (2km) uphill walk or 5 minunte drive takes you to Laguna Lookout. With great views over Noosa Heads, it offers a good overview of the Noosa area, Noosa River, the Lagoon and beyond. Sunrise is quite spectacular from this elevated vantage point.
Brief History
It was Noosa's golden ribbon of beach, or more particularly, the legendary break at First Point that first attracted outsiders to Noosa. Hayden Kenny, the father of former Ironman, surf lifesaver, canoer and successful businessman, Grant Kenny, is credited with being the first surfer to discover Noosa. Kenny told his surfing mates and the rest is tourism history. More than 1.7 million tourists visit Noosa annually. Plenty still arrive in Kombi vans with not much more than a longboard and boardies on board but the Lexus four-wheel-drives far outnumber them these days. In March 2009, Kenny was inducted into the hall of fame at the annual Noosa Festival of Surfing, an event held to celebrate the surfing lifestyle that first took shape in Noosa.

Surrounding Area
Noosa Everglades
The Noosa Everglades, one of only two everglades systems on Earth, is a world of Water, wilderness and wonder. Known as the River of Mirrors because of the amazing reflections in the water, the Noosa Everglades, in the upper reaches of the Noosa River, is a 60km stretch of pristine waters, magnificent flora and fauna and narrow waterways. You can explore the Noosa Everglades with guided and self-guided kayak tours from Boreen Point, by boat from Noosaville, or on foot. Although it's one of Noosa s hidden spots, it's easy to get to, can take as little as half a day to explore (or stay longer) and is only about 40 minutes from Noosa Heads. This unique environment is relatively untouched, with 65 percent of its catchment in National Park and it's within the Noosa Biosphere Reserve.
The main activities here are sailing, kite surfing or paddling - hire a canoe or kayak and explore the expansive waters of Lake Cootharaba. The lake is home to windsurfing and yachting competitions and is part of the Noosa River system. Boreen Point is the gateway to the upper Noosa River, the Everglades and the Great Sandy National Park. Locals and visitors come from far and wide to enjoy the famous Sunday spit roast lunch and relax on the wide verandah or in the beer garden of the historic Apollonian Hotel. Set on 3 acres with post-and-rail fences and a friendly Clydesdale in the front paddock, the Apollonian is a rustic and welcoming country pub. The Noosa Everglades is accessed via boat into the upper reaches of the Noosa River, or from Boreen Point (about 25 minutes drive from Noosa Heads).
Tewantin National Park
Tweantin National Park is known for its rainforest, wet and dry sclerophyll forest (some with very large trees), and specialised rocky woodlands and heathland on rocky tops. There are several easy walks through a range of environments. Take the drive to Mt Tinbeerwah - the lookout is a short 200 metres walk from the car park and offers unobstructed views of the coast and hinterland. Tewantin National Park is located 2km west of Tewantin and 10km from Noosa along the Cooroy-Noosa Road. Ph 1300 130 372.
Grab Rock at Mt Tinbeerwah has become a popular spot for abseiling. Tour groups out of Noosa provide all the gear necessary, and under the watchful eye of experiences abseilers, visitors are able to experience this adrenalin sport while taking in the magnificant views the location offers.
Wooroi Day Use Area has around 30 km of purpose built mountain bike trails that are a must ride if you love mountain biking. Bikes are available for hire from Cognition Cycles, Outlook Shopping Centre St Andrew Drive, approx 300m from a trail entrance. Location: Cooroy Noosa Road, Tewantin National Park, Noosa.
Peregian Beach
Located between Noosa and Coolum, Peregian Beach is a surf beach with a park including a kids play ground, skate park, gas bbqs & picnic tables and chairs. Peregian is a very pleasant small beachside community with a good vibe, excellent boutique shops and plenty of cafes, eateries and restaurants. The atmosphere is relaxed and family friendly. A Sunday market is held on the 1st and 3rd Sundays of each month. The beautiful, clean, sparsely populated beach extends for over 16km, making it perfect for a long walk with crystal clear water, beautiful white sand and opportunities to watch whales and dolphins at play. Waves are good but swim between the flags, as there can be strong rips.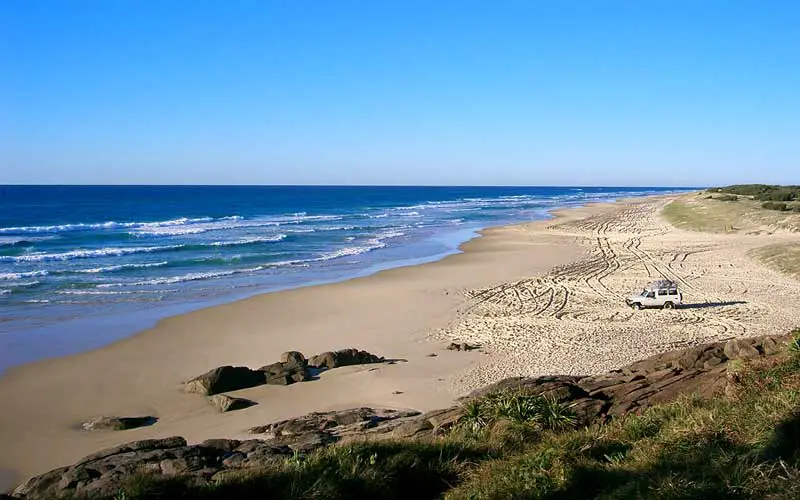 Fraser Island
Hervey Bay is only a short distance from Fraser Island, the world's largest sand island. Fraser is a unique part of the Fraser Coast region, and its unusual formation of sand and rainforest make it a special source of adventure for visitors to explore. Although well known among fisherman and 4WD enthusiasts, it is the history and Aboriginal heritage that gives Fraser Island its individual character, expressed through wonderful coloured sand cliffs, unique fresh water lakes and diverse flora and wildlife.
Maryborough
To the south of Hervey Bay is historic Maryborough (35 km), a city based on servicing the surrounding sugar, grazing and timber industries, Maryborough has a large number of beautiful buildings erected in the prosperous colonial era. The old wharf area has been re-established as riverside parklands, and is perfect for a picnic or riverside walk. Maryborough is the birthplace of PL Travers (real name Helen Lyndon Goff), author of the Mary Poppins books. The city has honoured the author and character with a bronze statue of Mary Poppins in the city centre near Queens Park.
Cooloola Coast
Between Noosa and Maryborough is the Cooloola Coast (108 km) - Cooloola Cove is a quiet coastal community; Rainbow Beach is popular with four wheel drive enthusiasts, hang-gliders and beach combers. Tin Can Bay is a tranquil and picturesque town, situated on the mainland opposite the southern end of Fraser Island. A fishing and boating paradise, it has become a popular holiday getaway. Tin Can Bay is one of o9nly two locations on the Queensland coast where it is possible to interact with wild dolphins.
At the Cooloola Recreational Area in Great Sandy National Park you can experience the majesty of nature's sculpture in sand. Massive dunes, towering cliffs of coloured sands and wide ocean beaches have been etched by wind and water. Tall forests, fragrant wildflower heaths and paperbark swamps decorate the sands. Water features abound, including surf, freshwater lakes and the undisturbed upper Noosa River. Walk one of the scenic tracks to highlights such as the historic Double Island Point lighthouse. Pack a tent for the two to four day Cooloola Wilderness Trail. Drive along the beach or take the Cooloola Way and Freshwater Road through tall open forests and heathlands. You will need a four wheel drive vehicle with high clearance to enjoy driving the sand tracks or the beach at low tide.
The Glasshouse Mountains
The Glasshouse Mountains are a series of spectacular volcanic plugs that rise dramatically from the coastal plain and dominate the landscape of the Sunshine Coast hinterland. They are formed of rhyolite and trachtyte, lavas which hardened inside the vents of tertiary volcanoes that have been greatly reduced by about 25 million years of erosion. The Glasshouse Mountains offer some spectacular walking tracks through open woodlands and heaths to panoramic lookouts and mountain summits. The walks range from easy to challenging grades.
Blackall Range
Australia has more than 20,000 km of coastline but there is just 200km of that vast coastline on escarpments that combine panoramic views of the hills and the sea. 20kms of that special escarpment is in the Blackall Range, in the hinterland of Queensland s Sunshine Coast. The Range, as it is locally known, was created by 200 million years of constant interaction by volcanoes and water which left behind a mass of hills, valleys and waterfalls. In summer the rainy season fills the rivers and creeks making strong powerful waterfalls. A trip through the Blackall Range along the most scenic drive on the Sunshine Coast is a great day out. As the Blackall Range is just over an hour's drive from Brisbane, it's just as easy a destination to reach if you are based in Brisbane as on the Sunshne Coast.