Peregian Beach
About 13 kilometres south of Noosa Heads within the Sunshine Coast Region, Peregian Beach is one of a string of lovely beaches between Noosa and Coolum. Peregian Beach comprises continual residential development along the eastern coastal strip of sandy beaches.
There is a village style shopping precinct and a Surf Club, Bowls Club, and recently built Hotel. The local skate park is popular amongst skaters in the region, but can be prone to short periods of flash flooding in the wet season.
Just over the sand hills at the southern end of the beach is Peregian Environmental Park, an area of wallum heath which bursts into a colourful profusion of wildflowers in spring.
On the western side of Peregian Beach is Lake Weyba National Park, and Lake Weyba itself, which feeds into the estuary at Noosa Heads. Nearby, too, is the southern extension of the Noosa National Park with a rich mix of coastal heath and scrub and stately rainforest which provides sanctuary and support for a wealth of native flora and fauna.
Events
Peregian Originals is a popular community event held on the 2nd Sunday of each month in the park beside the Surf Club showcasing original live music.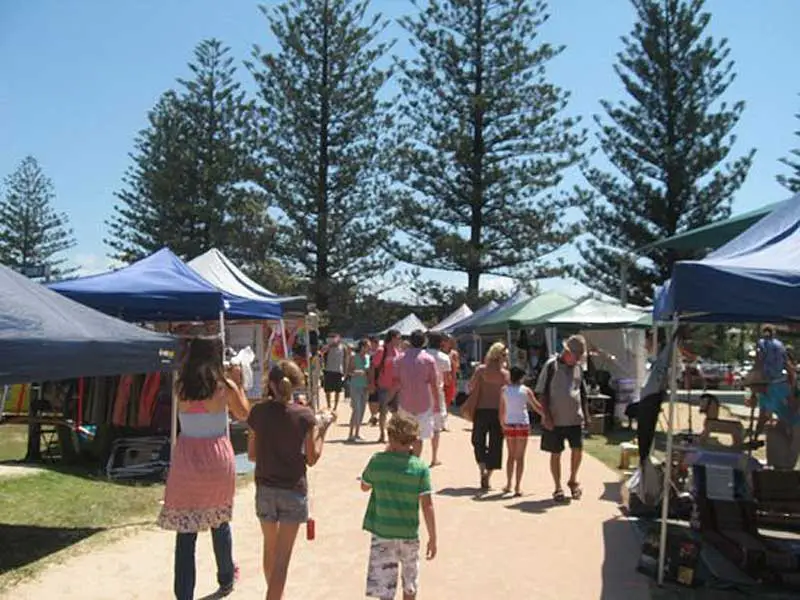 Peregian Markets is a popular community event held on the 1st and 3rd Sunday of each month in the park on the beachside of the Surf Club which helps raise money for the local club.
Peregian Beach: Brief History
At the turn of the century, shops started to line the newly formed streets and town businesses developed. By the end of the decade there were several general stores, butcher shops, bakery, saddler, blacksmith and auctioneers. After the railway opened from Yandina to Cooroy in 1891 along with the road to the north passing through the town, Eumundi developed as an important centre of the timber and dairying industry.
The surrounding country consisted of dense scrub full of pine, beech and cedar and long ridges covered with tallowood and blackbutt. George Etheridge, in 1895, moved his sawmill from Petrie's Creek (Nambour) to Main Camp and in 1900 moved it once again to Eumundi. It functioned here until 1938.
During World War 2, the Peregian Beach and Sunshine Beach areas were used for artillery training. Current residents occasionally discover artillery shells and unexploded ordinance on their land. On making such discoveries, people should call the police who will arrange for inspection and, if required, safe disposal.