About Western Australia
---
Western Australia is Australia's largest state, covering the western most third of the mainland, bordering South Australia and the Northern Territory. A range of experiences, from wilderness adventures in the arid outback or diving on coral reefs, to fine dining in world-class restaurants or a night at a casino, attract a wide variety of visitors.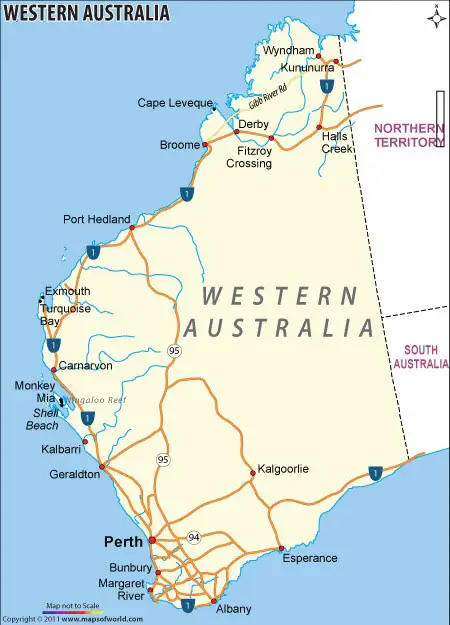 The city of Perth, the state's capital city, is the hub of the state of Western Australia, with all forms of transport radiating out from it.
Although Western Australia has been occupied by the indigenous people for many thousands of years, the present state has its origins in the British settlement known as the Swan River Colony, founded at Perth in 1829 (although the first British settlement occurred in Albany in 1826). Since that time, many immigrants have continued to be of British origin, outnumbered only by arrivals from other Australian states. There has also been significant immigration from New Zealand and South Africa. Small numbers of Southeast Asian (especially ethnic Chinese) immigrants began to arrive in Western Australia in the mid 19th century and continue to the present day.
Best Time To Go
Western Australia's famous wildflowers are in full bloom during the spring months (August to October). The weather is also at its mildest across the state then, particularly in the north, so spring is a popular time to visit the state.
Whale watching season is from June to October with both Humpback and the more special Southern Right whales can be seen all the way from the SA border to as far north as Exmouth. At certain places like Albany and Augusta, they regularly come in close to shore for calving. Popular whale watching spots are Cape Naturaliste, Albany (Middleton Beach), Augusta (Flinders Bay, Cape Leeuwin), Esperance (Lucky Bay, in Cape Le Grande National Park (20 mins. east of Esperance) Duke of Orleans Bay (approx. 1 hr. east Esperance), Hopetoun (3hrs west of Esperance) and Cape Arid National Park (approx. 2 hrs. east Esperance).
High humidity, cylones and thunderstorms are experienced every year from October until March in the tropical north, making travelling very uncomfortable, and many roads are cut due to floods and washouts. The dry season, from April to September, is the best time of the year to venture north of the Tropic of Capricorn, particularly if travelling by road.
South of the tropics temperatures can climb to uncomfortable heights during summer (December to February) but condition do get milder the further south you travel. The inland central region is semi-arid, so expect hot days and cold nights all year round, but with higher maximum and minimum temperatures in the summer months.
The South West and Great Southern regions can experience cold at nights in winter, and rain is often never far away, but if you are prepared to take your chances, there are still plenty of fine breaks in between the showers and it is off peak, so there are some accommodation bargains to be had in places like Albany and Denmark.
Throughout the state, with high temperatures come the flies, so if you don't want to be bothered by flies while travelling, take along your insect repellent during in summer, or better still, delay you trip until March or later.
Climate
Due to its large size, Western Australia has one of the most diverse climates in the country, divided into three main climatic zones: tropical, semi-arid and Mediterranean. The north is tropical, characterized by a sunny dry season (April to September) and a wet season (October to March) with its humidity, heavy rains and thunderstorms. The dry season has ideal temperatures, with hot days and mild evenings.
Several tropical cyclones develop offshore during the northern wet season, which lasts from about December to March. They frequently move inland between Broome and Onslow, although occasionally they have travelled south of Perth before curving inland. Tropical cyclones can be highly destructive, but they are also beneficial, bringing widespread rain to otherwise parched inland areas.
The central part of the state falls within the semi-arid zone and consists mostly of deserts. A temperate, Mediterranean climate characterizes the south where the summers are warm and dry and the winters mild and wet.
Perth lies within this zone and the hot summer days are cooled by the strong afternoon sea breeze. Perth has a very low rate of humidity. Summer, from December to February, is warm to hot, sunny and dry, while winter, June to August, is mild and can be wet. In between, spring and autumn are fresh, sunny seasons which are an ideal time to visit Perth.
The hottest months are November in the Kimberley, December a little farther south, and January/February in the rest of the state. July is the coldest month.