Bellarine Peninsula
Just over an hour from Melbourne and with the townships generally not more than ten kilometres apart, there is plenty to see on the Bellarine Peninsula, be it on a day tour or to stop in one place for the perfect short break. For many years, this coastal strip on the western shores of Port Phillip has been a popular destination for families taking their annual holidays. Seeing the caravan parks squeezed between the main roads and the beach, the general stores that carry anything and everything, all surrounded by clusters of permanent holidays homes conjures up images of mum and dad arriving with a car full of kids and spending a week or too lazing around on the beach or enjoying a spot of fishing. Some new trendy shops, restaurants and accommodation places have been thrown into the mix of late, as have complete estates of predominantly retirement homes, but the simple laid back feel of the towns and villages hasn't been lost.
In recent times, the Bellarine has been building a reputation as a food and wine destination and The Bellarine Taste Trail brings together many of the gourmet offerings of the region including wineries, restaurants and cafes and producers of beer, fresh produce, goats cheese, olive oil and seafood.
Bellarine Peninsula faces Port Phillip Bay on its northern and eastern shores and Bass Strait on the south, so water activities abound. These include snorkelling, jet-skiing, swimming with dolphins, surfing, kayaking, fishing, marine sanctuaries, sailing and more. World class wineries are peppered throughout the area, as are superb restaurants, quaint cafes, fresh local seafood and Sunday markets.
About Bellarine Peninsula
The Bellarine Peninsula is located south-west of Melbourne, Victoria, and is surrounded by Port Phillip, Corio Bay and Bass Strait. The peninsula is a growing tourist region with a variety of beaches and seaside resorts and wineries, much of the area is now regarded as a part of greater Geelong. The Barwon River meets Bass Strait at Barwon Heads. A vehicle/passenger Searoad ferry service operates travelling from Queenscliff to Sorrento between the heads of Port Phillip.
The Bellarine Peninsula is dotted with many villages and holiday resorts. One of the best ways to get a feel for them is with a driving tour. The Peninsula's compact nature and excellent roads make it easy to get around. These towns include Barwon Heads, Clifton Springs, Drysdale, Indented Head, Ocean Grove, Portarlington, Point Lonsdale, Queenscliff, St Leonards and Wallington.
The Borough of Queenscliffe, situated on the peninsula is the last remaining borough left in Victoria, and was the only Local Government Area to escape change in the mass Victorian munincipality reorganisation of the early 1990s. This was enacted by Liberal Premier Jeff Kennett. If the rules applied everywhere else in the state were applied here, the Borough of Queenscliffe would have become part of the City of Greater Geelong.
The Peninsula enjoys a long and colourful history that took a radically different course with the start of white exploration and the subsequent colonisation and development that ensued. Today there is ample evidence of the early days of white settlement with many historic buildings dotted around the Peninsula's villages. Remnants of Aboriginal civilisation are much harder to find.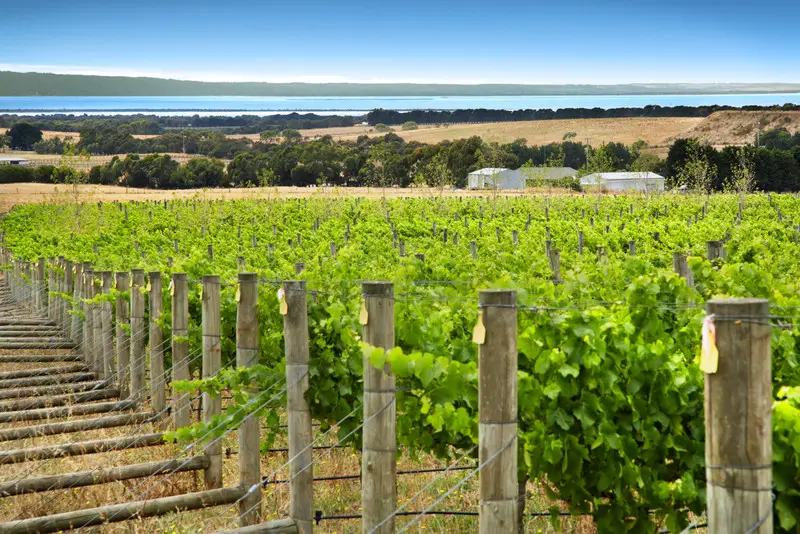 Indigenous Australians lived in the Bellarine Peninsula region for tens of thousands of years before white exploration and settlement eventually displaced them. The original inhabitants were from the Bengalat Balug clan of the Wathaurong tribe. They had many camps across the Bellarine Peninsula and moved around in search of food.
Dozens of bird species, native wildlife and rare and endangered flora populate the Bellarine Peninsula. Nature reserves, bays, lagoons and wetlands provide the habitat for birds and other animals. Most sites are easily accessed, and some have facilities, including bird hides and picnic areas. At Barwon Heads, Jirrahlinga Koala & Wildlife Sanctuary allows visitors a close-up look at native animals.
One of the arms that form Swan Bay, Edwards Point State Reserve is a popular bird-watching area, especially for rare species like the orange-bellied parrot. Access to the reserve is off Bluff Road, St Leonards. There are dozens of species that inhabit and forage in the area, including wrens, goshawks and wading birds.
The bay's ecosystem is based on seagrass, intertidal mudflats and salt marshes, and is one of the healthiest of its kind in Port Phillip. In summer and autumn, black swans feed on seagrass while pelicans, cormorants and other water birds can be identified. The rare and endangered orange-bellied parrot uses the saltmarshes as a winter refuge and feeding ground.
In The Region

Click on or tap a heading to read the description. Click or tap again to hide the description.

Geelong
Werribee
The Surf Coast
You Yangs