Peterborough
Peterborough is a small, tranquil, low-key fishing and holiday resort on the western side of the Curdies River estuary which forms a broad inlet behind the town. On the eastern side of the river mouth is Port Campbell National Park and on the western side of Peterborough is the Bay of Islands Coastal Park. Both are characterised by sheer limestone cliffs, offshore islands, towering rock stacks, gorges, arches, blowholes and other striking rock formations. Thus Peterborough, with its small beaches and sandhills, presents an atypical, family-friendly, if less spectacular, aspect of the south-west coast.
Location: Peterborough is located on the Great Ocean Road 247 km south-west of Melbourne between Port Campbell (13 km to the east) and Warrnambool (53 km to the west).
Peterborough Beach:
The beach at Peterborough is hemmed between cliffs and has a feeling of some solitude. It is readily accessible and ideal for swimming, fishing and surfing.
Curdies Inlet
Curdies Inlet:
Curdies Inlet is a large open stretch of calm water behind the sand dunes which is in considerable contrast to the turbulence of the Southern Ocean. It offers safe swimming, sailboarding, boating and fishing opportunities.
Port Campbell National Park (1750 ha) extends east from the eastern side of Curdies Inlet at Peterborough to Point Ronald at Princetown. Both feature some beautiful vantage points atop the sheer cliffs overlooking offshore islands, towering rock stacks, gorges, arches, blowholes and other spectacular coastal scenery. There are opportunities for snorkelling, walking, beachcombing, photography and surf fishing. As the Great Ocean Road passes right along most of the coastline in question it makes for some excellent scenic driving.
Bay of Islands Coastal Park
The Bay of Islands Coastal Park extends westwards for 32 km from the Peterborough golf course to Lake Gillear, 8 km east of Warrnambool. Just to the west of the golf course is Wild Dog Cove which has a secluded little beach with rock pools and safe paddling for family groups. There is a small carpark with steps leading down to the beach. A dirt walking track extends westwards past Halladale Point to the Bay of Martyrs although the quality of the track is better at the Bay of Martyrs end.
Point Halladale and the Bay of Martyrs Beach
Further west along the Great Ocean Road is a turnoff into a dirt track which leads to a small carpark at Worm Bay which is a popular fishing spot with sheer red cliffs projecting out on either side. Usage of this carpark is not strongly recommended due to its size and the problematic access. However, Worm Bay is directly east of the Bay of Martyrs (which therefore is a ready point of access to Worm Bay. Thus it is a very short distance to the heavily signposted Bay of Martyrs carpark. There are viewing areas, interpretative signage and a short but spectacular self-guided clifftop walk from the eastern end of the carpark which leads to Point Halladale where there is seating and signage relating to the shipwreck of the 'Falls of Halladale' which ran aground here in 1908. Fine beach walking can also be enjoyed at the Bay of Martyrs.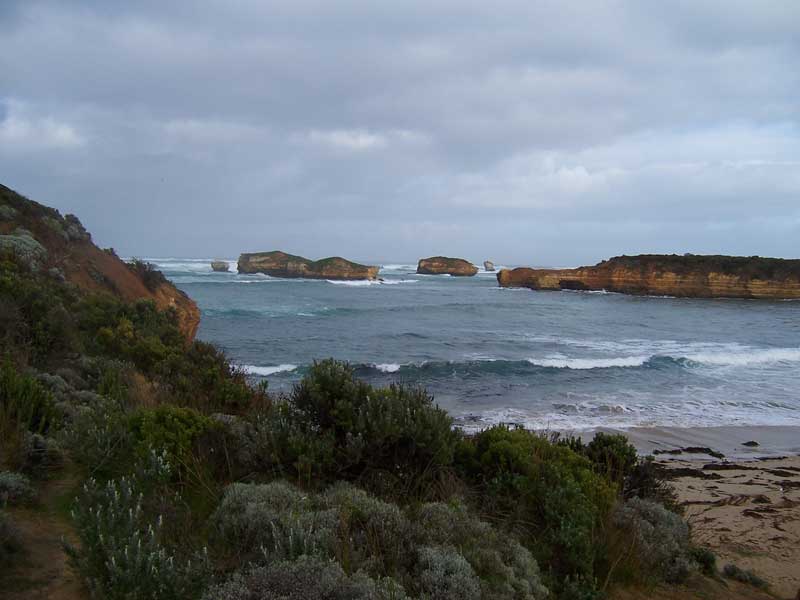 Bay of Martyrs
Further west again, via the Great Ocean Road, is Massacre Bay. A new carpark has recently been completed work is being done to create boardwalks and viewing areas which will protect the middens and other archaeological material of the area from harm. Next is the carpark and viewing area above Crofts Bay, a secluded beach area with a spectacular cliff line, fishing opportunities and some fine beach walking.
The next carpark is associated with the Bay of Islands, 8 km west of Peterborough via the Great Ocean Road. As its name suggests the bay enfolds a series of tiny offshore islands. A walking track starts from the carpark and leads along the coastline to viewing platforms with perspectives over the bay. Rock stacks offshore provide nesting sites for silver gulls while another is home to Victoria's only marine cormorant, the rare black-faced cormorant. A little further west a signposted side road on the left leads out to Boat Bay where there is a boat ramp.
From this point the Great Ocean Road heads inland, passing through some unspectacular rural scenery. However, a series of side roads on the left lead back out to points on the coast. About 7 km from Boat Bay is the turnoff into Radford Road which leads out to a carpark with a viewing area, information boards and shipwreck views.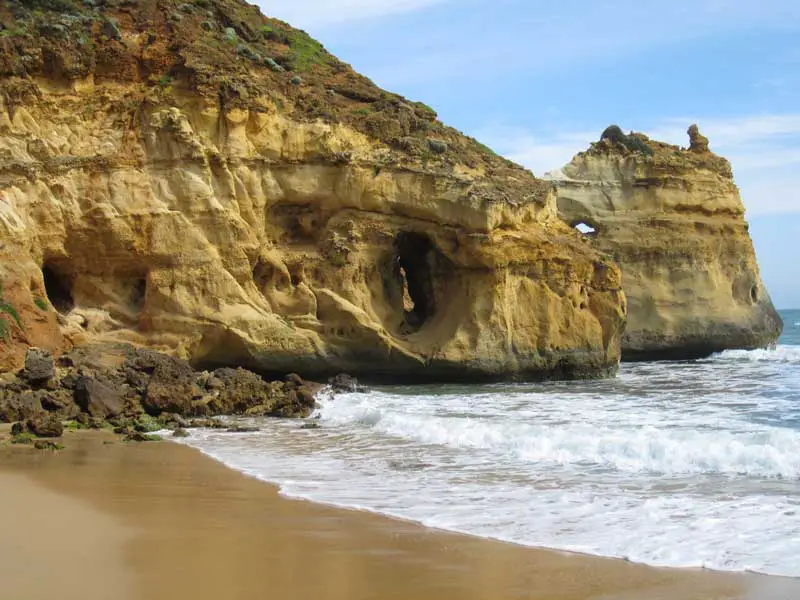 Childers Cove
About 8 km beyond the turnoff into Radford Road is the turnoff into Mathieson Road which leads to a carpark with a lookout above Three Mile Beach. A short distance beyond the Mathieson Rd turnoff is another turnoff into Childers Cove Road. Keep turning left and you will end up at Childers Cove where the barque 'Children' was wrecked in 1839 with the loss of 16 lives. There is a carpark, viewing area, picnic tables and toilets. To the immediate east are a series of bays, beaches, coves and points. The Childers Cove Road leads back to an intersection which gives you the option of veering right back to Peterborough or left to Warrnambool.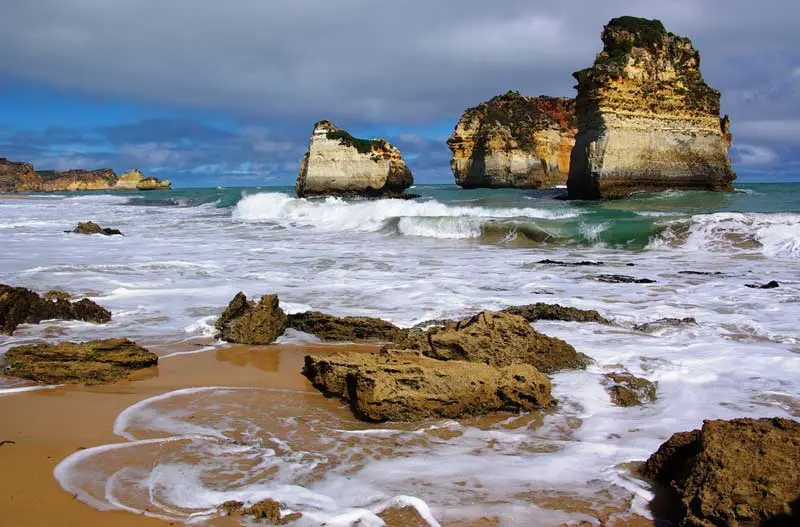 Murnanes Bay
Brief History
Middens around Massacre Bay (just to the west of Peterborough) are testimony to Aboriginal contact with the area. The place names – Massacre Bay, Massacre Point, Bay of Martyrs – refer to a strong component of local oral history which suggests that Europeans killed a large group of Kirrae-Wurrong Aboriginal men by driving them off the cliffs hereabouts. The women and children were allegedly killed in a nearby swamp. Although there is, not surprisingly, no written evidence, it seems the local Aboriginal population dropped from a couple of thousand to virtually nil at some point, which may suggest migration but this is not what local folklore suggests.
The Peterborough area was allegedly settled by Europeans when a giant clipper called the 'Schomberg' was wrecked on a rock just east of Curdies Inlet (now known as Schomberg Rock) in 1855. The captain had previously set a record of 68 days for a run from Liverpool to Melbourne and was attempting to make the present trip in 60 days. Some of those who came to view the wreck allegedly decided to stay.
There have been numerous shipwrecks along this stretch of coast. In 1877 the schooner 'Young Australia' was driven ashore at Curdies Inlet after receiving damage to its foretop mast at Cape Nelson during inclement weather. No lives were lost.
Five years later the 'Newfield' was grounded 1 km east of Curdies Inlet when the captain mistook the Otway lighthouse for the King Island light. Captain Scott and several other seamen died and are buried at the Port Campbell cemetery. Spectators were apparently disappointed to find that the cargo (or booty) consisted only of rock salt.
In 1908 the 'Falls of Halladale', bound from New York, was wedged between two reefs at what is now Halladale Point when the captain's judgment was impaired by heavy fog (some of the cargo is at Flagstaff Maritime Village at Warrnambool).