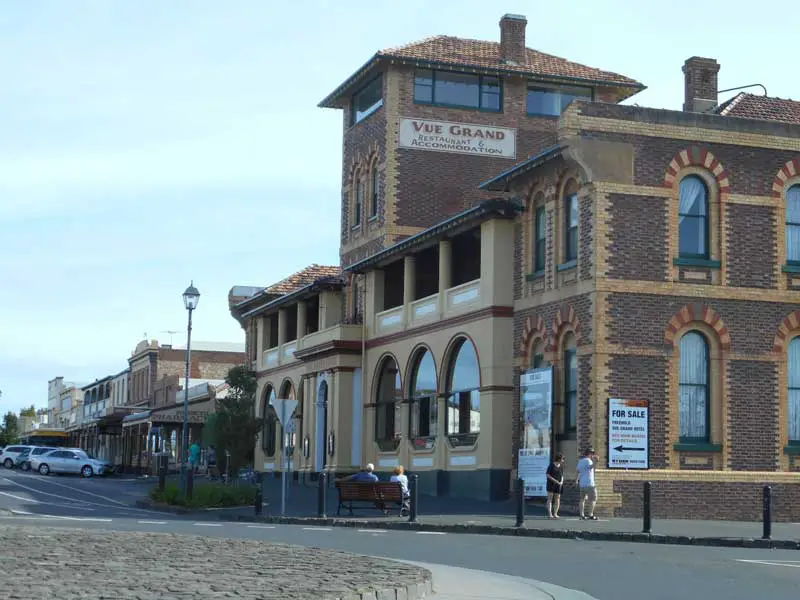 Queenscliff
Located at the entrance to Port Phillip Bay on an isthmus at the south-eastern tip of the Bellarine Peninsula, Queenscliff has been a major commercial fishing centre since the 1850s. The town and its twin settlement, Point Lonsdale, which is 5km to the west, are busy tourist resorts. Queenscliff is connected by two car and passenger ferries to Sorrento, which is on Mornington Peninsula across the bay.
Where is it?: Queenscliff sits just inside the entrance to Port Phillip Bay, 103 km south of Melbourne and 30 km from Geelong at an elevation of 15 metres.
Queenscliff Visitor Information Centre
55 Hesse Street, Queenscliff, Victoria 3225
Ph: (03) 5258 4843 / 1300 884 843
Queenscliff is one of those delightful seaside resorts which is both a popular beachside destination and a sophisticated retreat characterised by elegant hotels, guesthouses, galleries, some substantial public buildings, chic restaurants, cafes, a fine golf course, ferries, wide streets faced by terraced houses and both bay and surf beaches. In Australia most beach resorts are either very sophisticated (Palm Beach, Noosa) or very popular (Surfers Paradise) but rarely do they combine the two. At the same time Queenscliff is, and always has been, a working town with modest 19th-century stone and timber fisherman's cottages, a working wharf, boatbuilders and anglers galore. In the case of Queenscliff the mixture is unusual and makes the town both distinctive and special.
Queenscliff has safe, sandy bayside beaches that are popular with families. Its wide treed foreshore reserves have excellent picnic, barbecue and play facilities. The 'Narrows' dog exercise beach is nearby.
As it is located on a peninsula, the Bellarine Highway is the only road connecting it to Point Lonsdale and Geelong running west. It was once connected by railway to Geelong, however the Bellarine Peninsula Railway now runs as a tourist railway only to Drysdale. Cycling is popular along the former railway – Bellarine Rail Trail.
Nearby Point Lonsdale is both a coastal township and one of the headlands which, with Point Nepean, frame The Rip, the entrance to Port Phillip. The headland is dominated by the Point Lonsdale Lighthouse (1902).
Events
The Queenscliff Seafood Feast, a culinary festival using fresh seafood donated by local fishermen, is held annually on Good Friday to raise funds for the Royal Children's Hospital.
Queenscliff Music Festival
Queenscliff is also home to the Queenscliff Music Festival, a popular annual music festival, held on the last weekend of November, which attracts both local and international acts and is an important part of the town's tourist industry. Camping is available at the Queenscliff Recreational Reserve and Victoria Park Queenscliff. Minimum stay is 2 nights.

Click on or tap a heading to read the description. Click or tap again to hide the description.

Buckley's Cave


William Buckley's Cave is located in the cliffs under Point Lonsdale lighthouse. Buckley was a convict who escaped the prison near Sorrento in 1803, just two months after arriving from England. He made his way around the Bay (Melbourne didn't exist until the 1830's) and evaded capture for the next 30 years, living in this cave and others like it along the coast, and befriending the local Wathaurung people. In 1835 he decided to re-emerge from hiding and walked into Melbourne, told his story, and was soon pardoned by the Governor. Buckley then worked as an Aboriginal interpreter and spent his last 19 years in Van Diemen's Land (Tasmania), married, and seemed to live contentedly to the age of 75.

Black Lighthouse


The Queenscliff High Light, also variously known as the Black Lighthouse, Fort Queenscliff Lighthouse or Shortland Bluff Light (1862) is one of only three in the world built from unpainted black stone and the only one in the southern hemisphere. It is located inside the historic Fort Queenscliff.

Together with the nearby white Queenscliff Low Light, it was built in 1862 to replace the former sandstone lighthouse of 1843 on the same site which was underpowered and deteriorating. The lightsource is located 40 metres above sea level (focal plane). Depending on the tower's bearing it emits either a fixed light or an occulting signal with an interval of 15 seconds. The black lighthouse is one of four in Queenscliff that are used as a leading line to guide ships through the notoriously dangerous mouth of Port Phillip Bay.

There are several conflicting accounts of where the basalt for the building came from. One version states that it came from Scotland as a ships ballast; the lighthouse was definitely designed in Scotland. In another version, the stone was quarried in Melbourne and shipped to Queenscliff. The fact that the stone was shipped may have led to the former theory's conception. The third version, according to current tour guides, is that the entire lighthouse was cut in Scotland, transported, and assembled on-site by numbers.

Strangely, although Shortland's Bluff on which it is built is 20m or more above sea level, it was designed as a wave-washed lighthouse, with curved walls to deflect shock from waves, and with an entrance 5m above the base which is still visible. This entrance was used via a rope ladder for the first ten years until a ground-level door was cut. The light was converted to gas in 1890, and then to electricity in 1924. It is supposed that the first public telephone service in Victoria was installed here. Today the lighthouse is unmanned and automated, and is serviced by the Port of Melbourne Corporation.

Fort Queenscliff


(1882) A superb example of the defences that existed around the coastline of Australia from colonial times through to the end of the Second World War. Fort Queenscliff, on Shortland's Bluff, was built around the Black Lighthouse during the Australian Gold Rush after concerns that ships carrying gold might be susceptible to attack from privateers.

A comprehensive network of fortifications were established in the 1880s around the heads of Port Phillip Bay, including works at Fort Nepean (see entry on Portsea), South Channel Fort, Eagle Nest, Fort Franklin, Crow's Nest, Swan Island and Fort Queenscliff. So comprehensive were these fortifications that the bay was then considered one of the most heavily defended ports in the Southern Hemisphere.

Fort Queenscliff was designed not only to attack enemy shipping but to render it secure from land assault, hence there is a loopholed fort wall, a dry moat (once crossed by a drawbridge) and a castellated keep, along with the guardroom, cells, an underground shell magazine and muzzle-loading cannons. Fort Queenscliff Museum was established at Fort Queenscliff in 1982.Today there is a subterranean museum of military memorabilia.

Queenscliffe Maritime Museum


Queenscliff is the closest port to one of Australia's busiest but most dangerous rips – the mouth of Port Phillip Bay. This museum recounts the many stories of bravery, rescue and loss, covering shipwrecks, rescues and the important work of pilots. Exhibits include lifeboats, early diving equipment, lighthouse equipment, historic charts and artefacts from shipwrecks. Just in case you are thinking we have spelt the name of the museum incorrectly – we haven't. 'Queenscliff' is the town and 'Queenscliffe' is the borough, and as the museum relates to the borough, its name has an additional 'e' added to it.

Contact (03) 5258 3440. Location: Wharf Street, Queenscliff, Victoria.

Bellarine Railway


Bellarine Railway operates on a 16 km section of a formerly disused 3'6″ gauge branch line on the Bellarine Peninsula between the coastal town of Queenscliff and Drysdale, near Geelong. The Bellarine Railway has a current fleet of ten heritage steam locomotives, and a number of these are operational at any one time. Visitors have the opportunity to ride behind locomotives from each Australian state, and sometimes in unique combinations such as a Tasmanian locomotive, teamed with a Western Australian locomotive hauling a train of heritage carriages from Tasmania and Queensland. Passengers travel in comfortable leather seats as the train traverses rural farmland on its way to Queenscliff and skirts the foreshore around Swan Bay during the 16 km trip.

Trains run every Sunday of the year and several days a week during school holidays. Contact: (03) 5258 2069.

Marine Discovery Centre


A delightful attraction, surrounded by old anchors and propellers, is the Queenscliff Marine Discovery Centre which is run by the Marine Freshwater Resources Institute. It features an aquarium (including a 'touch tank') and organises rockpool rambles, catchment studies, boat cruises of Port Phillip Bay, sand dune and zonation studies, snorkelling expeditions and activities specifically tailored for school groups (there is also a marine laboratory for senior students and a resource room).

The centre is open weekdays from 9 am to 4 pm, every day in school holidays and the last Sunday of the month from September to May. It is wise to ring first to ensure the centre isn't booked out by a school group, however. Ph: (03) 5258 3344.



Queenscliff Foreshore


The Foreshore's so-called 'New Pier' which was built in 1884. Walk south along the beach to the Pilots Jetty. Hot sea baths and a bathing enclosure were once located in the area between the two. Adjacent the Pilots Jetty is the modern operations centre of the Port Phillip Sea Pilots. Walk up Thwaites steps to Shortland Bluff lookout, near the water tower. There are excellent views of Port Phillip – north to the city skyline and east to the Dandenong Ranges, Mt Eliza and Mt Martha (see entry on Mornington) and Arthurs Seat (see entry on Dromana). On the other side of the mouth of Port Phillip Bay is the Quarantine Station (see entry on Portsea).

Town Centre Heritage Walk


This walk begins at the corner of Gellibrand St and Stokes St. On the north-western corner is the former Lathamstowe Hotel which was built in 1881-83 by Edward Latham, a brewer who founded the Carlton Brewery. Part of Melbourne society, he married Emma Bailleau, the daughter of George Bailleau who built the Ozone Hotel which is located next door at no.42.

The Ozone, originally known as Bailleau House, was built in 1881-82. It is, by any measure, a superb old hotel with three storeys and a tower that offers great views over the town and Port Phillip Bay. The current name honours a paddlesteamer which carried passengers from Melbourne in the late 19th century when Queenscliff was a highly fashionable resort for the state capital's wealthier classes. The steamer was sunk off the coast of Indented Head to form a breakwater and can still be seen above the waterline (see entry on Portarlington).

Walk south back along Gellibrand St. Numbers 66 and 68 are the best preserved examples of residences built to house the pilots and boat crews which greeted the ships arriving at Port Phillip. They are amongst the oldest structures in town.

At the top of Gellibrand Street is the impressive Fort Queenscliff (see entry above) which was built on Shortlands Bluff, strategically overlooking the commercial shipping lanes to Melbourne and Geelong. Cannons were first installed here during the Crimean War (1853-56). They were manned by volunteers from 1860 and, despite the report of Captain Scratchley of the Royal Engineers (responsible for Fort Scratchley in Newcastle) that the shipping of the bay was supremely vulnerable to attack, little was done until the early 1880s when fears of a Russian invasion arose.

Walk along King St and turn left into Hesse St. At the top end of the road there is a carpark and a lookout offering fine south-westerly ocean views over The Rip – a 3 km stretch of water dividing Point Lonsdale and Point Nepean. It is recognised as one of the most dangerous stretches of water on the whole Australian coastline.

Nearby is a memorial to the men involved in the Goorangi disaster which occurred in 1940. This was one of those tragedies that so often happen in wartime. On 20 November 1940 the minesweeper Goorangi moved from Queenscliff to Portsea and was accidentally rammed by the Duntroon. All 24 men aboard the Goorangi were killed. The impressive 'White' Lighthouse dates from 1892.

Walk north down Hesse St. Near the Stokes St corner are a number of churches – St Andrew's Presbyterian (now Uniting) Church (1898), the former Wesleyan chapel (1868) and the former Methodist Church (1888) with its distinctive barrel-vaulted ceiling and rose windows.

As you cross Stokes St have a look along this cross-street which, like Hesse St, has a 19th-century feel. As you continue north along Hesse St you will return to the historical museum. Next door is the library. Only the front section is original (1888).

If you wish to extend your walk, turn left into Hobson St. At Hobson and Mercer are the church and parish hall of St George the Martyr (Church of England). The church, with its steeply-pitched roof, lancet windows, buttressing and stained-glass windows was built from local limestone. It dates from 1863-66 and the square tower from 1877. The Parish Hall (1870), like the church, was designed by Albert Purchas and has a central gabled bellcote and distinctive flanking gables. The church stands on a site where Governor Latrobe once built a small cottage for himself.

Turn left into Mercer St. 'Roseville' at no.42 is a rendered brick house with octagonal observation tower built before 1864 and later used as a holiday house. 'Warringa' at no.80 is a large single-storey Regency residence of cement-rendered limestone blocks built in 1856. At Mercer and King is the Royal Hotel, the first hotel in Queenscliff, which was built in 1854 as the Queenscliff Hotel (it became the Royal Hotel in 1860).

Turn right into King St then right into Stevens St. To the left is the Church of the Holy Trinity (1867). The presbytery and church hall date from 1901-02.

Walk back along Stevens St to Flinders St. Just over Flinders St is the Crows Nest Camp which was established during the 1914-18 war. It was used as living quarters for sergeants and other ranks from 1938-1984. At Flinders and Swanston is the historic Cottage By the Sea and on the other side of Henry St is the Santa Casa Roman Catholic School which was built in 1902 and used as a home for disadvantaged children from 1918.


Surrounding Area





Swan Bay

Swan Bay is on the northern side of the Queenscliff isthmus. Its quiet sheltered waters are good for fishing and boating. There is a boat ramp. Swan Bay is also a recognised wetland habitat which is a haven for birds such as the orange-bellied parrot.

Pirate Benito Benita is said to have buried plundered Spanish treasure in a cave in the cliffs of Swan Bay in 1798. Other aspects of the legend entail Benita being caught in the act by the British navy and sealing the cave entrance with gunpowder. He was allegedly caught and hanged while his cabin boy, who was supposedly tattooed with the map, laid low in Tasmania. This lad is said to have returned to spend his last years in Queenscliff, presumably without consulting the map on his body, as this dubious tale has, in reality, inspired some serious treasure-hunting over the years. Despite the fact that no record of Benita's capture exists and despite the fact that an alleged part of his treasure – statues from a cathedral in Peru – remain in the Peruvian cathedral, various syndicates and individuals have undertaken serious excavation work in search of the treasure, but to no avail.



Swan Island

Swan Island is a barrier island which, with Duck Island and the Edwards Point spit, separate Swan Bay from Port Phillip. It can be reached via a small one-way vehicular bridge from the town of Queenscliff on the Bellarine Peninsula. The small island is home only to the Queenscliff Golf Club and a strictly off-limits Department of Defence facility. The Department of Defence prefers not to discuss what currently goes on at the island, and information on the facility, aside from its history, is not found on any government website. Current use includes an exercise area where Australia's Special Forces carry out counter terrorism training. The base is shared with the Australian Secret Intelligence Service and includes a small demolition range, used by the Australian Army.

Swan Island has a long history of military use, being part of the fortifications built to protect the entrance to Port Phillip Bay from a feared Russian invasion during the Crimean war in the 1870s. The fortifications of Swan Island were controlled by the fire command at Fort Queenscliff.


Wreck of HMS J3

The wreck of HMS J3 can still be seen today off Swan Island. One of seven submarines of its class that were built, HMS J3 was commissioned in the Royal Navy on 27 April 1916 and allocated to the 11th Submarine Flotilla based at Blyth, Northumberland. Following the conclusion of hostilities in World War I, the Admiralty in 1918 presented the six remaining boats of the J Class to the Australian Government – J6 had been sunk in error in 1918 by a British ship. Upon their arrival in Australia in poor condition, the submarines were taken to Garden Island Dockyard, Sydney, for refitting. After her refit was completed J3 sailed for the submarine base at Geelong, Victoria.

After uneventful service, little of which was spent at sea, J3 and her five sisters paid off into Reserve at Westernport on 12 July 1922. The boats had become victims of the worsening economic conditions of the time, coupled with their high cost of maintenance. J3 was dismantled and the hull sunk as a breakwater at Swan Island, Port Phillip Bay, in 1926. Her batteries were later used to power an electric trolley situated at the Mine Depot at Swan Island.





Popes Eye

Initially proposed for defence purposes, Popes Eye is an uncompleted foundation for an artificial island fort near Port Phillip Heads. It has been protected as a marine reserve since 1979 and is now part of the Port Phillip Heads Marine National Park. Construction of Pope s Eye began in the 1880s, under the supervision of Sir William Jervois, by dumping bluestone boulders on a submerged 12-metre deep sandbank until they formed a horse-shoe shaped artificial reef, open to the north-east, just above high-water level. Construction ceased before completion as a fort because improvements in naval gunnery enabled the entrance to Port Phillip to be protected by guns at the nearby Swan Island fort, as well as at Fort Queenscliff and Fort Nepean, making Pope s Eye redundant for military purposes. The reef now hosts a navigation beacon It is located about 7 km inside Port Phillip Heads, 3 km east of Queenscliff and 5 km north of Portsea. Popes Eye is named after a naval midshipman and has no religious connotations.



Chinaman's Hat

Chinaman's Hat or the Caisson is an octagonal structure on a rectangular base in the Port Phillip Heads South Channel 3 km from Pope's Eye. It was built in 1942 during World War II to defend the bay. It detected intruding enemy ships trying to enter Port Phillip Heads at night and take Melbourne by surprise, when these passing ships intercepted a photoelectric beam projected from the structure. The military equipment has since been demolished and today, Chinaman s Hat is just an outcrop and home to a group of Australian Fur Seals which lounged on its rocky surface in the warmer months. It is also a popular destination among scuba divers.





South Channel Fort

The South Channel Fort is a small artificial island located offshore. Work began on the construction of the island in 1879 when about 14 000 tons of bluestone rocks (mostly weighing over two tons each) were laid in a ring. The foundations for a similar construction, known as the Pope's Eye, were laid to the west. Both were intended to illuminate (with searchlights) and stand guard over the main route through the shoals to Melbourne and to electrically detonate a series of sub-aquatic mines. Work on both projects was halted at the outset of the 1880s and the Pope's Eye never got any further. It is now home to a seal colony.

Fears of a Russian invasion led, in 1885, to the construction of numerous coastal defence works around Australia. As part of that enterprise, work recommenced on the South Channel Fort. Two eight-inch muzzle-loading guns were mounted with a range of 9 km. Innovative gun mountings were installed (one has been restored and is on display at Fort Queenscliff). When fully manned 100 people were garrisoned at the fort.

In the early 20th century the installation of new and more powerful guns at Port Phillip Heads lessened the need for the minefield and South Channel Fort and, by 1918, only a few men were garrisoned there. It was decommissioned after World War II and used as a magazine and then a weather station.

Many of the original fortifications, gun emplacements, magazines and subterranean passages remain intact though access is limited. The island offers fine views and it is also a declared sanctuary and breeding site for the white-faced storm petrel. Owing to the fragility of their nesting burrows visitors are restricted to a defined network of paths. A number of companies who operate out of Sorrento and Queenscliff offer tours. These include Moonraker Charters Ph: (03) 5984 4211, the Sorrento Ferry Company Ph: (03) 5984 1602, Polperro Ph: (03) 5988 8437, South Bay Eco Adventures Ph: (03) 5258 4019 and Saltwater Adventures, Ph: (03) 5258 4888.

Brief history

Prior to European settlement, it was inhabited by the Bengalat Bulag clan of the Wautharong tribe, a member of the Kulin nation.

European explorers first arrived in 1802, Lieutenant John Murray in January and Captain Matthew Flinders in April. The first European settler in the area was convict escapee William Buckley between 1803 and 1835, latterly in a cave beneath the Point Lonsdale Lighthouse, with the local Aborigines. Permanent settlement began in 1836 when squatters arrived in the area known as Whale Head. The name was changed to Shortland's Bluff in honour of Lieutenant John Shortland, who assisted in the surveying of Port Phillip. Land sales began in 1853, the same year the name was changed to Queenscliff by Lieutenant Charles La Trobe, in honour of Queen Victoria.



Originally a fishing village, Queenscliff soon became an important cargo port, servicing steamships trading in Port Philip. A shipping pilot service was established in 1841, and its two lighthouses, the High and Low Lights, were constructed in 1862-63. Queenscliff also played an important military role.[4] Fort Queenscliff was built between 1879 and 1889, and operated as the command centre for a network of forts around the port.

Queenscliff became a tourist destination in the late 19th century, with visitors arriving from Melbourne after a two-hour journey on the paddle steamer, Ozone. The opening of a railway line to Geelong in 1879 brought increasing tourists to the area, and numerous luxury hotels (or coffee palaces) were built to accommodate them. The Palace Hotel was built in 1879 (later renamed Esplanade Hotel), the Baillieu Hotel was built in 1881 (later renamed Ozone Hotel), the Vue Grande Hotel was built in 1883, and the Queenscliff Hotel was built in 1887. These and other buildings of that era are highlights of the town's distinctive archiectural heritage.

A great story about Queenscliff from the 1930s involves the famous Australian painter Sidney Nolan. Apparently Nolan and a friend stowed away on a ship in Melbourne in 1934 hoping they could get a free passage to France. They decided that if they were caught they would insist they were missionaries who were trying to get to Tahiti to bring the gospel to the locals. Unfortunately neither Nolan nor his friend had a working knowledge of The Bible and neither of them had much of a desire to remain teetotal for the duration of the trip. They were discovered before the ship left Port Phillip, were removed and taken to Queenscliff where they were gaoled.

The advent of the car saw Queenscliff drop in popularity as a tourist destination, as tourists were no longer dependent on its role as a transport hub. The railway ceased weekly passenger services in 1950, and was closed in 1976. The 1980s saw a return in the town's tourist popularity.

Origin of name: The area was named Whale Head in 1836 but was soon renamed Shortland Bluff after a midshipman on the vessel which carried out an early official survey of Port Phillip Bay. A lighthouse was erected at Shortland Bluff in 1842 or 1843. Land sales proceeded in 1853 at which time Gov. Charles Joseph La Trobe renamed the townsite Queenscliff in honour of Queen Victoria. The geographical feature, Point Lonsdale, was named in 1837 after Captain William Lonsdale, the first police magistrate of Port Phillip.
Queenscliff – Sorrento Ferry