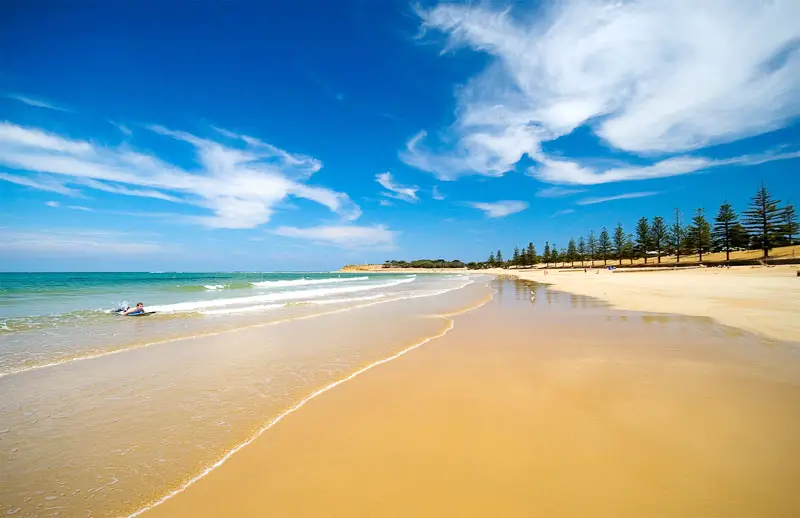 Torquay
Torquay is a seaside holiday resort and a residential satellite of Geelong, located 95 km south-west of Melbourne and 22 km south of Geelong at the eastern end of the Great Ocean Road. The town is known as the Surf Capital of Australia and the town contains numerous businesses and manufacturers related to the pastime who have long been sponsors of the Easter surfing championships at Bells Beach. Torquay is also a popular fishing spot. The settlement is mostly sandwiched between Deep Creek to the north-east and Spring Creek to the south-west. Both empty into the ocean.
Location: 99 km from Melbourne on Great Ocean Road; 22km south of Geelong.
The information centre is located in Surf Coast Plaza, at the corner of the Surfcoast Highway and Beach Rd, tel: (03) 5261 4219.
The Australian Strongman Triathlon is held at Torquay in early February, the High Tide Festival in early December and the Ripcurl Pro Surfing Classic at nearby Bells Beach. Surf carnivals are also held throughout the summer.
Around Town
Torquay's beaches are its raison d'etre. As Torquay has been a holiday resort since the late 19th century its beaches are modelled on English seaside resorts with immaculate grassed areas and shady trees for a post-paddling promenade. They are full to overflowing in summer with day-trippers from Geelong and Melbourne.
Torquay Beach is 800 metres long and faces south-east, with some protection provided toward the southern end by Rocky Point. Extensive intertidal rock reefs lie off Point Danger at the northern end, and Spring Creek drains across the beach just west of the surf club. Waves average 1.2 m and usually cut three rips across the single bar, with additional permanent rips against the rocks at each end. The southern rip, known as the Escalator, is particularly strong during easterly conditions. The beach itself is moderately steep and is backed by extensive parking areas, particularly along the eastern half.
The site of the first short board riding in Australia is still a very popular, if crowded, location year round. The beach offers a wide beach break, which is moderately protected during westerlies, though best in a north-westerly, with a left hander off Point Danger. Both beach and rock fishing are available, with the best rip holes toward the northern end. Take care on the rocks, as they are awash at high tide.
The beach walker heading south-west from Deep Creek will find themselves on a stretch of Zeally Bay which is known locally as Fishermans Beach. As the name suggests it is a noted fishing spot, as well as sailing. There is a boat ramp and sailing club. To the rear is a neat lawned area for picnics with electric barbecues provided. On the foreshore near Deep Creek, behind Fisherman's Beach, is an impressive large-scale sundial with ceramic tiles featuring Aboriginal motifs.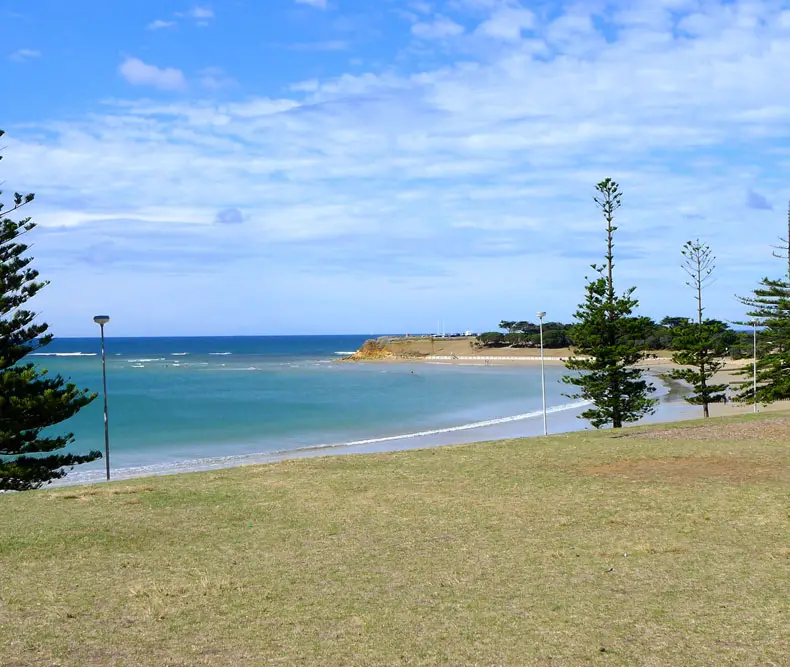 Front Beach
At the western end of the beach is Yellow Bluff where there are cypress trees and more picnic grounds. On the other side is Front Beach (aka Cosy Corner), which is a family bathing beach with lawns and an esplanade that is flood-lit at night. It is bordered to the south-west by the rock-strewn extremity of Point Danger from where there are views north-east to Point Impossible (thought to be an ancient Aboriginal burial place) and south-west to Bells Beach.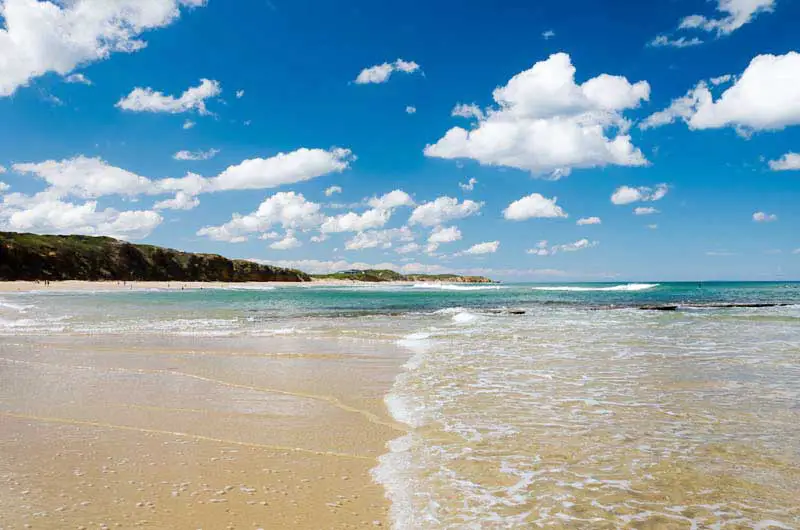 Jan Juc Beach
On the south-western side of Rocky Point is Torquay Golf Club and Jan Juc Surfing Beach. Due to its greater exposure to ocean swells it is a noted surfing area and also has a surf life-saving club. To its rear is the settlement of Jan Juc. Further to the south-west is Bells Beach. The surf lifesaving club, parking and access, together with Jan Juc Creek, are in the centre of Jan Juc Beach, while the narrow, southern half of the beach is backed by 20 metre high cliffs.
Jan Juc Beach beach is a little more exposed than Torquay, receiving waves averaging 1.4 metres. It extends for 1.2 km between Rocky Point and Bird Rock and faces almost due south, resulting in larger waves. The waves combine with the fine to medium sand to produce a single bar cut by three to four rips, with permanent rips against the rocks at each end.The northern half of the beach is backed by low bluffs, partly covered by dunes. The Jan Juc Surf Life Saving Club was founded in 1963 and annually rescues an average of 30 people. In the late 1990s, a surfer found the only known 'Janjucetus hunderi' fossils, on a beach near Jan Juc.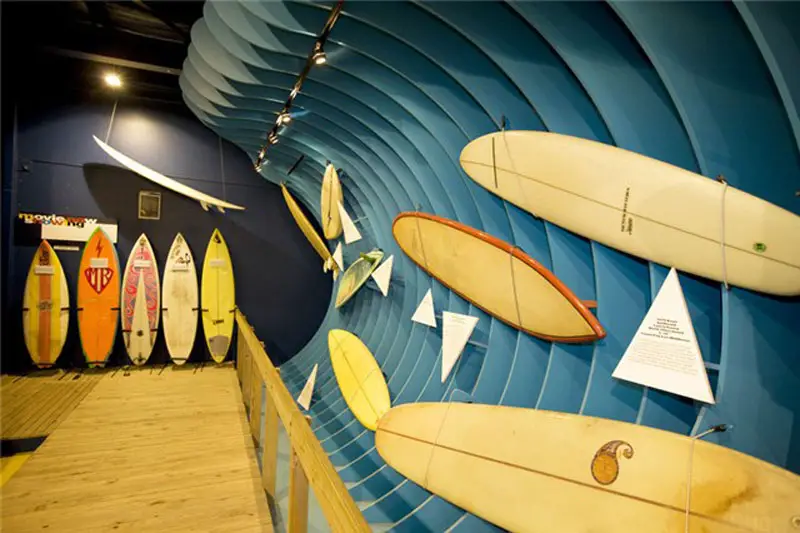 Surf World Museum
Surf World Museum celebrates the story of surfing and charts Australia's significant contribution to the development of surfing around the world. Its focus in on Australia's surfing and beach culture, incorporating related dress and musical fashions. It displays vintage surfing gear and memorabilia (including a history of surfboards dating back to 1915), the Ocean Art Gallery, a theatre screening classic and contemporary surfing movies, an exhibition of surf photography by Jack Eden, a wave-making tank (demonstrating the energy needed to produce the perfect swell), a paddling machine to test fitness and a machine to test balance on a surf board, board-shaping demos, interactve surf-related DVDs, a Surfing Hall of Fame and an interactive video system which allows visitors to "talk" with famous surfing legends. Location: Surf City Plaza, Beach Road, Torquay. Ph (03) 5261 4606







Walks

The Surf Coast Walk extends for 27 km from Jan Juc to Angahook Lorne State Park near Aireys Inlet, passing through coastal bushland, and along beaches and cliff-tops. There are subsections for those with more modest ambitions. From Jan Juc to Bells Beach it is 3 km; to Point Addis is another 5 km; on to Anglesea is 7 km; to Aireys Inlet is a further 10 km; and from Boundary Rd to the Distillery Creek Picnic Area is a final 2 km. The trail is well-marked although a related pamphlet can be obtained from Surfworld Museum.

The Point Addis Walk branches off the Surfcoast Walk, taking in fine cliff-top views and native flora and fauna.

The Point Impossible Walk extends eastwards from the foreshore at Torquay to the Thompsons Creek estuary.

The Deep Creek Walk follows the aforesaid creek through a flora and fauna reserve with pockets of black boys.

The Spring Creek Walk starts at the Torquay Surf Life Saving Club and follows the creek for 4 km.

Surrounding Area





Bancoora Beach

Bancoora Beach, which is midway between Torquay and Barwon Heads at Breamlea, is a 1 km long, south-east facing beach. The Bancoora Surf Life Saving Club and car park are located behind the foredune, leaving the beach in an attractive natural state.The beach receives waves averaging 1.3 m, which usually cut three rips across the 80 m wide single bar and surf zone. Higher waves intensify the rips, with strong permanent rips running out against the rocks at each end. On average, 10 people are rescued here each year.





Bellbrae Carriages

A museum collection of 23 horse drawn carriages. The centrepiece of the collection is a genuine Cobb & Co coach by Abbott Downing & Co of New Hampshire, Massachusetts. The museum also contains a large collection of blacksmiths tools from a once functioning blacksmiths workshop. Including a large working blacksmith bellows. It is located by the corner of Hendy Main Rd and Brushfields Rd, about 4 km north-west of Torquay (follow Coombes Rd westwards off the Geelong Rd, just north of Torquay, and it becomes Hendy Main Rd). They are open by appointment only, Ph: (03) 5261 2908.



Horseriding and Berry Farm

Spring Creek Trail Rides are located in Portreath Rd at Bellbrae, Ph: (03) 5266 1541. Also in Portreath Rd (No.45) is Bellbrae Harvest, a berry farm and licensed mudbrick cafe with jams, sauces and pickles made on the property. They are open Thursday to Monday for breakfast and lunch and for twilight dinners on Friday and Saturday nights, Ph: (03) 5266 2100.





Tiger Moth World

Tiger Moth World is a theme park revolving around the 1930s Tiger Moth biplane. The operational grass aerodrome contains a living museum dedicated to the aircraft. Visitors can watch the Moths in action, take an aerobatics or scenic ride in a Tiger Moth or a joy ride along the coast to the Twelve Apostles in a modern cabin-class aircraft. Skydiving is another possibility or you can simply explore the Adventure Park with its mini golf, flying fox, bicycles, canoes, paddleboats, playpark, volleyball facilities, the Islands of Surprise, the Jolly Roger, the Volcano Maze, Mini Golf, bocce, croquet, ten-pin bowling, basketball, badminton, giant board games, gift shop and cafe. Entry fee to to the park and use of all facilities (excluding flights) applies. Head north along the Surfcoast Highway to Geelong then turn right onto Blackgate Rd and it is 3 km to the park.


Brief History

It is thought that the Wathaurung Aborigines occupied the area prior to European settlement. Picnickers began to frequent the spot from the 1860s. When the first land was sold in the mid-1880s the locality was known to Europeans as Spring Creek, after the rivulet which demarcates its south-western edge. It soon became a popular holiday spot for residents of Geelong and Melbourne who initially travelled here by Cobb & Co coach. The seaside resort associations, coupled with the English-orientated demographics, saw the settlement renamed Torquay in 1892 after the holiday resort in Devonshire.

The Canadian clipper, the Joseph H Scammel, ran aground 400 metres offshore in 1891. The pine deckhouse was used to build the lower portion of Scammel House which can still be seen in Pride St. It was the hearing into the wreck that led to the construction of a lighthouse at Aireys Inlet.