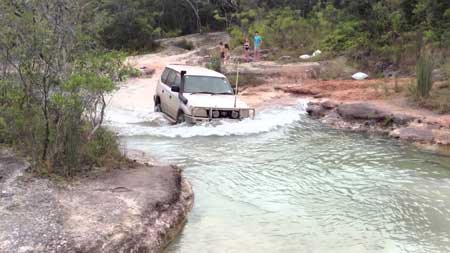 To reduce the risk of an accident or injury in the Outback, we recommend that you do not drive when you are tired or affected by alcohol. Think twice before driving more than 2 hours at a time without a break. If you are considering going 4Wheel Driving in the Outback for the first time, we advise you take lessons in preparation for your journey. Lessons are inexpensive, and may ensure a safer journey!
Driver fatigue
One of the most serious hazards you can face in the outback is your own (and other people's) driver fatigue. Driving long distances, to see the fantastic natural features in Western Australia, can be tiring; particularly in hot weather and if you are not used to long distance driving. Sometimes drivers can become so mesmerized by the long straight roads that they forget to take the next corner carefully and drive straight into a ditch, tree or another vehicle. It important to take breaks; get out of the vehicle and do some exercise, change drivers, drink a coffee or a coke.
Travelling times and distances
One should note that on dirt or gravel roads 300 to 400 Km in a day is enough for most travellers. On serious 4WD tracks, l00km to 150km a day might be all you can hope for without running you and the vehicle into the ground. Passing other vehicles on narrow roads, dust etc. First of all, slow down. Many drivers move to the left, so that half of the vehicle is driven onto the edge of the road, allowing each vehicle to pass the other using half the road. That seems fair and polite to them, but many experienced outback drivers do not recommend that. Each vehicle is then at risk. So they recommend firstly, that you slow down to see if you can work out what the other vehicle is going to do. If it moves off the road then you should drive down the middle of the road to pass them; even though you have the risk of a broken windscreen from any stones the other car might throw up.
If the other car looks like staying in the middle, then slow right down and try to find a safe place to move completely out of the way on the left side of the road. If the other vehicle is a large one like, a truck or road train, it is better wherever possible for you to stop on the side of the road and let it go through; as they cannot so easily move over safely.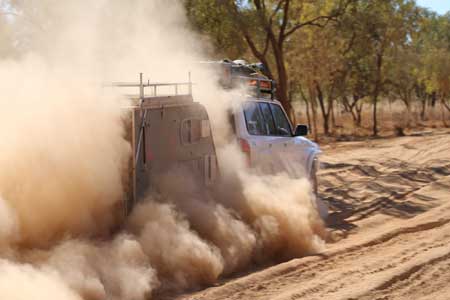 Driving in the dust
There will be occasions in the north in the dry season when you will find yourself driving in dust. If the vehicle in front of you, or oncoming, is throwing up dust then slow down, put on your headlights (or dust light if you have one), and if it is really difficult to see pull off the side of the road somewhere safe and stop for a while. It is very important also not to simply drive off the side of the road, if you cannot see where you are going. There can be deep ravines, running rivers or large rocks or trees there. Be very careful and don't continue driving if you cannot see where you are going.
The standard of the roads
You can drive a long way around Australia on bitumen; but you don't have to get very far off the main track to find yourself on dirt or gravel roads. The standard of the dirt and gravel roads is generally OK compared with unsealed roads in Africa or South America; that tend to see far more traffic. The major gravel and dirt roads are graded regularly; although heavy road trains (large trucks pulling large trailers) can cause the surface to break up rather quickly.