A-Z List of European Cities
•
Amsterdam
•
Antwerp
•
Athens
•
Barcelona
•
Basel
•
Berlin
•
Bilbao
•
Brussels
•
Bucharest
•
Budapest
•
Chantilly
•
Cologne
•
Copenhagen
•
Dresden
•
Dublin
•
Edinburgh
•
Florence
•
Frankfurt
•
Hague, The
•
Kiev
•
Krakow
•
Lille
•
London
•
Madrid
•
Moscow
•
Munich
•
Naples
•
Oslo
•
Otterlo
•
Oxford
•
Paris
•
Prague
•
Rome
•
Rotterdam
•
Stockholm
•
Strasbourg
•
St Petersburg
•
Venice
•
Vienna
•
Warsaw
•
Zurich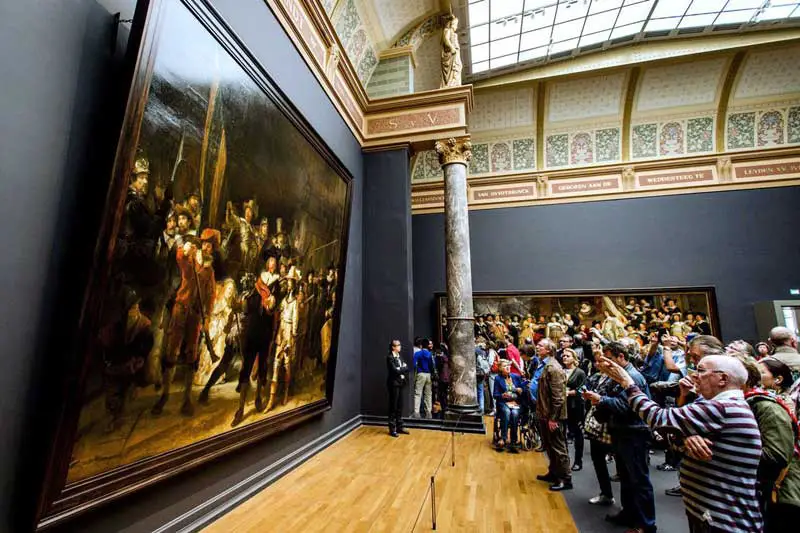 Art Museums in Europe
The galleries on this list hold all types of art, including fine art (like painting, drawing, sculpture, illustration, illuminated manuscripts, icons, engraving, etching, lithography, screen printing), decorative art (armour, ceramics, glass objects, mosaics, tapestry, metalwork, enamelwork, jewellery, lacquerwork, calligraphy, collage), prehistoric art (mainly Neolithic), ancient art (antiquities like bronzes, marbles, friezes) and various types of design. Twentieth century contemporary art is also represented in forms such as: installation, video, animation, and conceptualism. Overall, these collections, several of which were founded by wealthy patrons and art collectors during Renaissance times, represent a selection of the best art museums on the Continent.
Amsterdam, Netherlands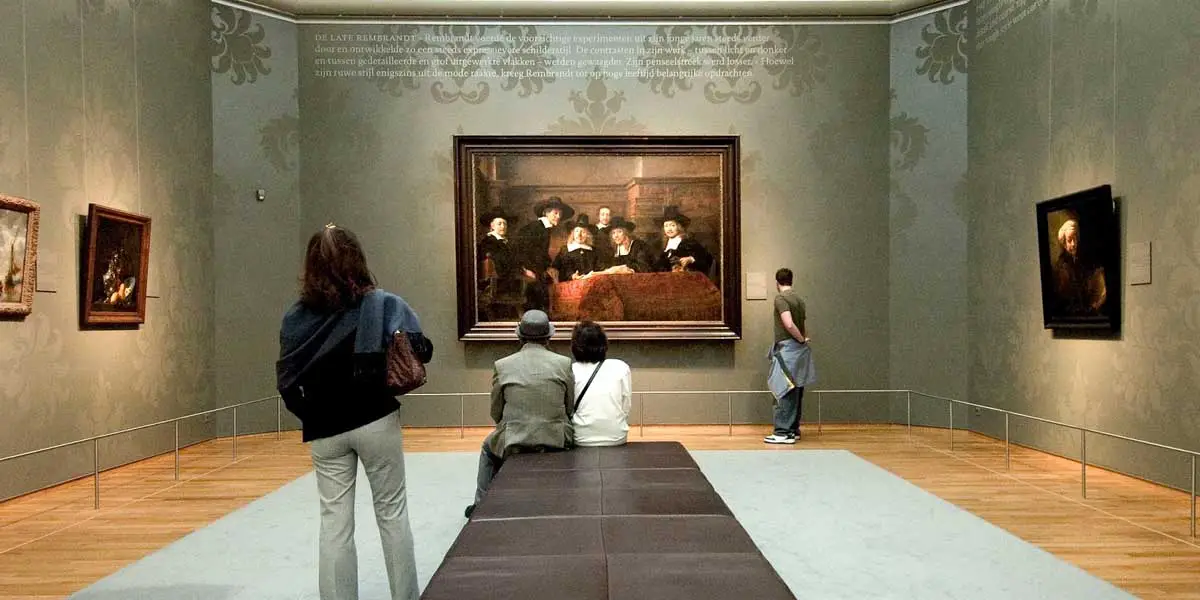 Rijksmuseum (Amsterdam)
National museum of the Netherlands, containing famous compositions by Rembrandt, Johannes Vermeer, Frans Hals and other Dutch Realists. The museum's print room (Rijksprentenkabinet) contains one of Europe's foremost collections of drawings and other graphic art.
Van Gogh Museum (Amsterdam)
Has the largest single collection of works by the Dutch painter Vincent van Gogh, and his contemporaries.
Antwerp, Belgium
Antwerp Museum of Fine Arts
Opened in 1810, the Koninklijk Museum voor Schone Kunsten van Antwerpen features painting, sculpture and drawing from 1400-2000, with works by: Jan van Eyck, Jean Fouquet, Roger van der Weyden, Joachim Patinir, Van Dyck, Frans Hals, Jacob Jordaens, Rubens, James Ensor and other representatives of Flemish painting.
Athens, Greece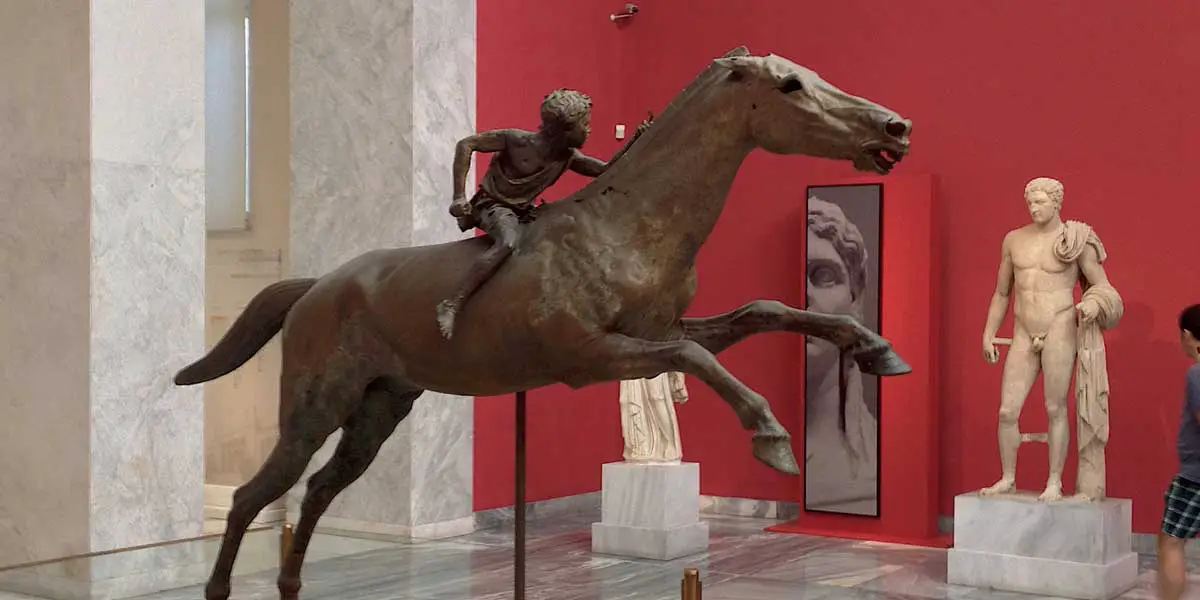 The National Archaeological Museum (Athens)
Has the world's richest collection of artifacts and antiquities from Ancient Greece, including prehistoric Cycladic, and Mycenaean items, ancient Greek sculpture (statues and reliefs) and pottery, the Stathatos Collection, the Vlastos Collection, and an assembly of Egyptian artifacts.
Barcelona (Spain)
Picasso Museum (Barcelona) Established by Jamie Sabartes and opened in 1963, it houses some 3,500 items by the 20th century Spanish artist Pablo Picasso, including works from his "Blue", "Rose", "African" and Cubist periods.
Basel (Switzerland)
Kunstmuseum Basel
Switzerland's top art museum, its collection includes masterpieces by Hans Holbein, Mathias Grunewald, Martin Schongauer, Lucas Cranach the Elder, Konrad Witz, Arnold Bocklin, Ferdinand Hodler and others. Styles like Cubism, Expressionism, Constructivism, Dadaism and Surrealism, are also covered, plus American modernism since 1950.
For details of arts fairs like Art Basel and the Berlin Biennale, please see: Contemporary Art Festivals – Top 30.
Berlin (Germany)
Gemaldegalerie SMPK, Berlin
Based on the personal collection of Frederick the Great, its highlights include paintings by Lucas Cranach, Albrecht Durer, Raphael, Titian, Caravaggio, Peter Paul Rubens, Rembrandt and Jan Vermeer.
Guggenheim Berlin
Designed by Richard Gluckman and opened in 1997, it is small gallery of avant-garde art in Berlin's Unter den Linden area, jointly owned by Deutsche Bank and the Solomon R Guggenheim Foundation.
Neue Nationalgalerie (Berlin)
Has an extensive range of modern 20th century art, featuring movements like Cubism, Expressionism, the Bauhaus, Surrealism and Abstract Expressionism, with artworks by Picasso, Ernst Ludwig Kirchner, Joan Miro, Wassily Kandinsky and Barnett Newman.
Bilbao (Spain)
Guggenheim Bilbao
Designed by the Canadian-American architect Frank Gehry, the museum opened in 1997 to promote avant-garde works through permanent and temporary exhibits by top contemporary artists, from Spain and overseas.
Brussels (Belgium)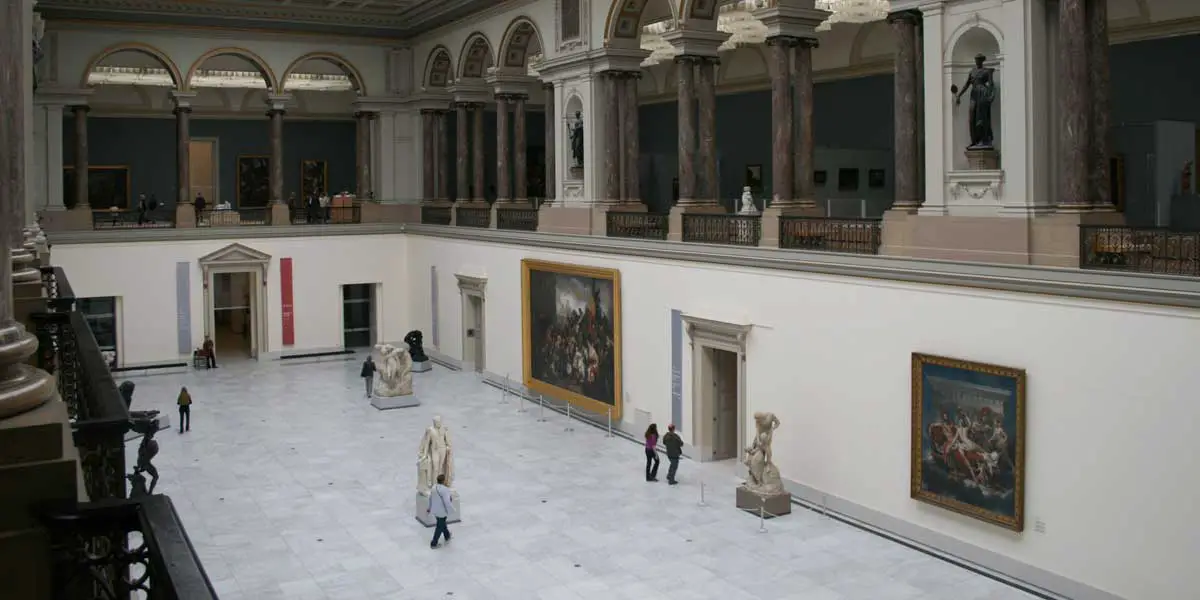 Royal Museums of Fine Arts (Musees Royaux de Beaux-Arts) (Brussels)
Includes the Museum of Ancient Art, the Museum of Modern Art, the Museum Constantin Meunier and the Antoine Wiertz Museum. The permanent collection has 20,000 items, including works by Flemish painters like Robert Campin (the Master of Flemalle), Pieter Brueghel the Elder, Jacob Jordaens, Rubens and Frenchman Jacques-Louis David.
Bucharest (Romania)
National Museum of Art (Bucharest)
Completed in 1937, Romania's National Museum is housed in the former royal palace in Revolution Square, central Bucharest. It contains important collections of medieval and modern Romanian art, as well as collection of international artworks collected by the Romanian royal family. Highlights include sculptures by Constantin Brancusi, paintings by Nicolae Grigorescu, Gheorghe Tattarescu, and others, as well as works by Old Masters such as Jan van Eyck, Rubens, Rembrandt, Domenico Veneziano, Antonello da Messina, El Greco, Tintoretto, Claude Monet and Alfred Sisley.
Budapest (Hungary)
Museum of Fine Arts (Budapest)
Opened in 1906, Szepmuveszeti Muzeum is organized around six departments: Egyptian, Greek and Roman Classical Antiquities, Sculpture, Old Masters, the Modern Collection, and Prints/Drawings).
Chantilly (France)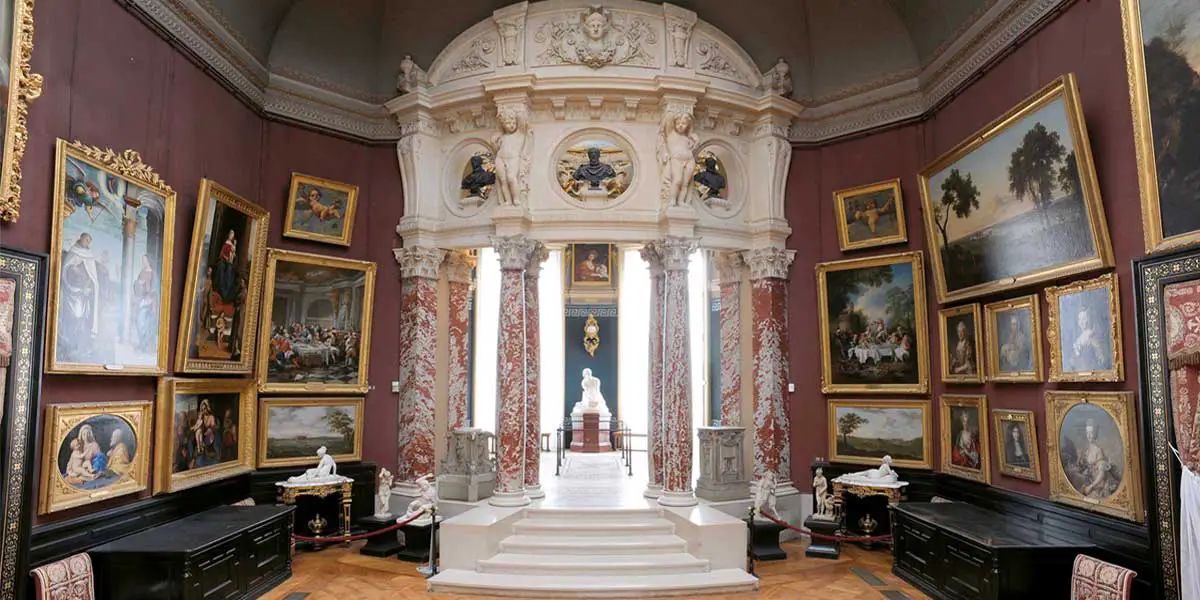 Musee Conde Chantilly
One of the best art museums in Europe, the Musee Conde (housed in the Chateau de Chantilly) is one of the finest galleries of medieval art in France. Its collection features French paintings and book illuminations of the 14th, 15th and 16th centuries, as well as many Old Masters from the Renaissance, Baroque and Rococo eras. The library holds some 1300 manuscripts and 12,500 printed volumes, including a Gutenberg Bible, and some 200 medieval manuscripts. Highlights include the Registrum Gregorii (983), the famous Les Tres Riches Heures du Duc de Berry and miniatures from the Book of Hours of Etienne Chevalier, by Jean Fouquet.
Cologne (Germany)
Wallraf-Richartz Museum (Cologne)
One of the three major museums in Cologne, Germany, its collection features exceptional works of the Gothic period (eg. by Stefan Lochner) the Northern Renaissance (Hieronymous Bosch), Baroque (Bartolome Esteban Murillo), 17th-Century Dutch Realism (Frans Snyders, Willem Kalf) Impressionism (Monet, Renoir, Berthe Morisot), Symbolism (Ferdinand Hodler), 20th-Century Photorealism (Richard Estes) and many others.
Copenhagen (Denmark)
State Art Museum (Statens Museum for Kunst) (Copenhagen)
The Danish National museum whose permanent collection includes Old Masters like Mantegna, Titian, Tintoretto, Pieter Bruegel, Frans Hals, Rembrandt and Rubens.
Dresden (Germany)
Gemaldegalerie Alte Meister Dresden
One of ten venues which make up the Staatliche Kunstsammlungen Dresden (State Art Collections), its collection features 700 masterpieces of fine art painting from the 15th to the 18th century, such as the Sistine Madonna by Raphael; The Tribute Money by Titian; and Girl Reading a Letter at an Open Window by Vermeer.
Dublin (Ireland)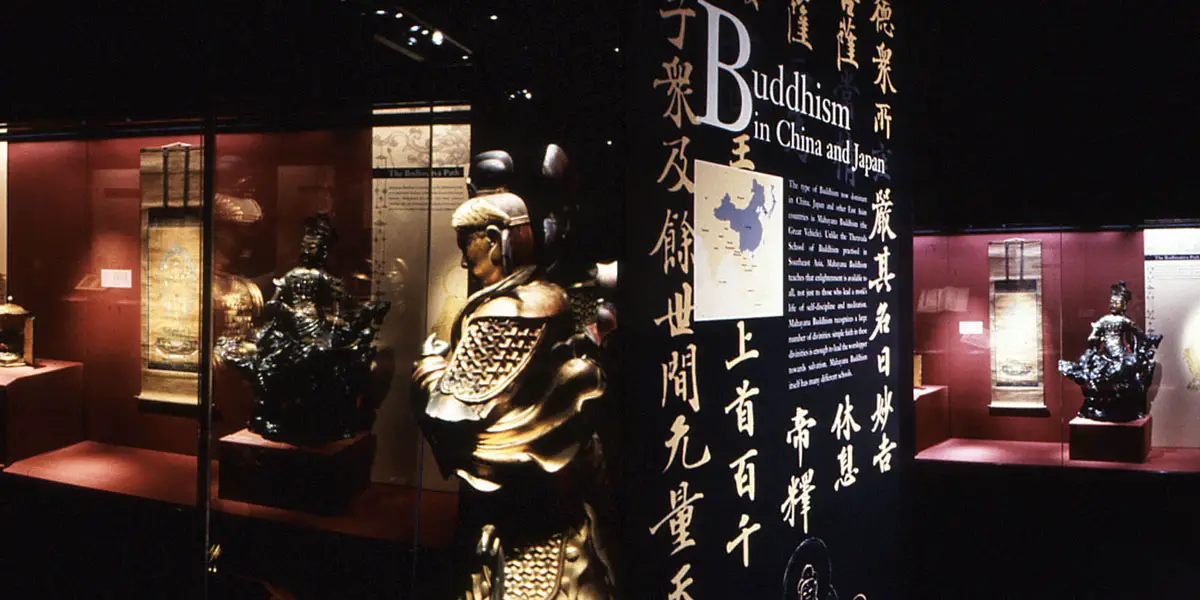 Chester Beatty Library (Dublin)
One of the finest compact art museums in Europe, opened in 1950, it houses the collection of Sir Alfred Chester Beatty, of rare manuscripts, drawings, miniature painting, prints and decorative arts exemplifying the great cultures of the world.
Hugh Lane Gallery (Dublin)
Founded by Hugh Lane, it is Ireland's leading museum of 19th-Century and early/mid 20th-Century art. Includes an exact reconstruction of Francis Bacon's Reece Mews studio in London.
Trinity College Dublin Library
Holds a unique collection of rare manuscripts including the Book of Kells (800).
Edinburgh (Scotland)
National Gallery of Scotland (Edinburgh)
Opened in 1859, the museum is the national gallery of Scotland. Masterpieces on display include: Virgin Adoring the Sleeping Christ Child by Sandro Botticelli, Dedham Vale by Constable, The Hon. Mrs Graham by Thomas Gainsborough, The Vision after the Sermon by Paul Gauguin, a series of works by JMW Turner, among many others.
Florence (Italy)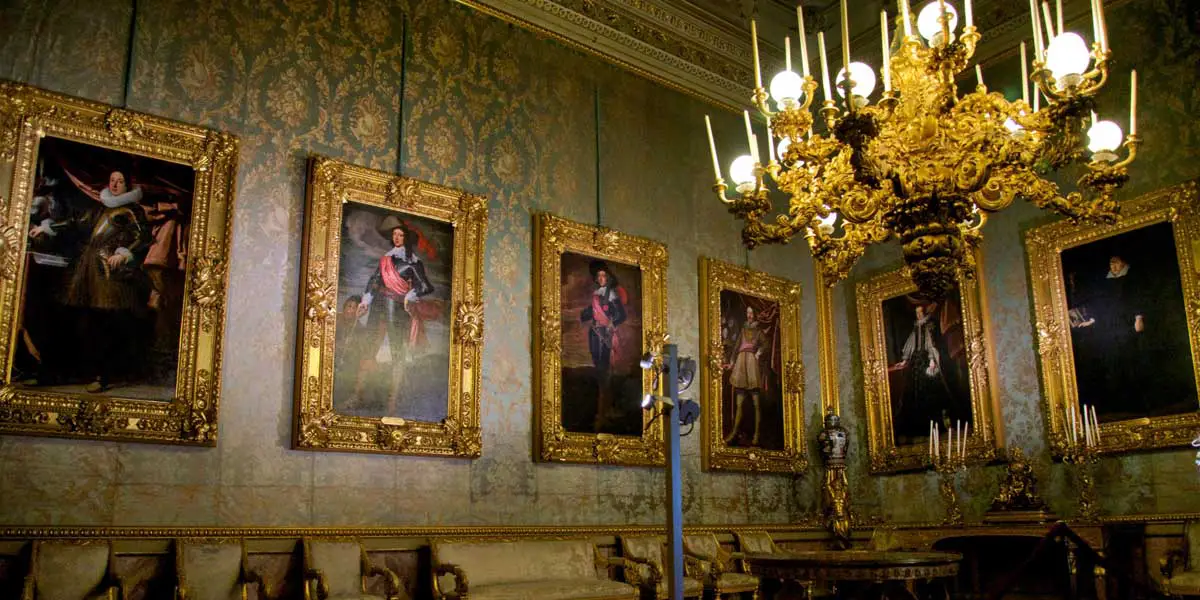 Pitti Palace Florence (Palazzo Pitti)
The palazzo – known as the Pitti Palace – is a substantial Renaissance palace situated on the south bank of the River Arno, close to the Ponte Vecchio. Now the largest museum complex in Florence, its Palatine Gallery contains more than 500 mostly Early and High Renaissance paintings, which originally belonged to the Medici family collection. Includes masterpieces by Raphael, Titian, Perugino, Correggio, Rubens, and Pietro da Cortona. The Pitti Palace is one of the greatest Renaissance museums in Europe.
Uffizi Gallery (Florence)
One of Europe's oldest and greatest art museums, it has the world's finest collection of Italian Renaissance art.
Frankfurt (Germany)
Stadelsches Kunstinstitut und Stadtische Galerie (Frankfurt)
Founded in 1818, the museum owns 2,700 paintings, plus 100,000 drawings, prints and other works on paper, and over 500 sculptures.
The Hague (Netherlands)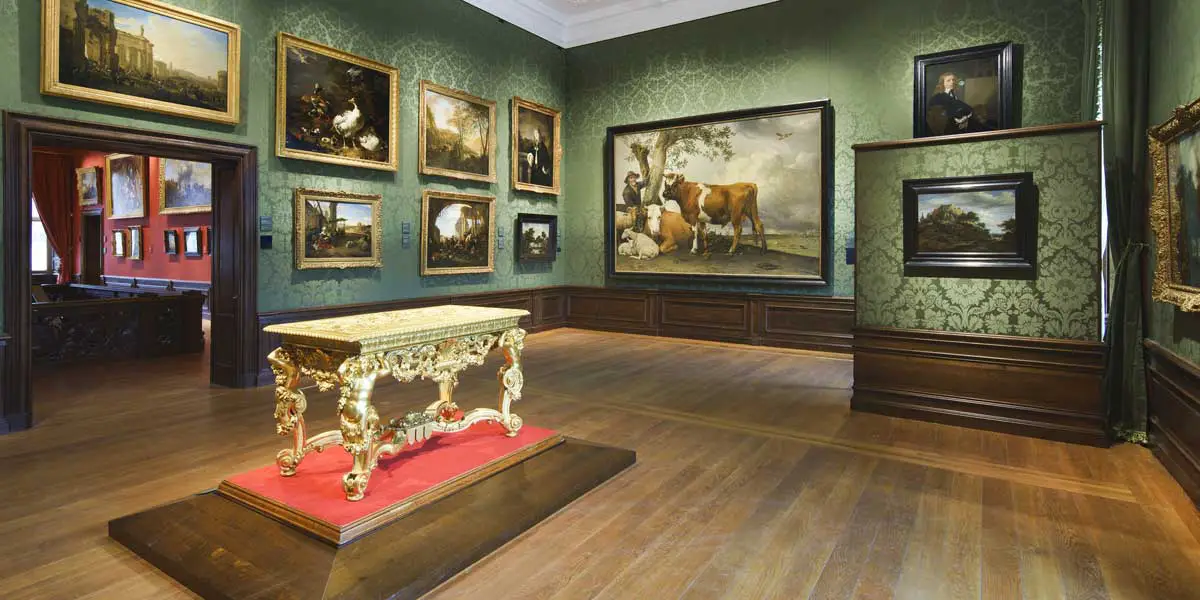 Mauritshuis Royal Picture Gallery (The Hague)
Specialises in oil paintings from the Dutch Golden Age, by Old Masters including Jan Vermeer, Rembrandt van Rijn, Jan Steen, Paulus Potter and Frans Hals. Highlights include Anatomy Lesson of Dr. Nicolaes Tulp by Rembrandt, and Girl with a Pearl Earring by Vermeer.
Kiev (Ukraine)
Museum of Western and Oriental Art (Kiev)
Formerly ranked third after the State Hermitage in St Petersburg and the Pushkin Museum of Fine Arts in Moscow, the museum's collection of decorative art, painting and sculpture encompasses Egyptian and Greek antiquities, Byzantine art and icons, Italian Maiolica pottery, Meissen porcelain, Persian Ceramics and Bronze sculpture, Chinese pottery, and much more.
Krakow (Poland)
Czartoryski Museum (Krakow)
Founded in 1796 by Princess Izabela Czartoryska, it contains Lady with an Ermine, by Leonardo da Vinci, Portrait of a Young Man by Raphael (later stolen). Other highlights include Greek vases, Roman and Egyptian antiquities, and Limoges enamels.
Lille (France)
Palais des Beaux-Arts (Lille)
Founded in 1809, with the second largest art collection in France after the Louvre. It contains Antiquities, Gothic, Renaissance and Baroque art, as well as modern and contemporary painting and sculpture.
London (Britain)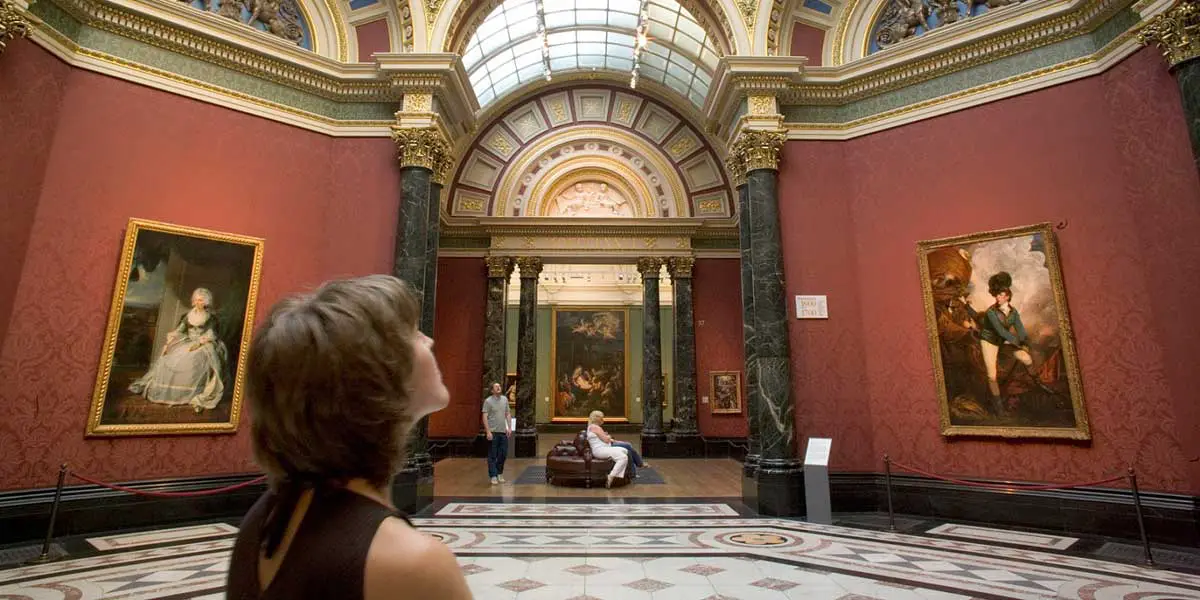 British Museum
Established in 1753, it is one of the most comprehensive art museums in the world. Its permanent collection consists of more than 8 million antiquities and cultural art objects.
Courtauld Institute Gallery
Founded by Samuel Courtauld, it houses a magnificent collection of Impressionist, Post-Impressionist, Fauvist and Expressionist paintings.
Houses the British state collection of paintings and sculptures produced before 1900.
National Portrait Gallery London
Houses the world's largest collection of portraiture (200,000 portraits).
British Royal Collection
One of the best private art museums in Europe, this collection, amassed by the Kings and Queens of England, contains almost 50,000 paintings and drawings, together with 150,000 old master prints.
Saatchi Gallery
Established by the Iraqi-born British collector Charles Saatchi, it is Britain's foremost museum of contemporary art.
Tate Gallery (London)
Established by Sir Henry Tate, it comprises the Tate Britain (founded 1897), as well as Tate Modern (opened 2000), Tate Liverpool (opened 1988), and Tate St Ives (opened 1993). The Tate Collection features over 66,000 works.
Victoria and Albert Museum (London)
Has the world's most extensive collection of decorative art and design. The brainchild of Prince Albert, husband of Queen Victoria.
Madrid (Spain)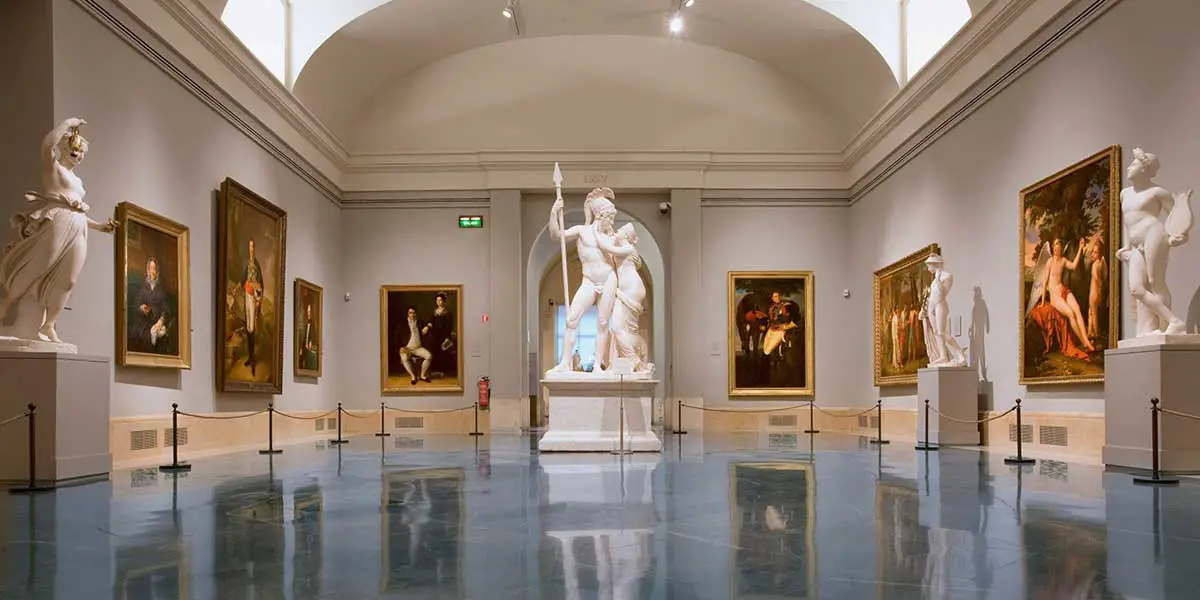 Prado Madrid
World's most extensive assembly of Spanish painting, by Old Masters like: El Greco, Diego Velazquez, Bartolome Esteban Murillo, Jose de Ribera, Francisco de Zurbaran. Established by King Charles III of Spain in 1785. It is one of the best art museums in Europe.
Reina Sofia Madrid
Spain's national museum of 20th century art (usually known as The Sofia) contains important collections of Spain's two leading 20th century masters, Pablo Picasso and Salvador Dali, including the iconic Guernica, plus works by: Juan Gris, Joan Miro, Eduardo Chillida, Antoni Tapies and others.
Thyssen Museum
Has an important collection of 14th-Century and 15th-Century Italian paintings by Duccio di Buoninsegna and his contemporaries, as well as Netherlandish Renaissance painters. Baroque and late-19th early 20th-Century styles are also featured.
Moscow (Russia)
Pushkin Museum of Fine Arts (Moscow)
Organized by Ivan Vladimirovich Tsvetaev and opened in 1912, this is the largest Moscow collection of European fine art. It contains works by Impressionist and Post-Impressionist artists, including Van Gogh, Gauguin, Picasso, and Matisse.
Tretyakov Gallery Moscow
Founded by Pavel Tretyakov, it contains the world's greatest holding of Russian icons, and Russian art.
Munich (Germany)
Pinakothek Munich
One of the best art museums in Europe, the complex comprises three major art galleries in Munich's Kunstareal: The Alte Pinakothek (Old Masters to 1700), The Neue Pinakothek (1700-1900), and The Pinakothek der Moderne (20th Century).
Naples (Italy)
Capodimonte Museum, Naples (Museo Nazionale di Capodimonti)
This palace houses the magnificent Farnese art collection, including classical Roman, monumental sculpture, an outstanding collection of porcelain and majolica, and much more.
Oslo (Norway)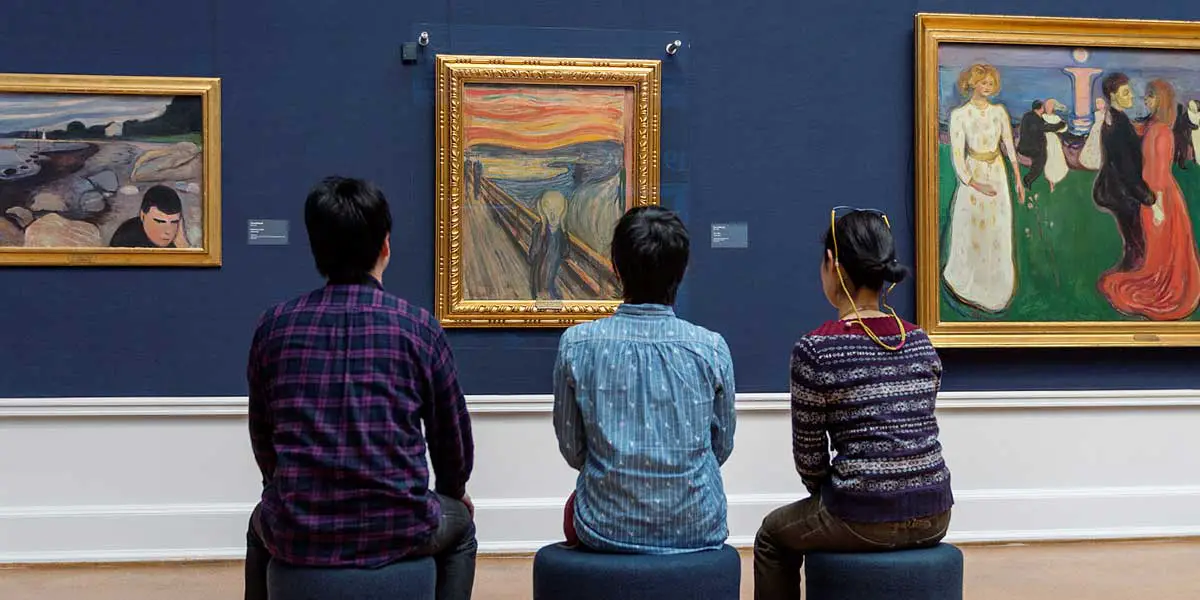 National Museum of Art, Architecture and Design (Oslo)
Established in 2003 following a merger of the Norwegian Museum of Architecture, the Museum of Decorative Arts and Design, the Museum of Contemporary Art, the National Gallery of Norway, and the National Touring Exhibitions, its permanent collection features works by all important Norwegian artists, notably Edvard Munch.
Otterlo (Netherlands)
Kroller-Muller Museum (Otterlo)
Located in the Hoge Veluwe National Park, this art museum and sculpture garden holds the second-largest collection of Van Gogh paintings in the world (after the Van Gogh Museum in Amsterdam), as well as works by Lucas Cranach, Paul Gauguin, Odilon Redon, James Ensor, Georges Seurat, George Braque, Piet Mondrian, Juan Gris, and Pablo Picasso. Its sculpture collection features works by Auguste Rodin, Henry Moore, Jean Dubuffet, Lucio Fontana, Mark di Suvero, Claes Oldenburg and many other sculptors.
Oxford (UK)
Ashmolean Museum of Art and Archeology (Oxford)
The world's first university museum, dating from 1678, its highlights include: Hunt in the Forest (1470) by Paolo Uccello, drawings by Leonardo da Vinci, Raphael and Michelangelo, Watercolours by Turner, The Arthur Evans Minoan collection of antiquities, and much more.
Paris (France)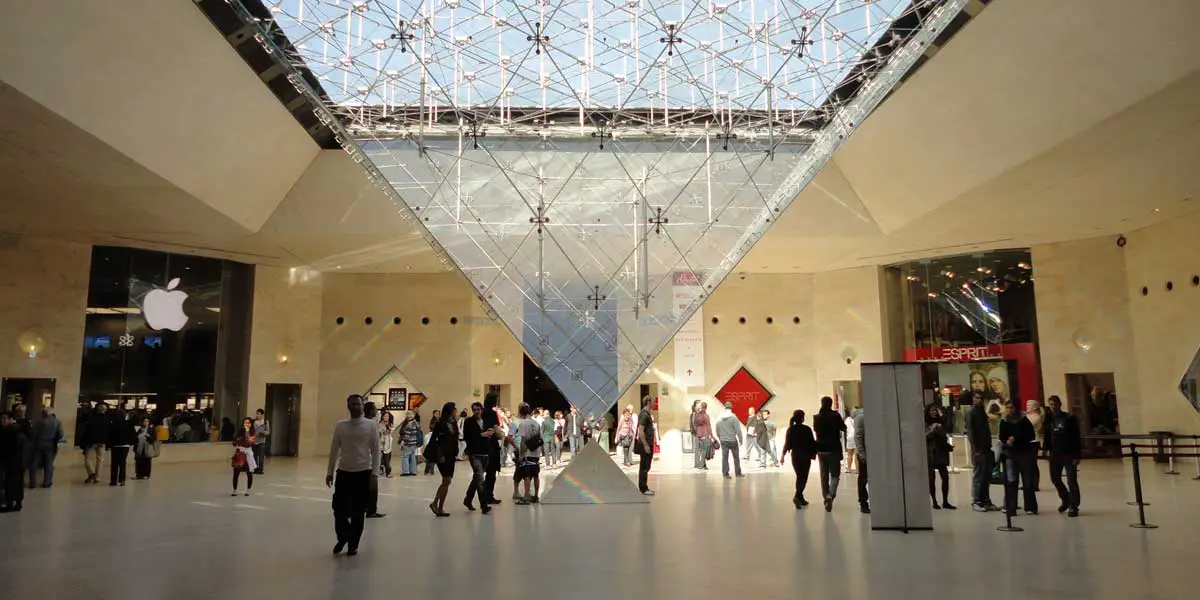 Louvre (Paris)
The greatest art museum in Europe, it possesses one of the world's greatest collections of ancient, classical, Renaissance and French art.
Musee de l'Orangerie (Paris)
Located on the bank of the Seine in the old orangery of the Tuileries Palace on the Place de la Concorde, it specializes in Impressionist and Post-Impressionist paintings. (Since 1965, it has been the home of the famous collection of the late Paul Guillaume.) Artists represented mostly include members of the Ecole de Paris, like Cezanne, Matisse, Modigliani, Monet (Nympheas, 1920-26), Picasso, Renoir, Henri 'Le Douannier' Rousseau, Chaim Soutine, Sisley and Utrillo, and others.
Musee Marmottan Monet (Paris)
Situated in the XVIe arrondissement, its collection includes the world's largest holding of paintings by Claude Monet, plus works by other Impressionist and Post-Impressionist painters including, Morisot, Degas, Manet, Sisley, Pissarro, Gauguin, Paul Signac and Renoir. It also holds the Wildenstein Collection of illuminated manuscripts.
Musee d'Orsay (Paris)
Arguably the best museum of 19th century French art in Europe, with the finest collection of masterpieces by French Impressionist and Post-Impressionist painters.
Pompidou Centre (Paris)
Known for its world famous collection of 20th century avant-garde works, it is one of the best galleries of contemporary art in Europe.
Prague (Czech Republic)
Narodni Galerie (Prague)
The Czech National Art museum includes a wide range of fine art by Czech painters and sculptors, as well as Western paintings by Albrecht Durer and others.
Rome (Italy)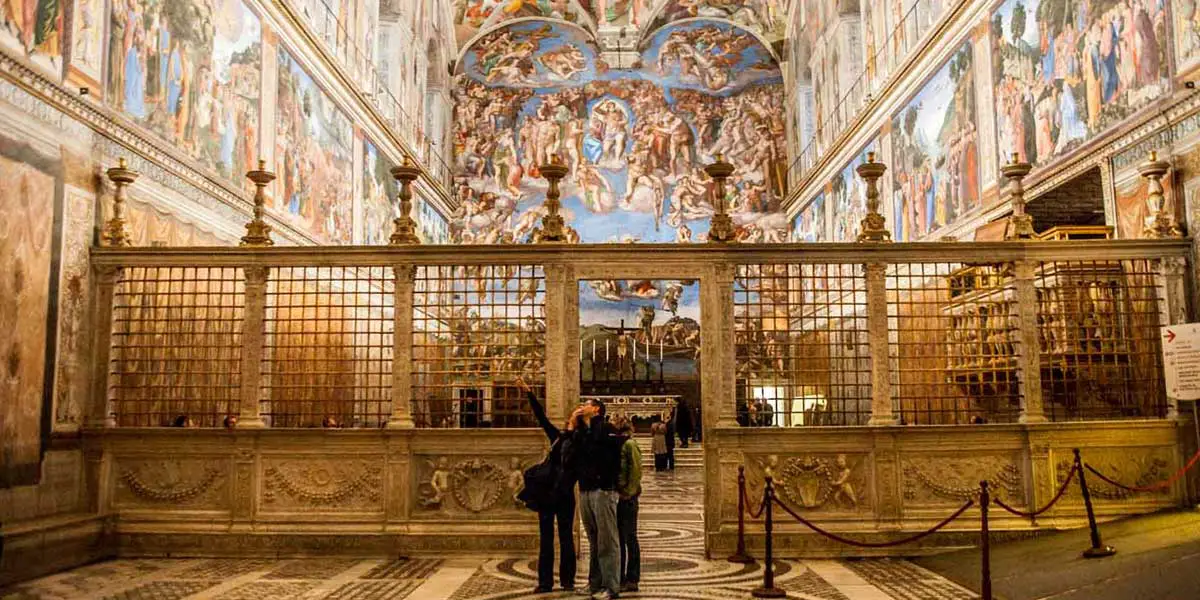 Sistine Chapel Frescoes (Vatican)
Wall and ceiling paintings by Michelangelo (Genesis Fresco and Last Judgmenf Fresco), plus others by Botticelli, Domenico Ghirlandaio, Cosimo Rosselli, Luca Signorelli, Pietro Perugino and Pinturicchio.
Borghese Gallery (Rome)
Contains a significant part of the Borghese collection of Classical Antiquities, paintings, and sculptures, assembled by Cardinal Scipione Borghese, the nephew of Pope Paul V (1605–1621). Highlights include paintings by Caravaggio and sculptures by Bernini.
Doria Pamphilj Gallery (Rome)
Paintings, furniture and sculpture assembled by the Doria, Pamphilj, Landi and Aldobrandini families, exemplified by Portrait of Innocent X (Cardinal Giovan Battista Pamphilj) by Velazquez.
Raphael Rooms (Vatican)
Papal apartments decorated by the High Renaissance genius Raphael.
Vatican Museums
One of the best art museums in Europe, it houses the priceless collection of painting, Italian Renaissance sculpture and antiquities assembled over the centuries by the Catholic Church.
Rotterdam (Netherlands)
Museum Boijmans Van Beuningen (Rotterdam)
Established in 1847 by Frans Jacob Otto Boijmans, it is the principal art gallery in Rotterdam, containing masterpieces by Hieronymus Bosch, Pieter Brueghel the Elder, Rembrandt and Salvador Dali.
Stockholm (Sweden)
Nationalmuseum (Stockholm)
Founded in 1792, its collection includes 500,000 drawings from the Middle Ages to 1900, along with a variety of porcelain, painting and sculpture.
Strasbourg (France)
Strasbourg Museum of Fine Arts (Musee des Beaux-Arts)
Permanent collection highlights include works by Giotto di Bondone, Carlo Crivelli, Piero di Cosimo, Cima da Conegliano, Correggio, Guercino, and Canaletto; and Netherlandish paintings by Hans Memling, Gerard David, Maarten van Heemskerck and Pieter de Hooch.
St Petersburg (Russia)
Hermitage State Museum (St Petersburg)
Founded by Catherine the Great, the Hermitage is one of the world's largest art museums.
Venice (Italy)
Venice Academy Gallery (Galleria dell'Accademia di Venezia)
Houses numerous masterpieces of Venetian painting, including works by Giovanni Bellini (1430-1516), Giorgione (1477-1510), Titian (c.1488-1576),
Jacopo Tintoretto (1518-1594) and Paolo Veronese (1528-1588).
Peggy Guggenheim Museum, Venice
Founded by Peggy Guggenheim, it is famous for its collection of 20th century modernism, featuring works of Cubism, Surrealism and Abstract Expressionism.
Vienna (Austria)
Kunsthistorisches Museum Vienna
Its picture collection is founded on the collections of three Habsburg art collectors – Archduke Ferdinand II (1529–1595), Emperor Rudolf II (1552–1612) and Archduke Leopold Wilhelm (1614–1662). Also contains the largest holding of works by Pieter Bruegel the Elder.
Warsaw (Poland)
National Museum (Warsaw)
Contains some 780,000 items including works by Botticelli, Rubens and Rembrandt. Polish artists include: Jozef Chelmonski, Aleksander Gierymski, Jan Matejko, Jozef Mehoffer, Jacek Malczewski, Stanislaw Wyspianski, Henryk Siemiradzki, and many others.
Zurich (Switzerland)
E.G. Buhrle Foundation, Kunstmuseum (Zurich)
Home to an outstanding collection of French Impressionism and Post-Impressionism.