Contact

Australia's National Icons
Australia s national icons range from the sublime to the commonplace – from stunning natural and man-made wonders to humble food items like Aussie meat pies and a yeast-based spread called vegemite. There is no absolute agreement on what constitutes a national icon – that elusive thing or concept that is regarded as quintessentially Australian or instantly recognisable as uniquely Australian.
However, one thing is certain: stocktakes of popular Australiana are not limited to the great or the pompous and, in that sense, they reflect the innate irreverence and individualism of many Australians. What other country, for example, would include in its Olympic Games opening ceremony a sequence that commemorates mountain horsemen (the Man from Snowy River), a colonial fugitive (Ned Kelly) and a humble backyard lawnmower, as Sydney did for the 2000 Olympics.
Most Australians would include on their lists of national icons natural wonders such as the Northern Territory s huge monolith, Uluru, man-made architectural marvels like the Sydney Opera House and the country's unique kangaroos and koalas. But their lists would be just as likely to include a cricketer named Don Bradman, a mighty racehorse called Phar Lap, a bushranger (outlaw) named Ned Kelly and a hat called Akubra, as well as the Aussie meat pie, Vegemite, and a sponge cake square dipped in chocolate and coconut called a lamington.
A 2007 survey of 400 Australians (appropriately known as the 'Top Taste Lamington Aussie Poll') found that meat pies were the most popular Australian food, followed by lamingtons. Swimming champion Ian Thorpe received 33 per cent of the votes for Australia's favourite iconic celebrity, followed by entertainer Kylie Minogue. The 'ute', or utility truck, which started out as a farm vehicle in 1932, was voted Australia's best invention, followed by the Hills Hoist (a clothes-drying line).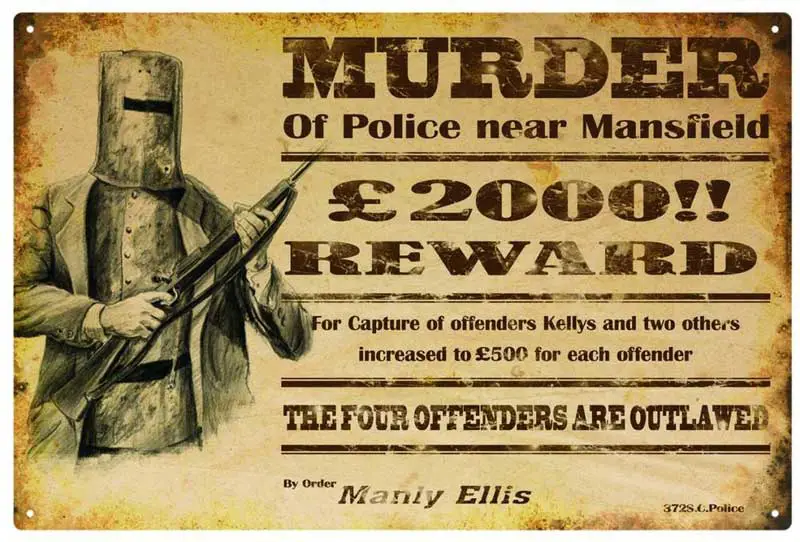 Ned Kelly
The bushranger Ned Kelly is one of Australia's greatest folk heroes. He has been memorialised by painters, writers, musicians and filmmakers alike. More books, songs and websites have been written about Ned Kelly and the Kelly Gang than any other group of Australian historical figures. Ned Kelly in his armour came to symbolise a fight by a flawed hero, a convicted criminal, for 'justice and liberty' and 'innocent people'. This captured the imagination of writers, authors and the general public alike.
Ned Kelly was expert with a 'running-iron' on stolen, unbranded stock, and was a deadly accurate shot with revolver or rifle. Surprisingly articulate for a self-educated man, he was clannish, loyal to his friends and supporters, and had a sardonic sense of humour. He became an outlaw, hunted for almost two years before he was shot down and hanged. Whether he was a hero or a villian is still hotly debated today.



The Hills Hoist
Until 1945 most Australian households had hung their washing on static wooden clothes poles strung together with wire; they had to be regularly re-propped or replaced as the poles deteriorated in the weather. That all changed when Lance Hill of Adelaide after he returned from serving in World War II and developed a rotary clothes line that could be raised and lowered and could even spin with the wind. While others had patented rotary clotheslines before the war, thanks in part to the timing, it was the Hills Hoist that captured the public's imagination. The Hills Hoist became an essential item in the classic suburban quarter-acre block, as it left plenty of space in the backyard for the family to live and play in.





The Lamington
A lamington is an Australian cake, made from squares of sponge cake coated in an outer layer of chocolate (or sometimes raspberry) sauce and rolled in desiccated coconut. The thin mixture is absorbed into the outside of the sponge cake and left to set, giving the cake a distinctive texture. A common variation has a layer of cream or strawberry jam between two lamington halves. The earliest known reference to the naming of the lamington from June 1927, links the cake to Lord Lamington, who served as Governor of Queensland from 1896 to 1901, or his wife, Lady Lamington. The identity of the recipe's inventor has also been debated. Most stories attribute its creation to Lord Lamington's chef, the French born Armand Galland, who was called upon at short notice to feed unexpected guests. Using only the limited ingredients available, Galland cut up some left-over French vanilla sponge cake baked the day before, dipped the slices in chocolate and set them in coconut. Impressed by Galland's creation, Lamington's guests were said to have later asked for the recipe.

Lamingtons remain a popular snack across Australia and New Zealand and Friday, 21 July 2006, was designated as National Lamington Day in Australia. Lamingtons are often sold at fundraisers for schools or charity groups, known as "lamington drives".




Prime Minister Ben Chifley launched the Hold car in November 1948

The Holden Car
Holden Cars have become iconic Australian motor vehicles, commencing with 48-215 (FX) in 1948. Though owned by the American automotive giant General Motors and its first model was based on a rejected 3 year-old Canadian Chevrolet design and mechanicals, Holden could rightly claim to be Australia's own car, not just because it was built here, but also because most components were sourced locally, and Australians have had a major hand in the cars' designs ever since.





Vegemite
Once described by US President Obama as "a quasi-vegetable byproduct that you smear on your toast", is an iconic Australian invention that is found in almost every Australian household and is part of the fabric of the nation. The iconic dark brown food spread was developed by Cyril Percy Callister in Melbourne, Victoria in 1922 for his employer, the Australian company Fred Walker & Co., who gave him the task of developing a spread from the used yeast being dumped by breweries. Following a nationwide competition with a prize of £50 to find a name for the new spread, the name "Vegemite" was selected out of a hat by Fred Walker's daughter, Sheilah.

A common way of eating Vegemite is on toasted bread with a layer of butter or margarine. Only a small amount of Vegemite is required due to its strong flavour. A Vegemite sandwich may consist of two slices of buttered bread, Vegemite, and cheese, but other ingredients such as lettuce, avocado and tomato can be added as well. Tiger Toast, where the cheese is grilled in strips above the spread on an open sandwich, is a popular variation.





Tim Tams
The Tim Tam is Australia's favourite chocolate biscuit. A product of Arnott's Biscuits, a Tim Tam consists of two malted biscuits separated by a light chocolate cream filling and coated in a thin layer of textured chocolate. The biscuit was created by Ian Norris, who was the director of food technology at Arnott's. During 1958, he took a world trip looking for inspiration for new products. While in Britain, he found the Penguin biscuit and decided to "make a better one".Hitting the market in 1964, they were named by Ross Arnott, who attended the 1958 Kentucky Derby and decided that the name of the winning horse, Tim Tam, was perfect for the planned new line of biscuits. Tim Tams are now available in a variety of flavours which are variations of the popular original.

The Tim Tam Slam is the practice of drinking a hot beverage through a Tim Tam. Opposite corners of the Tim Tam are bitten off, one end is submerged in the beverage, and the beverage sucked through the biscuit – as though the Tim Tam itself is a straw. The crisp interior biscuit is eventually softened and the outer chocolate coating begins to melt, at which point the biscuit is eaten. The Tim Tam Slam can also be performed with cold (usually milk-based) beverages.





Cherry Ripe
The Australian company MacRobertson's Steam Confectionery Works first manufactured the Cherry Ripe in 1924. The company was founded in Melbourne by Macpherson Robertson in 1880 and is famous for a number of iconic chocolates including the Freddo Frog. Larger than life, Robertson was renowned for his white suits, instinct for successful chocolate products, sponsoring an air race between Australia and England in 1934, participating in novelty bicycle displays, and opening a cycling school among other things.

Now Australia's oldest chocolate bar, the Cherry Ripe consists of a centre of cherry and coconut covered in Old Gold dark chocolate. A Roy Morgan survey in 2013 named the Cherry Ripe Australia s most popular chocolate bar and it has remained in the top three in subsequent surveys. While the MacRobertson company was sold to Cadbury in 1967, and their industrial buildings have now been converted into apartments, a cherry tree planted by the company still grows in the courtyard in tribute to the humble Cherry Ripe.




The Esky
Esky is an Australian brand of portable coolers, created in 1952 by Malley's, a Sydney refrigeration business. The term "esky" is also commonly used in Australia to generically refer to portable coolers or ice boxes and is part of the Australian vernacular, in place of words like "cooler" or "cooler box" and the New Zealand "chilly bin".

The Esky has played a unique role in Australian culture, especially with regard to outdoor activities, camping, and sporting events, and for reasons of novelty.[15] In particular, the design and use of the esky has evolved through its relationship with Australia's drinking culture. A feature of the first Esky model was that it was designed to carry six "standard" 1-pint bottles as well as a triple level food section.[16] Malley's Esky was created as a tool for camping and caravanning holidays and was called the Esky Auto Box, encouraged by the post-war popularity of the private motor vehicle.[1] The esky became an essential part of the beach, outdoor dining and barbecue culture that developed in Australia during the 60s and 70s.






Don Bradman
Unquestionably the greatest batsman in the game of Cricket, arguably the greatest cricketer ever, and one of the finest sportsmen of all time, Don Bradman was so far ahead of the competition as to render comparisons meaningless and to transcend the game he graced. Bradman was Australian sport's first modern hero, a man who transcended his game, embodied the modern Australian journey, and became a symbol of mastery over fate. At the height of the Great Depression Australians deperately needed a champion to inspire them, and found it in 'The Don'. His reputation not merely as a player but as an administrator, selector, sage and statesman in the world of sport outshines all others. His contribution transcended sport; his exploits even changed Australia's relationship with what used to be called the "mother country" – Great Britain.






The Meat Pie
They are Australia's answer to the American hamburger, a staple at the football and the cause of many a burnt tongue, however meat pies are by no means unique to Australia. They were first developed in the second century AD as a way to hold cooked meat; in the Middle Ages there were pie vendors that sold them in the street. So how did Australia come to adopt the meat pie as its favourite take-awy food? From the day the First Fleet came ashore in 1788 there has always been an abundance of the main ingredient (meat), and that might have a lot to do with the fact that the meat pie has made regularly appearances in Australian recipe books for as long as they have been published.

However, it wasn't until the turn of the 20th century that pies began to be produced in factories. The first pie making company was Sargents. George Sargent ran a bakery in Sydney's Pitt Street when he founded Sargents Ltd in 1906, and in so doing, started an industry that is still going strong. The only thing that has changed today is that most pies sold in Australia are frozen, then shipped across the country through supermarkets. Even so, there are quite a few pie shops that still make the pies on the premises, and small pie companies that are mechanised but only make a relatively small number of pies.




The Victa Lawnmower
Austrailan households have been "turning grass into lawn with a Victa" since 1952, when Mervyn Victor Richardson came up with the answer to every gardener's prayer – the world's first lightweight petrol driven lawnmower. Richardson's first mower was made for his son, Garry, who had started a lawn-mowing- business to make money during his university holidays. Mervyn observed that the heavy mowers his son was using were heavy and difficult to use, and decided to come up with a solution.

Working out of his garage at his home at Brays Road, Concord, Sydney, Richardson applied a mega dose of Aussie ingenuity, adding billycart wheels and a peach tin to a metal frame to construct the prototype of his dream machine – a lightweight lawnmower with enough power to slice through the thick grass of a typical Sydney backyard. He later mounted the blades on a disc and fitted it to a light metal frame with four wheels, powering it with a two-stroke petrol engine. It was the first rotary motor mower.

Word soon got out and Richardson began making the mowers in his garage, naming them 'Victa', a modification of his middle name. The volume of people coming to his house everyday increased so much, Richardson had to open a factory and employ staff in order to keep up with demand. Since then, over 8 million examples hve been sold, the Victa Lawnmower has become one of Australia's most successful home-grown products.




The Utility
In 1933 Australian designer, Lew Bandt, working for Ford Australia, was given the spec for a new kind of utility vehicle, following a letter from a farmer's wife in Gippsland, Victoria. The now famous letter posed the question: "My husband and I can't afford a car and a truck but we need a car to go to church on Sunday and a truck to take the pigs to market on Monday. Can you help?". Bandt rose to the challenge, blending the pickup sides into a coupe body, which provided a cleaner profile and increased the load area behind the cabin. A year later Bandt's solution was put into production, and marketed as the Coupe Utility.

Lewis Bandt's coupe utility was a first for Ford Australia, his ingenuity had a great impact on the then developing Australia auto industry and his design would be accepted worldwide in various interpretations. 22,000 were sold around Australia between 1940 and 1954. The original Bandt-designed Ford Ute paved the way for what has morphed into what has become some of the world's biggest selling vehicles – the Pickup or utility. It also spawned the Falcon Ute, which has been a firm favourite with Austrlian customers since the first Falcon XK Ute was launched in 1961. The rebuilt version of the original Bandt Ute is housed in a museum in the rural country Victorian town of Chewton, near Melbourne.