About Brisbane
Brisbane is situated in the southeast corner of Queensland, an hour north of the Gold Coast and an hour south of the Sunshine Coast. The city straddles the Brisbane River, and its eastern suburbs line the shores of Moreton Bay. The greater Brisbane region lies on the coastal plain east of the Great Dividing Range though the city is very hilly in some areas, and the urban area is punctuated by large hills reaching up to 300 metres such as Mount Coot-tha, Mount Gravatt, Whites Hill and Stephens Mountain.
Brisbane's central business district, centred around the Queen Street pedestrian mall, offers a range of restaurants, award winning shopping centres, night clubs, fashion, music and souvenir shops. Other popular restaurant districts across the suburban area include Fortitude Valley, New Farm, Teneriffe, West End, Bulimba, Milton, Rosalie, Paddington and Sunnybank.
South Bank Parklands, built on the former World Expo site at South Brisbane, is a popular inner suburban recreational area. Tourists and locals alike frequent the beautiful bougainvillea lined Riverside Walkway at all times of the year and flock to the area during music and arts festivals. Adjacent to the Parklands is Brisbane's arts precinct, which includes the Queensland Performing Arts Centre, Gallery of Modern Art, Queensland Art Gallery, Queensland Museum and Sciencentre and the State Library of Queensland.
Fortitude Valley, known popularly as 'the Valley' was zoned as an entertainment precinct in 2004. The Valley is home to pubs, bars, nightclubs, restaurants and cafes and to Brisbane's Chinatown precinct. The Brunswick Street mall hosts bustling pedestrian markets on Saturday and Sunday mornings.
A feature of Brisbane's urban geography is its lower population density compared to other Australian cities such as Sydney and Melbourne. There are very few terrace houses in Brisbane and apartments dating before 1970 are relatively rare. Most of Brisbane's housing stock consists of detached houses on large blocks of land featuring sub-tropical gardens. Pre-1950 housing stock is often built in a distinctive architectural style known as a Queenslander , featuring large verandahs and built upon stilts, in order to maximise the circulation of cool air during summer months.
Traditionally, Brisbane was somewhat of a "branch office" city, with most major financial institutions having their headquarters in Sydney or Melbourne. To encourage diversification, during the late 1990s and early 2000s the Queensland state government has been developing technology and science industries in Queensland as a whole, and Brisbane in particular, as part of its "Smart State" campaign. The government has invested in several biotechnology and research facilities at several universities in Brisbane.
Today, Brisbane has a diverse and vibrant economy with many sectors and industries represented in the city's total production of goods and services. Both white-collar and blue-collar industries are present, with white-collar industries such as information technology, financial services, higher education and public sector administration generally concentrated in and around the central business district and recently established office parks in the inner suburbs.
Blue-collar industries such as petroleum refining, stevedoring, paper milling, metalworking and railway workshops tend to be located on the lower reaches of the Brisbane River and in new industrial zones on the urban fringe. Tourism is an important part of the Brisbane economy, both in its own right and as a gateway to other areas of Queensland.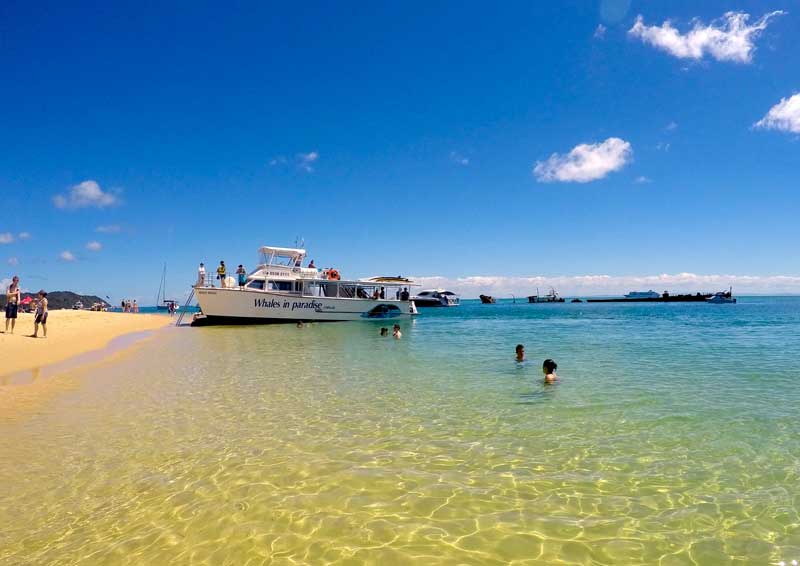 Moreton Bay
Moreton Bay, to the east of the city of Brisbane and its suburbs, is very much the city s playground, a wide expanse of relatively calm water dotted with many surprisingly unspoilt islands of different sizes and varying character that can be visited. The bay extends some 160 km from Caloundra in the north almost to Surfers Paradise in the south.
The bay is a haven for wildlife spotting dolphins, whales, turtles and manta rays, and its vast array of birdlife is a popular pass time.
Best Time To Go
Brisbane has a subtropical climate with hot, moist summers and mild, dry winters. Brisbane is subject to high humidity, mainly from November through to April. Summer thunderstorms are common, and Brisbane frequently experiences hailstorms, cyclonic winds and more recently severe drought during the summer months. May to October are definitely the months where heat and humidity is at its mildest, and would be the preferred months to visit if there is a choice. That having been said, I've visited Brisbane in the hotter more humid months and found them quite bearable, no doubt because Brisbane is only sub tropical.
Mean January maximum temperature – 29 degrees C (85 degrees F)
Mean January minimum temperature – 21 degrees C (69 degrees F)
Mean July maximum temperature – 20 degrees C (69 degrees F)
Mean July minimum temperature – 10 degrees C (49 degrees F)
Mean annual rainfall – 1146 mm (45.1 inches)
Wettest month on average – January, 160 mm (6.3 inches)
Driest month on average – August, 46 mm (1.8 inches)