Canberra Walks
Anzac Parade Walking Tour: Learn about the symbolism and stories behind the memorials lining Anzac Parade.
You can also hear information from veterans involved in selected conflicts. Choose between the full tour or downloads of individual memorials to create your own tour. Podcasts >>
---
Australians of the Year Walk: Walk along the Lake Burley Griffin foreshore and find the series of plaques, plinths, seats and lighting dedicated to Australians of the Year. Plaques are arranged chronologically, starting at the western end of the path near Commonwealth Avenue Bridge.
---
Burley Griffin Walk: Burley Griffin Walk takes you through Commonwealth Park and along the Lake Burley Griffin foreshore to Blundells Cottage, then back to the National Capital Exhibition.
Lakeside Walk: Walk along the shores of Lake Burley Griffin to some of the National Capital's major institutions.
---
Magna Carta Walk: Walk from the steps of Old Parliament House around the democratic heart of our nation.
---
Old Parliament House Gardens Walk: Learn about the garden's history from original completion in 1939, to its 2004 reconstruction.
---
R. G. Menzies Walk: Walk from Commonwealth Avenue Bridge to Kings Avenue Bridge along the northern shore of Lake Burley Griffin. Discover plaques outlining Menzies' career and role in the development of Canberra.
Walks Around the Australian Capital Territory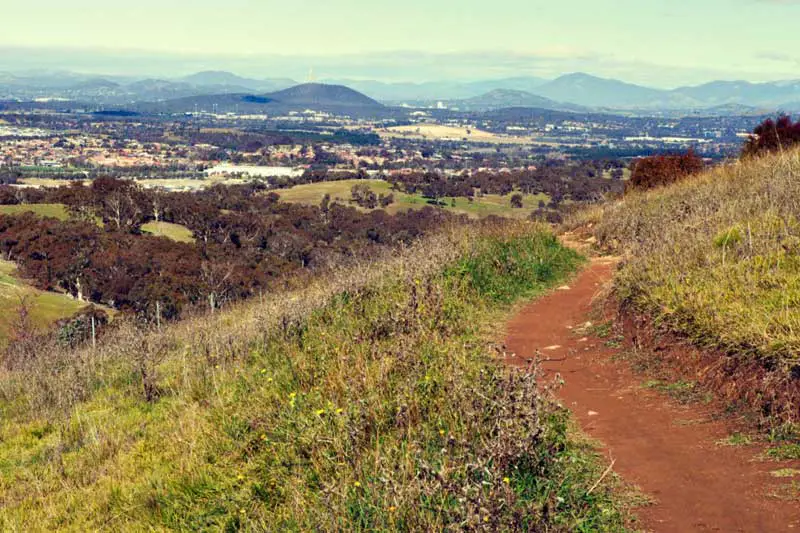 Booroomba Rocks Walk: scenic bushwalk among the flora and fauna of the area.
Booroomba Rocks is one of the most popular destinations within the Namadgi National Park and a favourite spot for bushwalking in the Australian Capital Territory. The walk passes through a craggy eucalyptus forest. From the platform at the top of the 120-metre high cliff of Booroomba Rocks, the panoramic view of the Canberra city make the trek worthwhile. Climbing and abseiling over the huge granite boulders of the Booroomba Rocks are very popular among the visitors who want to explore the thrills of rock climbing. Moderate pace; 1 to 2 hours duration.
Contact: Namadgi Visitor Centre, Naas Road (two kilometres past Tharwa), ACT, Phone (02) 6207 2900. Walks through Namadgi National Park.
---
Mount Majura: close to Canberra city centre, Mount Majura is a popular spot for walking. Offering attractive views and an abundance of wildlife, attractions at Mount Majura include nature trails, parrots, cockatoos and tranquil picnic spots.
---
Canberra Centenary Trail: The Canberra Centenary Trail is a five-day walking trail covering over 140 kilometres of Canberra and the Australian Capital Territory. Developed by the ACT Government as part of Canberra s Centenary celebrations, the trail is a key outdoor recreation feature and tourist facility within Canberra. The Centenary Trail is divided into daily sections, spaced for walkers and bike riders. Users are able to join or leave the trail in many locations. Website.