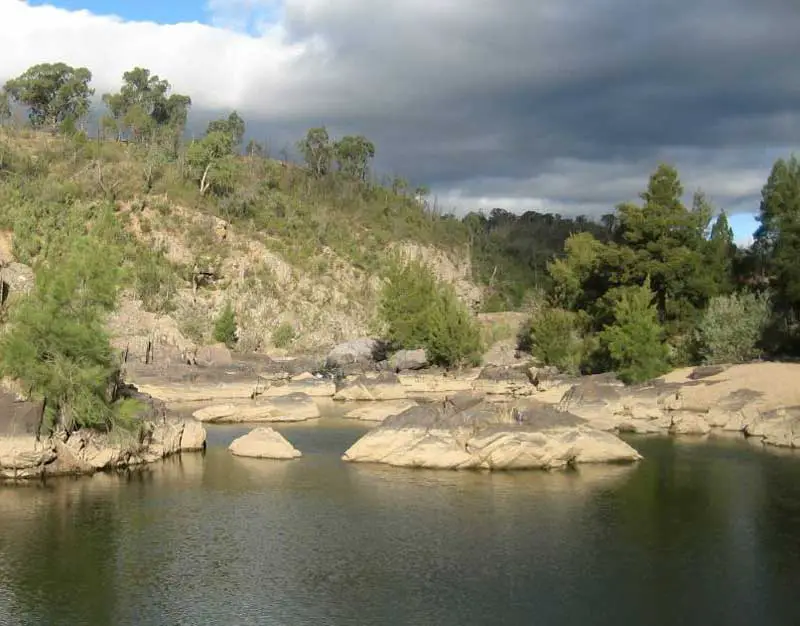 Kambah Pool
Kambah Pool is a secluded and peaceful reserve on the banks of the Murrumbidgee River in the Tuggeranong district of Canberra. Open daily, 24 hours. Free admission. Attractions include scenic picnic spots, golden beaches, rock pools and nudist areas.
Clearly signposted and about 200m downstream from the northern car park, the nude swimming spot's special status dated back to the 1970s. That a section of Kambah Pool was designated as a nude bathing area under the Nudity Act 1976, prior to self-government. The law provides protection from arrest for those ACT citizens who appear naked in designated public places – which according to advocates for nudism in Australia is as high as nine per cent of the population.
Location: Kambah Pool Road, Tuggeranong, Canberra
Kambah Pool to Pine Island Walking Trail:
This seven kilometre marked walking trail is especially scenic and easily accessible. The magnificent Red Rocks Gorge can by accessed via a short side trail about half way between Kambah Pool and Pine Island. Allow approximately three hours one way. Pick up a pamphlet a short way along the trail. No dogs allowed. Please be aware there is a nude bathing area 200m downstream from Kambah Pool. This is a very popular area and is clearly signposted.