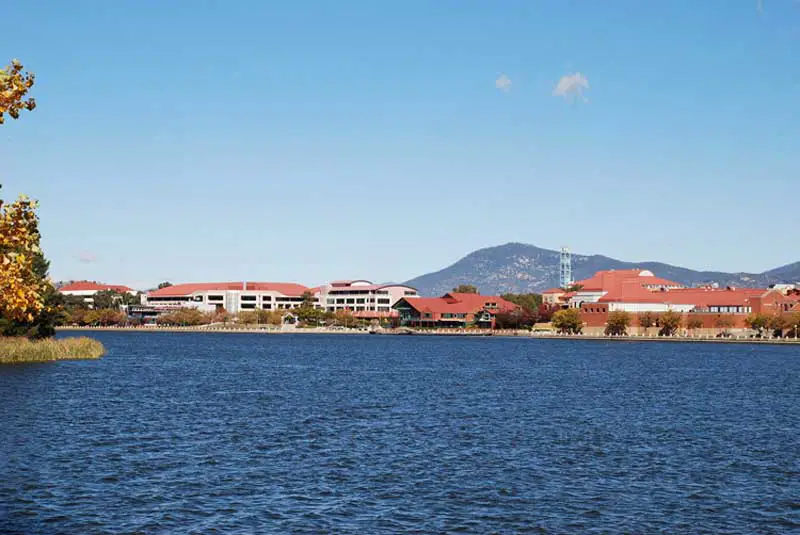 Lake Tuggeranong
Lake Tuggeranong is one of Canberra's numerous lakes, it is situated in the Tuggeranong district, with scenic views, Free admission.
Lake Tuggeranong was created by the construction of a dam in 1987 coinciding with urban development in the district. The lake was built as a sediment trap for soil and debris, and to improve the quality of the water flowing into the Murrumbidgee River. Tuggeranong Creek feeds the Isabella Pond, that then flows into Lake Tuggeranong. The water quality of the lake is monitored by health and environmental agencies, and is subject to health hazards such as toxic blue-green algal blooms or high faecal bacteria counts, given the urban and rural runoff of the lake source.
The lake is a popular recreational site. The foreshore of the lake is parkland, with swimming, fishing, wind-surfing and non-motorised boating all possible activities on the lake. A bicycle path surrounds the lake, running for 6.7 kilometres.
Location: Drakeford Drive, Tuggeranong, Canberra.
Tuggeranong Arts Centre:
a purpose-built centre located on the shores of Lake Tuggeranong, in the town centre of Tuggeranong, a southern suburb of Canberra, Australian Capital Territory. It is an organisation providing a wide range of arts activities for community participation, development and enjoyment. The building features a 110 seat theatre/cinema, 2 galleries, 2 dance studios, a workshop space, and a digital media studio.
Tuggeranong Arts Centre is managed by Tuggeranong Community Arts Association Inc. and presents a diverse program of theatre, film, exhibitions, music, and dance to the public, combining community and professional arts. A number of artists and community arts organisations hire the Centre's venues, including Canberra Dramatics, Free Rain Theatre, and Pied Piper Productions.