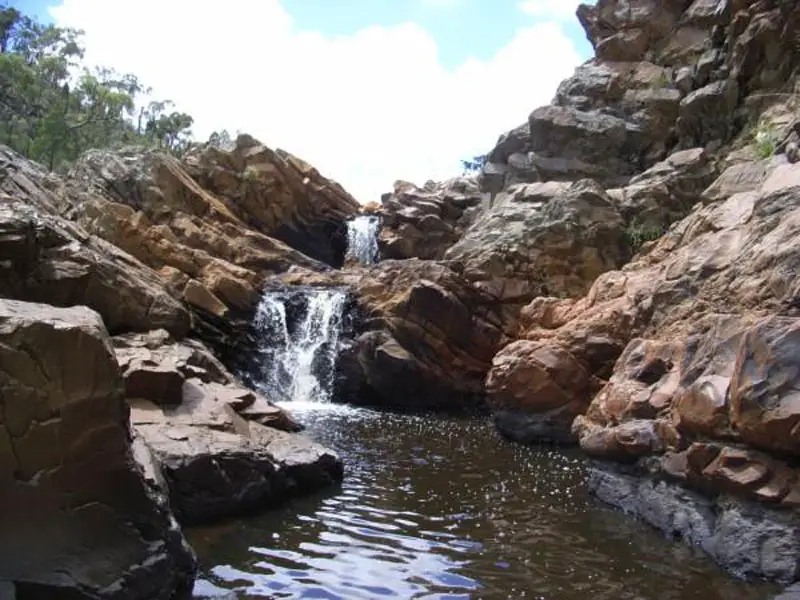 Molonglo Gorge
Molonglo Gorge (18 km) has been a popular destination of picnickers for many years and is well equipped with modern conveniences and an adventure playground for the young ones. Situated on a picturesque section of the Molonglo River at the western end of Molonglo Gorge, the Molonglo Gorge Recreational Park is conveniently located off Sutton Road and is only a 15 minute drive from Canberra's city centre, or 10 minutes from Queanbeyan.
Fifteen million years ago, the Molonglo River meandered across the wide plains nearing what is now the City of Queanbeyan. Movement in the earth's crust forced a block of land to rise which separated the plains on either side of it. This escarpment is today called the Cullarin Block. The Molonglo River continued to force its way through the land with its erosive power, creating a natural corridor that is now the Molonglo Gorge. Today this dynamic and picturesque corridor remains relatively unspoiled and has become a natural passage allowing the movement of water, plants and animals on either side. The Molonglo Gorge is also used as a transport route with a railway line established at the southern end.
Spectacular views of the river can also be seen from many points along the walking trail, which winds its way across 3km reaching from the Molonglo Gorge picnic area up to the Blue Tiles picnic area.
From the Molonglo Gorge Recreation Area, a walking trail follows the river to a small grassed picnic area called Blue Tiles. Drinking water is not available at Blue Tiles, so be sure to take sufficient water with you. Bins are not provided so it is expected that you will take your rubbish home for proper disposal.
The trail starts at the Molonglo Picnic Area where you will find toilets, wood BBQs and a children's climbing frame. The track follows the gently flowing Molonglo River until it quickly ascends high above the river offering spectacular views. On the hillsides you'll see eucalypts, acacia and black cypress pines and ferns, and during the wet season, plenty of moss.
After about an hour you'll reach a small grassy area with BBQs and picnic tables called the Blue Tile Picnic Area. This is a great place to rest and refresh before you begin the return journey. There is no drinking water at this picnic area. It's not advisable to drink the river water as it contains a high mineral content from when the river was a mining area. If you are feeling energetic you can extend the walk by continuing on to the historic ruins of 'Glenburn' homestead in the adjacent Kowen Forest.