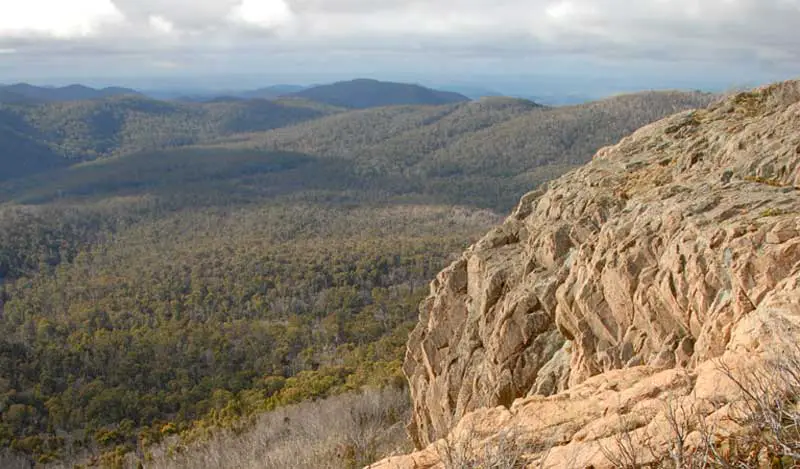 Brindabella National Park
Brindabella National Park (40 km south west), encompassing the Brindabella Range, is located on the border between New South Wales and the Australian Capital Territory. The mountains rise to the west of Canberra and include the Namadgi National Park in the A.C.T. and Bimberi Nature Reserve and Brindabella National Park in New South Wales. The Brindabellas are visible to the west of Canberra and form an important part of the city's landscape.
Its habitat ranges from grassy plains over snow gum forests to alpine meadows. The fauna is also varied: Eastern Grey Kangaroos, wallabies, wombats, magpies, rosellas and ravens are commonly seen. In this sub-alpine region the weather ranges from cold winter nights to warm summer days, and it can change very quickly.
Brindabella is the most northern section of the Australian Alps national parks corridor and only 30 km west of Canberra along the Brindabella Road. The mountainous terrain contains communities representing low to high altitude open forests. The park protects several threatened species including the regent honey eater, powerful owl, yellow-bellied glider and northern corroboree and Booroolong frog.
There are four camp grounds in the park. Flea Creek has basic facilities, while McIntyres Hut, Lowells Flat, and Coree Camp currently have no facilities provided. Top Crossing, on Doctors Flat Road, is designated as a day use area. Activities include bushwalking, orienteering, birdwatching, fishing or exploring a range of 4WD trails. The majority of trails are suitable for capable 4WD vehicles only. Mount Coree offers excellent views of the surrounding ranges and McIntyres and Bag Range Huts are interesting historical sites.
Brindabella National Park lies within the tribal boundaries of the Ngunnawal, Ngunawal and Brungle Aboriginal people. Occupation of the area has been dated to approximately 5000 years before European settlement, however, few occupation sites have been recorded.
The Ngunnawal, Ngunawal and Brungle people exploited Bogong moths on the Brindabella Range and appear to have also participated with neighbouring tribes in Bogong Moth feasts on the Bogong Range or Snowy Mountains. Mount Coree was a reliable Bogong Moth aestivation1 site regularly visited by Aboriginal people. Summer base camps from which moth collection trips to the relevant sites on Mount Coree were undertaken have been recorded.
Snow normally falls on the Bimberi and Brindabella Ranges during winter, and is not uncommon throughout most of the park. The highest mountain is Bimberi Peak (1911 m) which is also the highest peak in the ACT. Namadgi National Park has a rich heritage of human history.
Website
Namadgi National Park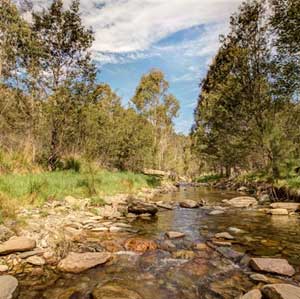 Flea Creek Campground, Brindabella National Park