Brisbane Central Business District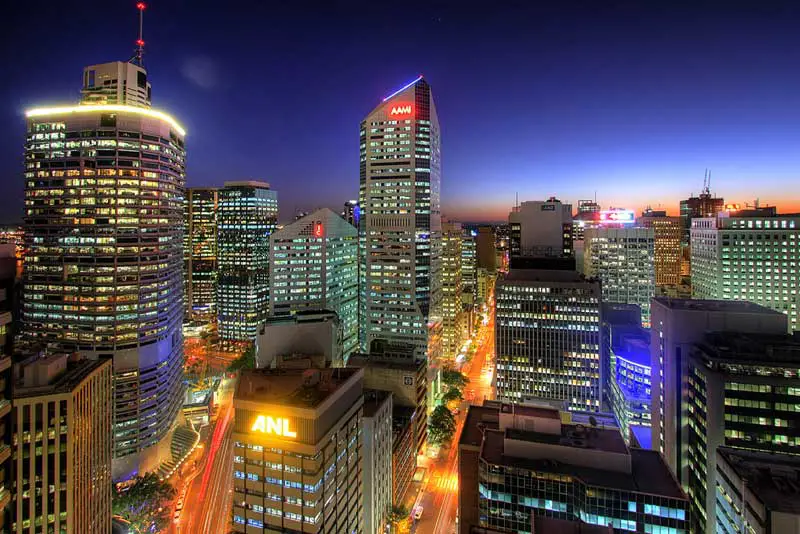 Brisbane's central business district, centred around the Queen Street pedestrian mall, offers a range of restaurants, award winning shopping centres, night clubs, fashion, music and souvenir shops. Other popular restaurant districts across the suburban area include Fortitude Valley, New Farm, Teneriffe, West End, Bulimba, Milton, Rosalie, Paddington and Sunnybank.
On the opposite side of the Brisbane River is South Bank Parklands. Built on the former World Expo site at South Brisbane, is a popular inner suburban recreational area. Tourists and locals alike frequent the beautiful bougainvillea lined Riverside Walkway at all times of the year and flock to the area during music and arts festivals. Adjacent to the Parklands is Brisbane's arts precinct, which includes the Queensland Performing Arts Centre, Gallery of Modern Art, Queensland Art Gallery, Queensland Museum and Sciencentre and the State Library of Queensland.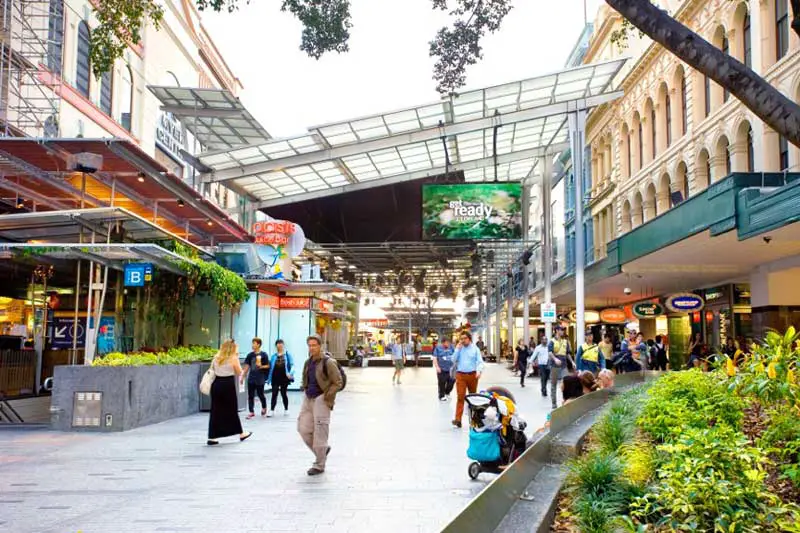 Queen Street Mall
The Queen Street Mall is a vibrant shopping and lifestyle precinct that lies at the heart of Brisbane City and is Australia's most popular pedestrian mall, playing host to more than 26 million visitors a year. The mall offers an unrivalled mix of local, national and international labels and flagship stores. More than 700 retailers have made their homes here many enjoy mall and street frontage, others are tucked away inside world-class centres and heritage-listed arcades. Must-visits include the sparkling high-end QueensPlaza, Wintergarden with its diverse range of retailers, the magnificent and historically significant Brisbane Arcade and Tattersall's Arcade, the convenient MacArthur Central and the ever-popular The Myer Centre.
More than 1,000 events take place throughout the mall each year, buskers take over the streets on a daily basis and The City Sounds fills the air with music on Friday nights and weekends. In addition, there is an Event Cinema, countless eateries, a farmers market, beauty salons, the Treasury Casino and Hotel, a Hilton Hotel and NEXT Hotel that all take pride of place on the mall.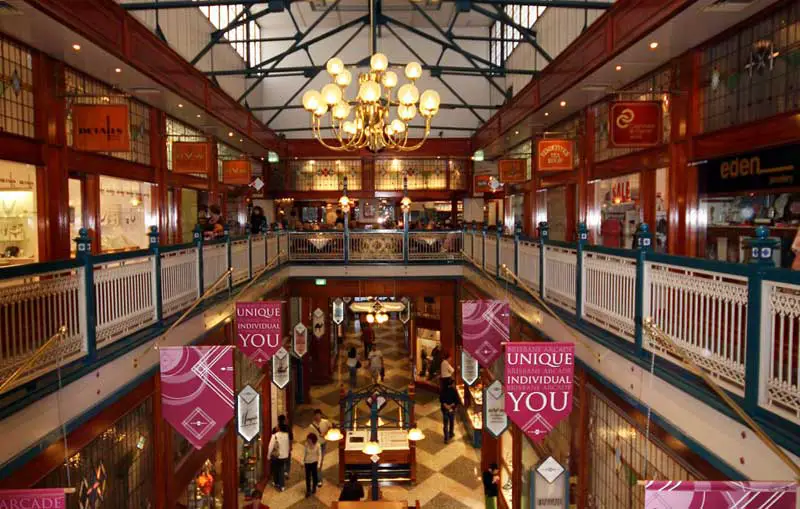 Brisbane Arcade
Brisbane Arcade is a heritage-listed shopping arcade at 160 Queen Street through to Adelaide Street. It was designed by Richard Gailey, Junior and built in 1923 to 1924 by J & E L Rees and Forsyth & Speering. The Arcade's facades at each end have similar features – both are three storeys high and five window bays across, of face brickwork with cement dressings, and use plain Classical details. The arcade features art work from the hosting of Brisbane's World Expo '88, namely, "Mirage" by Swiss-Israeli artist Gidon Graetz. Today the Brisbane Arcade features a range of artisan and boutique stores, with several fashion, jewellery and specialist businesses operating out of the location.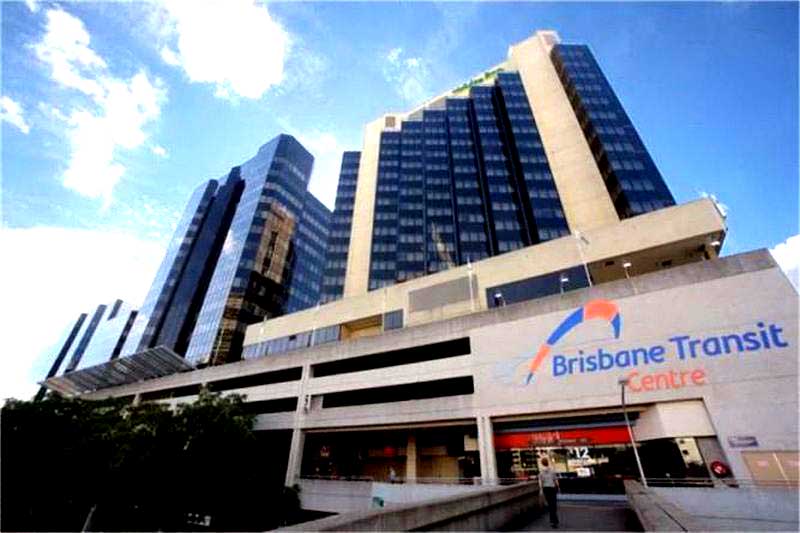 Brisbane Transit Centre
Brisbane Transit Centre is a multi-mode public transport hub for long-distance bus and rail services, and houses the second-busiest suburban rail in the Brisbane central business district. Access to the centre can be from the ground floor on Roma Street or from the Roma Street Parkland. The Centre is located at 151-171 Roma Street, above and alongside Roma Street Railway station.
The complex includes two commercial office towers, two levels of retail, commercial car park and coach terminal. The coach terminal is located on the top floor of the Brisbane Transit Centre. Roma Street railway station is accessed from the ground floor level of the Brisbane Transit Centre. Long distance Traveltrain services depart for destinations within Queensland. NSW TrainLink operate an XPT service to Sydney. It is also part of the Queensland Rail City network. Roma Street busway station is served by Brisbane Transport buses.
Parks and Gardens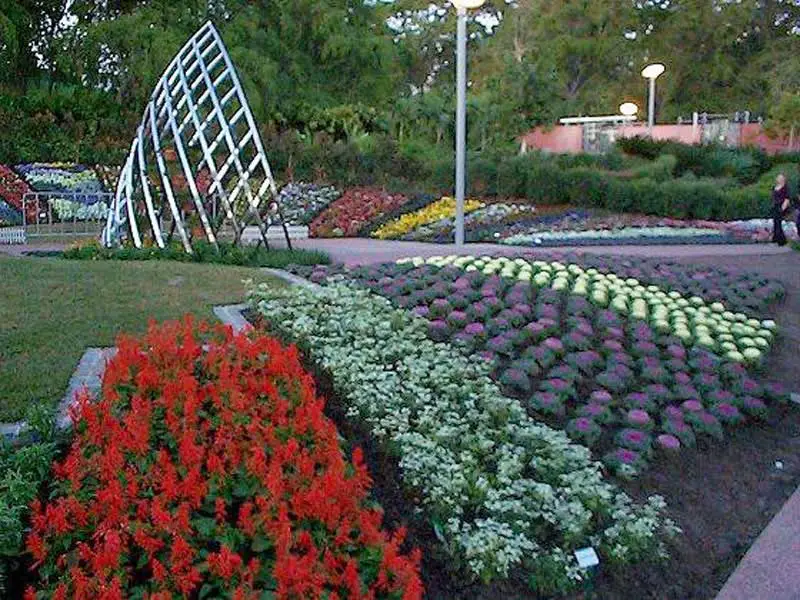 Roma Street Parklands
An oasis in the heart of Brisbane's central business district offering spectacular surrounds for leisure, recreation and events, Roma Street Parkland covers 16 hectares. It is the world's largest subtropical garden in a city centre. The parkland features a variety of themed gardens and recreational areas, with a web of pathways and boardwalks traversing cascading waterways and rocky outcrops, and also in situ artworks by 16 local artists.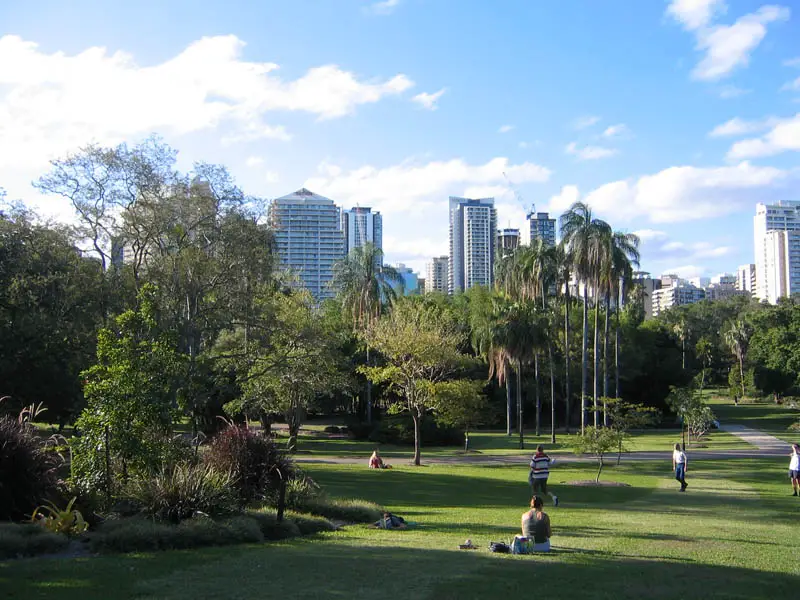 Old Botanic Gardens
A peaceful refuge in the city, the Brisbane City Botanic Gardens were established in 1855 and cover approximately 20 hectares. They were once called Queens Park; the 1905 Curator's cottage is now the City Gardens Cafe. Some of the older trees planted in the Gardens were the first of their species to be planted in Australia. The river frontage features a mangrove boardwalk. Many office workers from the nearby business district use the gardens for reading and laying on grass in lunchtimes. It is a popular venue for weddings. At the rear of the gardens is Brisbane River Stage, a popular venue for outdoor concerts, a regular fixture being the annual Lord Mayor's Christmas Carols. Free Admission.