Brisbane's Museums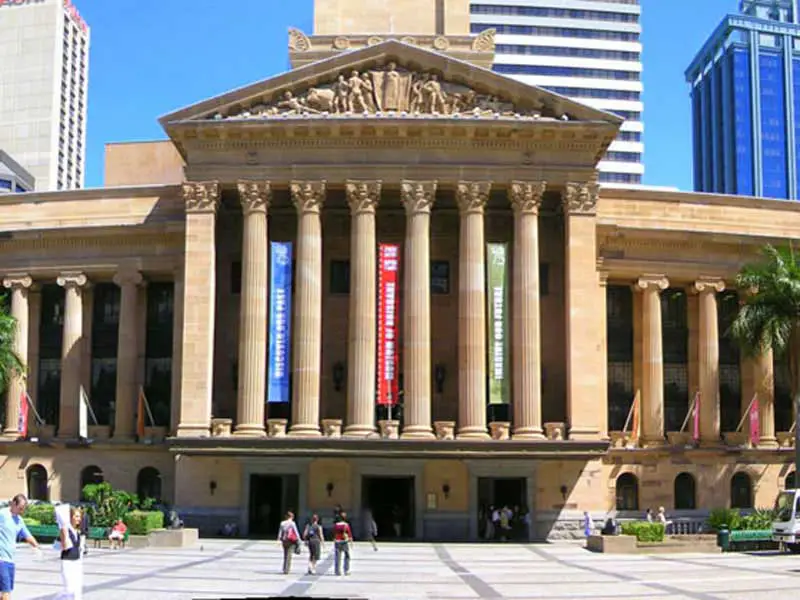 Brisbane City Hall Art Gallery and Museum of Brisbane
Conveniently located in the centre of town in Brisbane City Hall, this is a particular good place to spend a spare hour or two while learning about the Sunshine State's capital. The ground-floor museum portrays the social history of the city; its changing art and social history exhibitions have included entries in the Lord Mayor's photographic awards. Look out for the ground-floor art gallery, a tower housing one of Australia's largest civic clocks, and the observation platform with superb city views. Entry fees apply.
Contact: (07) 3403 8888. Location: Brisbane City Hall, King George Sq. Adelaide Street, Brisbane. Website

The Old Commissariat Store
The Old Commissariat Store is the birthplace of the city of Brisbane. Anyone tracing back the history of Brisbane will ultimately end up right here – at the city's oldest surviving building. Since occupation by the Royal Historical Society of Queensland in 1981, the Commissariat Store has been used as a museum, research centre, as a venue for RHSQ activities such as conferences and meetings.
Contact: (07) 3221 4198. Location: 115 William Street, Brisbane.

Mercy Heritage Centre
Mercy Heritage Centre explores the life and work of the Sisters of Mercy in one of Brisbane's oldest surviving buildings. The core of the building 'Adderton' was built in 1858 by John Petrie.

Brisbane Planetarium
New South Wales colonial Governor Sir Thomas Brisbane, after whom the city was named, established Australia's first significant observatory and was responsible for the first extensive mapping of the southern sky. The Planetarium's Cosmic Skydome is a giant screen that displays digital feature shows.
Contact: (07) 3403 2578. Website. Location: within the Brisbane Botanic Gardens, Mt. Coot-tha.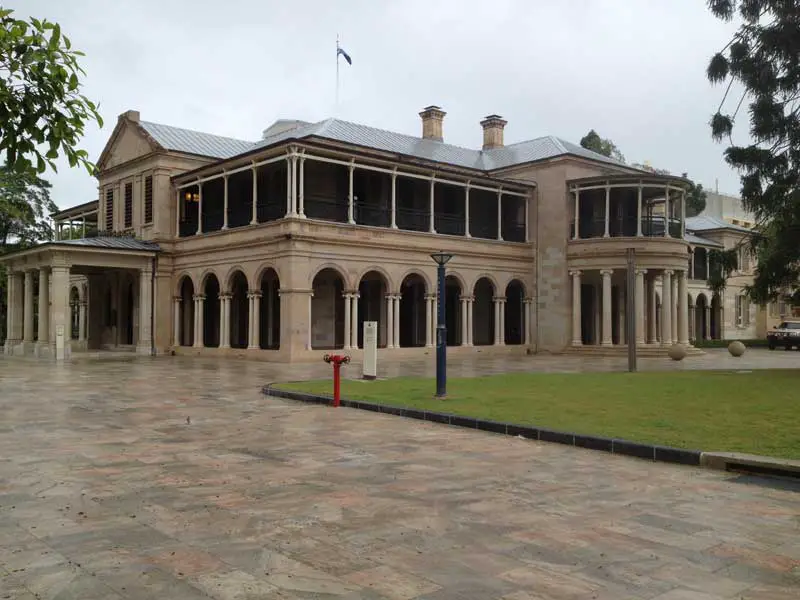 Old Government House
Old Government House is recognised as one of Queensland's most important heritage sites. The building recently underwent a $15 million restoration and is now open to the public as a House museum. Visit the house to get an insight into colonial life in the early days of Queensland. Old Government House is also home to the William Robinson Gallery.
Location: Qld University of Technology Gardens Point Campus, 2 George Street, Brisbane. Ph: (07) 3138 8005.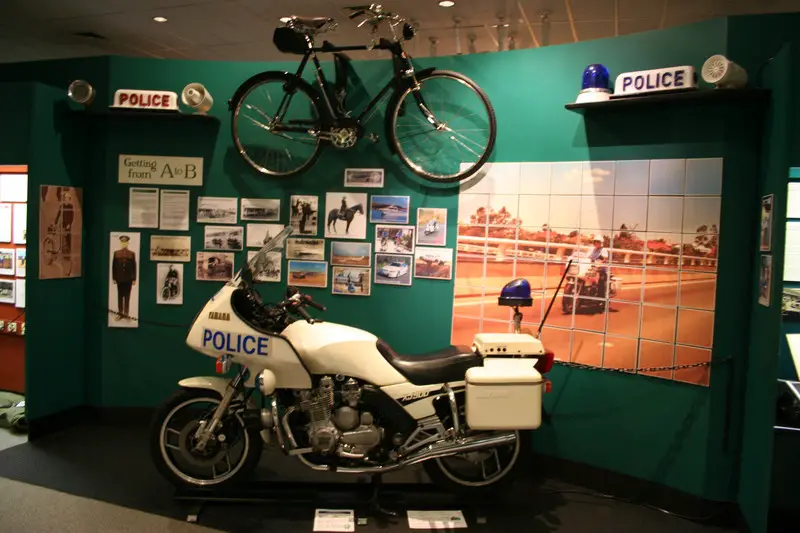 Queensland Police Museum
Located at Police Headquarters, the Queensland Police Museum details some of the city's most notorious crimes. There are 25 displays including those describing police heritage, Queensland crimes, police investigative techniques, medals, police women, operational equipment and transport, among others.
Location: ground floor, Police Headquarters, 200 Roma Street, Brisbane. Phone (07) 3364 6464. Website

Telstra Museum Brisbane
The Museum is run by ex Postmaster General's Department employees who worked with the equipment on display during their telecommunication career. Several exhibits are 'hands on' with working manual and automatic phone exchanges, Morse code sets and working pairs of teleprinters (TELEX machines).
Location: 3 Oriel Road, Clayfield. Ph (07) 3262 1199. Website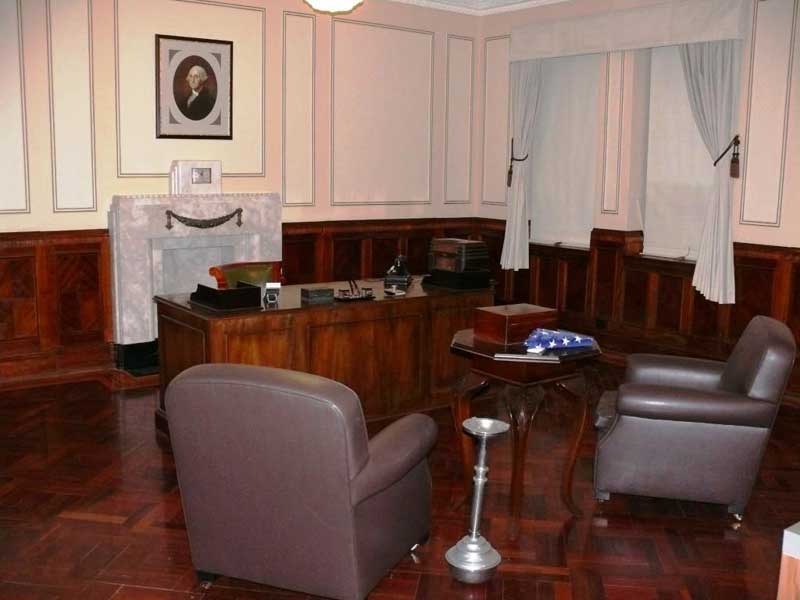 Macarthur Museum
The Macarthur Museum introduces visitors to a critical time in Brisbane's history – the dark days of World War II. Visitors can experience Brisbane during the dark years of 1942 to 1944 – when streets were lined with air-raid shelters, and warships and submarines crowded the banks of the Brisbane River. The museum is situated in the very offices where General Douglas MacArthur planned the Allied campaigns in the South-West Pacific and his famous, 'I shall return' campaign for the recapture of the Philippines. Entry fees apply.
Contact: (07) 3211 7052. Location: Level 8, Macarthur Chambers, Cnr Edward and Queen Streets, Brisbane. Website

Museum of Lands, Mapping and Surveying
A source of heritage information about land, surveying and mapping history, the Museum is managed and staffed by the Department of Natural Resources and Water and is an arm of the larger statewide Queensland Museum. Themes of displays include early mapping of Australia, life as a surveyor, progression of the various mapping strains, aboriginal cartography, place names, instruments used and printing procedures. Animations of Queensland settlement expansion and the formation of Australian States are viewable.
Location: Level 1, Landcentre building, cnr Main and Vulture Sts., Woolloongabba, Qld. Website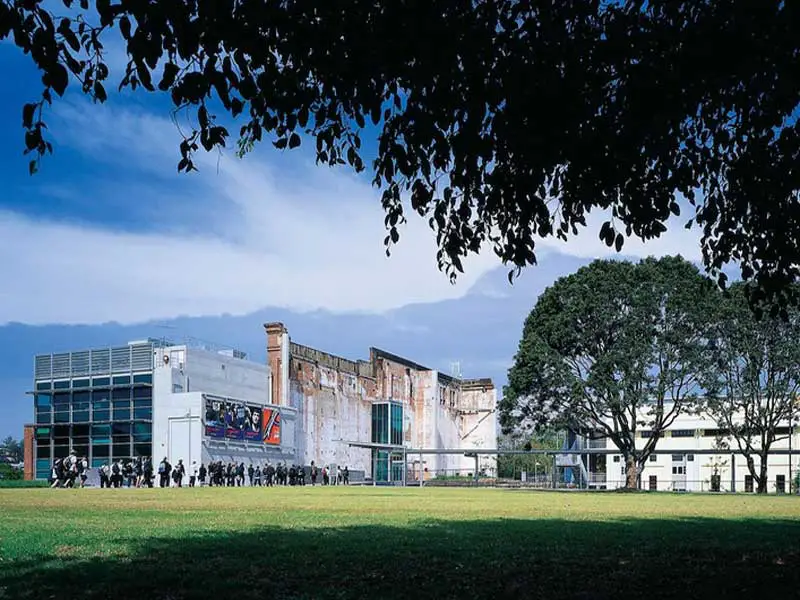 Brisbane Powerhouse
New Farm is home to the Brisbane Powerhouse, the former electric tramway power station which has now been turned into a premier performing arts space. The Powerhouse is also home to the trendy Watt restaurant. An arts and cultural hub, the venue offers an array of performing arts, visual arts, festivals, and free community events.
Location: 119 Lamington St, New Farm. Phone: (07) 3358 8600. Website
Brisbane Cultural Centre
As its name suggests, this precinct, situated on the opposite bank to the Brisbane CBD alongside the South Bank precinct, is the central hub of cultural activity in Brisbane. The complex includes the Queensland Performing Arts Centre (QPAC); Queensland Museum; State Library of Queensland; Queensland Art Gallery and Gallery of Modern Art.
Queensland Museum & Sciencentre
The Museum is of the greatest interest to visitors, its displays have a distinct Queensland flavour, its special features focusing on the cultures of the peoples of the Torres Strait Islands, dinosaur remains found in Queensland and the fish and animals found on the land and in the seas of Queensland. These include three full size model whales hanging from the ceiling of a walkway outside the Museum. Free admission. More
Sciencentre offers an exciting, interactive and experience-rich environment that is contemporary, user-friendly and inspiring for all ages. More
Location: Grey Street, South Brisbane. Website

Queensland Art Gallery | Queensland Gallerty of Modern Art
Features collection of Australian and international paintings, sculptures, decorative art objects and works on paper. South Brisbane. The Queensland Gallery of Modern Art is the Queensland Art Gallery's second building, and is the largest gallery of modern and contemporary art in Australia. It complements the Queensland Art Gallery (QAG) building, situated only 150 metres away. Queensland's Gallery of Modern Art also houses Australia's first purpose built cinematheque.
Location; Stanley Place, South Brisbane QLD 4101. Ph (07) 3840 7303. Website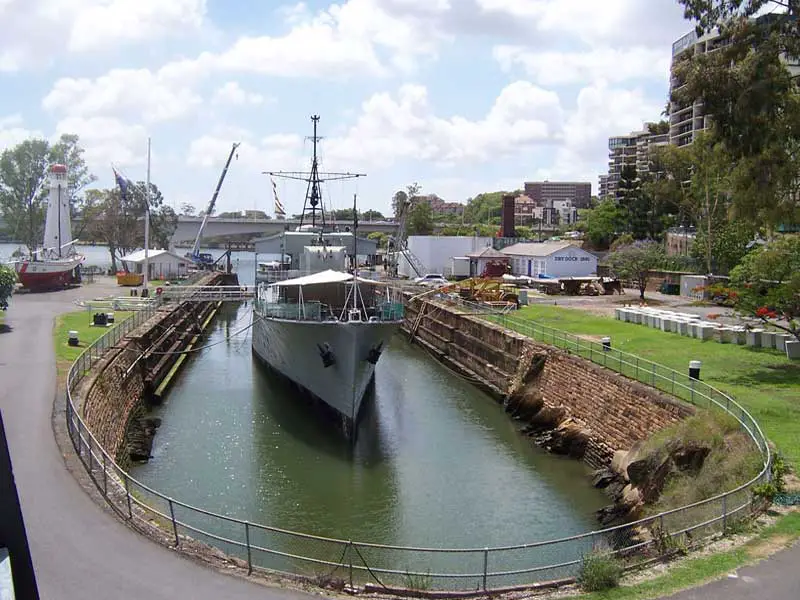 Queensland Maritime Museum
Queensland Maritime Museum traces Queensland's maritime history from the days of the early navigators to the present day. The Museum occupies a number of maritime-related buildings surrounding the South Brisbane Dry Dock which, during a century of service, was used by ships of all types including US submarines during World War II.

Queensland Energy Museum
Queensland Energy Museum highlights Queensland's energy heritage with an array of objects and displays illustrating the history of the electricity and gas supply industry. The collection is being expanded to include all forms of energy. There's innovative and interactive exhibitions, and a strong focus on social history.
Location: 2 Bowen Bridge Road, Herston, Qld. Phone (07) 3854 1266. Website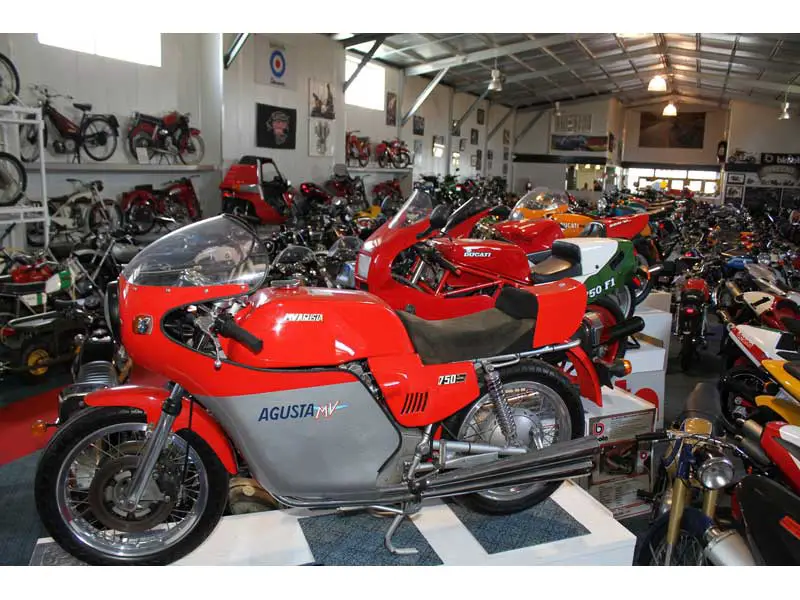 Australian Motorcycle Museum
Australian Motorcycle Museum houses a private collection of over 200 motorcycles, ranging from the late 1880?s up to current models. On display are a cross section of road, off-road, race, outfits, new, old, experimental and unusual, some of which are extremely rare. he owners, Allen and Lorraine Smith, have spent many years and travelled extensively overseas to compile this extraordinary collection of special interest, vintage, veteran and classic bikes. The museum is open daily from 9.30am till 4.00pm, 7 days a week, or by appointment.
Location: 3 Butlers Road, Haigslea. Phone (07) 5464 4938. Website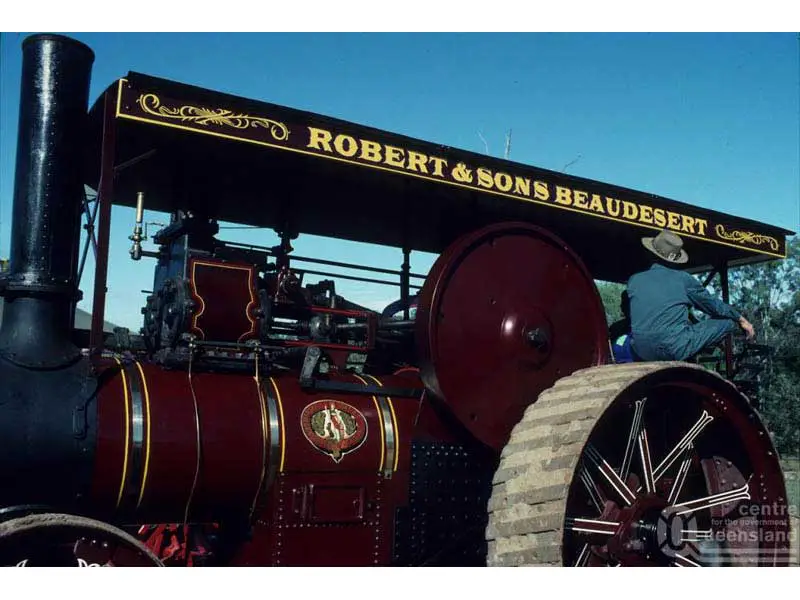 Beaudesert Historical Museum
One of the largest country town museums in Queensland, with over 10,000 artefacts covering the Scenic Rim region's industrial and lifestyle heritage. The most striking exhibit is the thermos flask used by the two survivors of the 1937 Stinson Plane Disaster, before their rescue by Bernard O'Reilly. The Museum includes an extensive archive and library for use by patrons researching local and family history.

Judith Wright Centre of Contemporary Art
Modern art has long been an area of focus in Brisbane. The Judith Wright Centre of Contemporary Art is home to the Institute of Modern Art, founded in 1975, which continues to deliver programs dedicated to emerging and established artists.
Location: Level 2/420 Brunswick St, Fortitude Valley QLD 4006. Ph (07) 3872 9000. Website

Philip Bacon Galleries
In terms of longevity and quality, Philip Bacon Galleries is not only downtown's most prestigious private gallery, but regarded nationally and internationally as among Australia's best.
Location: 2 Arthur Street, Fortitude Valley QLD 4006. Ph (07) 3358 3555. Website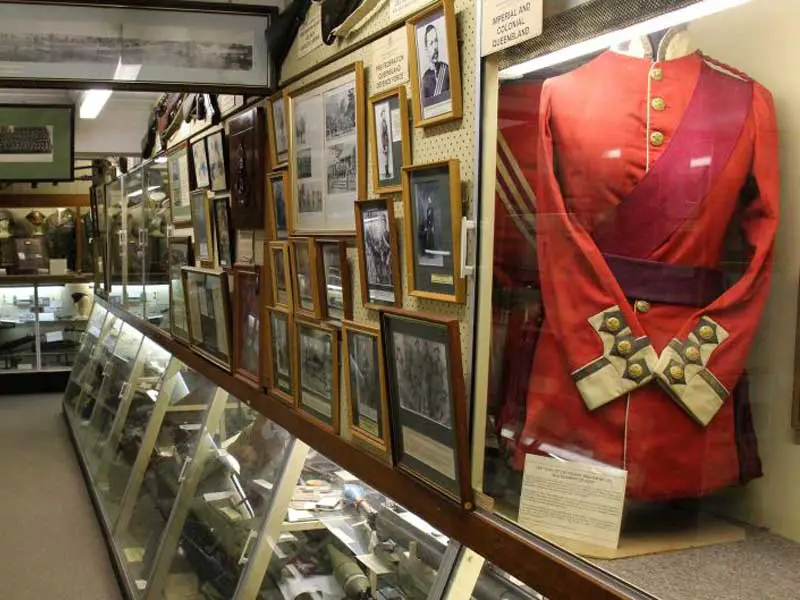 Queensland Military Memorial Museum
The Museum displays are set out chronologically from the early 1800s to the modern era, relating the history of Queenslanders' service in Queensland and Commonwealth Defence forces, both in times of peace and during war, and of the Allies of the Colony and Commonwealth in war.
Location: 28 Church Street, Fortitude Valley. Ph (07) 3852 3565. Website

Redland Museum
Redland Museum houses a great collection of artifacts and treasures exemplifying the ingenuity of the pioneers of the redland district, and their descendants. The museum hosts many events including concerts, monthly lectures, Australia Day plays, annual Redlands Heritage Festival, rolling and diverse exhibitions and other appealing events that enrich our local community.
Location: 60 Smith Street, Cleveland, Queensland. Phone (07) 3286 3494. Website