Contact

Home
| Australia's Coastline
Australia's Coastline
Australia is the sixth largest country in the world, and is the only one of the top six that is completely surrounded by water. The mainland and Tasmania are also surrounded by many thousands of small fringing islands and numerous larger ones. Nearly forty percent of the total coastline length comprises island coastlines. Along its 36,735 kilometres of coastline are in excess of 10,000 beaches, many of spectacular beauty. With the addition of all the coastal islands this amounts to more than 47,000 km, the coastal landscape ranging from broad sandy beaches to rocky cliffs and mangrove swamps.
Most of Australia's population lives close to the coastline and the beach has long occupied a special place in the Australian identity. The Australian coastline is where three of the world's great ocean's meet: the Pacific, Indian and Southern oceans. The beach is also a place where people from all over the world meet, mix and live.
The recorded history of people in their interaction with the coastline of Australia is peppered with disaster, tragedy, discovery and delight. In the past 600 years, visitors as far away as China, Portugal, Spain and Holland visited the Australian coast. The evidence of their visits lies in the remains of ships wrecked along the coastline as well as artefacts, cave drawings and paper maps. It has always been risky sailing in Australian waters, and so many failed to reach their destinations. The Encyclopedia of Australian Shipwrecks records more than 16,000 wrecks.
For tens of thousands of years the Aboriginal and Torres Strait Islander peoples have fished the coastal waters. People on the north coast, from the Arafura Sea to the Torres Strait, used to trade with those from present day Indonesia and Papua New Guinea on the beaches of Australia. Until the present day, senior Goorewal women of New South Wales use their knowledge of the natural calendar, currents, winds and biology of the sea creatures to journey to the coast to collect shells for food. The making of necklaces from shells in family patterns has been passed down through the generations.
Coastal Lengths (by state)
Coastline lengths by state and territory (kilometres)
Western Australia
Mainland length: 12 889; islands length: 7 892; total length: 20 781
Queensland
Mainland length: 6 973; islands length: 6 374; total length: 13 347
Northern Territory
Mainland length: 5 437; islands length: 5 516; total length: 10 953
South Australia
Mainland length: 3 816; islands length: 1 251; total length: 5 067
Tasmania
Mainland length: 2 833; islands length: 2 049; total length: 4 882
Victoria
Mainland length: 1 868; islands length: 644; total length: 2 512
New South Wales
Mainland length: 2 007; islands length: 130; total length: 2 137
Jervis Bay Territory
Mainland length: 54; islands length: 3; total length: 57
Australia
Total length: 35 877

Coastal Extemities
Australia is approximately 3700 kilometres from its most northerly point to its most southerly point in Tasmania, and it is almost 4000 kilometres wide, from east to west. Its coastal extremities are:
North
Cape York, Qld
Latitude 10° 41′ 21″ S; Longitude 142° 31′ 50″ E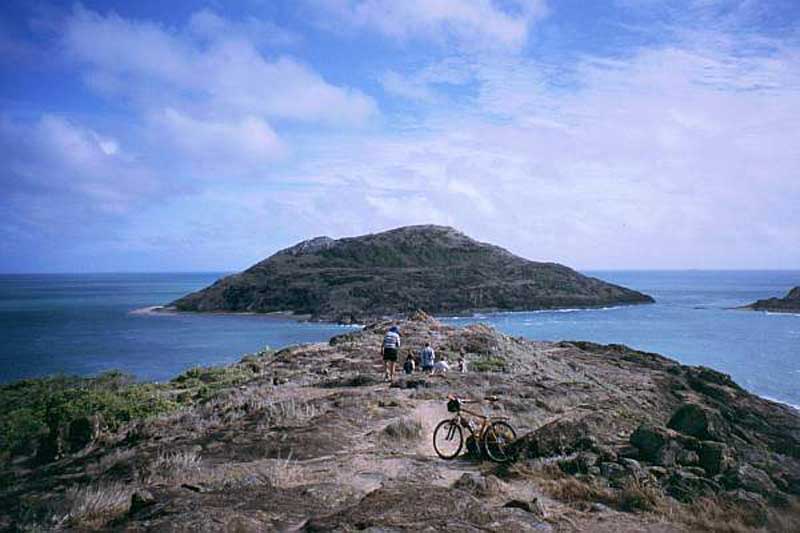 The Cape York Peninsula in far-north Queensland is one of Australia's most distinctive landforms. It's tip is the northern-most point on the Australian mainland, and is renowned for its natural beauty and wildlife. Sparsely populated and difficult to reach, it is a popular place for 4WD and camping enthusiasts.
South (Mainland)
South Point, Wilsons Promontory, Vic.
Latitude 39° 08′ 20″ S; Longitude 146° 22′ 26″ E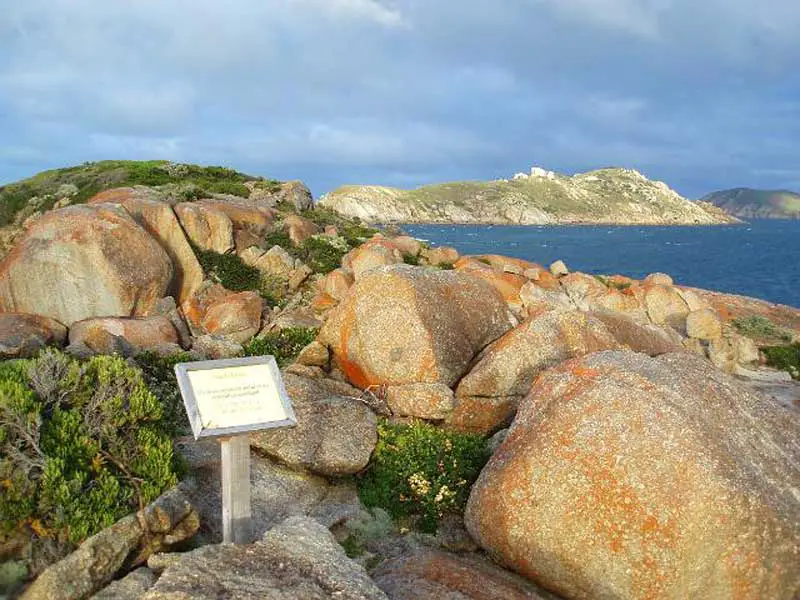 South Point on Wattle Island can be found at the tip of Wilson's Promontory, Victoria, and is the southern-most point of the Australian mainland. Part of an extensive national park and marine reserve, Wilsons Promontory is one of the most pristine and beautiful places to visit in Australia, and offers a wide range of bush-walking trails and scenic views.
South (Actual)
South East Cape, Tas.
Latitude 43° 38′ 40″ S; Longitude 113° 09′ 18″ E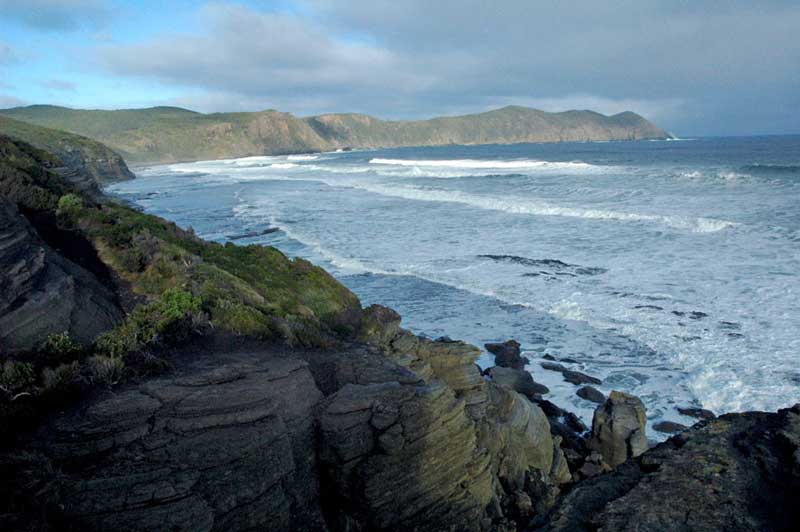 The southern-most point of Australia is South East Cape, part of Tasmania's rocky southern coastline. Although beautiful, all manner of rough weather extremes prevail.
East
Cape Byron, Byron Bay, NSW
Latitude 28° 38′ 15″ S; Longitude 153v 38′ 14″ E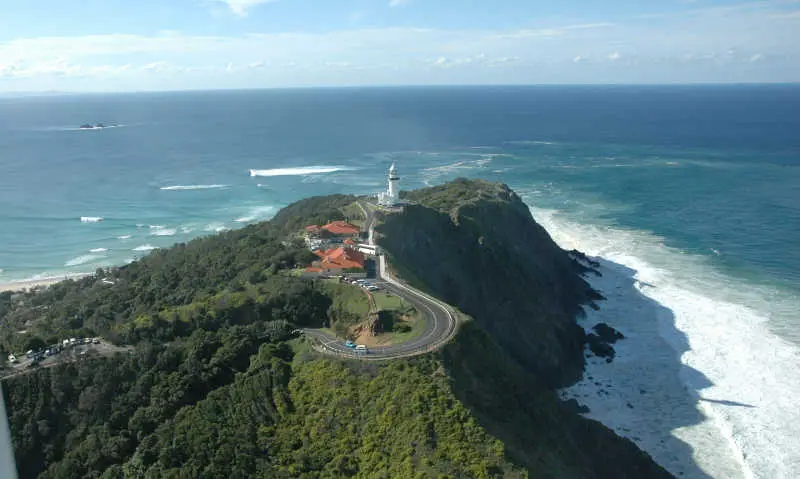 Located just two kilometres east of the town of Byron Bay, in northern New South Wales, Cape Byron is the eastern-most point on the Australian mainland. A popular destination amongst lighthouse enthusiasts and whale-watchers, the spectacular scenery of Cape Byron also attracts large numbers of tourist visitors every year. The lighthouse was constructed in 1901, and when converted to mains electricity in 1956, became Australia's most powerful, its 1000 watt tungsten globe producing 2,200,000 candela.
West
Steep Point, Shark Bay, WA
Latitude 26° 09′ 5″ S; Longitude 113° 09′ 18″ E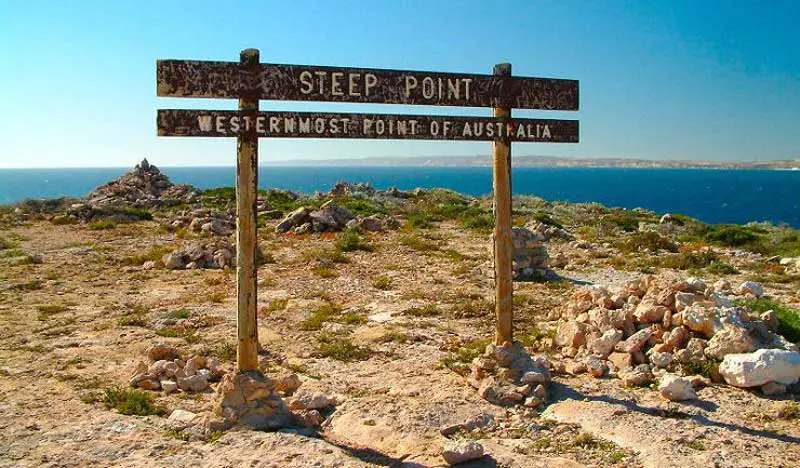 Located a short distance from Shark Bay, between Dirk Hartog Island and Useless Loop in Western Australia, Steep Point is the western-most point on the Australian mainland. It can be reached by following the Useless Loop road on Edel Land, and offers spectacular coastal scenery. First named by Vlaminghin in 1697 as "Steyle Hock" (Translation: Steep Point), the location was later similarly called Point Escarpee (L. Freycinet, 1801) and Steep Point (P. King, 1822). Sometimes resembling a moonscape, the rocky and peculiar landscapes in this area include such formations as the Zuytdorp Cliffs, which rise up to 170 metres above sea level.