INDEX BY LOCATION: Europe | British Isles | Australia

Travel Europe: What To See And Do
Visit amazing sites in more than 50 countries. Experience vastly different cultures, languages and food within short train rides from city to city.

Nearly 30 European Union countries have a single currency and relaxed border crossings, making European travel quite easy. Ride a train for several hours on the continent and enter a new country. From Arctic Circle Nordic nations to warm southern Mediterranean countries, you'll find modern cities alongside vestiges of ancient civilizations.

Visit Italy and Greece to wander through ruins of early empires. In Rome, see the Colosseum, in Athens, the Acropolis. Relax on glorious beaches in both countries. Explore some of the 6,000 islands of Greece and view the Ligurian Sea from high walking paths along terraced vineyards in Italy's Cinque Terre. Pay papal respects at Vatican City, Europe's smallest nation.

France is famous for wine, Mediterranean beaches and art galleries. Explore the grand canyon of the Gorges du Verdon and ski the French Alps. Visit weekly markets in small Provencial towns, perched villages in the Luberon and sandy beaches near Saint-Tropez. In Paris, tour the Louvre, the Musee d'Orsay and the Centre Georges Pompidou. Walk along the Champs-Elysees and view the city from atop the Eiffel Tower.

Spain and Portugal highlight modern-day Iberian cultures. In Portugal, eat luscious Belem pastries, visit the 500-year-old Jeronimos Monastery and see raging waves on Europe's westernmost land. Ski in the Pyrenees Mountains, run with the bulls in Pamplona and dance the flamenco in Madrid or Barcelona, Spain. Venture into the region between Spain and France to tour Bilbao's Guggenheim Museum and experience unique Basque culture and language.

Norway, Sweden, Finland and Denmark feature Scandinavian customs and foods, including endless Smorgasbord buffets. See far northern lands near the Arctic Circle with summer sunshine through the day and night. Find quiet forests in Finland, Viking history at Sweden's Vasa Museum and striking fjords on the shores of the Norwegian Sea.

The United Kingdom has Scottish heaths, Welsh castles and British pomp and pageantry across England. See the Crown Jewels and attend West End theatre in London. Cross the water to Ireland and bike over rolling green hills past ancient Celtic landmarks.

Germany, Austria, Hungary, the Czech Republic and Poland offer glorious music, castles and centuries of history. Appreciate the Dom cathedral in Cologne, the symphonic orchestra in Vienna, ancient Roman settlements in Budapest, St. Vitus Cathedral in Prague and the old towns of Krakow and Gdansk.

Visit museums, art galleries and places of worship in Ukraine, Belarus, Lithuania, Latvia and other countries once isolated beyond U.S.S.R. borders.

Select one or two countries for a short trip to Europe or plan an annual visit to discover the beauty and history of this glorious continent.
Best time to visit Europe
Visit Europe in the spring for warm days and cool nights. Summer brings longer days and lovely weather, but can be busy; August is when locals escape for their annual holiday. Autumn in Europe brings the changing colors and fewer crowds. In terms of rainfall, Autumn is the driest season. Winter is best for avid skiers and bargain hunters.

Peak Season: Most visitors from the U.S. explore Europe in the spring and summer months. Early fall tends to be busy in popular convention areas, and rates can be higher during this time.

Value Season: Winter and early spring see fewer travelers, and can be a great time to visit if you're looking for discounted flights and hotel rates.
Destinations: Europe
Click on or tap the "Destinations" tabs to see the featured destinations of that country. Click or tap again to hide them.
DENMARK
The home of Lego, childrens author Hans Christian Andersen and legendary comedian Victor Borge, the setting of one of Shakespeare's greatest plays, Hamlet, and the place where you'll find the world's longest pedestrian street, Denmark has a lot to offer. To the north of Copenhagen you'll find a wide choice of castles and palaces, including Kronborg Castle in Elsinore (the setting of Hamlet). To the east is the stunning Oresund Bridge. The longest road and rail bridge in Europe, it connects Denmark to Sweden.
ICELAND
Fire and ice reign supreme on this volcanic island as the region's active volcanoes vie for supremacy against the powerful march of the glaciers. Keep your camera handy, for the resulting scenery is truly breathtaking with snow capped mountains, steaming geysers, thundering waterfalls, pools of boiling mud, lava fields and lush, green valleys. Reykjavik is one of the smallest capital cities in the world, but enjoys world class museums such as the National Museum and the nearby Viking Museum.
NORWAY
Norway's natural landscape is awe-inspiring. Fjord Cruises allow you enjoy thundering waterfalls, towering snow capped peaks, bottomless pools and crystal clear lakes, terrifying cliffs, sharp valleys and the most amazing natural phenomenon of all, the Northern Lights (Aurora Borealis). Add to this the gentle welcome of the friendly Norwegian people, an enchanting history where myth intertwines with fact to enhance the story of the Vikings, and you can be sure of a real treat.
SWEDEN
Spread over a mini archipelago of 14 islands, Stockholm's beauty is reflected in the water that surrounds it. Stroll through the quaint narrow streets of the Old Town, where you can browse boutiques and linger at cafes to soak up the Scandinavian ambience. Sweden's second city, Gothenburg is undergoing a transformation from industrial seaport to centre of culture and there is plenty to do and see, including fantastic restaurants and museums. Or for a break from the city, head to Visby, Sweden's alluring island resort and home to sandy beaches, green meadows and an impressive 92 churches dating back to the 13th century.
FINLAND
Enjoy a speed boat expedition to explore the Finnish Archipelago and get up close to the giant Icebreakers, moored for the summer season. Wander through the fragrant Sibelius Park in Helsinki and see the monument to honour Finland's greatest composer. Head out of town to the picturesque settlement of Porvoo and take a snap of one of the most photographed views in Finland, the row of red, riverside storehouses. Finally, find a cosy cafe – there's plenty to choose from – kick back and join the Finns in one of their favourite pastimes; drinking freshly roasted coffee.
GREENLAND
Greenland is the world's largest non-continental island, in the far northeast of North America, largely within the Arctic. Although it is still part of the Kingdom of Denmark, it was granted self-government effective in 1979, more recently it voted for more autonomy, in effect making it a separate country with formal ties to Denmark. Greenland is a place of icebergs, hot springs, the Northern Lights, the Midnight Sun, The Ice Sheet, Glaciers and a diversity of wildlife including sea eagles, seals, whales, musk oxen and polar bears.
RUSSIA
European Russia stretches from the borders of Belarus and Ukraine to the Ural mountains, over 1000km east of Moscow; even without the rest of the vast Russian Federation, it constitutes by far the largest country in Europe. Formerly a powerful tsarist empire and a Communist superpower, Russia continues to be a source of fascination for travellers. While access is still made relatively difficult by lingering Soviet-style bureaucracy, independent travel is increasing every year, and visitors are doubly rewarded by the cultural riches of the country and the warmth of the Russian people.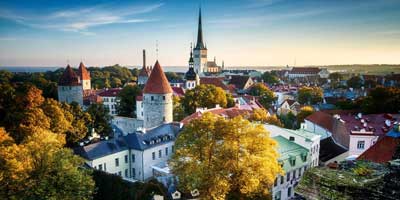 ESTONIA
Estonia is a beautiful, unspoiled country with much of it covered in forest. Its largest city, Tallinn, is a UNESCO World Heritage site. The quaint cobbled streets and medieval houses of the Old Town are lovely and definitely worth a visit. Outside of the city, you will be treated to Estonia's wonderful natural heritage. The Tuhala Landscape Reserve is home to attractions such as the Witch's Well, a naturally occurring spring that occasionally appears to 'boil'. Alternatively you could lose yourself in the relatively untouched landscapes and ecosystems of North Korvemaa, with its forests, bogs and glacier-formed plateaus.
LATVIA
Latvia is a Baltic state in Northern Europe. The most famous travel spot is the capital Riga, a World Heritage Site. There are also many other great places to see, both urban and rural, such as Liepaja with its unique former secret military town of Karosta and a magnificent beach. Kuldiga with Europe`s widest waterfall and Cesis with its medieval castle ruins are also interesting. Tourists can also enjoy the wild beauty of Latvia's unspoilt sea coast, which is 500 km long and consists mainly of white, soft sandy beaches. Forests, which cover approximately a half of Latvia's territory, offer many nature trails and nature parks.