Glass House Mountains National Park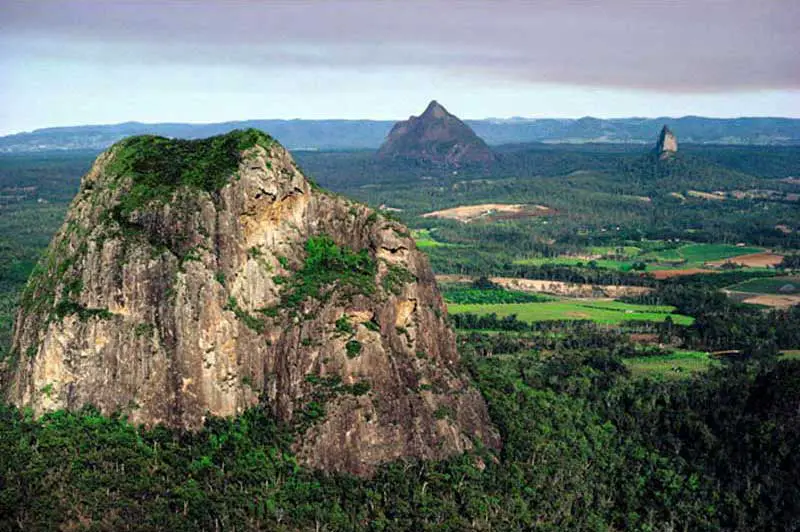 The Glass House Mountains, a group of 13 volcanic peaks, are a prominent feature of the Sunshine Coast landscape. Gradual weathering by wind and water has produced these spectacular remains of volcanic activity which occurred more than 20 million years ago. The park encompasses craggy volcanic peaks tower over a scenic patchwork of pine plantations, bushland and cultivated fields. Many of the peaks are protected in Glass House Mountains National Park, while the pine plantations and a range of native vegetation types are managed in several State forests and forest reserves near the park.
Named by British explorer James Cook during his epic voyage along Australia's east coast, the Glass Houses are rhyolite plugs formed by volcanic activity millions of years ago. Remnants of the open eucalypt woodland and heath vegetation, which once covered the coastal plains, provide a home for an interesting variety of animals and plants, including 26 rare and threatened plant species. The Glass House Mountains area was a special meeting place where many Aboriginal people gathered for ceremonies and trading. This place is considered spiritually significant with many ceremonial sites still present and protected today.
Plan And Book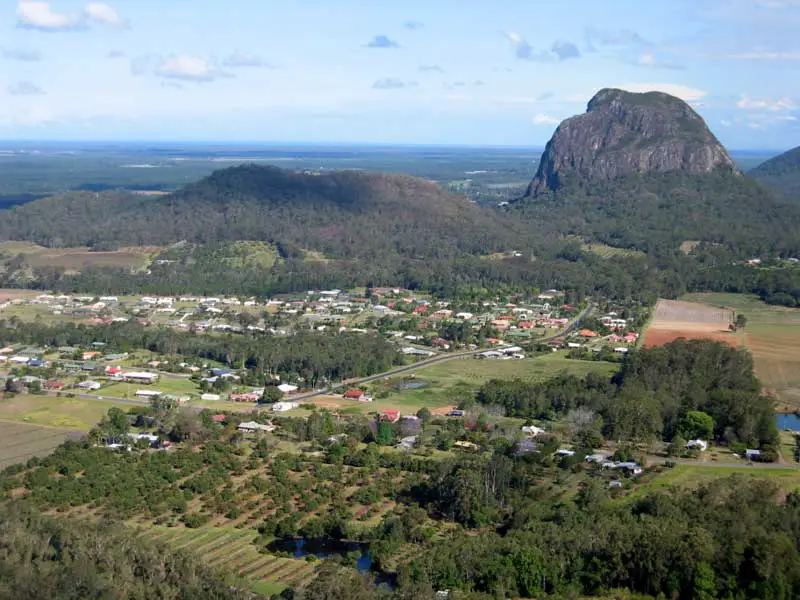 Glass House Mountains National Park protects seven of the thirteen distinctive mountains – Beerwah, Tibrogargan, Ngungun, Coonowrin (Crookneck), Miketeebumulgrai, Elimbah (Saddleback) and Coochin Hills – along with Blue Gum Creek Section. Within the park, rare plants, vegetation, and their dependent animals are conserved. Remnants of a complex pattern of native vegetation are preserved in the park. Open eucalypt forest surrounds the mountains, while rare and threatened heath species occur on the summits. Each vegetation type provides habitat for native animals. Koalas, peregrine falcons, parrots, honeyeaters, lizards, echidnas and wallabies are among species found in the area. Natural vegetation linking the national park's separate sections is vital for the survival of these and other native animals. Nearby landholders can help conserve native fauna by retaining or replanting native vegetation.
Walking Tracks
Near by state forest parks and council reserves such as Mt Beerburrum, Wild Horse Mountain, Glass House Mountains Lookout, Jowarra State Forest and Mary Cairncross Park provide formed walking tracks for those who are not experienced bushwalkers or climbers.
The Glass House Mountains offer some spectacular walking tracks through open woodlands and heaths to panoramic lookouts and mountain summits. The walks range from easy to challenging grades.
View from Mt Beerburrum summit
Mount Beerburrum walk:
A paved but very steep walk leads 700 meters uphill through a small area of rainforest, then winds up to a fire tower. Amazing 360 degree views of the Glass House Mountains. Access is via Beerburrum Road, just south of the Beerburrum township.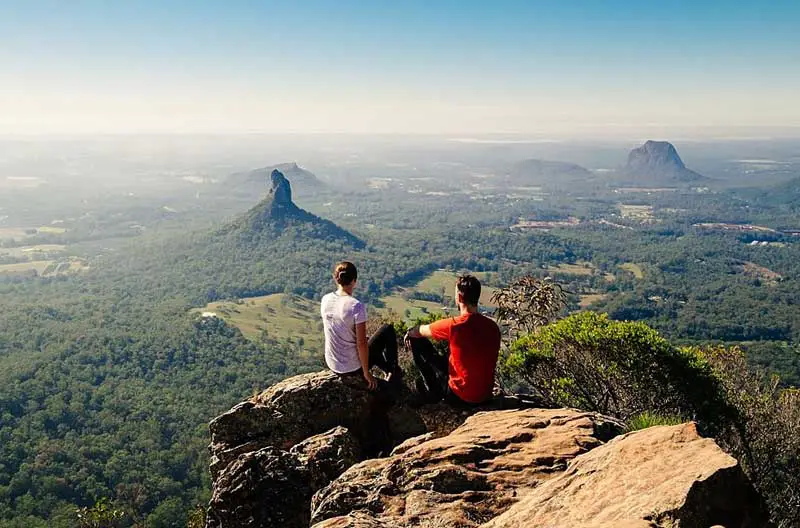 View from Mt Beerwah summit
Mt Beerwah walk:
The track to the 556m summit is 2.6km return and takes 3-4 hours. The Queensland Parks and Wildlife Service advises that it has steep rocky sections that require some rock climbing/scrambling experience. Rockfalls have led to the closure of this track in ther past.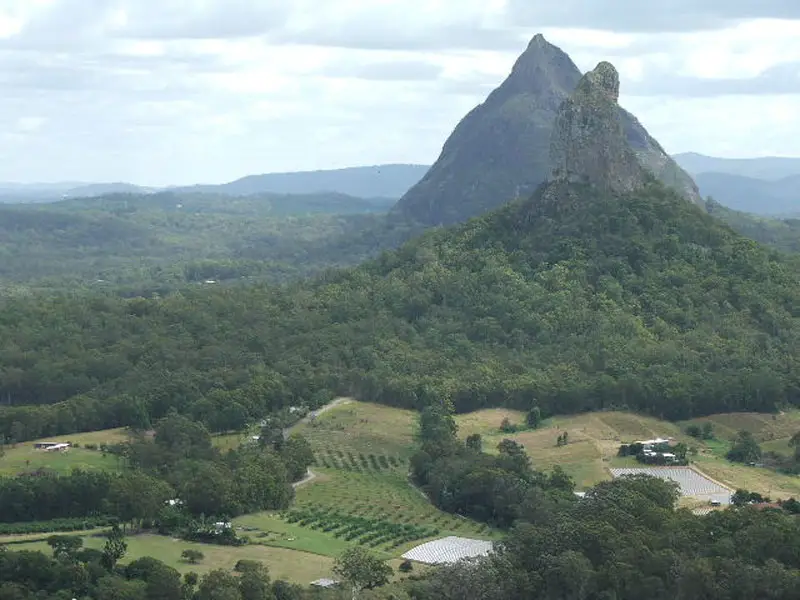 Mt Ngungun
Mt Ngungun walk:
For those who want to get to the top of a mountain but without climbing/scrambling try the 253m Mt Ngungun which provides great views of the larger nearby Glass House Mountains. But the 700m track is steep and a little unstable in the upper sections.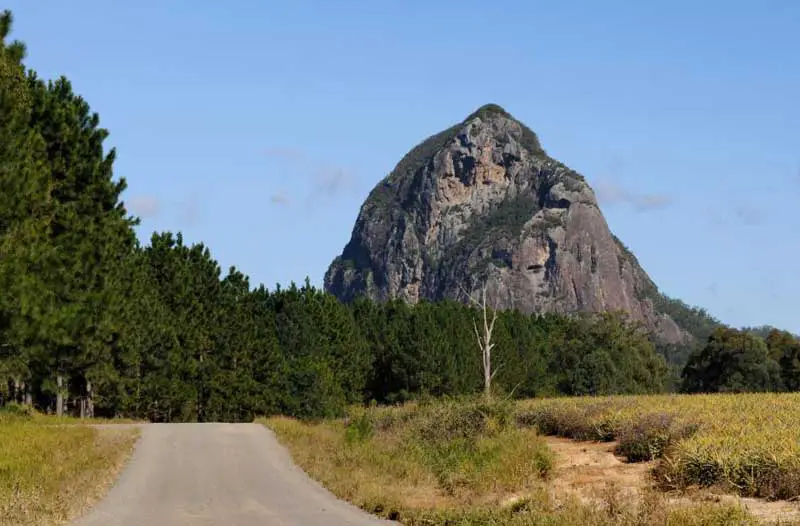 Mt Tibrogargan
Mount Tibrogargan summit walk:
3km return (Allow 3-4 hours)From Mountain View lookout, the track continues to the summit. A high level of physical fitness and rockclimbing skills are required. Allow time to return from the climb during daylight hours.
Bushwalking and Climbing
Blue Gum Creek, Mt Elimbah, Mt Miketeebumulgrai and Coochin Hills are reserved primarily for conservation of their natural and cultural features. There are no facilities located on these parks.
Mt Ngungun summit is the most accessible of the peaks in Glass House Mountains National Park. The 700m long trail, while rough and steep, can be undertaken by most people who have a reasonable degree of fitness. Inexperienced climbers and family groups should be careful, as the upper sections of the trail pass close to the cliffline. Children should be guided by adults past these narrow sections. Allow 1-2 hours to complete a return walk. There are excellent views of the Glass House Mountains and surrounding ranges from this vantage point.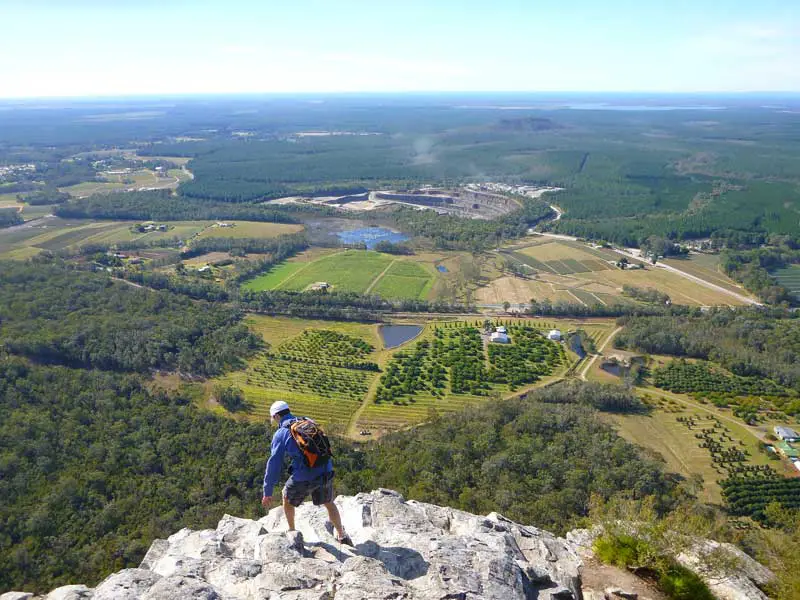 On Mt Tibrogargan and Mt Beerwah, lookout points offering views of the surrounding mountains are located near the base of the cliff lines and can be accessed by 350m long walking trails. The summits can be accessed by rough trails continuing past these lookout points. Summit access can take 2-3 hours return and is recommended only for those who are physically fit and have bushwalking and climbing experience.
Camping is not permitted inside the national park because of the park's small size and the potential for damage to delicate vegetation. Those wanting to camp near the park should instead consider the Department of Natural Resources (DNR) camping ground on the banks of Coochin Creek, 9km east of Beerwah township. Contact the DNR, Beerwah Office on (07) 5494 0150. Inexpensive accommodation is also available in caravan parks located along Glass House Mountains Road.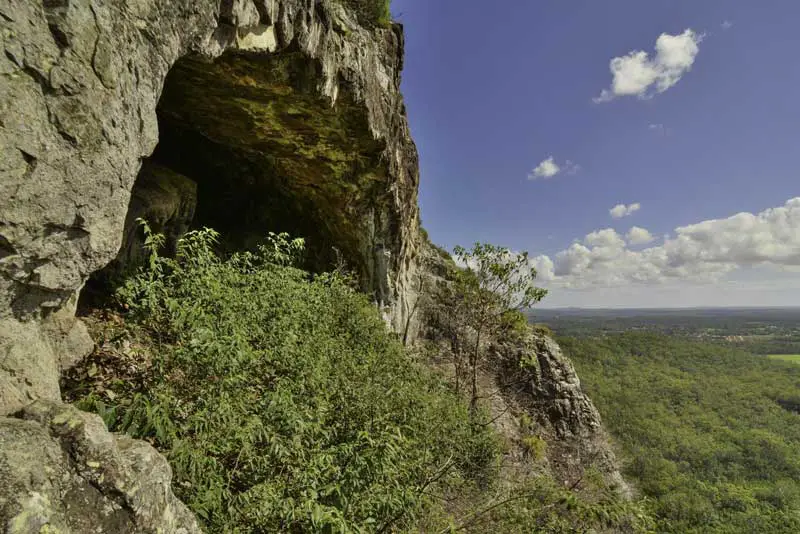 Aboriginal legend
According to Aboriginal legend, Tibrogargan (364m), the father and Beerwah (555m – highest peak) the mother, had a number of children. Coonowrin (377m – narrowest and most dramatic of all the volcanic plugs) was the eldest, Tunbubudla were the twins (293m and 312m), Coochin (235m), Ngungun (253m), Tibberoowuccum (220m), Miketeebumulgrai (199m) and Elimbah (129m).
The legend tells of Tibrogargan, the father, observes that the sea is rising and asks that Coonowrin the eldest son help their pregnant mother to safety. Terrified, Coonowrin instead flees. Infuriated by his sons cowardice Tibrogargan pursues him and strikes him so hard that he dislocates Coonowrin's neck.
Once the danger passes Coonowrin feels tremendous guilt for his actions and asks his father, brothers and sisters for forgiveness but all wept with shame. This is said to explain the many small streams that flow through the area. Tibrogargan turned his back on Coonowrin and gazes out to sea refusing to look at his son Coonowrin who continues to hang his head in shame and weeps.