Helidon
A small village, known for the excellent quality of the local sandstone, which has been used in many of Queensland's beautiful historic buildings including Brisbane City Hall, and is majorly sought after internationally for its quality, especially in China.
Location: Helidon is 18 km east of Toowoomba and 95 km from central Brisbane.
Helidon has an artesian water spa, the healing qualities of its water having been known to the local Aborigines for centuries. Visitors can enjoy the relaxing heated mineral hydrotherapy pool, sauna and outdoor saltwater pool amongst the spacious and relaxing acreage at Helidon Natural Springs Spa Resort Motel. Helidon is also the business hub for explosive manufacturing companies situated on the outskirts of town.
In the early 1880s the Helidon Spa company was established to bottle the waters rising naturally from the ground about five km south of the town. Later the water was transported in bulk for bottling at South Brisbane. The spa water gained medals at the Colonial and Indian Exhibition in London (1886) and the Melbourne International Exhibition (1888). Further medals were won at the San Francisco exhibition in 1915, and the water's quality was compared with that of the famous Baden Baden spa. In 1926 a spa pool was built.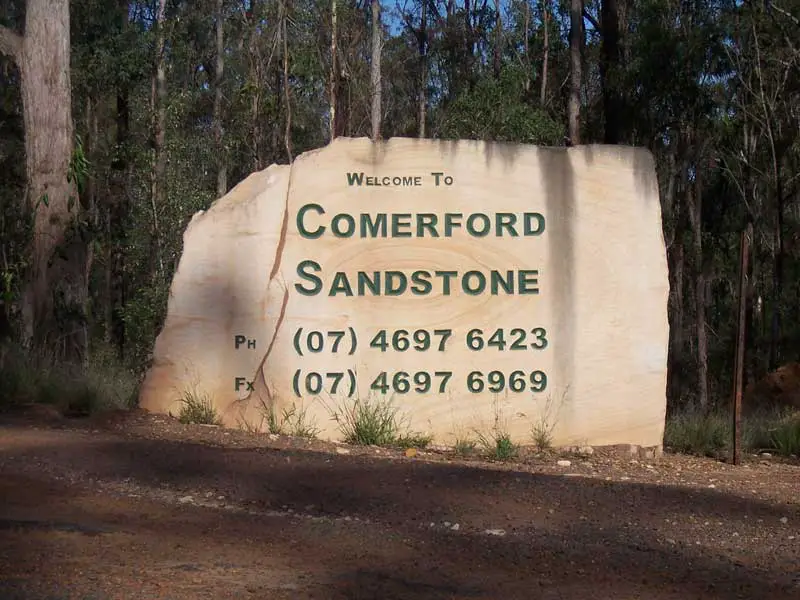 Hydrotherapy baths were opened in the 1930s. The pool and the spa drinking water were active concerns until the 1980s when traces of radium in the water caused a public scare, and pool-water purity required chlorination, which detracted from its reputation. The quarries also declined, but Cornerford Sandstone re-opened a former State Government quarry in 1985. The industry's monuments are readily visible at the Brisbane general post office, Brisbane City Hall, Anzac Square, the Treasury Building and the University of Queensland, among others.
Rated among the top ten most fertile farming areas in the world, the Lockyer Valley is an intensively cultivated area often referred to as "South East Queensland s Salad Bowl". It grows the most diverse range of commercial fruit and vegetables of any area in Australia. The valley is enclosed on either side by the Great Dividing Range. The largest town in the Lockyer Valley is Gatton. Other centres include Laidley, Forest Hill, Grandchester, Grantham, Helidon, Withcott and Prenzlau.