Contact

The Day The Colonel Came to Town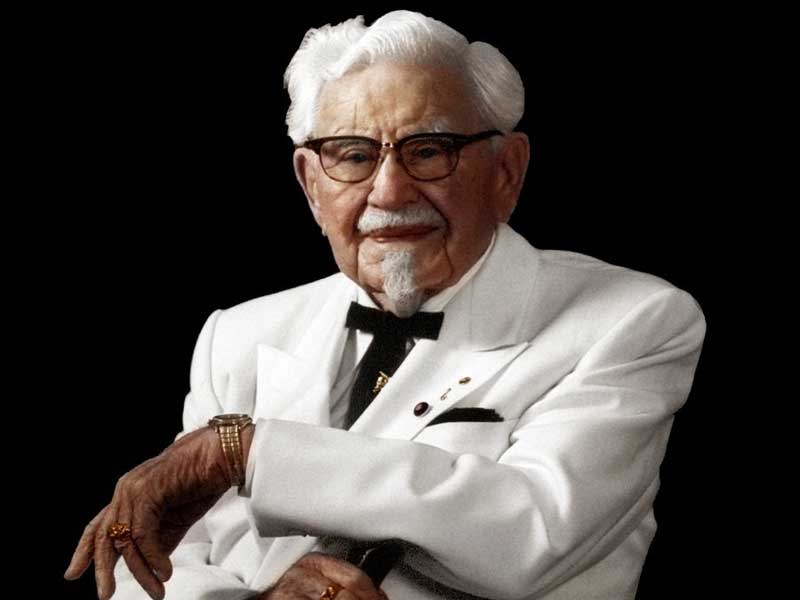 The Story of When Fast Food Came to Australia
Traditionally in Australian homes, all food was prepared at home, and often vegetables would be home-grown. Meat would be bought at the butcher's shop, fruit and vegetables at the greengrocer's shop, fish at the fishmonger's shop; all other foods and household needs were purchased at the corner grocery store. Bread could be bought at the bakery (after World War II, the trend was towards home delivery of bread and dairy produce) or often would be made at home. Going out to eat at a restaurant or hotel was something that didn't happen very often for most families, except on very special occasions.
Up until the end of World War II, the only kind of ready-to-eat meals purchased on a regular or semi regular basis was fish and chips. Strategically located in suburban shopping streets near bus stops and train stations, fish shops provided an easy substitute for home cooking. They offered the breadwinner of the house the convenience of being able to pick up a ready-cooked meal on their way home from work. Such meals were seen as a treat, and Friday was the traditionally night for fish and chips. More often than not, they came wrapped in and were eaten straight out of the daily newspaper.
During World war II, visiting US military personnel made the hamburger popular, and so burgers, along with chickens cooked on a rotisserie and other items like fish cakes and Chiko Rolls were added to the menu of the local fish and chip shop in the 1950s. Post War migrants, particularly those from Greece and Italy, gravitated towards food shop ownership, perhaps to ensure a regular supply of foods that were commonplace back home but generally unheard of in Australia at that time. Their expertise in food preparation, combined with the wide variety of products they introduced and sold, did much to turn Australian families towards convenience foods of the take-away variety.
Drive-In Eateries
When cars became more popular and cheap enough for most families to own, people could get about more. Many new kinds of eating places such as roadhouses started to open, which catered for both travellers through the area, and locals. These eating places offered meals cheap enough for a family to be able to afford to eat out. Many of these businesses were operated by migrants, particularly those from Europe, who introduced foods like pizza, kebabs and Asian cuisine, which began to be sold both in the roadhouse-style restaurants and local shops as an alternative to fish and chips.
By the early 1950s, drive-in eateries began appearing in suburban Australia. Some were simply vans or caravans parked by the side of the road, often beside a car parking bay. Others occupied permanent buildings. Cars would pull up into a car park outside the eatery and flash their lights. A waitress would come out to the car and take the order, and then return with the meal when it was ready. Some drive-in eateries even provided clip-on tables that could be attached to the car door when the windows were wound down. In the United States, the waitresses were known as car hops; in the early days, they would often be dressed in a short pleated skirt and zip around from car to car on roller skates, taking and delivering orders.
In the 1960s, an increasing number of waitresses were being harrassed by customers who expected a little more than burgers and thickshakes from the waitresses, and the car hops were eventually replaced by microphone-speaker systems. These were positioned so that patrons placed their order as they entered the car park, and it was either delivered to them by a waitress or customers picked up their meal from a window. Though some drive-in restaurants still exist in Australia, the craze here was fairly shortlived, partcularly after the waitresses stopped servicing patrons in their cars. Eating in the car was often messy and the food was often too hot or too cold, but the popularity of fast food never waned. McDonald's in the US came up with the perfect solution – the fast food restaurant, offering dine-in facilities or a drive-through service for diners wishing to eat at home.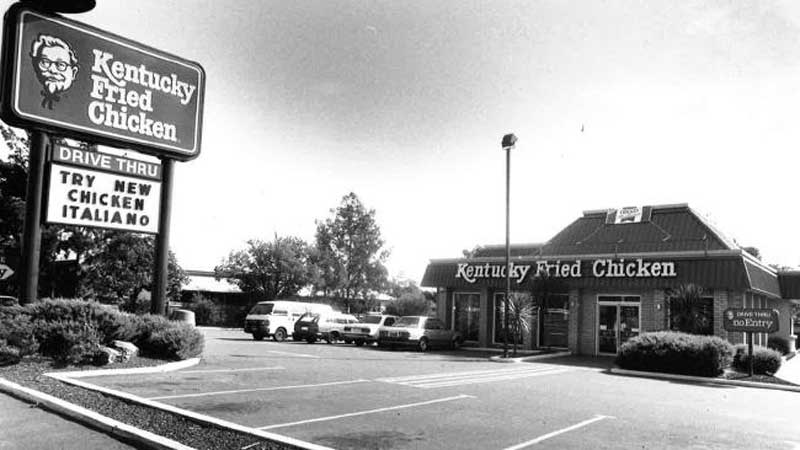 Australia's first Kentucky Fired Chicken outlet in Guildford, NSW
Fast Food Restaurants
The first Kentucky Fried Chicken outlet in Australia was opened in the Sydney suburb of Guildford in 1968. Modelled on the square red and white outlets established by Col. Harland Sanders in the US in 1952, this store and others patterned on it were take-away outlets only, with no dine-in facilities. Later stores would include dining areas and drive-through windows in their design.
A takeaway eatery using the American fast food name Burger King was established in the Perth suburb of Innaloo in the 1960s. Patrons could either have service in their car via a waitress coming out and taking their order, or could leave their cars and dine in. It was in Perth, on a site close to the Innaloo Burger King eatery, that the American chain Burger King made its entry into Australia within the newly completed Innaloo Shopping Centre in 1967. The man who made it happen was Jack Cowin, who has been called the The Father of Fast Food in Australia.
Born in Windsor in Ontario, Canada, his father had been posted to Australia briefly by Ford and later encouraged his son to consider emigrating there. He became an insurance salesman with London Life for four years in Toronto before deciding to visit Australia to assess some business opportunities. Seeing long queues at a Chinese takeaway restaurant while vacationing in Sydney, Cowin became convinced that fast food would sell well here. He later returned to Australia to evaluate expanding KFC into the market that at that stage had limited fast food options.
He bought the right to open ten KFC franchises in Western Australia, raised $10,000 from thirty people to launch the business in December 1969, having moved there with his wife and two very young children. Those who invested $10,000 then had an investment worth around $3.5 million as at March 2006. After opening eight KFC outlets, he bought the rights to Burger King. They both later discovered someone else had the rights to the Burger King trademark in Australia, so Cowin instead called the outlets Hungry Jack's. Many years later he had a falling out with Burger King over the name and other issues related to their franchise agreement which was eventually resolved in his favour.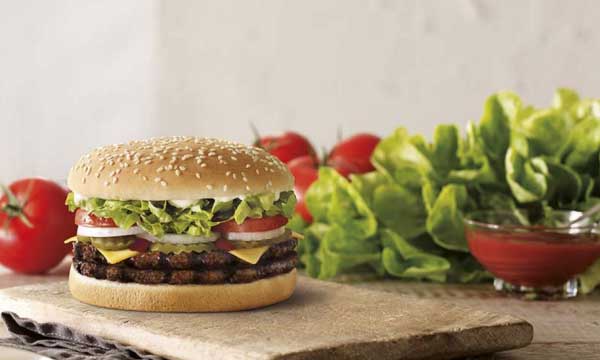 Hungry Jack's
The first Hungry Jack's outlet was opened in the Perth suburb of Innaloo on 18th April 1971 a stone's throw from a burger eatery called Burger King. The initial success of the business led to a rapid expansion with the first South Australian restaurant on Anzac Highway, Everard Park, opening in November 1972, followed by Kedron in Queensland in April 1974. In the first ten years of operation Hungry Jack s had grown to 26 restaurants in three states. The first restaurant in NSW was opened on the corner of Liverpool and George Streets, Sydney, in October 1981. Hungry Jack s entered Victoria by purchasing 11 restaurants from the ailing Wendy s hamburger chain in 1986. Nine of these restaurants were converted to Hungry Jack s over a four month period. Cowin later invested in the Domino's Pizza chain in Australia, which now has over 400 outlets. The first Australian Domino's Pizza store opened in Springwood, Queensland, on 27th December 1983.
In the same year Hungry Jack's opened its first outlet, McDonald's moved into Australia, but concentrated its efforts on the east coast. Australia's first McDonald's restaurant opened in the Sydney suburb of Yagoona in 1971. Today, McDonald's employs more than 56,000 people in 730 restaurants Australia-wide. 70 per cent of its restaurants are owned and operated by local people.
The Amercian pizza franchise, Pizza Hut, opened its first Australian restaurant in Belfield, Sydney in April 1970. Red Rooster chicken, a Western Australian based enterprise, was founded by Peter Kailis of Australia's largest seafood export conglomerate. After a successful career with Fibre Containers, Kailis opened the first Red Rooster store in the Perth suburb of Kelmscott in 1972. In May 2002, Perth based Australian Fast Foods acquired Red Rooster from Coles Myer Ltd, which had purchased it from the Kailis family in the 1980s. Today, Red Rooster has over 360 stores that employ around 5000 staff. Eagles Boys Pizza commenced business in Albury, NSW, in 1982. In June 2007, they had over 170 stores Australia-wide. Brothers Evan, Louis, Bill and Gabriel Christou started Pizza Haven in 1984 with the aid of a $24,000 mortgage on their parents' home. The first Pizza Haven outlet was at Glenelg in Adelaide. Employing twelve people, the Christou brothers were active in the running of the business. Today, Pizza Haven is a franchised business with some 50 stores, located in South Australia, Western Australia, New South Wales, Victoria and Tasmania.
Drive-Through Service
Though Drive-In Restaurants – where patrons dined in their cars in a car park in front of the hamburger stand, shop or restaurant – were never as popular in Australia as they were in Amercia, the concept of in-car service was incorporated into the new fast food restaurants. To service clientele who wanted their fast food to take away rather than dine-in, a menu display panel alongside an all-weather microphone was installed in the car park, and a pick-up window built into a side wall of the restaurant where the order was picked up and paid for when it was ready. The drive-through option has proved popular and many fast food outlets across the country feature them.
Other industries have followed the lead of the fast food chains and installed drive-through facilities, with differing levels of success. Drive-through liquor stores and car washes remain popular but few of the other drive-through facilities – like banks, coffee shops and pharmacies – that were introduced in the 1970s, still operate. Coffee shops and pharmacies found customers preferred the personal touch of in-store service, and banks overcame the need for drive-through facilities by establishing large networks of automatic teller machines.