People have a fascination for where their favourite movie or television shows was filmed, and the fact that a town is used as a location for film or television series can turn the whole place into a tourist destination, as the town of Holmfirth in Yorkshire attests. During the couple of dacades in which the TV series Last of The Summer Wine was shot there, the town's fame grew and today, even though filming finished a numver of years ago, hundreds of people come to have a cuppa at Syd's Cafe or have their photo taken on Nora Batty's steps. The shows listed here have all made the locations where they were filmed highly recognisable and in some cases like Holmfirth, quite famous.


Open All Hours
(1973-85)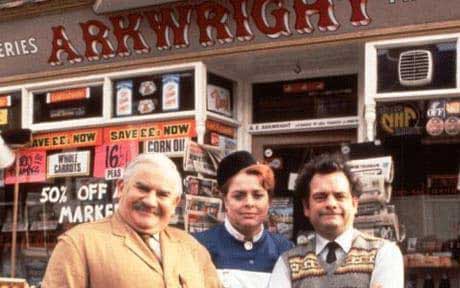 Ronnie Barker, David Jason, Lynda Baron
The setting is a small grocer's shop in Balby, a suburb of Doncaster in South Yorkshire. The owner, Arkwright (Ronnie Barker), is a middle-aged miser with a stammer and a knack for selling. His nephew Granville (David Jason) is his put-upon errand boy, who blames his work schedule for his lacklustre social life. The shop is based on a little store called L E Riddiford in Thornbury, South Gloucestershire. Roy Clarke visited this small town whilst travelling around the South West and was said to have fallen in love with the shop layout and its owner, Len Riddiford. This shop is referenced in numerous Open All Hours episodes by Arkwright.


The exterior shots were recorded at 1 Lister Avenue, Balby; the shop itself was a hairdresser's salon, which closed for a Summer break each year in order to allow filming by the BBC. It remains a hairdresser's salon. The same location was used for the sequel series Still Open All Hours. The pilot episode (featured in the series Seven of One) used a shop front on the western intersection of Drayton Avenue and Manor Road, Ealing, London for exterior filming. In the first series, Gladys Emmanuel's street address is 34 Lister Avenue, Balby, Doncaster, South Yorkshire (although the number changes to number 32 in the second series). The local council considered demolishing the shop used in Open All Hours. A fan created a web site to garner support for preserving it.
Keeping Up Appearances
(1990-95)
Patricia Routledge, Clive Swift, Josephine Tewson, Judy Cornwell, Geoffrey Hughes, Mary Millar
Exterior shots around Hyacinth's house were filmed at 117 Heather Road, Binley Woods, a village east of Coventry, Warwickshire, England. Exterior shots around Daisy and Onslow's council terrace were filmed at 3 Michell Close, Stoke Aldermoor, Coventry, West Midlands, England. Other exterior street and town shots were taped in Leamington Spa, and in various towns throughout Warwickshire, along with many scenes from the large town of Northampton, mainly the church hall. Some scenes were also shot in Swindon, Oxford, and Bristol. One scene was shot on location in Copenhagen, Denmark. One episode was filmed in Great Yarmouth, mainly in the Pleasure Beach Theme Park.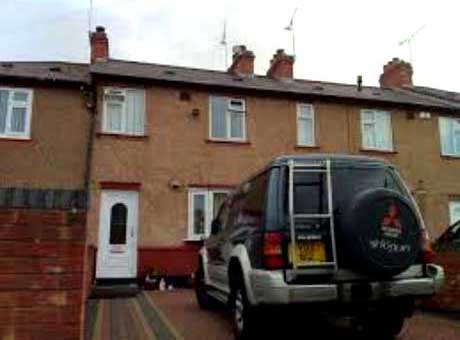 The opening sequence shows Hyacinth writing an invitation to one of her trademark candlelight suppers; this invitation lists Hyacinth's address as "Waney Edge, Blossom Avenue, Fuddleton". In the same sequence, the invitation is eventually sent to an address in Eddleton. Neither town actually exists. However, there are several references to the characters being in the West Midlands throughout the series, as when Hyacinth said that she could become the "Barbara Cartland of the West Midlands Social Circuit Scene" in the episode The Hostess. In another episode, police officers wearing West Midlands Police jumpers escorted Richard home.


On The Buses
(1969-73)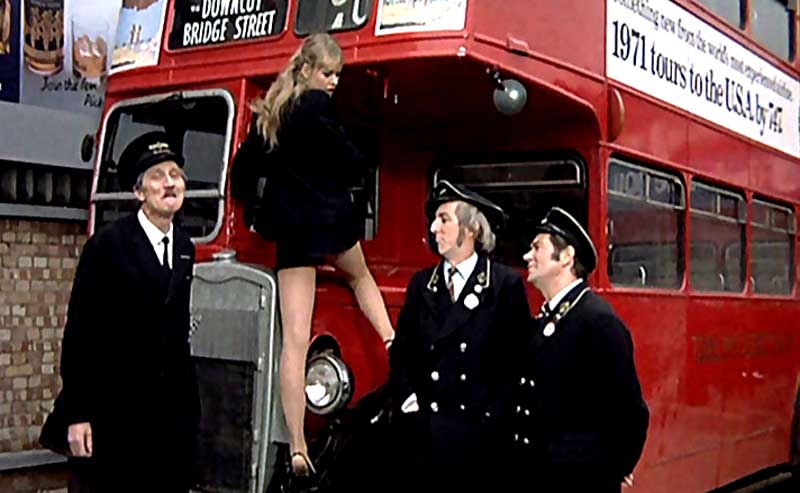 Reg Varney, Stephen Lewis, Bob Grant, Anna Keren, Doris Hare, Michael Robbins
On the Buses is a British sitcom created and written by Ronald Wolfe and Ronald Chesney (although stars Stephen Lewis and Bob Grant also wrote several episodes). It spawned three spin-off feature films and a stage version. Despite the writers' previous successes with The Rag Trade and Meet the Wife with the BBC, the corporation initially rejected On the Buses, not seeing much comedy potential in a bus depot as a setting. The show was accepted and despite a poor critical reception became a hit with viewers.
Filmed external shots were part of the series. LWT arranged with the now defunct Eastern National Omnibus Company to use its buses at the long-gone Wood Green bus garage in north London. They were shown as belonging to Luxton and District. Luxton is supposed to be in Essex, and actual Essex towns including Southend-on-Sea, Basildon, Braintree and Tilbury are all mentioned. One of the bus route termini was "Cemetery Gates", for which LWT used the entrance to Lavender Hill Cemetery. A different Lavender Hill in Battersea also features in the last episode of the last series, featuring the town hall, now the Battersea Arts Centre.
The red Town & District buses were Bristol KSWs with Eastern Coach Works bodies. These were ex-Eastern National. Stan and Jack's "regular" bus appeared to be VNO 857. The green Luxton & District buses were Bristol Lodekkas with bodywork by Eastern Coach Works of Lowestoft. In reality these were Eastern National buses. The most commonly used bus in the series was AVW 399F. In later episodes the NBC symbol appears next to Luxton & District. Stan's usual buses, AVW 399F and AEV 811F, are both still extant, in Lille, France and Los Angeles, California respectively.