Contact

Home
| Flags of Australia
The Baby Boomer Migrant Ships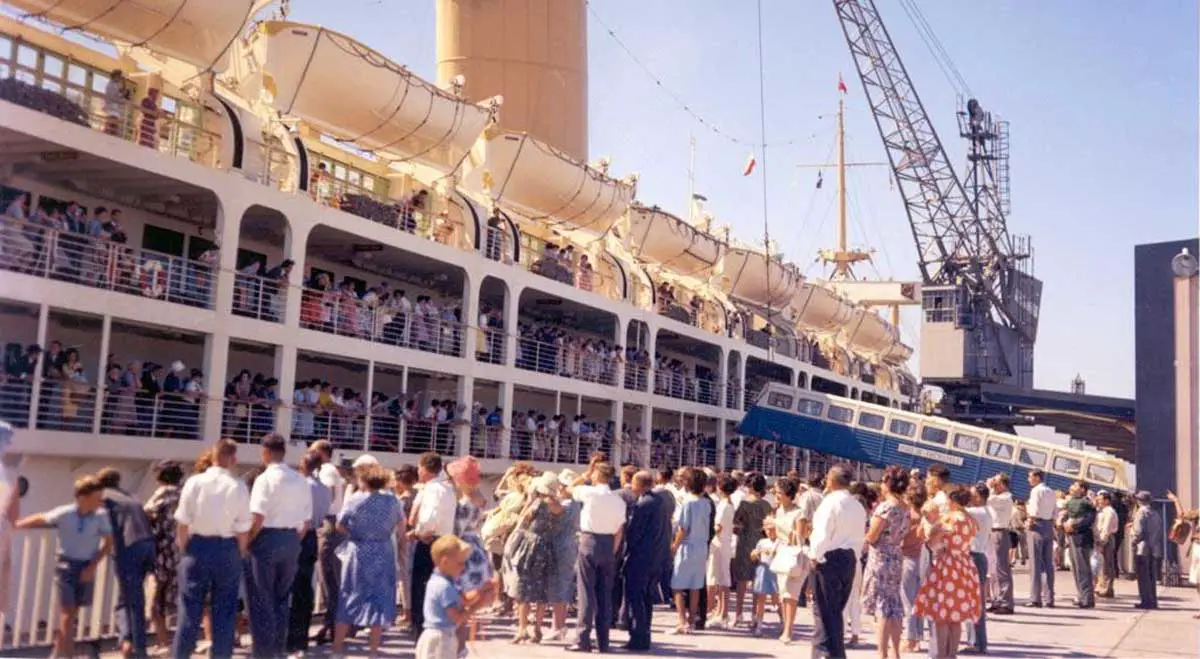 Commencing with the First fleet in 1788, there was a steady stream of ships bringing migrants predominantly from Europe to Australia until the 1970s, the flow of which was interrupted only by the two world wars. By the 1970s, the Boeing 747 aircraft or Jumbo Jet as it was affectionately known, had so revolutionised intercontinental travel, much of the travelling public had abandoned ocean liners for any kind of travel except recreational cruising. The Australian Government, which was still subsidising most fares of migrants coming to Australia, had been the shipping lines' biggest customer. But when airfares became cheaper than sea travel, it began bringing migrants to Australia by air. As its charter contracts with the shipping companies expired, they were not being renewed.

The era of migrant sea travel to Australia from Europe came to a close in 1977 when Chandris Line's migrant charter expired. The line's Australis made its last voyage on the Southampton-Piraeus-Australia migrant run in October 1977, bringing to a close a 189-year era in Australia's history. This fall off in business, combined with a jump in fuel prices caused by the oil crisis of the early 1970s, forced the shipping lines servicing the Australian migrant runs to have a major rethink about how they did business. Some, like P&O;, sent all their older ships to the scrap yard and retained just a handful of newer vessels to maintain and develop their cruising business.

The vessels listed here were the main carriers of migrants to Australia during the post-World War II boom period from the 1950s to the withdrawal of migrant passenger ships and the assisted passage migrant scheme. Other vessels were used from time to time, but it is mainly the names of these ships that are recalled when families and friends get together and reminisce about that life-changing voyage across the world that brought them to a new life in Australia during the post-war years.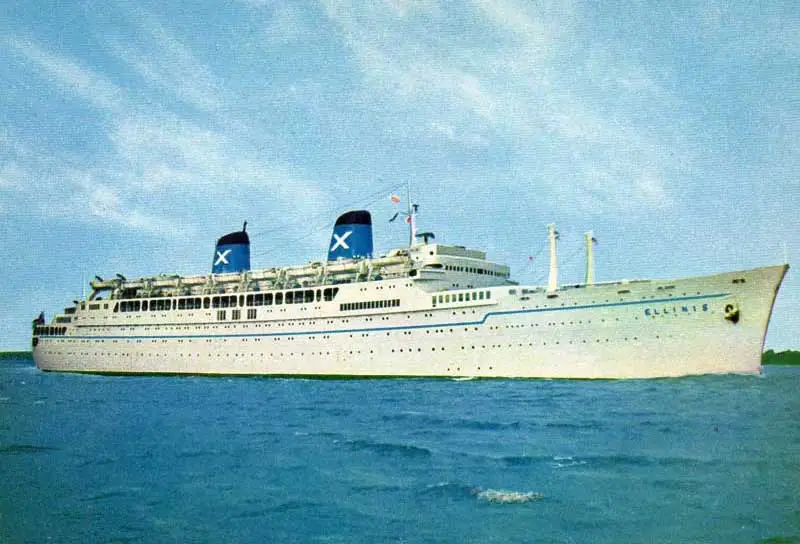 Chandris Lines
Bloemfontein Castle; Patris; Mediterranean Island; Mediterranean Star (1950 – 1987)
Bretagne; Brittany (1952 – 1963)
America; Australis (1940 – 1995)
Lurline; Ellinis (1932 – 1987)
SS Monterey; Matsonia; Britanis; Belofin-1 (1931 – 2000)



Cia San Miguel
MV Medina; Roma; Franca C; Doulos (1914 – present)






Cogedar Line
Missourian; Empire Swan; Belgian Freighter; Capitaine Poitie; Genova; Flaminia; King Abdelaziz (1922 – 1970)

Huascaran; Beaverbrae; Aurelia; Romanza; Romantica (1939 – 1997)

Media; Flavia; Flavian (1947 – 1989)






Flotto Lauro Line
Oranje; Angelina Lauro (1939 – 1979)

William Ruys; Achille Lauro (1947 – 1994)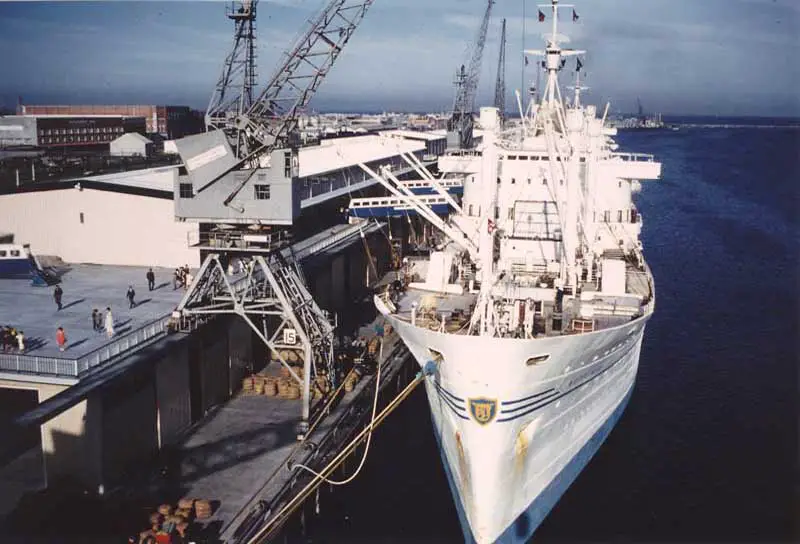 Lloyd Triestino Line
Saarbrucken
Toscana (1923 – 1962)
SS Galileo Galilei; Galileo; Meridien; Sun Vista (1961 – 1999)
SS Guglielmo Marconi (1963 – 2004)
MS Australia; Oceania; Neptunia (1951- 1963)



Nederland Line
SS Johan Van Oldenbarnevelt; Lakonia (1930 – 1963)






Orient Line
RMS Oranto (1926 – 1957) v
RMS Orontes (1929 – 1962)

RMS Orion (1935 – 1963)

RMS Orcades (1948 – 1973)

RMS Oronsay (1950 – 1975)

RMS Orsova (1953 – 1973)
SS Oriana (1960 – 1986)






Matson Line
SS Monterey; Matsonia; Lurline; Britanis; Belofin-1 (1931 – 2000)

SS Monterey (1952 – 2004)

SS Mariposa (1952 – 1984)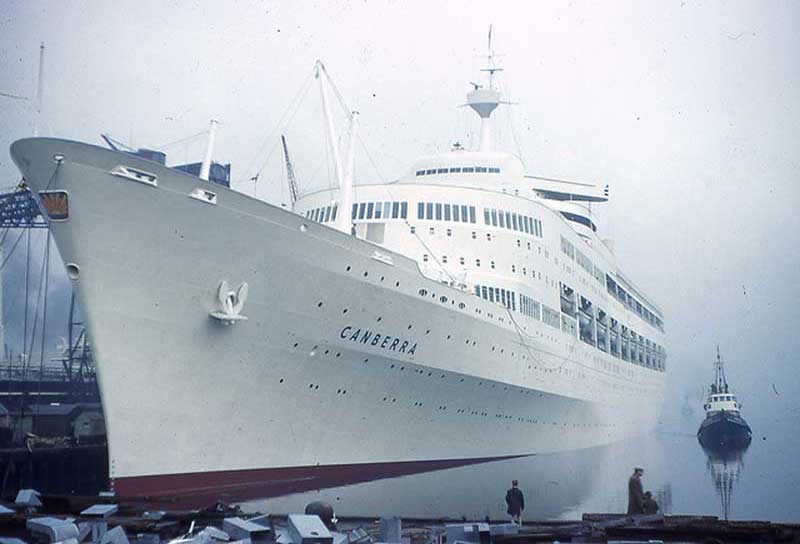 P & O Steam Navigation Co.
Strathnaver (1931 – 1962)
Strathaird (1931 – 1962)
Strathmore; Marianna Latsis; Henrietta Latsis (1935 – 1969)
Stratheden; Henrietta Latsis (1937-1969)
Stathallan (1938-1942)
SS Chusan (1949 – 1973)
SS Himalaya (1949 – 1974)
RMS Arcadia (1953 – 1979)
SS Iberia (1954 – 1973)
SS Canberra (1960 – 1997)



Shaw, Saville & Albion Line
SS Dominion Monarch (1938 – 1962)

Monarch of Bermuda; New Australia; Arkadia (1931 – 1966)

SS Southern Cross; Calypso; Azure Seas; OceanBreeze (1954 – 2003)

SS Northern Star (1961 – 1975)






Sitmar Line
TSS Kenya; Keren; Fairstone; Castel Felice (1930 – 1970)

Oxfordshire; Fairstar (1957 – 1997)

Rio De La Plata; HMS Charger; Fairsea (1941 – 1969)

USS Barnes; HMS Attacker; Castel Forte; Fairsky (1942 – 1979)