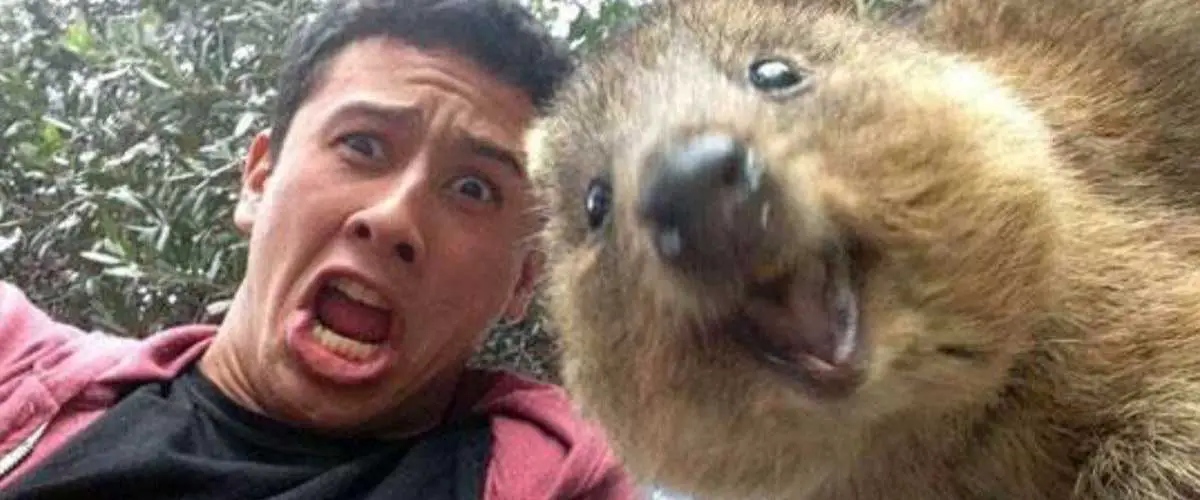 Wildlife
Zoos and Sanctuaries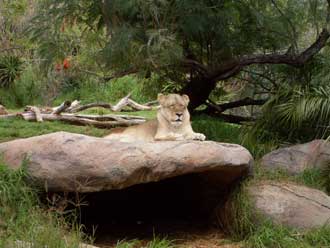 Perth Zoo
Western Australia's largest zoo, situated on the banks of the Swan River on the opposite shore of Perth Water to the CBD. A compact zoo, featuring five major areas – Australian Bushwalk; Australian Wetlands; Reptile Encounter; World of Birds; Asian Rainforest; African Savannah. Facilities include interactive audiovisual interpretive signage; aural keeper talks; picnic area; historic carousel ride; zebra rides. Entry fee applies. Contact: (08) 9474 3551. Location: Labouchere Rd, South Perth. Contact: How to get there: 5 minutes from the CBD via the Mitchell Freeway and Narrows Bridge; by ferry from Barrack Street jetty; by bus from St Georges Terrace, Perth.



Caversham Wildlife Park
Located within Whiteman Park, a leisure park created around a popular swimming hole known as Mussel Pool. The wildlife park houses about 200 species in a walk-through environment, showcasing many of Australia's unique native animals, including koalas, wallabies, possums, Tasmanian devils and wombats. Visitors can hand-feed kangaroos, have a photo taken with a koala, hear keeper's talks and interact in one of two hands-on shows, all included in the admission fee. Whiteman Park is also home to the collections of a prominent and popular local identity, Lewis Whiteman (1903-1994). Whiteman built up a wide collection of objects, antique and curious, local and exotic, during his lifetime. A portion of Whiteman's collection, relevant to transport heritage, is now on display at the park. It includes agricultural machinery, tractors, bicycles, a narrow gauge railway, over 120 motor vehicles, Perth electric trams and a fleet of 26 Perth diesel and trolley buses. Contact: (08) 9209 6000. Website. Location: 22 km north east of Perth near West Swan. How to get there: by road via Reid Hwy or Gnangara Rd, entrances on Beechboro Rd and Lord St.




Rottnest Island quokka – the ultimate wildlife selfie

Zoos and Sanctuaries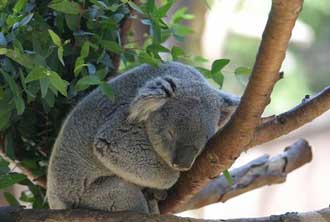 Kohunu Wildlife Park
A native animal park set in natural bushland, in the southern Perth suburb of Kelmscott. The park has proved popular with overseas visitors as it displays a wide array of native and introduced fauna, including wombats, parrots, dingoes, kangaroos, emus, deer and koalas, as well as a bird aviary in which hand feeding of 20 species of native birds is encouraged. Visitors are fee to walk among and hand feed the wallabies and kangaroos. Daily koala holding photographic sessions are popular. Entry fee applies.
Contact: (08) 9390 6090. Location: 287a Mills Rd East, Kelmscott. How to get there: By road, via Albany Hwy or Tonkin Hwy; by bus train on Armadale line to Gosnells, then by bus No. 219.



Aquarium of Western Australia
The Aquarium focuses on the unique marine environments and marine life of Australia's west coast. This Aquarium is home to the world's largest collection of Western Australian marine life, drawn from the Great Australian Bight to the tropical Kimberley Coast in the state's north, and everywhere in between along the state's 12,000 km long coastline. It is Australia's largest aquarium and features the country's largest underwater tunnel. Entry fees apply. 30-45 minute snorkel dives with sharks and exploring the Aquarium's reef are available (addition cost, bookings essential). From September to December, Ocean Safaris offering swimming with with sea lions, humpback whales and dolphins are conducted (addition cost, bookings essential).
Contact: 9447 7500.
Location: Hillarys Boat Harbour, 91 Southside Dve., Hillarys, 22 km north of Perth. How to Get There: by car via Mitchell Freeway (Hepburn Ave. exit); train to Warwick on the Joondalup line, then bus No.423 to Hillarys Boat Harbour (weekdays) or train to Greenwood on the Joondalup line, then bus No.456 to Hillarys Boat Harbour.




Naturaliste Marine Discovery Centre
Features hands-on interactive and static displays focusing on the aquatic environments of the Western Australian coast. A museum devoted to the study of Western Australia's marine and freshwater life. Particularly suited to children, the centre is operated by the Dept. of Fisheries with the aim of educating the public in taking care of the state's many unique and fragile marine environments. Entry fees apply.
Contact: (08) 9203 0339.
Location: Hillarys Boat Harbour, Northside Dve., Hillarys, 22 km north of Perth. How to Get There: by car via Mitchell Freeway (Hepburn Ave. exit); train to Warwick on the Joondalup line, then bus No.423 to Hillarys Boat Harbour (weekdays) or train to Greenwood on the Joondalup line, then bus No.456 to Hillarys Boat Harbour.
In the Wild
Penguin Island
Perth's most visited eco-tourism destination, and focal point of the Shoalwater Islands Marine Park. Birdwatching, Fairy penguin viewing, exploring the island's limestone cliffs and sea caves are just some of the activities to be enjoyed onshore. Offshore, there's sea kayaking, snorkelling, scuba diving, boogie boarding, fishing, wind surfing and kite boarding, with tours to view the sea lion colony at Shoalwater Bay or spot dolphins, cormorants, pelicans and sea eagles for those who prefer not to get their feet wet. Tour operator Rockingham Wild Encounters runs a ferry service to the island, tours to the Marine Parks breeding grounds and swims with wild dolphins. Contact: (08) 9591 1333. Website. Location: south-west of Rockingham near Warnbro Sound. How to get there: by car to jetty at Mersey point, Cnr Arcadia Dve. and Safety Bay Rd; train to Rockingham station on the Manduarah line, bus No. 551 or 552 to Safety Bay.

Rottnest Island
The Quokka is one of the smallest wallabies. Distinct features include short and fairly coarse hair with coloration generally brown with lighter underparts. The ears are short and rounded, the nose is naked and the tail is sparsely furred and short. The best place to see quokkas in the wild is Rottnest Island, a small holiday island off the coast of Perth. Quokkas have free access to the whole of the island and it is rare to visit Rottnest, even on a day trip, without seeing one.
These semi-tame quaint marsupials seem to enjoy the attention of visitors to the island, popping out of the bushes as walkers approach their hideouts in the low scrub. Eager to stay and eat whatever scraps are given them, the Quokkas are also very happy to pose endlessly for photographs. A quokka selfie – where one poses with a quokka – has become the essential souvenir of a visit to Rottnest.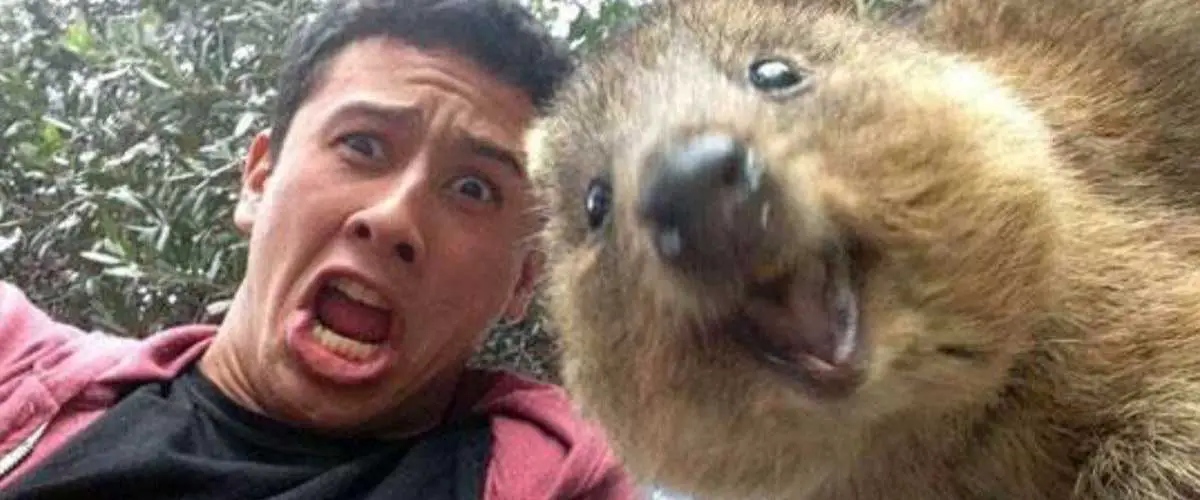 During the day, they tend to rest within the shade of clumps of low trees scattered around the island. One place where they often congregate is beside the main road west from the Thomson Bay settlement between Herschell Lake and Government House Lake. Here, they often come out beside the road, expectantly seeking food scraps from passing walkers or cyclists. Quokkas are also known to come into the settlement areas at dusk seeking food.