Victoria: V-Line Regional Services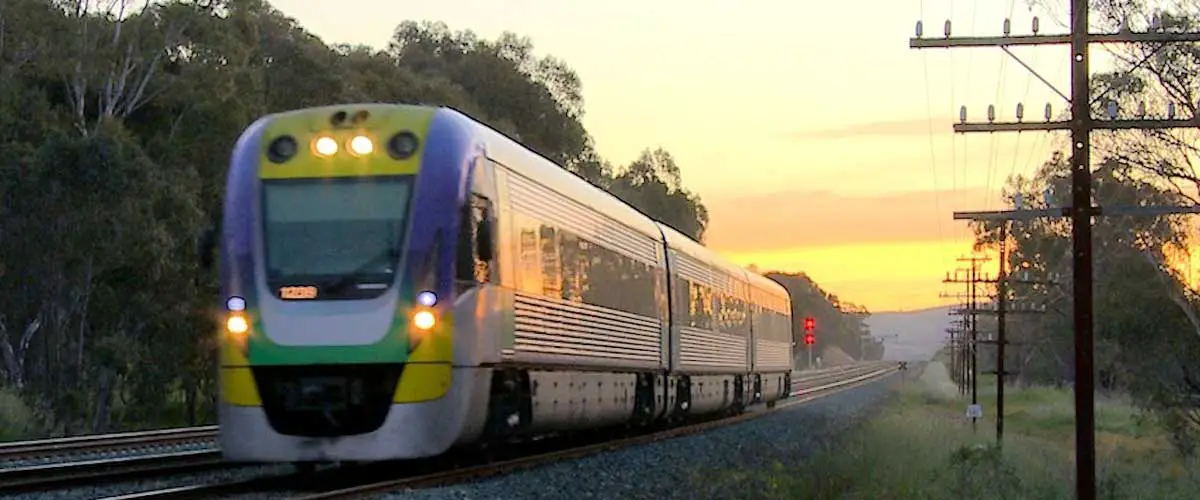 V/Line is the public transport provider for regional Victoria. V/Line rail services operate daily between Melbourne and a number of regional centres, many of which make ideal destinations for anyone wishing to explore Victoria's regional areas on single day rail journeys out of Melbourne. Destinations include: East Gippsland, terminating at Bairnsdale (3 hours 35 minutes); Albury (3 hours 34 minutes); Shepparton (2 hours 18 minutes); Echuca via Bendigo (3 hours 20 minutes); Swan Hill via Bendigo (4 hours 8 minutes); Ararat via Bendigo (2 hours 10 minutes); Warrnambool via Geelong (3 hours 14 minutes). V/Line run mix of locomotive-hauled trains and hi-tech VLocity railcars.


New South Wales: TrainLink XPT



Introduced to service in 1982 the XPT, short for "express passenger train", operates on five regional routes – between Sydney and Melbourne, Brisbane, Dubbo, Grafton and Casino. Its aerodynamic design and trademark "nose" make a distinctive impression as it cruises through the countryside. The XPT, operated by NSW TrainLink, has a power car at each end of the train, one pulling and the other pushing. XPT trains feature sleeping cars on night services, first class buffet and seating cars and economy class buffet and seating cars.




New South Wales: TrainLink Xplorer



NSW TrainLink's XPlorer trains have been taking people to some of the most scenic places in NSW since 1993. From Sydney, the XPlorers link Armidale, Moree, Griffith, Broken Hill and the national capital, Canberra. Built in Victoria by ABB Transportation, the Xplorer uses technology proven in both Australian and European rail services. They are quiet, fully air conditioned and environmentally friendly and can run as two, three, five or larger carriage sets as demand requires.




New South Wales: TrainLink Outback Explorer



Broken Hill is a great base from which to explore outback New South Wales – from the beautiful Menindee Lakes and Mutawintji National Park, home to one of the best collections of Aboriginal rock art in Australia, to the red sand of 'corner country', ancient Mungo National Park and the spectacular Flinders Ranges. The Broken Hill Outback Explorer train operates weekly from Sydney to Broken Hill.




Western Australia: The Prospector



The state-of-the-art high speed Prospector, introduced into service in June 2004, can travel at up to 160kmh, enabling it to complete the 653km trip from Perth to Kalgoorlie in just over six and a half hours. This is almost two hours quicker than the previous version of the train, making the rail trip competitive with road for the first time.




Western Australia: AvonLink and MerredinLink



These trains provide one of the most comfortable commuter train rides in Australia with air conditioning throughout, cloth seats with footrests (and some with power outlets for laptop computers), and background music. The AvonLink operates twice daily, Monday to Friday between Midland, Toodyay and Northam. Passengers arriving at Midland will be able to connect with Perth's suburban electric train services. The MerredinLink operates from the East Perth Rail Terminal through to Merredin on Mondays, Wednesdays and Fridays.




Western Australia: The Australind



The Australind provides two train services each way every day of the week between Bunbury and Perth. The journey time is two hours and 30 minutes. First introducted in 1947 and hauled by a steam locomotive, the original Australind was the final link in the provision of a newly coordinated rail-road service network throughout the State s south-west.




Queensland: Spirit of Queensland



The Spirit of Queensland is a high speed Tilt Train that between Brisbane and Cairns, but gets its passengers to their destination fast and efficiently. The hi-tech Tilt Train provides an efficient, no-fuss overnight link between Brisbane and the major coastal destinations north of Brisbane – Bundaberg, Rockhampton, Mackay, Fraser Island, Airlie Beach and the Whitsunday Islands, Townsville and Cairns. The journey from Brisbane to Cairns takes 24 hours.




Queensland: Spirit of the Outback



The Spirit of the Outback is a Queensland Rail train which runs twice a week in each direction between Brisbane and Longreach, via Bundaberg and Rockhampton. It offers a choice of accommodation – 1st or economy class sleeper cabins or economy sleeper seats. The Spirit of the Outback is a great way to see Queensland's captivating outback in air-conditioned comfort, but without the hassles associated with making the 1,300 km long journey by car.




Queensland: The Inlander



If taking the track less travelled appeals to your more adventurous nature, then why not choose the remarkable journey offered by The Inlander. Guests experience the heritage and natural treasures of North Queensland's rugged yet beautiful inland in complete comfort onboard The Inlander. This service operates between the popular tourist destination of Townsville and the mining centre of Mount Isa, where so much of Queensland's mineral wealth is found.




Queensland: The Westlander



Discover the true pioneering spirit of Queensland's famous outback as you follow in the path of Queensland's famed explorers on board The Westlander train. From Brisbane travel across the Great Dividing Range, through the rich farmlands of the Darling Downs to Charleville, this scenic journey travels through some of the state's most picturesque outback regions. Experience this unforgettable journey in to Queen sland's western frontier as you follow in the footsteps of the early pioneers on The Westlander. Brisbane to Charleville – 777 km, 17 hours. The Westlander travels from Brisbane to Charleville twice a week.




Queensland: Gulflander



Fondly referred to as the old tin hare , the Gulflander is an award-winning service, which operates between Normanton and Croydon in Queensland's Gulf Country. A half-day journey, The Gulflander often stops for an impromptu morning tea supplied by the locals and for photo opportunities at Norman River Bridge.




Queensland: Savannahlander



Years ago, this train had a fancy name (The Southern Aurora), but though its name is somewhat mundane these days, the journey itself is still as interesting as ever. the train does two runs each day in both directions – one overnight, the other is a day trip. The overnight trip saves the cost of a night's accommodation for travellers between Melbourne and Sydney; the day journey is a pleasant jaunt through the NSW southern agricultural region and Victoria's equally picturesque north east.




Queensland: Kuranda Scenic Railway



A trip up to Kuranda in the Cairns Highlands on the Kuranda Scenic Railway is a "must do" experience if you are visiting Queensland's north. Once a working railway, these days it is essentially for tourists, and a great way to travel to Queensland's famous village in the rainforest; the train passing through some gorgeous mountainous tropical country with spectacular waterfalls and panoramic coastal vistas.