In the beginning of January 1960 a small white liner bearing a blue funnel with a white cross insignia nosed past Sydney's North head and entered the harbour for the first time. The vessel was the Greek Australian lines Patris. Her arrival from Pireaus went relatively unnoticed but it heralded the introduction of a new shipping line to the Australasian scene and was to be known as Chandris Lines over the next 18 years.
Chandris had been associated with shipping since 1911, when John Chandris of Pireaus commenced business as a tramp steamer operator. Most of the Chandris tramp steamer fleet bore the names of his sons – Dimitrios and Antonios. His sons as expected moved into the family business, however during the 1950's they established there own company, D & A Chandris, and during 1959 entered the competition against the Italian liners trading on the European to Australia immigration run. After examining suitable vessels they purchased the 'Bloemfontein Castle from the Union Castle Line and renamed her the 'Patris'.
So successful was the venture they purchased another similar vessel then named 'Bretagne' and renamed her 'Brittany'. However she came to grief some two years later when she was destroyed by fire. It is interesting to note that, although their ships were managed by D & A Chandris they were actually owned by individual companies, they were:
Patris, meaning 'Mother Country', was owned by Greek Australian Lines S.A,
Brittany was owned by Greek Australian Line S.A.
Ellinis, meaning ' Greek Lady', was owned by Australia Line S.A.
Australis, meaning ' Australian Lady', was owned by Okeania S.A.
Britanis, meaning ' British Lady', was owned by Ajax Navigation Corporation.
Each of these ships supported the eye catching white ' X ' on each of her blue funnels which was the Greek alphabet for ' Ch '.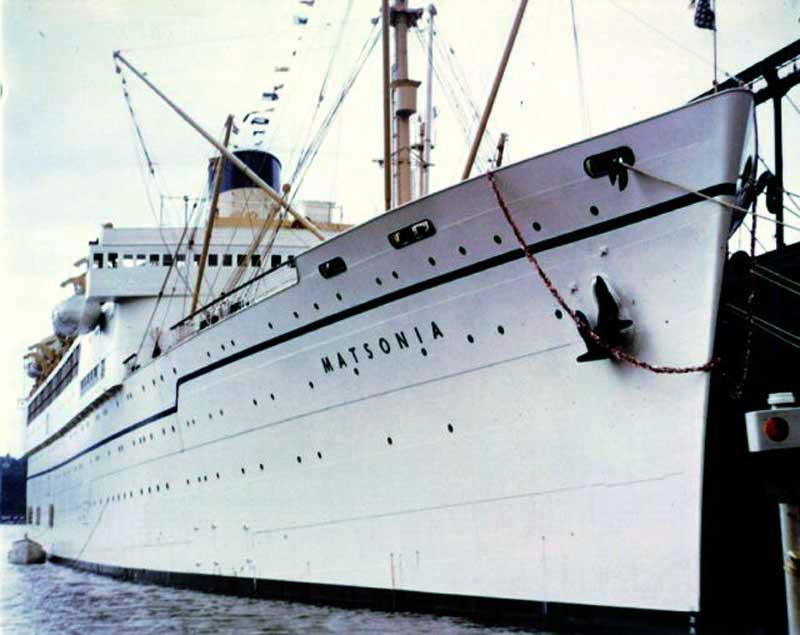 SS Monterey; Matsonia; Britanis; Belofin-1 (1931 – 2000)
The second in a trio of remarkably successful ships, the $8,300,492 Monterey followed the similar Lurline and was soon to be joined by the identical Mariposa on Matson Line's Pacific services. Designed by William Francis Gibbs, Monterey was launched by Mrs. E. Faxton Bishop, wife of a Matson Line director on 10th October 1931. Monterey embarked with 83 passengers for a positioning voyage from New York to San Francisco on 12th May 1932. Her official maiden voyage departed San Francisco on 3rd June 1932, calling at Los Angeles, Honolulu, Auckland, Pago Pago, Suva, Sydney and Melbourne. She and the Mariposa (which joined her on 2nd February 1932) shortened the running time by a third and scored high marks for the new standard of service and accommodation they introduced to this route. An early career highlight of the Monterey was when she carried a special cargo of canned milk, sweets, and phonograph records for Admiral Byrd's vessel Bear during its historic journey to Antarctica.
The US Marine Corps chartered Monterey in 1941 to rescue refugees from China, Japan, and Korea, delivering a complement of 150 missionaries and stranded US citizens to San Francisco. Shortly thereafter, she was converted to a troop ship, stripped of her luxurious appointments and fitted with additional bunks and facilities to accommodate up to 3,500 soldiers. She trooped throughout the war and remained in government service until 1946. Both Mariposa and Monterey were returned for conversion to passenger service in September 1946 but financial problems halted the work and led to her being sold to the US Government in August 1952 and lay-up at Suisun Bay, near San Francisco.
as Matsonia
On 3rd February 1956, Matson Line repurchased her for $2,556,000 and commissioned her original builders to convert her back for passenger use. In the meantime, the name Monterey had been reassigned to the former C4 cargo vessel Free State Mariner which Matson was rebuilding for its deluxe South Pacific passenger service. Re-measured at 18,655 tonnes gross with modern, Hawaiian-themed accommodation for 761 first class passengers, the ship was rechristened Matsonia by Mrs. Neal Blaisdell, wife of the mayor of Honolulu. Matsonia entered the San Francisco-Los Angeles-Honolulu service on 11th June 1956. During the early 1960's, passenger revenues began to fall, and by September 1962, the Matsonia was laid up in San Francisco. Amid public outcry, the Lurline was sold to Chandris Lines of Greece for their Australian migrant and cruise service and renamed the Ellinis. Matsonia was returned to service, taking her departed sister's name and began inter-island sailings as well as service to San Francisco and Los Angeles. After running at a loss for some time, the service was discontinued in May 1970 and the Lurline was sold to the Greek Chandris Line.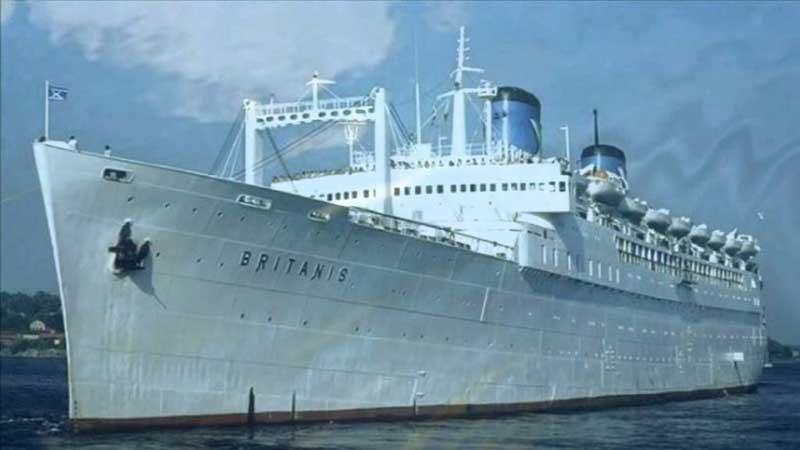 as Britanis
During the ensuing refit at Piraeus, her capacity was increased to 1,655 by converting her cargo holds to cabins, dividing many of her larger cabins into smaller units, and expanding her superstructure slightly forward on Upper Deck level. Her funnels were given streamlined casings, her mainmast was removed and she was renamed Britanis. Her first voyage in round-the-world service left Southampton on 21st February 1971 with a mix of migrants and world travellers. She remained on the Southampton-Sydney-Southampton service until 1974, when she began winter cruising in the Caribbean and summer cruising in Europe. In May 1982 she was transferred to a Chandris subsidiary, Fantasy Cruises, for cruising between New York and Bermuda A major refit in 1986 extended her life, as did the availability of parts from her sister Ellinis and the Homeric when that ship was scrapped in 1974.
She was once again chartered to the US Government, this time as an accommodation ship for military personnel at Guantanamo Bay, Cuba. In 1998, she was sold to AG Belofin Investments of Lichtenstein. Her new owners were to deliver the historic liner to scrappers in India or Pakistan, but a down turn in steel prices and the political instability of that region has derailed their plans. Renamed Belofin-1, she sank off South Africa on 21st October 2000 while under tow on her way to be converted to a floating hotel in San Francisco harbour.
Specifications
Built in 1932 by Bethlehem Steel at Quincy, Massetussetts, USA, Yard number 1441
Length: 631 feet
Beam : 79.1 feet
Gross displacement: 18,017 tonnes
Propulsion: twin screw, geared turbines
Cruising speed: 21.5 knots
Maximum speed; 23 knots
Accommodation; 472 First class, 229 cabin class, 360 crew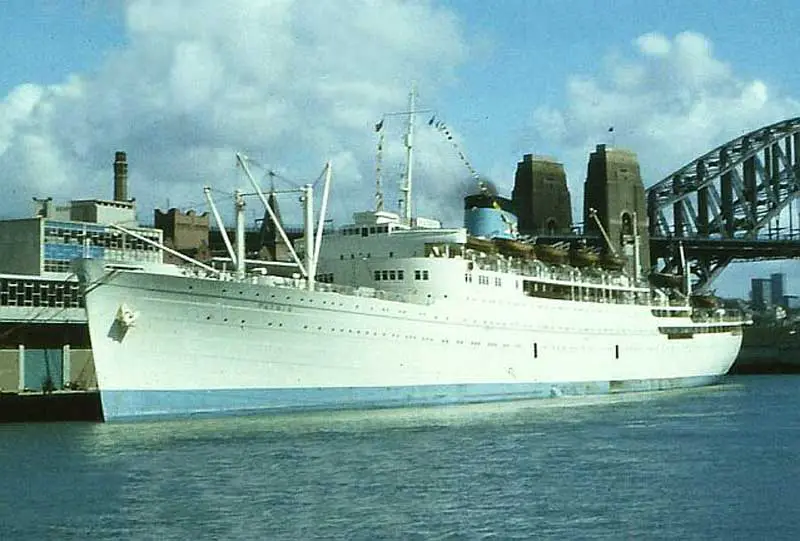 MV Patris in Sydney
Bloemfontein Castle; Patris; Mediterranean Island; Mediterranean Star (1950 – 1987)
Eager to inaugurate a migrant ship service between Greece and Australia in the late 1950s, Chandris Lines, which up to this time had only been running freighters, obtained its first liner, the nine year old Bloemfontein Castle from the Union-Castle Line. The vessel was at the time operating at a loss on the Britain-South Africa route. Built by Harland and Wollfe in Belfast in 1950, Bloemfontein Castle was unusual for its time in that it was a one-class ship, an experiment that was not a success, hence her short life of only nine years with Union-Castle.
After a quick three week refit in Scotland, Bloemfontein Castle was renamed Patris. She left Piraeus on her and Chandris' maiden migrant run voyage to Australia via Suez, arriving in Australia in January 1960. Later in the year, she ran aground in the Suez Canal but was refloated without damage. Business boomed for Chandris, which chartered the Bretagne for a while before purchasing and renaming it Brittany. After Brittany's successful maiden voyage from Southampton in late 1961, Chandris made Southampton the port of origin for all its Australian services, visiting Piraeus on the way. She carried Greek and British migrants to Australia and returned to Greece with young Australians coming to Europe and England for working holidays at cheaper rates than those offered by the big established companies such as P and O, Orient Line, Shaw Savill and New Zealand Shipping Co. As such Patris was held in special esteem by Mr Chandris.
She made a total of 91 voyages to Australia between 1959 and 1972, travelling regularly via the Suez Canal, stopping at ports such as Aden, Port Said and Colombo. In 1967, when the Suez was closed, she detoured, for five years around Africa stopping at Cape Town and Durban on her way to Australia. By 1972, most migrants were coming to Australia by air and contracts to bring migrants by sea were not being renewed, and Patris had been placed on what by then was becoming a very overcrowded cruise market out of Sydney. With too many vessels fighting over the limited amount of business on offer, she was transferred to a Fremantle to Singapore run, taking advantage of cheap air flights from Europe to Singapore at the time. By 1974, trade had fallen off and she was laid up in Singapore, then refitted before embarking on Singapore-based services.
On Christmas Day 1975, Darwin was hit by cyclone Tracy and the Australian Government chartered the vessel as temporary accommodation for displaced victims of the cyclone. The charter lasted 9 months and when she returned to Italy, Patris' condition had deteriorated considerably. In 1976, she was sold to Karageorgis Lines, who renamed her Mediterranean Island, then Mediterranean Star, ripping out her lower decks when converting her to a car ferry for a seasonal Greece to Italy service. In 1982, a major engine room fire caused all passengers and the majority of crew to abandon the ship in lifeboats. She was sent to Perama for repairs but her owners let her stand idle in Panama for a number of years. In 1987, the veteran liner was sold to Pakistani ship breakers and broken up at Karachi.
Specifications
Built in 1950 by Harland and Wolff, Belfast, Ireland as Bloemfontein Castle for union-Castle Line.
Gross displacement: 18,400 tonnes
Length: 181 metres
Beam: 23 metres
Propulsion: motor vessel diesel, twin screw
Cruising speed: 19 knots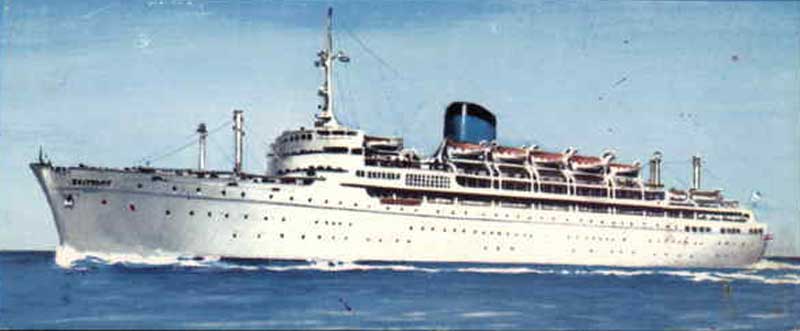 Bretagne; Brittany (1952 – 1963)
To inaugurate a migrant ship service between Greece and Australia in the early 1950s, Chandris Lines had obtained the nine year old Bloemfontein Castle from the Union-Castle Line. After a minor refit, it was renamed Patris left and Piraeus on her maiden voyage to Australia via Suez, arriving in Australia in January 1960. Business boomed for Chandris, so much so they chartered the Bretagne from the French Government.
The Bretagne had been built for the Societe Generale des Transports Maritimes. She departed Marseille on her maiden voyage to South America on 14th February 1952. Paired with her sister, the Provence, she sailed a South American service for the remainder of the 1950s until 1960 when declining numbers of passengers led the company to offer the ships for charter. Chandris chartered the Bretagne in late 1960, with an option to purchase. The Greek Australian Line purchased it for use by Chandris, who had it refitted in Genoa and renamed it Brittany. The vessel sailed her maiden Australian migrant voyage from Southampton in late 1961, and in April 1962, she began mixing her Australian services with cruises from New York. Chandris made Southampton the port of origin for its Australian services, visiting Piraeus on the way to pick up its Greek passengers.
Brittany's life was cut short in April 1963, after she had suffered serious engine trouble in the Meditteranean and repairs were required at Scaramanga a month earlier. A major fire in the engine room broke out when the ship was in dry dock. The burning ship was floated out of the dock and burned out the next day. A year later the Brittany was sold to shipbreakers at La Spezia. It was said, at the time, that the insurance payout on her enabled Chandris to buy Britanis as a replacement, which had been laid up in San Francisco since September 1962, and was up for sale at a bargain price.
Specifications
Built by Penhoet Shipbuilders, St Nazaire, France, as Bretagne for Societe des Transportes Maritimes
Gross displacement: 16,644 tonnes
Length: 177 metres
Beam: 22 metres
Propulsion: single reduction engine, twin screw
Cruising speed: 19 knots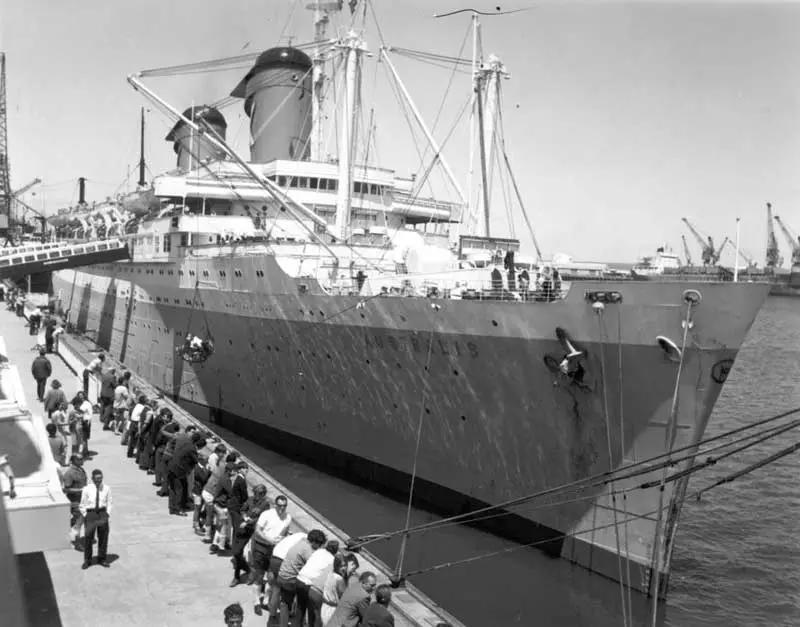 MV Australis at Fremantle, 1966
America; Australis (1940 – 1995)
Built in 1940 as the America for the United States Line, she was commandeered by the US Navy before completion and was used as a troop carrier. Returned to United States Line in 1946, she operated successfully for sixteen years on the London to New york North Atlantic run. America was purchased and renamed Australis by the Chandris line in November 1964 as one of two replacements for the Brittany (the other was Britanis) and underwent a major refit in Greece, which doubled her passenger capacity and increase her displacement. She became a regular on the Southampton-Piraeus-Australia run until her withdrawal at the end of 1977, making her maiden voyage from Piraeus to Australia in August 1965.
Australis was the last vessel to be introduced on the Australian migrant run and Chandris Line ended up being the last shipping line to have a migrant contract. That expired in 1977 and was not renewed. Australis was in fact the last Australian migrant ship, making its final voyage on the Southampton-Piraeus-Australia migrant run in October 1977, bringing to a close a 189-year era in Australia's history. Chartered to Venture Cruise Lines before reverting back to Chandris, Australis spent two years cruising the Caribbean under her original name, America, before being laid up. In January 1995 while on tow to a shipbreakers in Taiwan, her towline broke in rough seas and she subsequently ran aground off the Island of Fuerteventura in the Canary Islands where she remains today in a deteriorating condition.
Specifications
Built by Newport News Shipbuilding & Cry Dock Co., Newport News, USA as America for the United States Line
Gross displacement: 34,450 tonnes (as Australis)
Length: 220 metres
Beam: 29 metres
Cruising speed: 20 knots
Accommodation: 2,260 single class passengers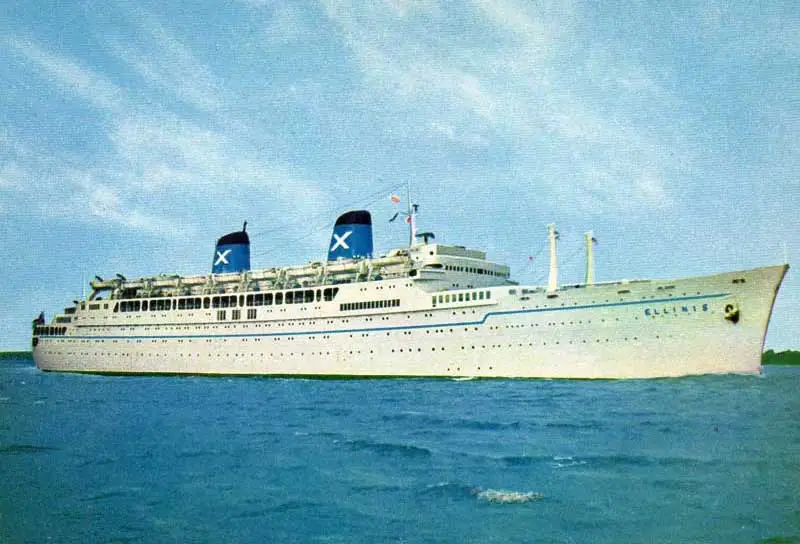 MV Ellenis
Lurline; Ellinis (1932 – 1987)
Launched by Mrs. William P. Roth, wife of president of Matson Navigation company as the Lurline. She was delivered 5th January, 1933, the third in a trio of new ships for the Matson Line, the other two being the Mariposa and Monterey. She embarked on her maiden voyage from New York on 12th January 1933 to San Francisco-Los Angeles-South Seas and Oriental cruise. Her service route was San Francisco-Los Angeles-Honolulu. In World War II she was seconded by the U.S. Navy for troop transportation and sailed around the globe carrying thousands of troops. She returned to Matson Line in May 1946 and was reconverted to luxury liner at United Engineering in Alameda, California. Redelivered on 1st April, 1948, she re-entered the San Francisco-Los Angeles-Honolulu service.
Turbine damage forced her out of commission and into lay up in Los Angeles in February 1963. She was then sold in September 1963 to Marfuenza Cia, S.A. with Chandris Line as managers, and renamed Ellinis. Refitted in North Shields, UK, was fitted with a curved bow which increased her length to 642 feet. On 30th December 1963, she sailed from Piraeus on her first voyage to Australia. Ellinis arrived in Melbourne on 20th January 1964. For over 10 Years she made regular voyages to Australia, inbound via Suez and outbound via Panama. Ellinis was placed on cruising duties out of Sydney as well as the occasional around-the-world trip in 1972. Six years later she was transferred to the Mediterranean for cruising duties but was laid up at Piraeus in October 1980 to be cannibalized for parts (mostly for the Britanis, which was her former Matson Line sister, Mariposa), before being scrapped in 1987.
Specifications
Built 1932 by Bethlehem Shipbuilding Co., Quincy, Mass, USA
Launched: 18th July, 1932
Gross displacement: 18,163 tonnes
Launched: 2nd July, 1931
Length: 193 metres
Beam: 24 metres
Propulsion: twin screw, single reduction turbine
Cruising speed: 20 knots
Maximum speed: 22 knots
Accommodation: (as Lurline) 475 first class, 240 tourist; 359 crew; (as Ellinis) 1,668 passengers one class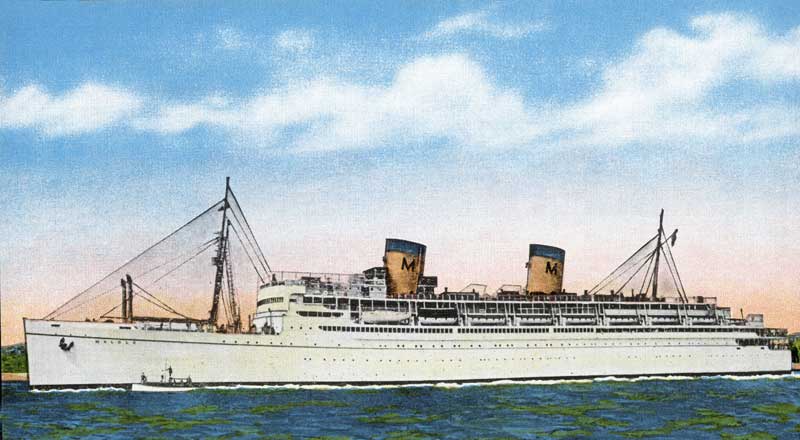 Malolo; Matsonia; Atlantic; Vasilessa Freiderik (Queen Frederica) (1926 – 1977)
On 26th July 1926; the first passenger liner designed by an American named William Francis Gibbs, was launched. Gibbs later became the most famous American ship designer of the Twentieth Century; his most famous work was the Blue Riband setting superliner United States in the 1950s. His first ship was christened Malolo and intended for service on the Matson Line s prize San Francisco to Honolulu route. Gibbs included a number of modern innovations in his design; private facilities throughout first class were provided and most cabins enjoyed portholes.
Spacious public rooms with fine wood panelling added to the aesthetics and an indoor swimming pool was the height of luxury in the Pacific. Gibbs was also safety conscious and included a double bottom and watertight bulkheads.
Malolo proved the worth of these safety devices during her trials off Maine on 25th May 1927, when she collided with the Norwegian freighter Jacob Christensen in fog. She was extensively damaged with water flooding the engine rooms and and required towing for repairs which took five months to complete. Finally on 16th November 1927, Malolo departed San Francisco on her maiden voyage on the Hawaiian route. Over the next few years, she established herself as the Pacific Ocean s premier liner, particularly during cruises to the Orient, Australasia and the Pacific which were conducted annually from late 1929-1931, heralding the way for the Malolo s younger sister ships which were about to be launched on a Pacific service from 1932.
The three younger ships all featured smart white hulls, and Malolo was re-painted to match her sisters in 1931. This was the only change made to the Malolo until 1937 when the ship underwent an extensive refit including the addition of luxurious Lanai staterooms, which had proven popular on the younger sisters and alteration of the accommodation to cater for 693 first class only passengers. In a move which surprised some, the Malolo was renamed the Matsonia prior to her first voyage on return from the refit.
as Matsonia
Despite her great success on the Hawaiian route since 1928, there were some who said that the Malolo was a jinxed ship. Her troubles on her trials were proof to some that the ship was not favoured by good luck and there were even rumours that the name Malolo was under some kind of Hawaiian curse. Perhaps with these reasons in mind, the newly renamed Matsonia departed San Francisco on her second maiden voyage to Honolulu on 14th January 1938. She continued on the route, with her sister Lurline, until November 1941 when events in the Pacific saw her requisitioned by the US Navy.
Matsonia was re-fitted as a transport ship and scheduled to leave San Francisco with over 3000 troops to reinforce American bases in the Phillipines on 8 December. On 7th December, the belligerent Japanese bombed Pearl Harbour and plans for Matsonia were hurriedly changed. In a convoy with her sisters, she left San Francisco on 16th December, packed with 3277 troops and urgent supplies bound for Honolulu. Matsonia carried over 176, 000 persons during the war and travelled over 385 miles, mainly carrying troops around the Pacific before being returned to Matson Lines in April 1946. She was hurriedly refitted and resumed the Hawaiian trade from 22nd May 1946. She continued this lone service until April 1948 when her younger sister Lurline replaced her on the Honolulu route. Matsonia was laid up at San Francisco and, shortly afterwards, sold to Meditteranean Lines, a subsidiary of Home Lines.
as Atlantic
Home Lines arranged for the Matsonia to be refitted at Genoa in early 1949 and her accommodation was altered to 349 first class, 203 cabin class and 626 tourist class. Re-christened the Atlantic, she commenced the Genoa/New York trade on 14th May 1959 and continued servicing this route until February 1952. In 1952, Atlantic commenced a France/Britain to Canada route and also cruised from New York to the Caribbean in the winter season. In 1954, Home Lines developed a National Hellenic Lines under the Greek flag and Atlantic was transferred to this company and renamed Vasilessa Freideriki.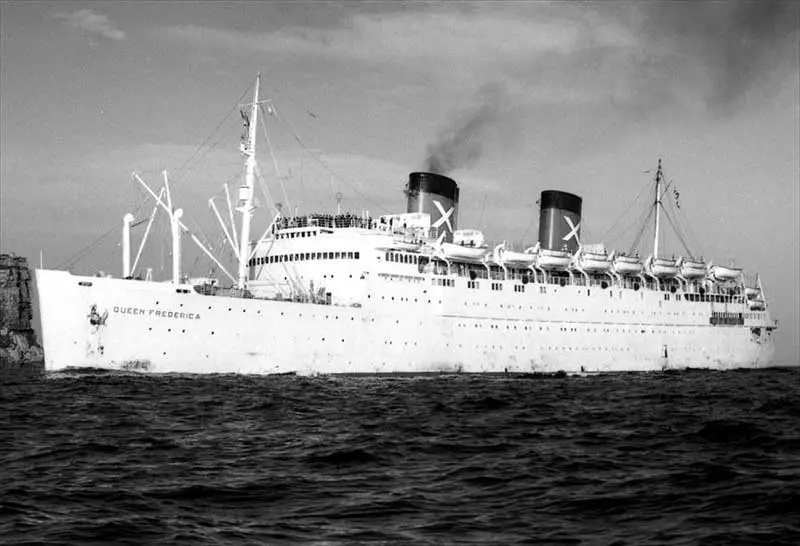 Queen Frederica
as Vasilessa Freideriki (Queen Frederica)
The newly named Vasilessa Freideriki (Greek for Queen Frederica) commenced trans-Atlantic services in 1955, sailing regularly from Pireaus to New York. In 1958, she made her first trip to Australia since World War II, carrying migrants from Naples to Sydney. In 1960 the ship was extensively refitted and her trans-Atlantic schedule was changed to the Cuxhaven/Canada route which she continued for the next five years. The transatlantic migrant trade declined significantly in the mid 1960s, mainly due to competition from the new jet airliners, and as a result, the ship was sold to Chandris Lines in November 1965.
In late 1965, Chandris anglicised the liner s name and she commenced services from Southampton to Australia, carrying European migrants to Australia. Her schedules also included some transatlantic crossings from Pireaus to New York mixed with occasional cruises. Cruises came more frequently later in her career and in 1968, she was chartered to Sovereign Cruises in for a series of Meditteranean cruises. The ship was laid up in Dartmouth 1971 but was tentatively scheduled for a series of Meditteranean cruises, departing from Cannes, from April 1973. These cruises eventually departed from Majorica and later in the year the ship was chartered by Blue Seas Cruisers until November when she was again laid up, in Piraeus, Greece. In 1977, the Chandris Queen was sold to shipbreakers, ending an amazing fifty years of service. She was scrapped at Elefsis, Greece. In February 1978 she was gutted by fire at the breaker's yard.
Specifications
Built in 1926 by W.Cramp & Sons, Philadelphia, USA
Length: 582 feet
Beam : 83 feet
Gross displacement: 21,239 tonnes
Propulsion: twin screw, geared turbines
Cruising speed: 20 knots
Maximum speed; 22 knots
Accommodation; 190 First class, 250 cabin class, 800 tourist class, 360 crew (as Vasilessa Freideriki)