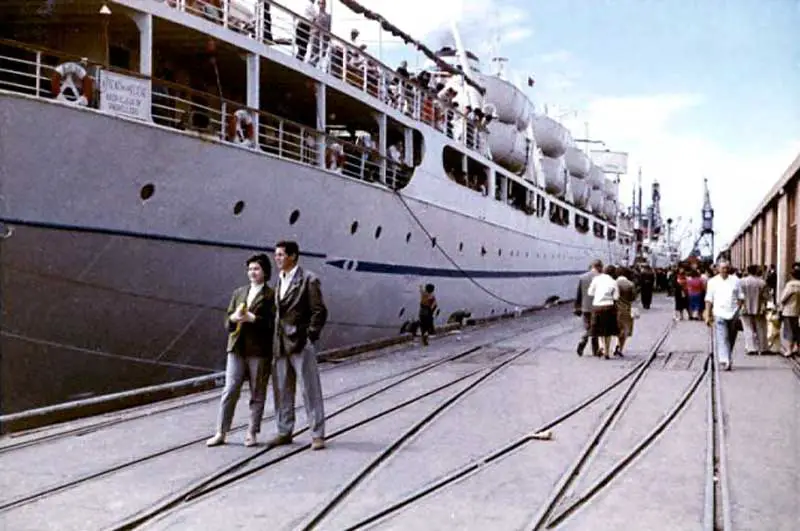 MV Flaminia, 1958
Missourian; Empire Swan; Belgian Freighter; Capitaine Poitie; Genova; Flaminia; King Abdelaziz (1922 – 1970)
One of the most named ships ever to call on Australian ports, she was built as the 7,899 tonne American-Hawaii Steam Ship Companies cargo ship Missourian in 1922. She was built with no funnel – smoke was released through short masts situated on the back of the superstructure. Missourian commenced her life as a simple freighter, first from the West Coast of America to Europe, later she was transferred to New York, from where she sailed to Europe and back. In 1940, she was taken over by the British Government who placed her under the management of Runciman Ltd who entered her in the British Merchant Navy under the name Empire Swan. In 1942 Runciman Ltd transferred her to the exiled Belgian Government based in London and renamed Belgian Freighter. She was at first managed and then purchased outright by Compagnie Maritime Belge S.A. who her Capitaine Potie. Over the next two years, she serviced both the Congo and South American routes.
In May 1948, Capitaine Potie was sold to Cia. Genovese d'Armamento (Cogedar Line) who renamed her Genova. She then underwent extensive rebuilding into a passenger liner with spartan accommodation for up to 800 third class passengers. As a passenger liner, Genova commenced a successful service to the River Plate ports in 1949, which lasted for five years. In 1954 Cogedar placed her on the Australian migrant service. Again, she received a rebuild at Malfacone Trieste; her superstructure was enlarged even further to accommodate additional public rooms, deck space and a swimming pool. Completed in March 1955, Flaminia (photo) embarked on her first voyage to Australia via the Suez Canal, arriving in Cairns on 30th May 1955. Sailing between Italy and Australia, her service was extended in December 1958 to include the collection of migrants from Rotterdam (Netherlands) and Bremerhaven (Germany). In addition to the migrant trade, Flaminia was under charter to the Australian Army to carry troops and their families between Australia and Malaya.
Flaminia served the Australian route for another three years until being damaged by fire between Trieste and Bari. After repairs were completed, she would make only one more voyage to Australia. Her last port of call in Australia was Fremantle on 22nd November 1961. She was replaced by Cogedar Line's latest acquisition, Flavia.
On her return to Italy Flaminia was chartered by Israel's Zim Line, travelling between Marseilles and Haifa. In 1963, whilst still in the service of Zim Line, she was sold to another Italian company, Covena S.p.A of Genoa. When the charter to Zim Lines expired in 1964, she was sold to Saudi Lines and renamed King Abdelaziz. Whilst taking pilgrims to Jedda, she ran aground on 30th April 1965 and had to undergo major repairs. She was eventually laid up in Jedda until being sold to be broken up in Kaohsiung Taiwan, where she arrived on 20th April 1970.
Specifications
Built by Merchant Shipping Corp., Chester, Pennsylvania, USA for American-Hawaii Steam Ship Companies
Launched: 14th December 1921
Gross displacement: (as Missourian) 7,889 tonnes; (as Flaminia) 8,776 tonnes
Length: 141 metres
Beam: 19 metres
Cruising speed: 14 knots
Propulsion: motor vessel diesel, twin screw
Accommodation: (as Genova) 800 third class passengers; (as Flaminia) 1024 single class passengers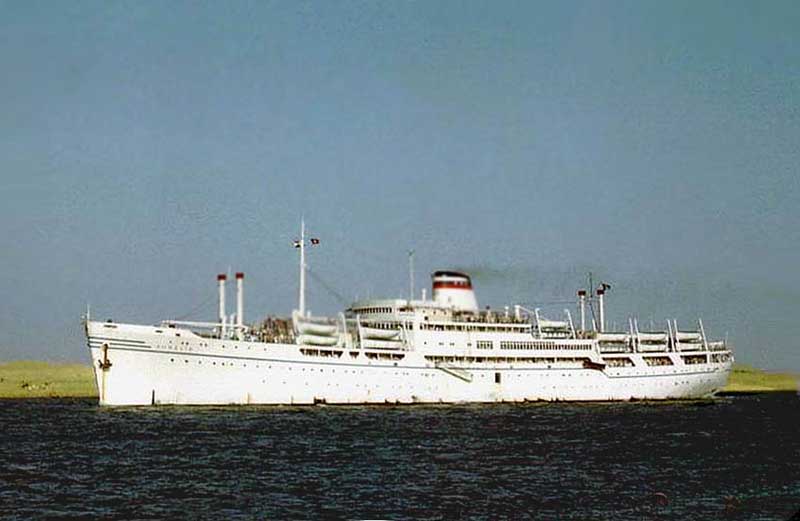 SS Aurelia, 1958
Huascaran; Beaverbrae; Aurelia; Romanza; Romantica (1939 – 1997)
Launched as the cargo-passenger vessel Huascaran, and delivered to its owners, Hamburg America Line, on 27th April 1939. Hamburg-Genoa, the vessel operated on the Hamburg-West Coast of South America service. During the Second World War she was seconded by the Germany Navy and saw service as a troop transport, armament freighter and then as a submarine depot and repair ship. She spent most of her wartime years in Norway where she was captured undamaged by the Allies in 1945.
After the war she was handed over to the Canadian Government by the War Assets Commission in reparation for the loss of the first Beaverbrae (1928) in 1941, to be managed by the Park Steamship Company. On 2nd September 1947 she was sold to Canadian Pacific and refitted at Sorel, Quebec with accommodation for 775 passengers, re-measured to 9,034 gross tonnes and renamed Beaverbrae. On 8th February 1947 she sailed from St. John to Bremerhaven in service as an austere emigrant ship repatriating persons displaced during the war. This involved the transportation of more than 38,000 European immigrants to Canada over a six-year period. In 1951 she was switched to Bremen. The westbound leg carried passengers in basic accommodation, on the eastbound leg she carried only cargo.
The vessel was sold to Italy's Cogedar Line on 1st November 1954 and renamed Aurelia (photo). She was sent to Monfalcone to be rebuilt for emigrant service from Italy to Australia with air conditioned accommodation for 1,244 single class passengers. Aurelia was re-measured at 10,022 gross tonnes. Her first voyage to Sydney was from the Italian port of Trieste, but she was switched to Genoa the following November. Further rebuilding in 1958 continued into 1959 with new Man diesels, at which time she was re-measured at 10,480 gross tonnes. On 12th June 1959 she made the first of many voyages from Bremerhaven to Sydney.
Aurelia was chartered by the Council on Student Travel for one round trip from Bremen to New York, arriving 27th June 1960. This experiment was repeated in 1961 twice in 1962 and 1963. From 1964 she made at least five trans Atlantic voyages from Channel ports to New York. On 9th December 1964 she embarked on her first voyage from Rotterdam to Australia and New Zealand as a migrant ship. In the following years a number of transatlantic sailings were undertaken under charter, and by 1969 she had made 34 such voyages. In 1968 she was removed from the Australian service and refitted to carry 740 single-class passengers on a Southampton-Madeira service that did not prove popular.
Aurelia was bought by the Chandris Group in 1970 and in September of that year renamed Romanza, refitted at Pireaus as a Mediterranean cruise liner and re-measured at 8,891 gross tonnes. Romanza was in service from 1971 until October 1979 when she grounded on Dhenousa Island during an Aegean cruise. Suffering considerable hull damage, her passengers were removed and she was towed to Piraeus and repaired. Aurelia was then chartered to Lloyd Brasileiro and in 1983 her passenger accommodation was altered to hold 707.
In 1991, she was sold to New Ambassador Cruises of Cyprus and renamed Romantica for a short cruise programme to Egypt and Israel. Her owners went bankrupt in 1995, and the ship was laid up at Piraeus. In 1997, she was purchased by Cyprus-based Paradise Cruises and refurbished for two and five-day Mediterranean cruises. During a cruise she caught fire off Limasol, Cyprus on 4th October 1997. The fire completely gutted the ship. In April 1998 she was towed to Alexandria, Egypt for demolition. As late as February 1999 the ship remained moored alongside several cargo vessels with only part of the superstructure cut down.
Specifications
Built as cargo-passenger vessel Huascaran by Blohm & Voss, Hamburg, Germany, for Hamburg America Line
Gross displacement: 10,480 tonnes
Length: 149 metres
Beam: 18 metres
Cruising speed: 17 knots
Propulsion: motor vessel diesel-electric, single screw



MV Falvia

Media; Flavia; Flavian (1947 – 1989)
This ship was originally built as the cargo-passenger liner Media in 1947 for Cunard Line. She was sold to Cogedar Line in 1961 and refitted, modernised and renamed Flavia (photo) for the Europe-Australia migrant service. She made her first voyage on the Germany-UK-Italy-Australia (via Suez) route in 1962. Flavia was one of the first migrant ships to be put on cruising duties out of Sydney during the downturn of business in the 1960s, taking up this role in 1966. This move failed to bring the vessel back into profitability so she was transferred to Mediterranean cruising duties and in 1968, was chartered to Costa Line, who refitted her as a cruise ship. She operated Caribbean cruises from Miami, and was so successful, Costa bought her in 1969. Her engines became troublesome, so she was sold in 1982 and renamed Flavian. The vessel had various owners until being scrapped in 1989, having never actually entered service again since leaving Costa.

Specifications
Built by John Brown & Co., Glasgow, Scotland, as Media for Cunard Line
Gross displacement: 15,465 tonnes
Length: 162 metres
Beam: 21 metres
Cruising speed: 17 knots
Propulsion: double reduction steam turbine, twin screw
Accommodation: 1,200 single class