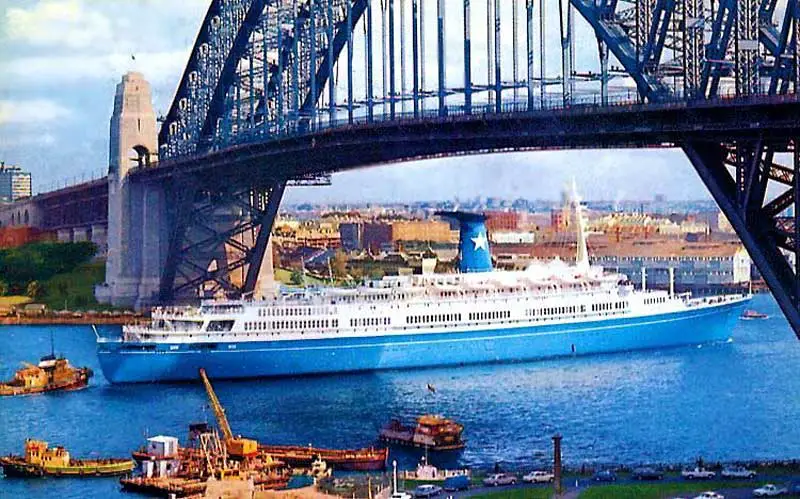 Oranje; Angelina Lauro (1939 – 1979)
Dutch shipping company Nederland Line introduced its new liner Oranje to the Dutch East India (Indonesia) service in 1939. It was to make only one voyage before the advent of World War II, which led to her being commandeered as a hospital ship serving in Australian waters. Following Indonesia gaining independence in 1950 and breaking all ties with Holland, Oranje was transferred to the Holland-Australia migrant service with the Johan van Oldenbarnevelt. They remained on that run for seven years until the Government terminated its migrant contract in 1958. The two ships were re-assigned to a round the world service, following much the same route as before but in opposite directions. After three years, diminishing returns forced the company to cancel the service and put both vessels up for sale.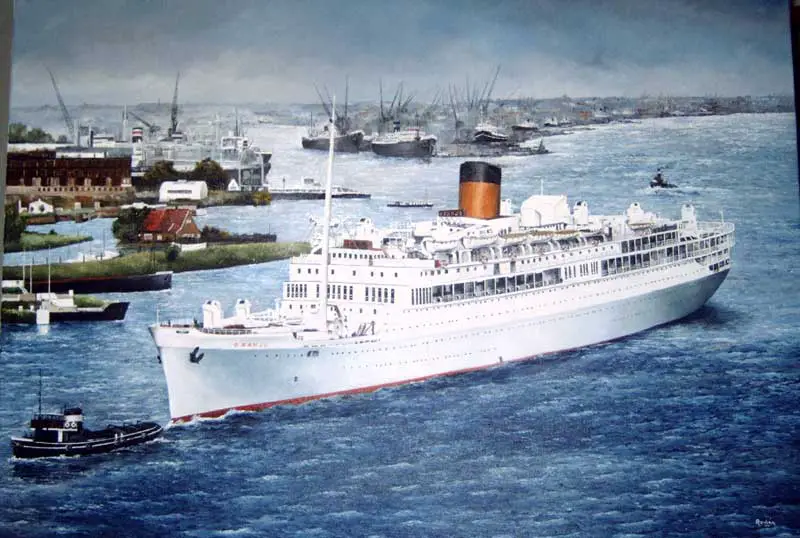 SS Oranje
Flotta Lauro Line bought Oranje in 1964 and sent her for a refit to Cant. del Tirreno, of Genoa. She was renamed Angelina Lauro (right) in March 1966, her hull and funnel painted aqua like her sister, the double funneled Achille Lauro. Both were placed on the Europe-Australia passenger route, taking on migrants at Bremerhaven, Rotterdam, Southampton, Genoa, Naples and Messina, and disembarking them at Fremantle, Melbourne, Sydney and Wellington (New Zealand). In 1967 she commenced voyages outbound via Cape Town. Two years later she commenced return voyages via Cape Horn calling at several South American Ports, offering a round-the-world service, which included passage through the Panama Canal, in 1971.
Hit by the worldwide downturn in ship travel of that time, Flotta Lauro withdrew its Australian service, Angelina Lauro leaving Melbourne for the last time on 14th May 1972. She was re-fitted for cruising by Flotta Lauro but managed by Costa line of Italy who marketed her for Caribbean cruises under the name Angelina. On 30th March 1979, fire broke out in galley while docked at St.Thomas, rapidly engulfing the whole ship. weight of the water caused her to sit on the bottom with a 25-degree list. A decision was made to refloat her and sell her to Taiwanese breakers. On 24th September 1979 while under tow in the mid Atlantic, her list increased, and she rolled on her side and sank.
Specifications
Built for Nederland Line by Netherlands Shipbuilding Co, Amsterdam.
Propulsion: diesel motor vessel, twin screw
Gross displacement: (as Oranje) 20,565 tonnes; (as Angelina Lauro) 24,377 tonnes
Length: 200 metres
Beam: 26 metres
Cruising speed: 22 knots
Accommodation: (as Oranje) 949 in 2 classes.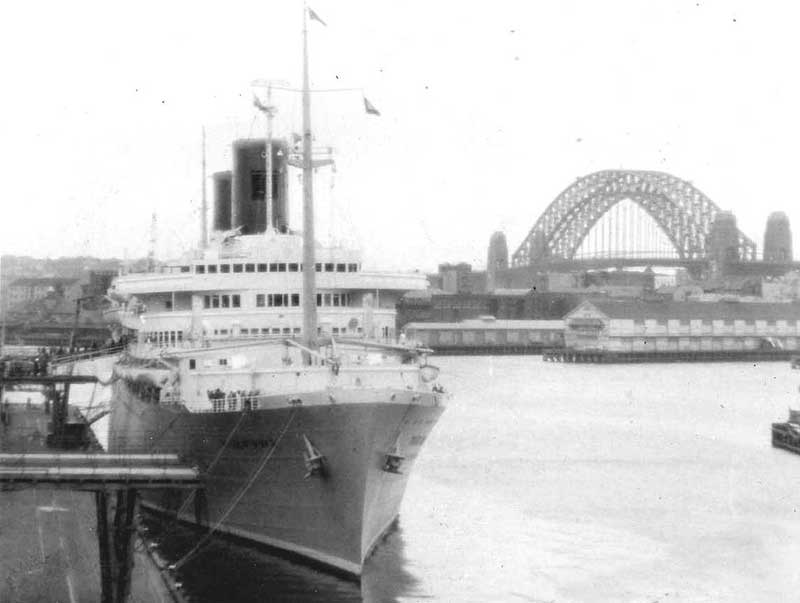 Willem Ruys ay Pyrmont, Sydney, NSW
Willem Ruys; Achille Lauro (1947 – 1994)
Like rival Dutch shipping company Nederland Line's passenger ship Oranje, the Royal Rotterdam Lloyd's William Ruys served the Netherlands-Indonesia route after the war, having been built in 1947 for that purpose. In 1953 the two rival vessels clashed at sea and almost come to grief. The Willem Ruys and Oranje passed in opposite directions in the red sea at a combined speed of 40 knots. Getting to close they scraped together along their entire lengths, causing much damage to both liners. When the Indonesian Government seized all Dutch assets on the islands in 1957, all passenger services from Holland came to an immediate halt. Nederland Line had already pulled the Oranje and run her for a number of years on the Netherlands-Australia service; RRL laid up the Willem Ruys for a year after which she was chartered to Holland America Line for its Netherlands-New York service. By 1959 Willem Ruys and Oranje were rivals again, competing for the Netherlands-Australia run.
On board the Willem Ruys in 1957 was Gerard Bertelkamp, a typical Dutch boy before he migrated with his family to Australia. The gift of a radio for his 12th birthday awakened his passion for music and within a few short years, he was playing bass guitar and had changed his name to Beeb Birtles. He became a founding member of both Zoot and Little River Band.
In 1964 RRL and Nederland both abandoned their world services and independent of each other decided to dispose of the two liners. Flotta Lauro Line bought them both – William Ruys was refitted and renamed Achille Lauro after the company's founder – and the former rivals became sisters. In a curious coincidence both vessels were ravaged by fire within days of each other during their refits.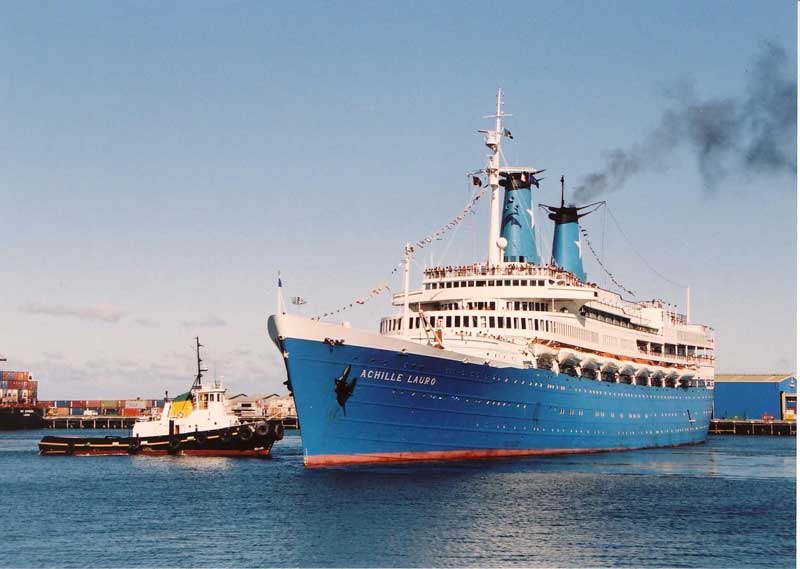 Achille Lauro, Fremantle, 1991
Achille Lauro followed Angelina Lauro to Australia a month later on her maiden voyage. She also took on migrants at Bremerhaven, Rotterdam, Southampton, Genoa, Naples and Messina, disembarking at Fremantle, Melbourne, Sydney and Wellington (New Zealand). After only four years, Flotta Lauro withdrew from Australia and both ships were converted to cruising in Mediterranean and Scandinavian waters. In October 1985, four heavily armed Palestinian terrorists hijacked Achille Lauro off Egypt, demanding that Israel free 50 Palestinian prisoners. After a two-day drama in which a disabled tourist was thrown overboard, the hijackers surrendered in exchange for a pledge of safe passage. During their evacuation, American fighter jets intervened and the terrorists were taken captive. The ship continued in service. On 29th November 1994 Achille Lauro accidentally caught fire off the coast of Somalia en route from Genoa to the Sychelles and was in danger of sinking with 980 persons on board. Due to a major rescue effort with helicopters and ships, only one person died on the ship. The Achille Lauro was taken in tow on 4th December 1994. At around midnight there was a mysterious explosion on board of the vessel. The hull sunk.
Specifications
Built in Vlissingen, Netherlands by DeSchelde Shipbuilding Co., Flushing, Netherlands for Rotterdamsche Lloyd. World War II and two bombing raids in which the half-built ship was damaged interrupted its construction and production halted.
Launched: July 1946
Length: 192 metres
Beam: 25 metres
Gross displacement: (as Willem Ruys) 21,110 tonnes; (as Achille Lauro) 23,114 tonnes
Propulsion: motor vessel diesel, twin screw
Accommodation: (as Willem Ruys) 900 passengers and crew