Lloyd Triestino Lines re-established their Australian services with a 1924 German built ship the SS Saarbrucken that had been obtained by them in 1937 and had been renamed the Toscana. Although having operated on various services the 9,429 GRT (Gross Registered Tons) SS Toscana commenced a new career as she departed Genoa on October 19, 1948 for her very first voyage to Australia, arriving in Melbourne on November 30, and Sydney on December 2.
However, Lloyd Triestino realised that they required new and modern ships on the popular service to Australia as the migrant and the tourist passenger service, as well as transporting cargo was in need for superior ships! Thus they had their designers busy with plans that would eventually realise some seven ordered excellent and almost identical looking ships! Being extremely happy with the design and functionality of their larger Australian ships, and the slightly smaller four ships, they signed the contracts with the builders for their Australia class trio being their very first post war newly built liners.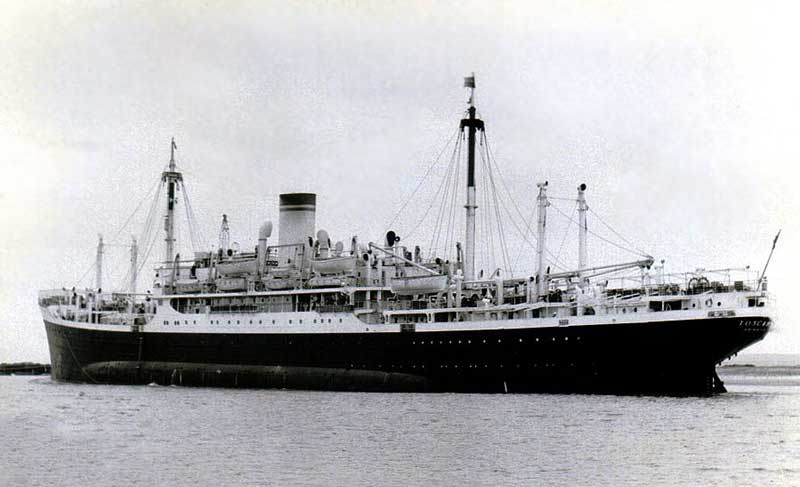 Saarbrucken; Toscana (1923 – 1962)
Originally built as the Saarbrucken for Norddeutscher Lloyd Line, she featured a "corrugated side" hull design which gave her a very distinctive appearance with a bulge amidships, just above the waterline. Sold to the Italian Government in 1935 and transferred to the Lloyd Triestino Line. Served as a Italian hospital ship during the Second World War.
In 1947, she returned to Lloyd Triestino to be refitted for 136 1st-class and 700 3rd-class passengers to serve in the Australian emigrant trade. She was renamed Toscana, before entering service on the Trieste-Melbourne-Sydney route, in January 1948. Her route via the Suez included regular stops at Aden, Colombo and Port Said, where thousands of Greek-born Egyptian emigrants boarded for resettlement in Australia. She was withdrawn in October 1960 and went to breakers at Genoa in February 1962.
Specifications
Built by A.G. Weser Actengesellshaft in Bremen, Germany
Gross displacement: 9,442 tonnes
Length: 139.9 metres
Beam: 17.7 metres
Propulsion: triple-expansion engines; later twin steam turbines
Rigging: 2-masts plus cargo jib cranes
Cruising Speed: 12 knots
Accommodation: 136 1st-class, 690 3rd-class & 250 crew; later 820 single-class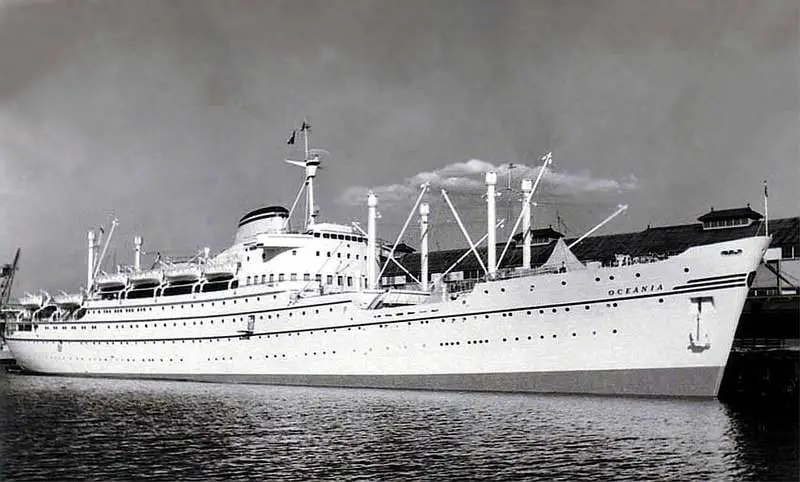 MV Australia; Donizetti (1950 – 1977)
MV Oceania; Rossini (1950 – 1977)
MV Neptunia; Verdi (1950 – 1977)
After World war II, Lloyd Triestino Lines had three cargo and passenger vessels built to service the Genoa – Sydney migrant and holiday run. The ships were launched in the following order:
MV Australia: May 21, 1950 12,839 GRT – Australia service.
MV Oceania: July 30, 1950 12,839 GRT – Australia service.
MV Neptunia: October 1, 1951 12,838 GRT – Australia service. MS Australia and her two sisters had white hulls and superstructure, set off by a blue ribbon just below Upper Deck and located at the bow being the company's logo! Their funnels were yellow and topped with a blue cap with a single thin blue stripe close to the top, the traditional Lloyd Triestino colours. Being Cargo Passenger liners, they had three holds forward and two aft.
The Australia was launched by her builders at Yard number 1758, on May 21, 1950 with a great number of dignitaries present, from Lloyd Triestino, the government and many from high other high ranking families, for obviously this was a big event for the company, being the very first Italian liner built specially for Lloyd Triestino after the World War II. MS Australia was the first of the trio to be completed in April 1951, she was followed rapidly by Oceania just a month later.
With the first of their post war liners ready, Lloyd Triestino's MS Australia departed on her maiden voyage from Trieste bound for Sydney Australia on April 19, 1951, and she arrived in Fremantle (Perth) on May 11, then continued to Adelaide arriving on May 15, she then arrived in Melbourne on May 17, where she remained there for three days and departed on the 19th.arriving in Sydney on May 22, but just this time she continued to Brisbane sailing along the Brisbane river to the Hamilton wharves on May 24 where she ended her successful maiden voyage.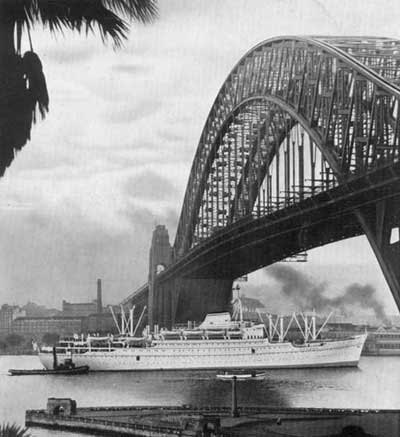 Neptunia sails under the Sydney Harbour Bridge
The general itinerary for the three ships was: Genoa, Naples, Messina, Port Said, Suez, Colombo, Djakarta, Fremantle, Adelaide, Melbourne, Sydney, Melbourne, Adelaide, Fremantle, Djakarta, Singapore, Colombo, Cochin, Aden, Suez, Port Said, Messina, Naples to Genoa. These were changes later. In 1956 with the closure of the Suez Canal, the ships were rerouted via South Africa until the Suez was opened again in April 1957, great for the passengers and sightseeing, but costly otherwise.
By then, first class passenger numbers had fallen significantly, and the ships were reconfigured in 1958 to cater for more tourist class passengers. Lloyd Triestino was now marketing more and more to the younger tourist market, as well as to families going home to Italy and back, or Italians visiting their relatives in Australia, etc., most of whom opted for Tourist Class. At the time, the forward deck was filled in and converted into a lounge. The removal of Third Class reflected the decline of the Assisted Passage migrant trade from Italy. In October 1960, MV Neptunia began operating as a one-class tourist ship.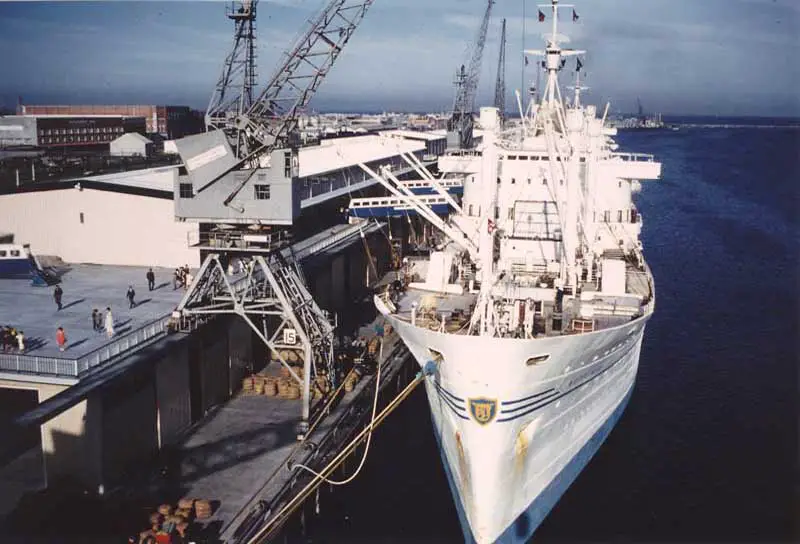 MV Neptunia in Fremantle Harbour, 1961
As the three ships showed signs of needing major refits, Lloyd Triestino decided instead to withdraw the three vessels and replace them with two much larger vessels. The Galileo and Marconi entered into service in 1963. MS Australia was the very first to be withdrawn from her Australian duties as she departed Genoa for her very last voyage on January 18, 1963. Her farewell return journey began from Sydney on February 21 1963. She called on the following Australian ports; Hobart on February 23, then Melbourne, Adelaide and Fremantle from where she departed Australia for the very last time on March 4 for Genoa.
MV Australia was handed over to the Italia Line, renamed Donizetti, and began servicing the Genoa to Valparaiso (South America) tourist route. A month later, MV Oceania returned from Sydney for the last time, was renamed and Rossini and joined Donizetti on the South American tourist route. Delays in the completion of Galileo Galilei led to MV Neptunia being returned on the Australia run for a further six months before joining her sisters, after being renamed Verdi. By the mid 1970s, the subsidy by the Italian government of shipping services to South America and Australia had been withdrawn and the three vessels were sold to shipbreakers at La Spezia in September 1977.
MV Australia: Specifications
Built by Cantieri Reuniti dell Adriatico Shipyards, Trieste, Italy
Gross displacement: 12,839 tonnes
Length: 161 metres
Beam: 21 metres
Propulsion: Sulzer diesels, twin screws
Rigging: 2-masts plus cargo jib cranes
Cruising Speed: 18 knots
Accommodation: 280 1st-class, 120 2nd-class, 392 3rd-class and 236 crew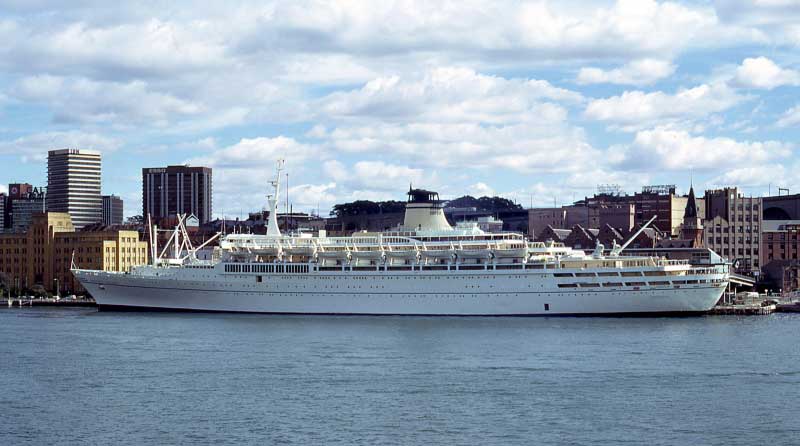 Galileo Galilei berthed at Circular Quay, Sydney
SS Galileo Galilei; Galileo; Meridien; Sun Vista (1961 – 1999)
The first of two impressive liners for Lloyd Triestino's for the Italy to Australia emigrant service, her maiden voyage from Genoa to Sydney commenced on 22nd April 1961. Galileo Galilei's identical twin, Gugliemo Marconi, joined her on 18th November of the same year. Both ships resembled smaller, more streamlined versions of Italian Line's famous Leonardo Da Vinci (1960), although they featured the distinctive flared "Cantieri bows" that would later be emulated by scores of ferries and smaller Mediterranean cruise ships. Their three-week itineraries included Naples, Messina, Port Said, Aden, Fremantle, Melbourne, and Sydney. Later, the return leg was made via Panama and billed as a "world voyage." By 1977 both ships were laid up at Genoa, terminating Lloyd Triestino's 140 years of passenger service.
In October 1977, Galileo Galilei was converted to a one-class cruise ship with a revised tonnage of 28,083 and her name shortened to Galileo, to cruise the Mediterranean under the Italian Line Cruises International banner. Her cruising days were short-lived as, within a year, she was laid up at Genoa. Galileo was sold to Chandris Lines in October 1983. A white "X" (Greek for "CH") was painted on her funnel and she underwent another refit. With a new capacity of 1,262 passengers, Galileo entered Caribbean cruise service from New York in 1984 and became a popular liner in the Chandris-owned Fantasy Cruises' fleet.
Galileo went to Bremerhaven in October 1989 for a major $45 million rebuild as a luxury cruise liner, her simple Formica and wooden interior of her migrant days replaced by new, modern fittings. Renamed Meridien, she departed on her first cruise from Port Everglades on 1st April 1990. Her success led other cruise operators to also introduce luxury cruise services with new liners. Meridien was sold to Sun Cruises of Singapore for $65 million at the end of her 1997 cruise season out of New York.
Under the new name of Sun Vista, she began cruising South East Asia. A collapse of the Asian economy followed shortly thereafter, and Sun Vista and the huge new fleet of ships owned by competitor Star Cruises were facing bankruptcy. While enroute from Phuket, Thailand to Singapore, the Sun Vista suffered an engine room fire on 21st May 1999, capsized, and sank 45 nautical miles west of Penang Island in the Andaman Sea. All 1,090 passengers and crew were safely evacuated.
Specifications
Built at Cantieri Riuniti dell'Adriatico, Monfalcone, Italy as Galileo Galilei for Lloyd Triestino SpA di Navigazione, Genoa, Yard #1862
Sank May 20, 1999
Gross displacement: 27,888 tonnes
Length: 189 metres
Beam: 29 metres
Propulsion: Twin Screw, geared De Laval turbines from builders. 44,000 shaft horsepower
Cruising speed: 25.5 knots
Accommodation: 156 First Class, 1,594 Tourist Class passengers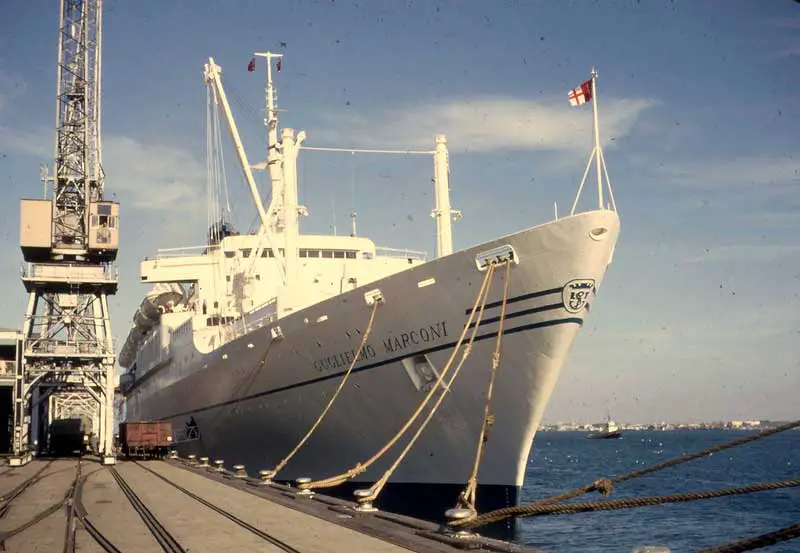 Guglielmo Marconi at Station Pier, Melbourne, 1971
Guglielmo Marconi; American Adventure; Costa Riviera (1961 – 2001)
Built in 1963 for the Lloyd Triestino Line specifically for the Europe-Australia run. She arrived in Australian on her maiden voyage seven months after her sister, docking in Melbourne on 9th December 1963. The two ships maintained this service, with some variations, for almost a decade. By the 1970s, the service had become unprofitable and was being heavily subsidised by the Italian government. When the subsidy was reduced in 1975 because of the oil crisis, the service was cancelled. Both ships were laid up at Genoa, terminating Lloyd Triestino's 140 years of passenger service.
The Italian Government then used her for cruising, mainly for the American Market, starting a series of cruises to the Caribbean in 1978. Even though she had a refit, she failed US health inspections in July 1979 and again some months later. In 1983 she was sold to the Costa Line, but was in very poor condition. After a two-year rebuild, the ship reappeared as Costa Riviera for Costa Cruises in 1985. Costa Riviera alternated between Caribbean and Alaskan cruising during her time with Costa Cruises under the name American Adventure. The ship was given a major refit and mechanical overhaul in 1996. Renamed Costa Riviera, she continued cruising until October 2004 when she was sold to Indian ship breakers for US$1.76 million, making her the longest surviving Australian migrant ship of the 1960s.
Specifications
Built at Cantieri Riuniti dell'Adriatico, Monfalcone, Italy for Lloyd Triestino SpA di Navigazione, Genoa
Gross displacement: (as Guglielmo Marconi) 28,136 tonnes (as Costa Riviera) 31,600 tonnes
Length: 189 metres
Beam: 29 metres
Propulsion: Twin Screw, geared De Laval turbines from builders. 44,000 shaft horsepower
Cruising speed: 25.5 knots
Accommodation: 156 First Class, 1,594 Tourist Class passengers (as Costa Riviera) 974 passengers