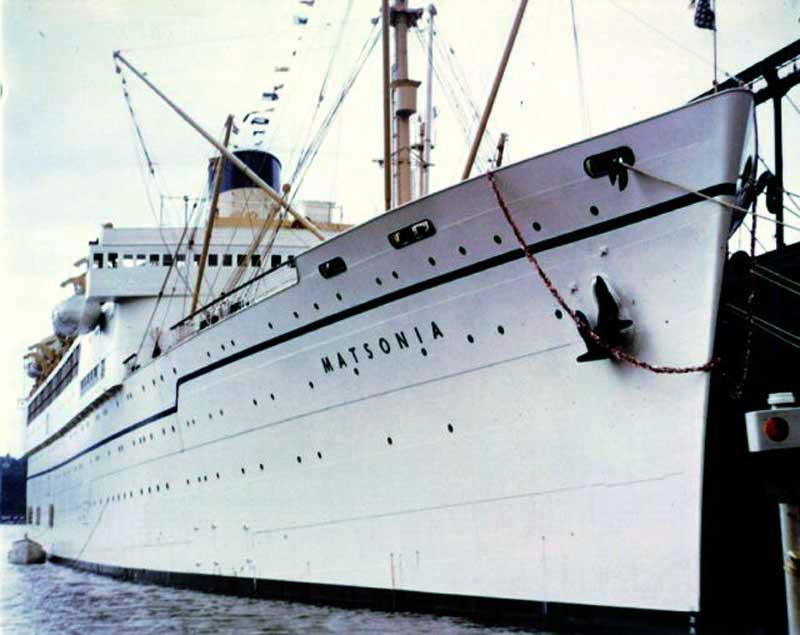 SS Monterey; Matsonia; Britanis; Belofin-1 (1931 – 2000)
The second in a trio of remarkably successful ships, the $8,300,492 Monterey followed the similar Lurline and was soon to be joined by the identical Mariposa on Matson Line's Pacific services. Designed by William Francis Gibbs, Monterey was launched by Mrs. E. Faxton Bishop, wife of a Matson Line director on 10th October 1931. Monterey embarked with 83 passengers for a positioning voyage from New York to San Francisco on 12th May 1932. Her official maiden voyage departed San Francisco on 3rd June 1932, calling at Los Angeles, Honolulu, Auckland, Pago Pago, Suva, Sydney and Melbourne. She and the Mariposa (which joined her on 2nd February 1932) shortened the running time by a third and scored high marks for the new standard of service and accommodation they introduced to this route. An early career highlight of the Monterey was when she carried a special cargo of canned milk, sweets, and phonograph records for Admiral Byrd's vessel Bear during its historic journey to Antarctica.
The US Marine Corps chartered Monterey in 1941 to rescue refugees from China, Japan, and Korea, delivering a complement of 150 missionaries and stranded US citizens to San Francisco. Shortly thereafter, she was converted to a troop ship, stripped of her luxurious appointments and fitted with additional bunks and facilities to accommodate up to 3,500 soldiers. She trooped throughout the war and remained in government service until 1946. Both Mariposa and Monterey were returned for conversion to passenger service in September 1946 but financial problems halted the work and led to her being sold to the US Government in August 1952 and lay-up at Suisun Bay, near San Francisco.
as Matsonia
On 3rd February 1956, Matson Line repurchased her for $2,556,000 and commissioned her original builders to convert her back for passenger use. In the meantime, the name Monterey had been reassigned to the former C4 cargo vessel Free State Mariner which Matson was rebuilding for its deluxe South Pacific passenger service. Re-measured at 18,655 tonnes gross with modern, Hawaiian-themed accommodation for 761 first class passengers, the ship was rechristened Matsonia by Mrs. Neal Blaisdell, wife of the mayor of Honolulu. Matsonia entered the San Francisco-Los Angeles-Honolulu service on 11th June 1956. During the early 1960's, passenger revenues began to fall, and by September 1962, the Matsonia was laid up in San Francisco. Amid public outcry, the Lurline was sold to Chandris Lines of Greece for their Australian migrant and cruise service and renamed the Ellinis. Matsonia was returned to service, taking her departed sister's name and began inter-island sailings as well as service to San Francisco and Los Angeles. After running at a loss for some time, the service was discontinued in May 1970 and the Lurline was sold to the Greek Chandris Line.
as Britanis
During the ensuing refit at Piraeus, her capacity was increased to 1,655 by converting her cargo holds to cabins, dividing many of her larger cabins into smaller units, and expanding her superstructure slightly forward on Upper Deck level. Her funnels were given streamlined casings, her mainmast was removed and she was renamed Britanis. Her first voyage in round-the-world service left Southampton on 21st February 1971 with a mix of migrants and world travellers. She remained on the Southampton-Sydney-Southampton service until 1974, when she began winter cruising in the Caribbean and summer cruising in Europe. In May 1982 she was transferred to a Chandris subsidiary, Fantasy Cruises, for cruising between New York and Bermuda A major refit in 1986 extended her life, as did the availability of parts from her sister Ellinis and the Homeric when that ship was scrapped in 1974.
She was once again chartered to the US Government, this time as an accommodation ship for military personnel at Guantanamo Bay, Cuba. In 1998, she was sold to AG Belofin Investments of Lichtenstein. Her new owners were to deliver the historic liner to scrappers in India or Pakistan, but a down turn in steel prices and the political instability of that region has derailed their plans. Renamed Belofin-1, she sank off South Africa on 21st October 2000 while under tow on her way to be converted to a floating hotel in San Francisco harbour.
Specifications
Built in 1932 by Bethlehem Steel at Quincy, Massetussetts, USA, Yard number 1441
Length: 631 feet
Beam : 79.1 feet
Gross displacement: 18,017 tonnes
Propulsion: twin screw, geared turbines
Cruising speed: 21.5 knots
Maximum speed; 23 knots
Accommodation; 472 First class, 229 cabin class, 360 crew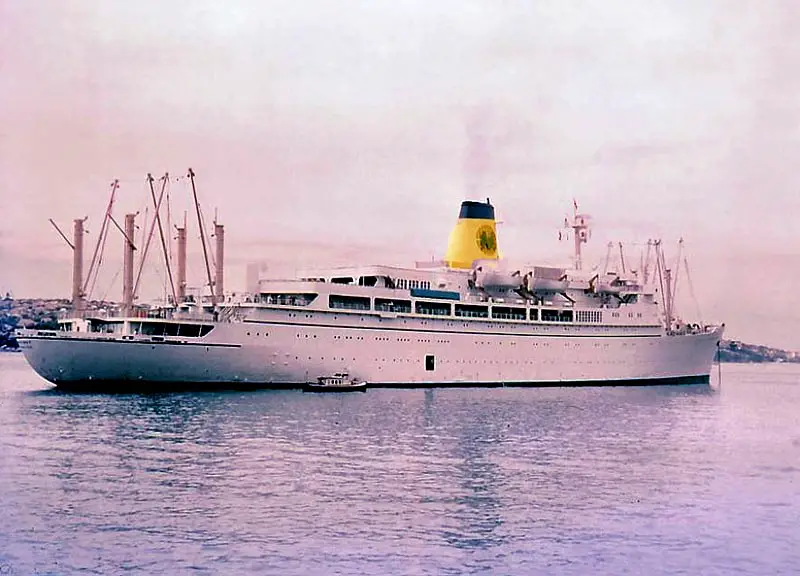 SS Monterey (1952 – 2004)
In 1955, Matson Line repurchased its former vessel Monterey for $2,556,000. She was converted back for passenger use by her original builders and the name Monterey was reassigned to the former US Marine Corps' C-4 cargo vessel Free State Mariner which Matson Line was rebuilding for its deluxe South Pacific passenger service. She was placed on the Sydney – San Francisco run in 1956 and remained in service until her sale to Pacific Far East Lines for cruising duties in 1970. Mariposa and Monterey did regular cruises in the South Pacific during those years, including Sydney and Auckland in their ports of call. Her services were advertised regularly on Australian television's Pick A Box with Bob Dyer.
Cruises aboard the vessels were offered as prizes. By 1976 Matson Lines had sold off all its ships. Monterey passed through the hands of numerous owners including World Airways and Royal Hawaiian Cruise Lines. Attempting to sell her, there was an unsuccessful bid by Royal Hawaiian Cruise Lines, but in 1980, she was sold to the International Organisation, Masters, Mates & Pilots, remained laid up. She was sold again to Aloha Pacific Cruises.
In 1988, she commenced cruise duties for American Maritime Holdings who had converted her into a cruise ship, adding bow thrusters, but the company filed for bankruptcy in April 1989 and Monterey was laid up in Honolulu. Star Lauro of Panama, the successor to Italy's Flotta Lauro Lines, signed a long-term bare boat charter for her. She was relocated to the Mediterranean and made her home in Naples. Star Lauro faded away and was replaced by Mediterranean Shipping Cruises in 1990, who gave her an extensive rebuild and refurbishment. This saw her promenade deck extended forward adding additional cabins and constructed an aircraft type aft section, adding greatly to the already spacious deck space. She became a popular cruise ship, especially in the Mediterranean. She was put on the market in September 2004. Her future is as yet unknown.
Specifications
Built for the U.S. Maritime Commission by Bethlehem Steel Co., Quincy, Massachusetts as the cargo carrier, Free State Mariner.
Gross displacement: 14,799 tonnes
Length: 172 metres
Beam: 23 metres
Cruising speed: 21 knots
Maximum speed: 24 knots
Accommodation: 365 passengers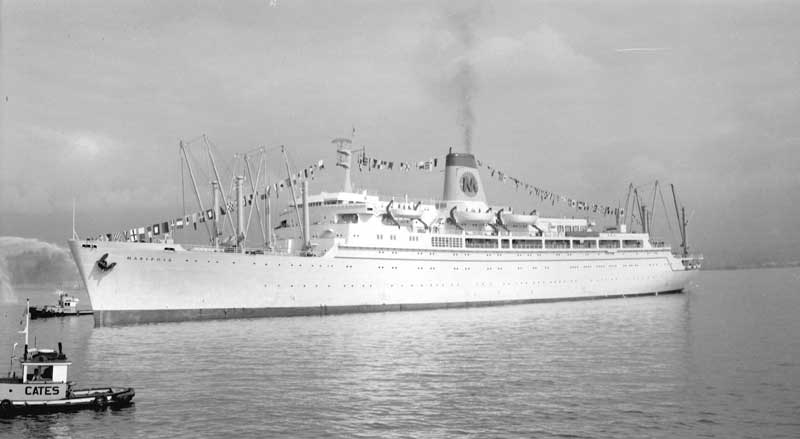 SS Mariposa (1952 – 1984)
The third in a trio of remarkably successful ships, Mariposa began life in 1935 as the US Marine Corps' C-4 cargo ship, Pine Tree Mariner. It was identical to the Free State Mariner and its second vessel to be called Mariposa. Matson Lines purchased the two vessels in 1955 and had them converted to passenger use with the Monterey by Willamette Iron and Steel Corp., Portland, Oregon. The two vessels were placed on the Sydney-San Francisco run in 1956. Mariposa remained in service until her sale to Pacific Far East Lines for cruising duties in 1971. Pacific Far East Lines used her for Pacific Ocean cruises for a number of years. Laid up in 1978, she was sold to World Airways in the following year and then towed to Japan. After her January 1981 arrival in Japan, she was again laid up and later the same year ownership returned to Pacific Far East Line again. In 1983, she was sold to China Ocean Shipping Co., was renamed Jin Jiang and placed on a Shanghai-Hong Kong service. In early 1996, under the name Heng Li, Mariposa went to India for breaking-up.
Specifications
Built for the U.S. Maritime Commission by Bethlehem Steel Co., Quincy, Massachusetts as the cargo carrier, Pine Tree Mariner
Gross displacement: 14,812 tonnes
Length: 172 metres
Beam: 23 metres
Cruising speed: 21 knots
Maximum speed: 24 knots
Accommodation: 365 passengers