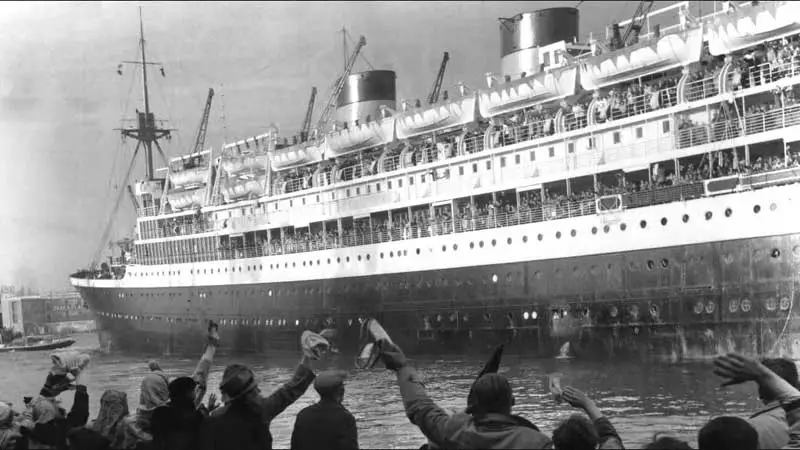 SS Johan Van Oldenbarnevelt; Lakonia (1930 – 1963)
Built in 1930 for the Nederland Line. She was built as a 3-class vessel for the East Indies Run. Her sister Marnix van St Aldegonde was built some five months later. JVO left Amsterdam on her maiden voyage in May 1930. While still in the North Sea Canal she collided with the Dutch coaster Reggestroom and had to return to port for repairs, leaving again several days later. When Holland was invaded during the war, both vessels were taken over by the British Government as troop ships. A torpedo sank Marnix van St Aldegonde in November 1943 off Algeria. JVO survived the war and was returned to her owners in October 1945. After a refit she resumed her old run to Batavia. With trouble brewing in Indonesia her owners withdrew her from that service. At that point she was chartered by the Dutch Government to carry Migrants to Australia, arriving in Melbourne on 10th October 1950. In 1951 she was given a refit to make her more suited to the migrant run, at which time she was converted to single class. JVO remained on that run for seven years until the Government terminated the migrant charter in 1958.
SS Johan Van Oldenbarnevelt (centre right) in Fremantle Harbour as a floating hotel during the 1962 Perth Commonwealth Games.
It was decided to use her for a round the world service, after a considerable refit. As well as internal works, her squat funnels were heightened and given round tops. At the same time her black hull was painted grey. Occupancy was never high, but her owners persevered for three years until she was finally withdrawn from service. JVO was used as a floating hotel during the 1962 Commonwealth Games in Perth. On 8th March 1963 she was handed over to new owners, the Greek Line, who used her for short cruises from Southampton to Las Palmas under the name Lakonia. On 22nd December 1963 fire broke out 320 km from Madiera. Sadly, 128 lives were lost. The Dutch salvage tug Herkules took her in tow, and on 29th December 1963 she rolled over and sank 380 km west of Gibraltar, not far from where her sister sank some 20 years earlier.
Specifications
Built by Nederland Shipbuilders, Amsterdam, Netherlands for Nederland Line
Launched as Johan van Oldenbarnevelt, 1930, and named after after a Dutch political martyr
Gross displacement: 20,314 tonnes
Length: 186 metres
Beam: 23 metres
Cruising speed: 22 knots