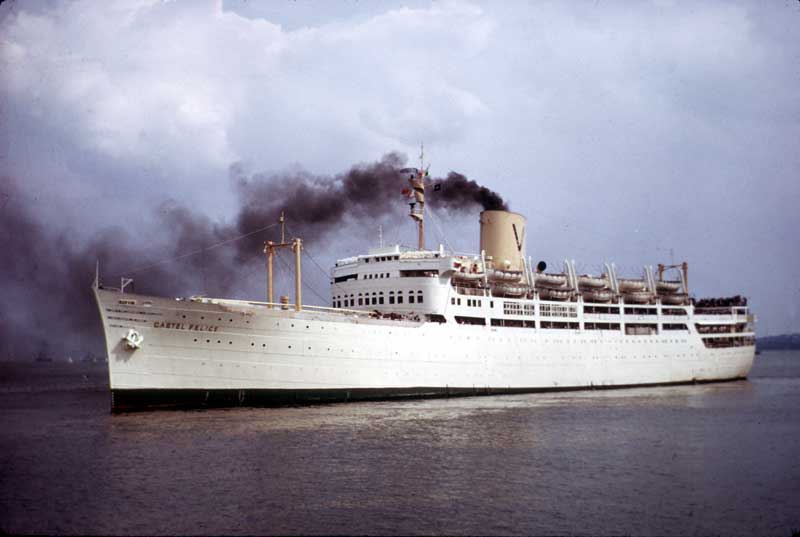 Castel Felice
TSS Kenya; Keren; Fairstone; Castel Felice (1930 – 1970)
Sitmar's Castel Felice was built in 1930 for the British India Company as the Kenya. During the war, she was commandeered by the British Royal Navy and renamed Keren, serving as a troop ship. British India refused to take the ship back after the war, so she was purchased by the Ministry of Transport and laid up at Holy Loch, Scotland for three years. Changing owners and names (Keren, Castel Felice and Fairstone) on numerous occasions, she was purchased by Sitmar Lines in October 1950, she was given one of her former names – Castel Felice – and sent for a rebuild. Sailing from Genoa, Italy she alternated voyages to Australia and South America, then in 1956, she was placed on the Atlantic service to New York.
Late in 1957 Sitmar obtained a lucrative contract to transport assisted passage migrants from Britain to Australia. Castel Felice was given another refit and departed from Southampton on 6th April 1958 with her first contingent of migrants. She remained on the Australian service for some years, bringing migrants from Britain and Italy. When Sitmar lost the migrant contract to Chandris Lines in 1970 the company decided to retire her.
Castel Felice made one more voyage to Australia, arriving in Sydney on 26th September 1970. She remained berthed at Pyrmont for eleven days, during which time most of her stores were removed. All crockery and linen was returned to Italy for use in their new ships Fairsea and Fairwind. She departed Sydney on 7th October, arriving two weeks later at the Taiwanese shipbreakers' yard.
Specifications
Built by A. Stephen & Sons., Glasgow, Scotland for British India Line as TSS Kenya
Maiden voyage: 18th December 1931, London to Bombay.
Gross displacement; 12,150 tonnes
Length: 150.3 metres
Beam: 19.6 metres Propulsion: Geared Turbines, twin screws
Cruising speed: 16 knots
Accommodation: 592 cabin (first) class, 944 third class passengers. Changed in 1955 to 28 first class and 1,173 tourist class.
Previous names: Kenya (1930), Hydra (1941), Keren (1941), Kenya (1949), Keren (1949), Kenya (1949), Fairstone (1950), Kenya (1950), Keren (1951-52).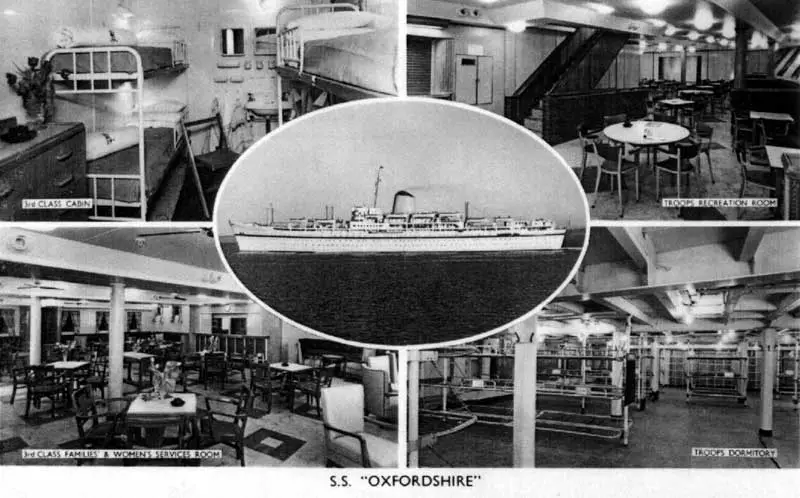 Souvenir postcard from the troop ship Oxfordshire
Oxfordshire; Fairstar (1957 – 1997)
Of all the passenger liners to have visited Australia's shores, there is none more well known than Fairstar, her 33 year association with Australia being one of the longest of any ship in history. She was built for as troop ship Oxfordshire in 1957, with her almost identical sister ship, the 1956 built Nevasa. HMT Oxfordshire and Nevasa transported countless service men and woman to and fro from the UK to a range of ports, however, her decline came about due to the rapidly changing political scene. After five years of service, the two ships were withdrawn in October and December 1962 respectively.
In February 1964, Sitmar Lines signed a six year charter agreement, with option to purchase her at a later date. Sitmar had won a six year contract for the Australian migrant run and sent the ship to Wilton-Fijenoord in Holland for a rebuild and refit at a cost of $5 million. During the refit, Sitmar took up its option to purchase the vessel and renamed her Fairstar. Her maiden voyage under the new name commenced on 19th May 1964. In 1965, Sitmar Line then broadened its operations and commenced a series of successful South Pacific cruises from Sydney utilising the Fairstar, Fairsky and Castel Felice.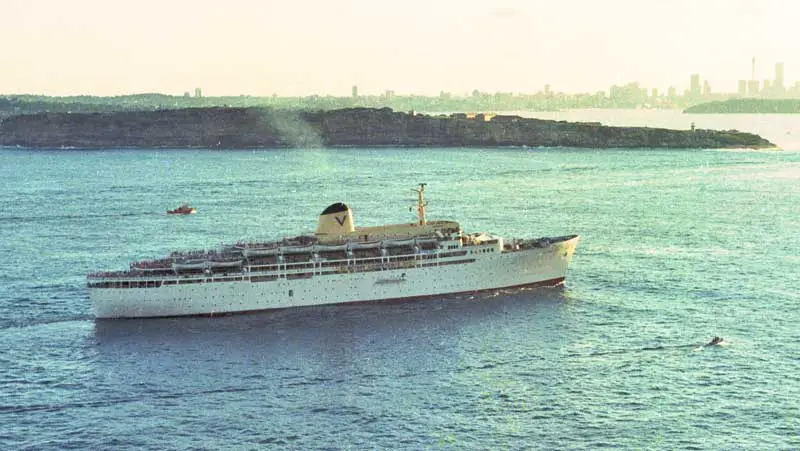 Fairstar Entering Sydney Harbour
Sitmar lost its migrant contract to Chandris Line in 1970, however the era of migrant sea travel to Australia from Europe was fast coming to an end. Chandris Line's migrant charter expired in 1977; the line's Australis made its last voyage on the Southampton-Piraeus-Australia migrant run in October 1977, bringing to a close a 189-year era in Australia's history. Fairstar's popularity allowed its regular run to Australia to continue for some years before reverting exclusively to South Pacific cruising. On 23rd December 1974, Fairstar departed Sydney with a full cruise capacity of 1,280, her first as a Sydney based cruise ship. Cleverly marketed as the Fun Ship, she enjoyed great success cruising the South Pacific.
In 1997, after 23 years in that role, Fairstar's career came to an end. Her old machinery was near total collapse and the expense of bringing her up to the new standards introduced in 1997 could not be justified. On 12th February, 1997, Fairstar sailed through Sydney Heads for the last time on her way to Alang, India, where she would be beached and broken up. Fair Princess (former Sitmar Line's Fairland, see The New Fairsea below), which had been a regular visitor to Australia on her Pacific cruise run since November 1985, was moved to serve the Australian market as Fairstar's replacement.
Specifications
Built by Fairfield Shipbuilding & Engineering Co., Glasgow, Scotland in the Govan Yard for Bibby Line.
Launched 15th December 1955 by Mrs Dorothea Head, wife of the British Minister of Defence
Gross displacement: 21,619 tonnes
Length: 171 metres
Beam: 24 metres
Propulsion: double reduction turbine, twin screw
Cruising speed: 17 knots
Accommodation: (as Oxfordshire when carrying paying passengers) 220 first class, 100-second class and 180-third class; (as Fairstar) 1,870 single class passengers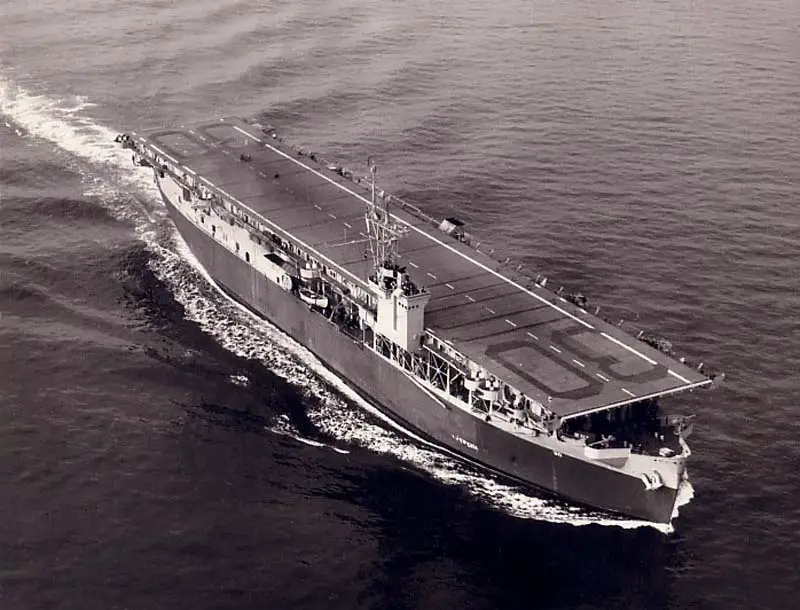 USS Charger
Rio De La Plata; USS Charger; Fairsea (1941 – 1969)
Originally called the Rio De La Plata, Fairsea was built as a cargo-passenger vessel for the Moore-McCormack Line for its New York-South America service. Before being completed, she was commandeered by the US Navy and converted into an aircraft carrier escort and renamed HMS Charger. Released from duty in March 1946, she was handed back to Moore-McCormack Line who removed her flight deck and converted her to a troop carrier. In that guise she was laid up and offered for sale. Sitmar's Alexandre Vlasov purchased the vessel in 1949.
Renamed Fairsea, she was rebuilt for his Alva Steamship Company as a passenger ship to fulfill his contract to bring displaced persons and refugees from Europe to Australia. The Fairsea departed Genoa, Italy for her maiden immigrant voyage to Australia on 3 December 1949, reaching Sydney on 30 December. She regularly operated the Bremerhaven – Sydney service carrying refugees and displaced people, but always returned empty due to the restrictions of the IRO contract. In 1955, when the Georgic was withdrawn, Fairsea was chartered to carry British migrants. The first non-British ship to be allocated to this service, she left Southampton for the first time on 6th December 1955, and served in this role for the next 18 months. It was then decided to use Fairsea on a round-the-world route from Britain to Australia.
In February 1957, Fairsea crossed the Tasman for the first time to visit New Zealand, then crossed the Pacific for her first transit on the Panama Canal. In July 1957, Fairsea made the first of three round trips from Bremerhaven to New York, then was withdrawn for six months to undergo an extensive refit. The appearance of the ship was changed considerably, in Triest – the superstructure was raised one deck, and the forward section plated in. Internally, full air-conditioning was installed, the accommodation was changed from stark, open dormitories with hammocks to enclosed cabins, and new public rooms were added. Emerging in April 1958, her tonnage had been increased to 13432 Gross. Fairsea now offered accommodation for 1460 tourist class passengers, and she was transferred from Panamanian to Italian registry, and the ownership of Sitmar Line, (Societa Italiana Trasporti Marittimi), Genoa. The Australian Government charter was renewed and she continued operating as a migrant ship, also making voyages to New Zealand.
Three young boys who later became famous as The Bee Gees migrated to Australia with their parents on the Fairsea's second voyage to Australia after the refit in August 1958. A 9 year old Redmond Symons, who later became a member of the music group Skyhooks, and Pete Watson, who would become the bass player of MPD Limited, were also on board, migrating to Australia with their families. Thw two boys were entertained by the three Gibb Brothers, Barry, age 11, and twins Maurice and Robin, age 8, in the prow of the Fairsea, with Barry playing guitar.
Symons has memories of water pistol fights with the twins. Red and Pete disembarked at Melbourne, Red's family settling in Emerald on the outskirts of Melbourne. The Gibb Brothers stayed on board and travelled on to Brisbane. Eight years later, Pete was to return the favour and play bass with his fellow MPD Ltd band members Mike Brady (guitar) and Danny Finley (drums). They providing vocal and instrumental accompaniment to The Bee Gees during their mid 1960s recording sessions at Ossy Byrne's studio in the Sydney suburb of Hurstville.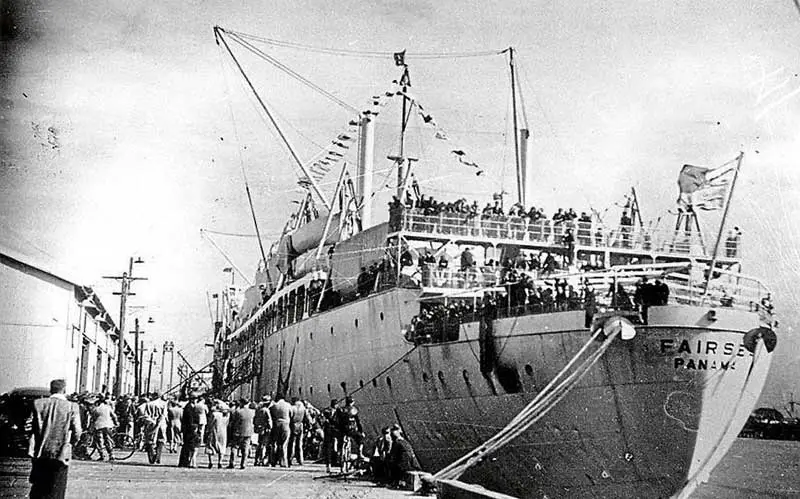 MV Fairsea
In 1961 Fairsea was given another extensive refit, during which the accommodation was further upgraded, and capacity reduced to 1212 in one class. She returned to the Australian migrant run after the refit. On 7th July 1966, Fairsea departed Sydney on her first cruise, visiting Hayman Island, Brisbane and Melbourne, immediately followed by her second cruise, to Cairns, Hayman Island and Melbourne. At that time, Sitmar were not heavily involved in cruising, and Fairsea made very few such trips.
In 1968, Fairsea reverted to Panamanian registry again, but still operated as a unit of the Sitmar fleet, but was due to be withdrawn in 1970 upon the loss of Sitmar's migrant contract to Chandris. On 14th January 1969, Fairsea left Sydney for New Zealand and Britain, with 986 passengers on board. On 29th January 1969, an engine room fire disabled the vessel when she was midway between Tahiti and Panama. The freighter Louise Lykes arrived on the scene, and towed Fairsea to Balboa, where she arrived on 3rd February 1969, with her passengers still on board. They were all flown to their destinations from Panama, while Fairsea was inspected to decide her future.
Being one of a very few ships to have been fitted with Doxford geared diesels, spare parts were no longer available, and it would have been necessary to have new parts designed and manufactured to repair the damage. This was considered to be uneconomic, so she was sold to shipbreakers in Italy. On 9th July 1969, Fairsea left Panama under tow of the tug Vortice, arriving on 6th August 1969 at La Spezia where she was sold for scrap.
Carinthia; Fairland; Fairsea; Fair Princess; China Sea Discovery (1965 – 2005)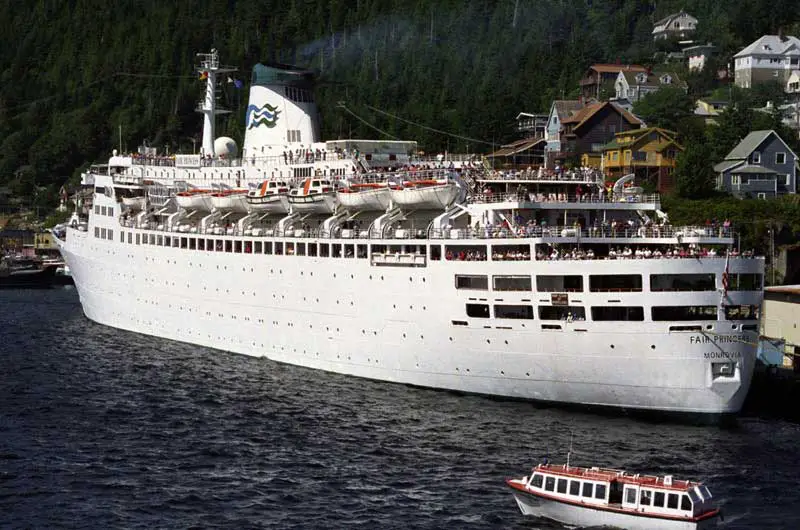 MV Fair Princess
In 1970, Sitmar's Fairland and Fairwind were sent for major refits as cruise liners, essentially for the US market. After their completion, Fairland was renamed Fairsea, and the pair became elegant, sleek looking vessels for their day. Their onboard facilities were second to none for its day, being ideal ships for the fussy US cruising market. In 1988 P&O; Princess Cruises purchased Sitmar. Fairsea was renamed Fair Princess and Fairwind became Dawn Princess.
Fair Princess made her first visit to Australia when she called into Sydney on 10th November 1988, whilst on a Pacific cruise. In 1995 P&O; Princess Cruises decided to sell the Fair Princess as the American public considered her dated and was considered too old. She was purchased by Regency Cruises and she was to be renamed Regent Isle. However, Regency went bankrupt at the same time and Fair Princess remained with Princess Cruises. She was laid up for almost a year, in Los Angeles and several months in Matzatlan, Mexico, but as fate would have it, Fair Princess was returned to cruising out of Australia until 2001.
Fair Princess was then sold off and became the China Sea Discovery in 2001. She operated as a floating casino at Hong Kong until in August 2005 when her operators went into bankruptsy. The vessel, the last of the Saxonia Class Liners, was sold for scrap to ship breakers in Alang, India.
Specifications
Built by Sun Shipbuilding & Drydock Co., Chester, USA for Moore-McCormack Line, New York as Rio De La Plata
Gross displacement: 13,317 tonnes
Length: 150 metres
Beam: 21 metres
Propulsion: motor vessel diesel, single screw
Cruising speed: 16 knots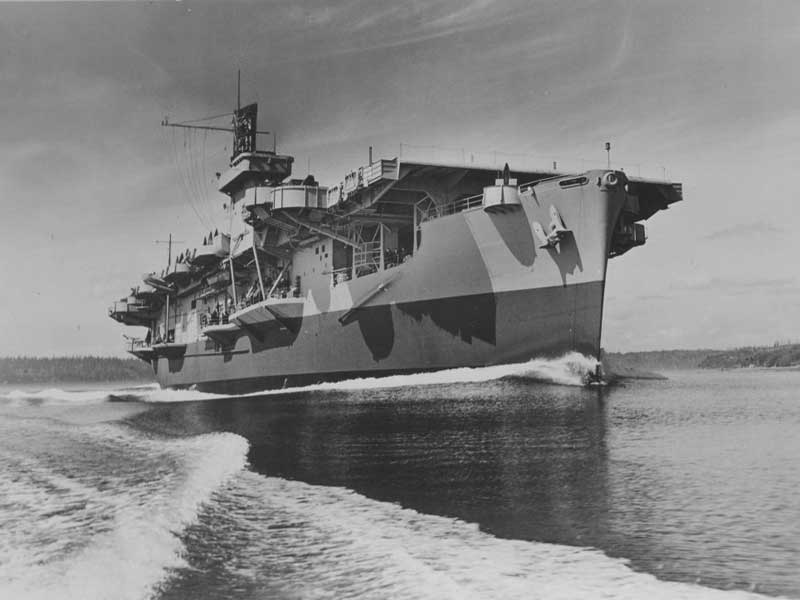 USS Barnes
USS Barnes; HMS Attacker; Castel Forte; Fairsky (1942 – 1979)
Another popular and well Australian migrant/cruise vessel, Fairsky was built as a C3 class cargo ship in 1941. She was to be named Steel Artisan but three month after her keel had been laid down, the incomplete ship was taken over by the US Government for use as an escort aircraft carrier capable of carrying up to 18 aircraft, to be named USS Barnes. Soon after completion, she was transferred to the Royal Navy, and renamed HMS Attacker.
After serving mostly in the North Atlantic, she reverted back to the US Navy after the war, was laid up and placed on the market. She was sold in 1947 to a New York company who commenced the removal of armaments and the flight deck. In 1950, Navcot Corp., a company set up by Alexander Vlasov, founder of Sitmar Lines, purchased her. Vlasov had just acquired a contract to transport migrants to Australia and planned to use the vessel for this purpose. Renamed Castel Forte, she was laid up yet again and finally, 12 years after the war ended, she was sent to New York for conversion into a passenger ship and renamed Fairsky.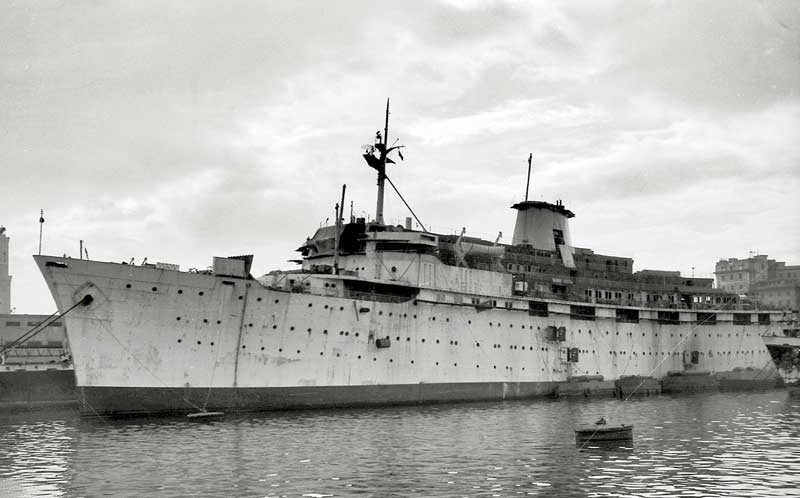 Castel Forte
Her maiden voyage as a migrant ship to Australia began at Southampton in June 1958, arriving in Melbourne via the Suez Canal on 27th July 1958. Fairsky remained a migrant ship until 1970 when Sitmar lost its migrant contract to Chandris Line. She continued sailing to Australia but was laid up in 1972 through lack of custom. Fairsky returned to Australia 18 months later to operate cruise services out of Australia on a permanent basis.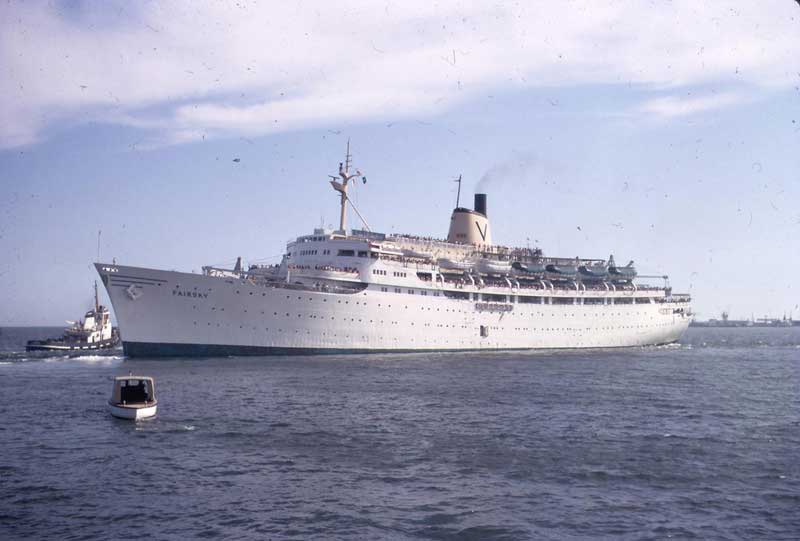 MV Fairsky
The Australia folk group, The Seekers, signed up for a twelve-month position as on-board entertainment on the Fairsky in March 1964. In May, they travelled to the U.K. on their first journey with Sitmar, and had intended to return to Australia after staying ten weeks, but upon arrival they were offered work by a London booking agency, the Grade Organisation. The Seekers began recording and performing, and the rest, as they say, is history.
During a cruise in 1977, Fairsky struck a submerged wreck off Jakarta. Badly holed she was beached and repaired sufficiently to make it to a dry dock in Singapore. The damage was so great, a decision was made to scrap her. She was towed to Hong Kong and while awaiting demolition, an offer to purchase her was accepted. Her new owners repaired the damage and turned her into a floating Casino and Hotel in the Philippines called the Philippine Tourist. On 3rd November 1979 she was completely gutted by fire. Fairsky was promptly towed to Hong Kong where she arrived to be broken up on 24th May 1980.
Specifications
Built by Western Pipe & Steel Co in San Francisco, USA, for Isthiam Steam Ship Co. as a C3 class cargo ship to be named Steel Artisan
Gross displacement: 12,424 tonnes
Length: 148 metres
Beam: 21 metres
Propulsion: double reduction turbine, single screw
Cruising speed: 18 knots
Accommodation: 1,461 single class passengers