Springbrook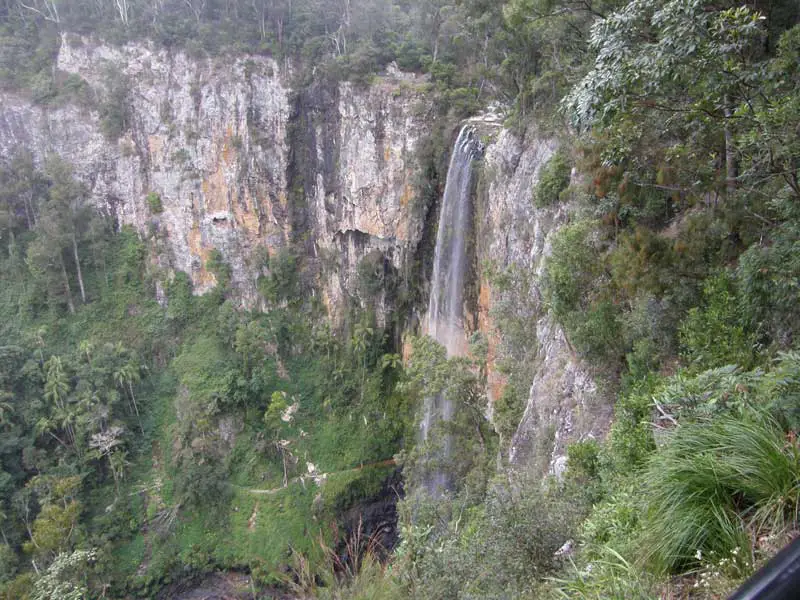 Purling Brook Falls
Springbrook, a rural town of nearly 700 people, is the main access road is from Mudgeeraba. The town of Springbrook backs on to the Springbrook National Park and has walking-track access to the single-drop 106m Purling Brook Falls. South of Springbrook, steep roadways through the Numbinbah Valley offer one of the most picturesque drives on the Gold Coast. Bush trails lead to Springbrook Mountain. Dramatic Purling Brook Falls can be viewed from a suspension bridge below. The Twin Falls cascade into 3 rock pools.
Location: 28 km west of Tweed Heads.
The Springbrook plateau is the most easterly spur of the McPherson Range. It has an average yearly rainfall of 120 inches or 300 cm, and a sub-tropical maritime climate. As well as having sub-tropical vegetation, the plateau has warm and cool temperate rain-forests. An improved road with lower gradients was built in 1925-28, leading to a boom in tourism and guesthouses. The first guesthouse, Rudders, had opened in 1925, and by the end of the 1930s there were seven, along with cafes and self-contained accommodation. A bus also brought visitors from Southport for wholesome holidays at Queensland's 'premier mountain resort'.
Until the early 1960s Springbrook was a tourist drawcard, but it went out of fashion in the heyday of beach tourism. A revival came in the next decade, led by retirees, alternative life-stylers and day-trippers seeking scenery and local crafts.
Springbrook National Park
Nestled between Lamington National Park and the coastline, Springbrook National Park is renowned for its waterfalls and ancient Antarctic Beech trees, and is home to wildlife including koalas and rare birds. The National Park is part of the Gondwana Rainforests of Australia, World Heritage Area (1994). The southern part of the National Park, known as The Canyon, has the headwaters of the Little Nerang and Mudgeeraba Creeks, with spectacular waterfalls and lookouts. West of there, the Natural Bridge section makes up the balance of Springbrook National Park. (The Natural Bridge is a cave formation with a glow-worm colony). The Natural Bridge features one of Australia's most photographed waterfalls.
Springbrook National Park offers a wide range of walking opportunities ranging from 300m to 54km in length. The Gold Coast Hinterland Great Walk starts (or finishes) at The Settlement camping area. If you are interested in undertaking this 54km walk, please read the walk's details on the Park's website so you can better plan your Gold Coast Hinterland Great Walk. Springbrook National Park's walking tracks have been classified so you can select a walk that matches your bushwalking experience and fitness.