Britain's Islands
You may be surprised at how many fascinating and unspoiled islands there are around Britain. From the golden sands of Jersey to the remote allure of the Shetland Islands, there is always something just a bit magical about stepping off the mainland to explore the outer reaches of the British isles. Here are some of the top offshore spots we've found.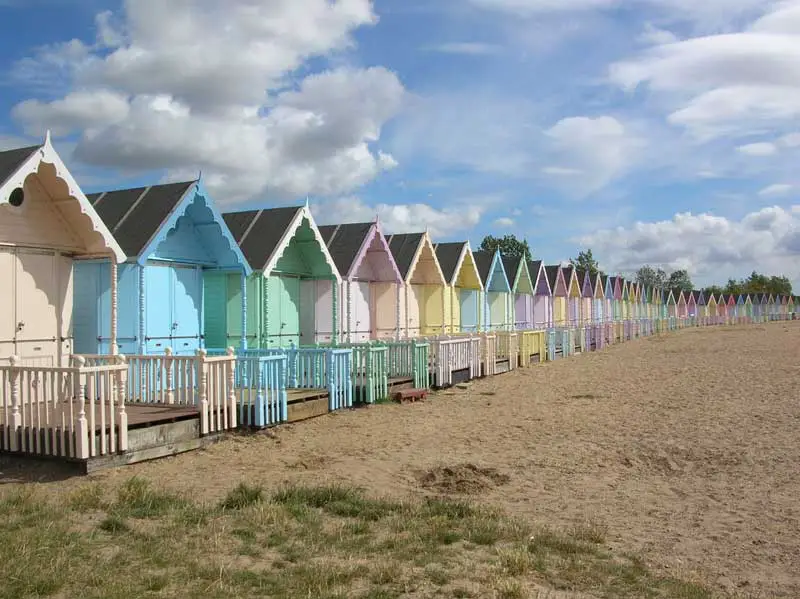 Mersea Island
It is odd that Mersea, Britain's most easterly inhabited island, is not more of a household name, given the reputation of its oysters. Cultivated in these Essex creeks since Roman times, Colchester oysters make their way into the kitchens of everyone from Gordon Ramsay to The Ritz, though they are best eaten fresh here.

Mudflats, bleakly beautiful in a certain light, cling to the island, which sits in the estuary of the Colne and Blackwater rivers. There's a dark blonde beach backed by a strip of pastel huts, good spots to swim and a windsurfing club. More beaches can be found in the Cudmore Grove country park. Each August, more than 200 boats take part in a regatta, which includes watersports in the afternoon, fireworks at night and the Cobmarsh marathon rowing races.

Mersea Island is located in North East Essex between the Blackwater and the Colne Estuaries. It is linked to the mainland by a causeway, known as The Strood, which is covered at very high tides for an hour or 2. It is approximately 5 miles long by 2 miles wide. The main settlements are the town of West Mersea and the village of East Mersea. A regular bus service links West and East Mersea to Colchester via the Strood and Abberton. A ferry runs from East Mersea to Point Clear and Brightlingsea on the other side of the Colne estuary, including a scheduled service in the summer and a dial-on-demand service in the spring and autumn.


More about Mersea Island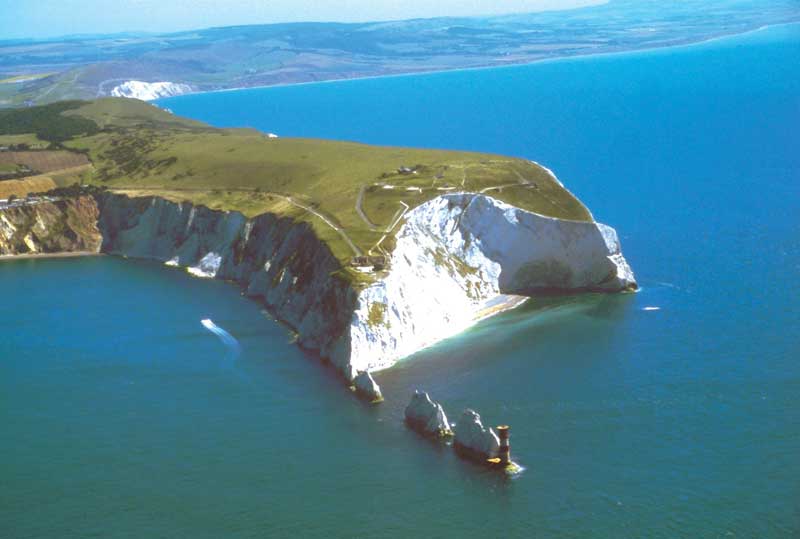 Isle of Wight
Its sandy beaches, model village and working steam railway, make the Isle of Wight the perfect family getaway. Situated less than five miles off the coast of Hampshire, the South Coast island is most easily reached by hovercraft, departing from Southsea in Portsmouth and arriving at Ryde just 10 minutes later. The journey across the solent is the last commercial hovercraft route operating anywhere in the world, which makes for a quirky and nostalgic welcome to this charming and unique island.

The Isle of Wight is like a pocket version of the south-west of England, without the moors and tors. In the space of an hour, you can travel from blustery downs to empty salt marshes; from bucket-and-spade resorts on the east to the wilder beaches of the south-west, where fossil remains and dinosaur footprints emerge at low tide.

Popular attractions on the Isle of Wight include The Needles Landmark Attraction – a fun-packed amusement park on the site of an extraordinary row of chalk cliffs that rise from the sea, award-winning beaches at Shanklin, Sandown and Ventnor, and of course the Steam Railway. Being relatively large among UK islands, the Isle of Wight offers all types of accommodation, from luxury spa to B&Bs; and camping.

As well as being a great base for a family holiday, the Isle of Wight is well known for its music festivals which include Bestival, Jack up the 80s and the Isle of Wight Festival itself, which famously put on such rock greats as Bob Dylan, Jimi Hendrix and The Who during the 1970s.


More about Isle of Wight

Anglesey
With a population of nearly 70,000, Anglesey is one of the larger islands in the UK, and its relative size means there is no shortage of things to do on your visit. From fairytale castles to water parks, aquariums to motorbike circuits, there's something on the island to suit travellers of all tastes. A favourite spot is Llanddwyn Bay in the south, where miles of sand frames the mouth of the Menai Strait and the floating mountains of Snowdonia. At one end of the beach is the little island of Llanddwyn, with a ruined chapel remembering St Dwynwen, the patron saint of lovers.

Anglesey is located off the Northwest coast of Wales, and most of its coastline has been officially designated an Area of Outstanding Natural Beauty (AONB). Its scenery is often described as being like a 'moonscape', with uncrowded beaches and miles of golden sand.

Getting to Anglesey from mainland Britain is easy, thanks to the modern wonder that is the Severn Bridge: you can simply drive across (NB a toll is payable when crossing into Wales from England on the M4 and M48), taking in the gorgeous scenery en route.

Holyhead is the gateway to the beautiful island of Anglesey. From here you can explore Bangor, just across the Menai Strait which separates Anglesey from the mainland, or carry on to the Snowdonia National Park, where miles of green, vast lakes and the Snowdon peak are waiting to be hiked and enjoyed. Alternatively, discover the beaches, cliffs and pretty villages of Anglesey, or visit landmark Holy Island where a Roman fort, quaint church and small, scalable mountain are your reward.


More about Holyhead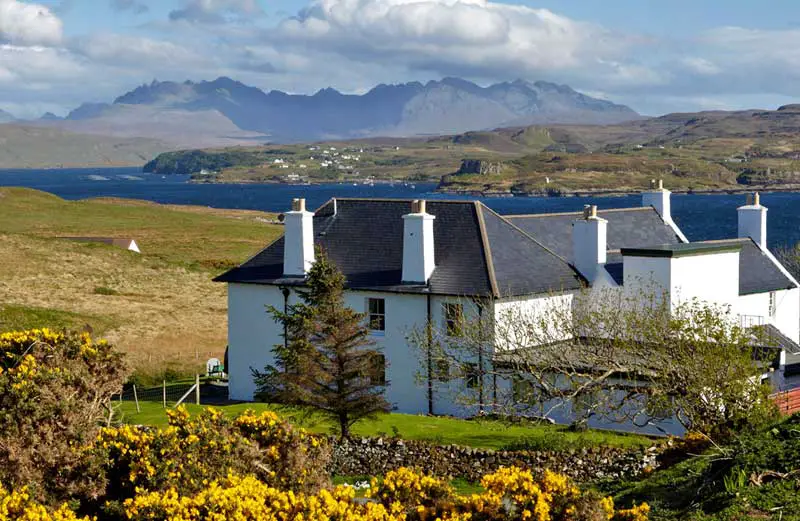 Skye
Skye is among the most rugged and romantic islands in the UK, and is also one of the largest of the Scottish isles. The most northerly of the Inner Hebrides, Skye is famed for its dramatic, mountainous scenery, misty skies and abundant wildlife, all of which have long made it a huge hit with visitors. But thanks to its size, Skye retains a remote and spacious appeal despite its popularity.

Most people come to Skye simply to take in the breathtaking scenery and clean air, but there is plenty to do beyond walking, hiking and admiring the view: speedboat trips around the island are a thrilling way to see the sights, while those who prefer to take it a bit more slowly can enjoy a 2-3 hour boat trip along the coast. There are also several 'jeep safari' tours available, which offer a great tour of Skye on days when the weather may present a challenge to al fresco activities.

Getting to Skye from the Scottish mainland is easy, due to the road bridge that connects the island to the North West coast. There are no tolls to use the Skye bridge.


More about Skye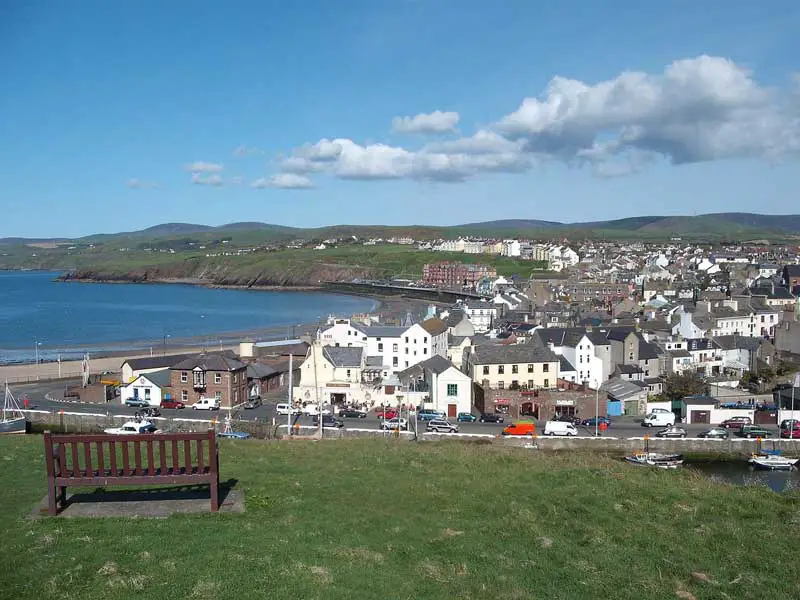 Isle of Man
The Isle of Man occupies a uniquely central position, right between England, Ireland, Scotland and Wales – although the island itself is not part of the United Kingdom, but a self-governing body of the crown. Due to the island's location it is equally accessible from most parts of the country, and makes for an easy and memorable trip. The Isle of Man has just been awarded UNESCO Biosphere status, recognising the diversity of its natural habitats'.

The Isle of Man is blanketed in tranquil green countryside. You're welcomed to the port of the capital city Douglas by a sweeping bay and pretty marina filled with fishing boats. Elsewhere on the island, Castletown is the historic capital boasting a medieval castle, and Peel is a popular day trip. Sitting on St Patrick's Isle, which is connected to the mainland by a causeway, it is home to Peel Castle and the Isle of Man's only cathedral.

This is a fascinating place that has plenty of man-made wonders to discover. One such point of interest is the Laxey wheel; an impressive feat of Victorian engineering and largest water wheel in the world. The wheel still pumps water from the nearby Laxey Mines, and visitors to the attraction can climb to the top of the giant wheel for a spectacular view across the island. Other interesting Manx attractions include a viking burial site, the Calf of Man bird observatory and the stunning Spooyt Vane Waterfall.

To reach the Isle of Man from the British mainland, you'll need to travel by sea or air. Ferries take between 2 and 4 hours, with crossings from English ports at Liverpool or Heyham, or from Larne in Northern Ireland. Flights are also available taking just 20 minutes from Liverpool or Blackpool, and an hour from London.


More about Isle of Man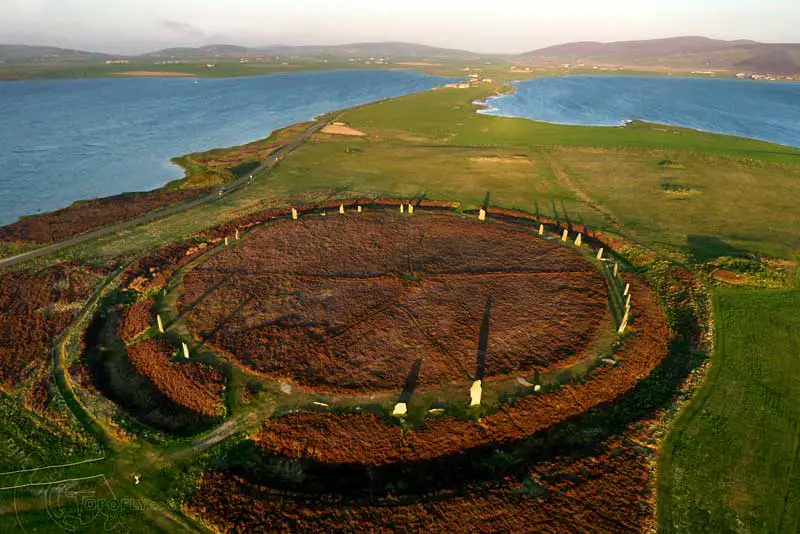 Orkney Islands
There are 70 Orkney Islands in total, with 1,000 miles of stunning coastline between them and vast stretches of open green space inland. Orkney is known as the mainland, despite being an island, and its capital Kirkwall is a popular stop on cruise itineraries. The magnificent sandstone St Magnus Cathedral is a highlight of this charming market town – oh, and it boasts not one but two palaces too. If they're not quite grand enough, Orkney's imposing Balfour Castle should hit the spot.

Despite its slightly misleading name, Mainland Orkney is a bona fide island, surrounded by the Norwegian and North Seas. With its Capital of Kirkwall, and the settlement of Stromness it is by far the largest island of the Orkneys, with a population of over 17,000. By making Mainland Orkney your base, you'll be well-placed for discovering Orkney's unique heritage, culture and traditions, with the opportunity to venture out into the more remote, less populous neighbouring islands.

The Orkneys are mysterious and fascinating places to visit, each one rich with relics from the ancient past. The islands' Neolithic ancestry is evident across much of its rugged landscape, which is punctuated by stone circles, monuments and tombs – many of which are to be found on Mainland Orkney itself. Be sure to visit UNESCO World Heritage site the Heart of Neolithic Orkney, for a trip back in time looking back over 6,000 years. To really stray from the beaten track, take an island hopping trip around the smaller Orkney islands, starting at Kirkwall.

There are several options for travelling to Orkney. Direct flights are available from London, Edinburgh and Glasgow, while ferries depart from several Scottish ports – the quickest journey by sea is the 40-minute crossing from John O'Groats.


More about Orkney Islands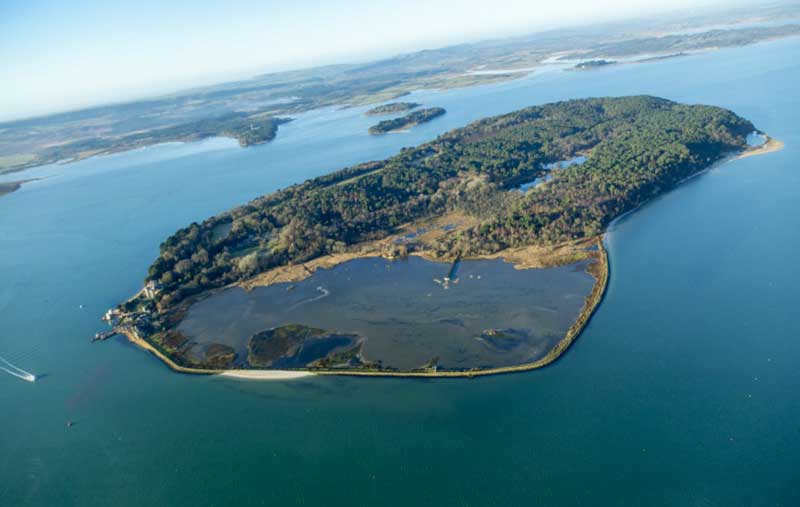 Brownsea Island
Located off the coast of Poole in Dorset, Brownsea island is owned in its entirety by the National Trust. A nature-lover's paradise, it plays host to some of Britain's rarest species, notably the red squirrel which has survived despite being wiped out everywhere else in the country by its American cousin, the grey squirrel. You can see plenty of these red-coated critters on Brownsea, along with deer, herons and even peacocks, which have the freedom to strut around the island at will.

Aside from the glorious wildlife, a key attraction of Brownsea island is its open air theatre, which has been putting on works of Shakespeare annually since 1964. Many visitors choose to take a picnic along to these amazing al fresco events. The island also has an interesting connection with the Scouting movement, began life on the island in 1907 as an experimental camp. Accommodation on the island today is extremely scarce, so it is mostly a destination for day trips. However there are two holiday cottages by the quayside available for booking if you're lucky to book at the right time!

Ferries depart every half hour from Poole Quay from 10am, taking foot passengers only. Bicycles are not allowed to be brought on to the island.


More about Brownsea Island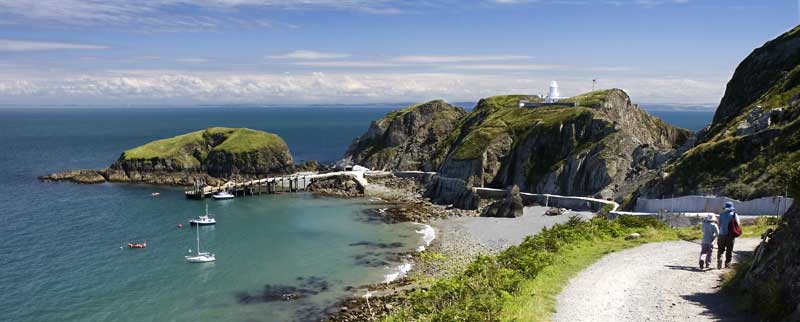 Lundy
Lundy is one of the best UK islands for those who want to escape big city life and get closer to nature. Cast adrift in protected coral waters, the tiny island of Lundy is a haven for marine life, seabirds – including a small colony of puffins – and those in search of peace and nature at its unspoilt best. This car-free reef of granite and heathland, just three miles long and a mere half a mile wide, is also home to seals, deer and a rare local cabbage plant.

Located at the blustery mouth to the Bristol Channel, Lundy is an important breeding ground for seabirds; go before mid-July to see thousands of guillemots and razorbills nesting on its western shores. Arrive in early summer and the indigenous cabbage will be in vibrant yellow bloom; or opt for late summer to see basking sharks return to the plankton-rich waters of England's first marine wildlife reserve. Pack a telescope: Lundy's lack of light pollution makes for star-studded night skies.

Your journey to Lundy will depend on the time of year you choose to travel: in winter, the only option is a seven-minute helicopter ride from Hartland Point in Devon. During the summer, you can take a scheduled ship, The Oldenburg: a wood-panelled motor vessel that takes around two hours to make the crossing from Bideford to Lundy. If you're lucky, you might spot pods of dolphins en route to the island.


More about Lundy Island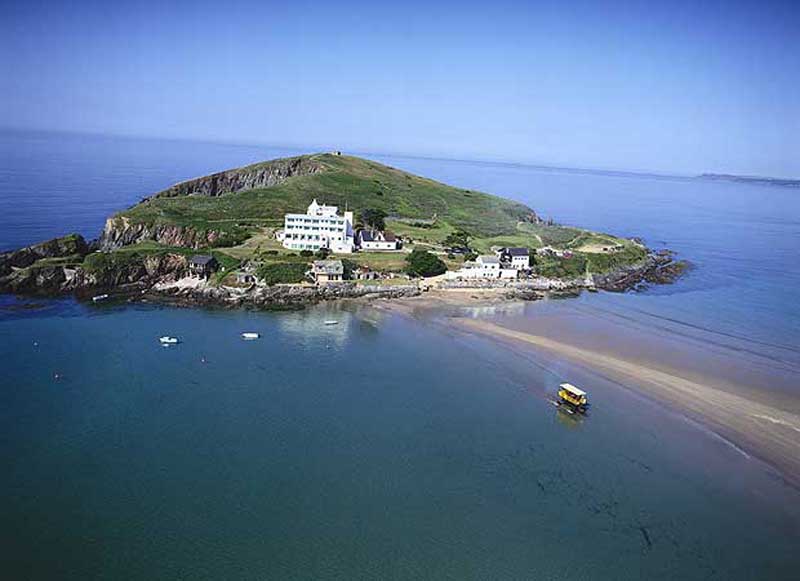 Burgh Island
Burgh Island, located off the South Devon coast, is a well-tended and charming spot with a strong literary and cinematic history. The island inspired much of Agatha Christie's work, particularly Soldier Island ('And Then There Were None') as well as scenes from the Poirot series. Burgh has also become associated with Noel Coward, who was a regular visitor at its iconic Art Deco hotel; an opulent 1930s landmark that dominates this tiny island's rocky coastline. Architecturally similar to a cruise ship, the hotel offers a luxurious experience, with its roaring log fires, sun terrace and spa.

Burgh is a tidal island, meaning that it's connected to land by a natural causeway that can be crossed on foot at low tide. When the tide comes in and the island is completely surrounded by water, access is made possible by the 'sea tractor'; a rather extraordinary vehicle that makes regular crossings between Burgh and the mainland for a small fee.


More about Burgh Island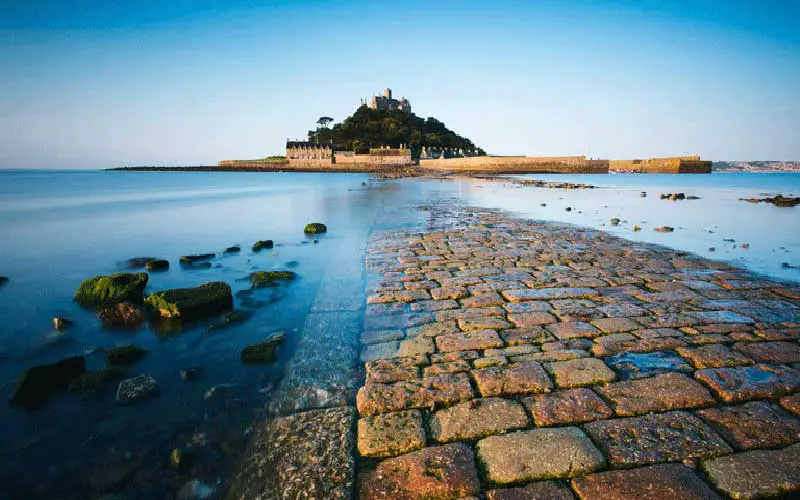 St. Michael's Mount
The town of Marazion is the gateway to the enchanting National Trust managed St. Michael's Mount. Dominating Mounts Bay it rises majestically almost 89 metres from sea level to the tower, chapel and battlement of the castle. The island is a civil parish and is linked to the town of Marazion by a man-made causeway of granite setts, passable between mid-tide and low water, or by ferry. The grandeur and wealth of history of St Michael's Mount, with its fairy tale castle, make it a unique attraction in Britain.

Historically, St Michael's Mount was a Cornish counterpart of Mont Saint-Michel in Normandy, France (with which it shares the same tidal island characteristics and the same conical shape, in spite of being much smaller), when it was given to the Benedictine religious order of Mont Saint-Michel by Edward the Confessor in the 11th century. It was a priory of that abbey until the dissolution of the alien houses as a side-effect of the war in France by Henry V, when it was given to the Abbess and Convent of Syon at Isleworth, Middlesex in 1424. Thus ended its association with Mont St Michel.


More about St. Michael's Mount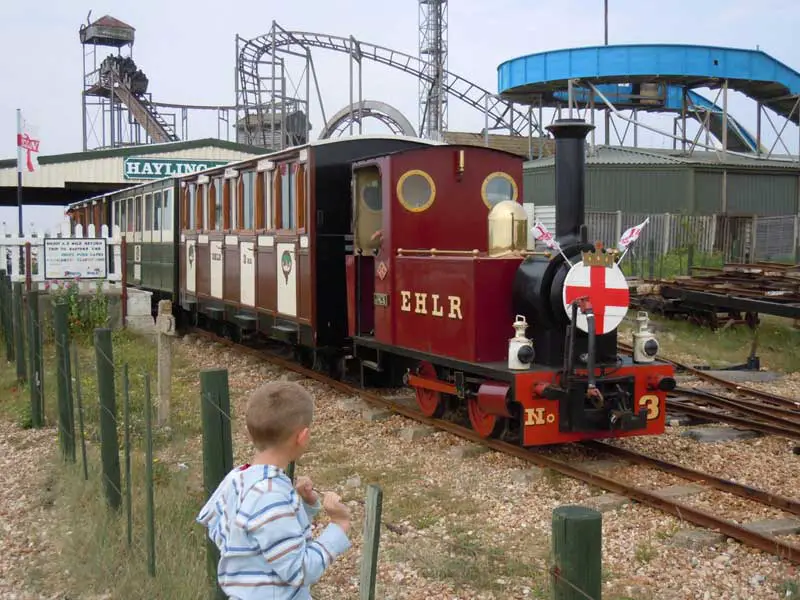 Hayling Island
Hayling Island sits just off the coast of Portsmouth, Hampshire. Loved by families in particular, it is a great place to experience the trappings of a traditional British seaside holiday, complete with funfairs (including some hair-raising roller coasters), beach huts and sandy beaches that have been awarded Blue Flag status for their cleanliness.

Hayling has played a big part in the history of holidays and leisure and is credited with being the birthplace of windsurfing, which is still a popular activity on the island. Beaches around the island are quite sheltered with plenty of shallow areas, so this is a great place for beginners to learn the sport.

Access to Hayling Island is easy, as there is a road bridge via the A3023. If you're taking public transport the nearest station is Havant, which is 5 miles away. Taxis and buses are available to make the rest of the journey on to the island.


More about Hayling Island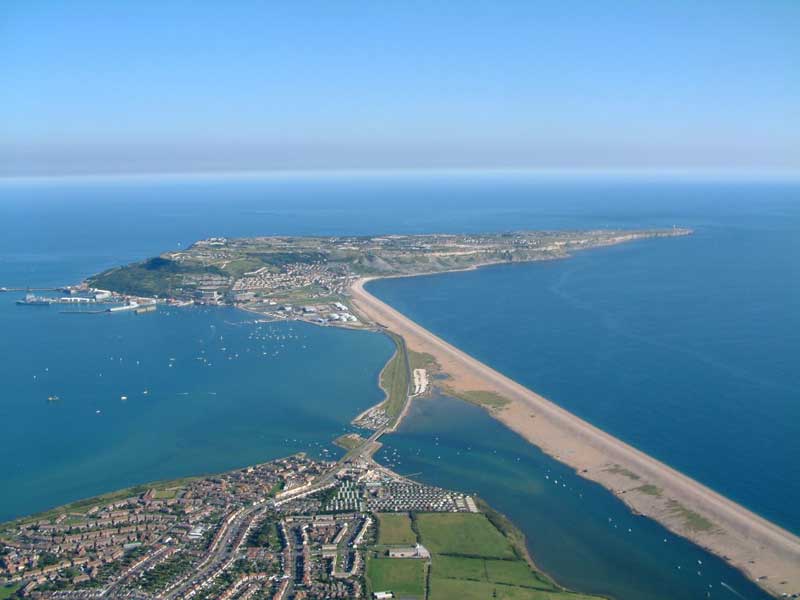 Isle of Portland
The Isle of Portland on Dorset's Jurassic Coast is both a place of prehistoric interest and of maritime significance, as the Royal Navy once had its headquarters here. Its most famous landmark is the iconic red-and-white striped 'Portland Bill'; an important waypoint for coastal traffic that stands 114 feet high, and can be visited for spectacular views along the South coast and beyond.

On the North side of the island stands Portland Castle: one of Henry VIII's greatest coastal forts, built to withstand the threat of French and Spanish invasion. This well-preserved castle offers a fascinating trip back in time with its tudor kitchen and gun platforms, as well as its gorgeous heritage gardens and tea room.

Getting to Portland is easy, as it is partly connected to the English mainland by nearby Chesil Beach – the slender shingle structure or 'tombolo' made famous by the 2007 novel by Ian Mcewan. A highly unusual natural feature that is bursting with wildlife, Chesil is an attraction in its own right.



Shetland Islands
Lerwick is the capital of the Shetlands. In fact, it has to be, as it is the 'mainland's' only town. The waterfront here is a hub of activity, with boats constantly coming and going on their explorations of the other isles. Keen walkers will be in their element in the Shetlands, and there's a lot to discover, from tiny fishing villages to important archaeological sites. A wealth of nature reserves also make it easy to spot wildlife, especially seabirds and, of course, cute Shetland ponies.


Foula
If the idea of getting as far away from civilisation as possible appeals, you couldn't get more remote than the Shetland island of Foula. Cast off from the main cluster of the Shetland Isles and closer to Norway than it is to parts of Scotland, this tiny scrap of land is one of Britain's remotest islands. Foula is perhaps best known for being used as the location for the 1937 film The Edge of the World – a description that certainly still resonates.

Foula is currently home to less than 40 people who live in 16 traditional crofts, many of which have Old Norse names. The Island came under Scots rule in the 15th Century, and there is still plenty to remind intrepid visitors that they are straying deep into what was once Viking country. Foula means 'Bird Island' in Old Norse, and the rare gulls, puffins and other feathered inhabitants of the island are a big draw for many visitors.

There are no taxis or public transport on the island, but at just 3.5 miles across, the everything on the island is within reasonable walking distance. Getting to Foula is an adventure in itself, and only recommended for those who are up for a challenge! You'll first need to make your way to Lerwick, the main port of the Shetland Isles, and continue by boat or by air – there are flights to Lerwick from Edinburgh and Glasgow, and ferry crossings from Aberdeen – and overnight trip of nearly 14 hours.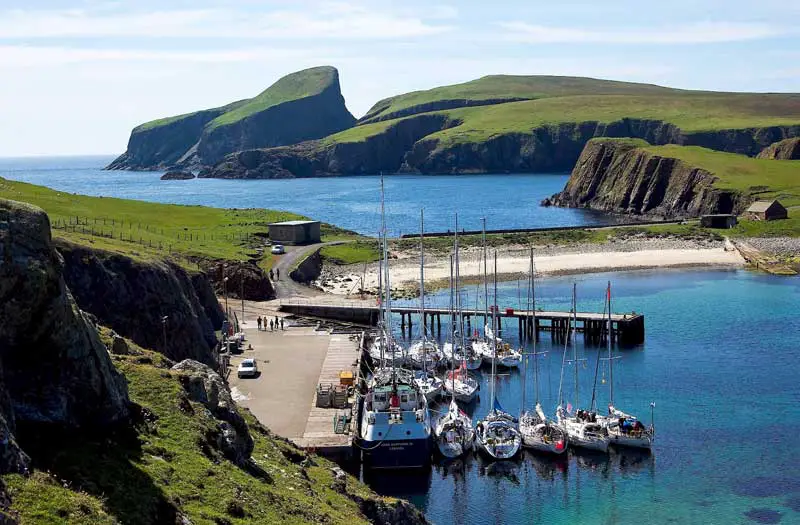 Fair Isle
The most remote inhabited island in the United Kingdom and one of the country's last genuinely wild environments. Belonging to the Shetland island group, it lies around halfway between mainland Shetland and the Orkney islands. The adventure – there is no other way to describe it – begins with a short flight in a seven-seater plane, which is simultaneously exhilarating and terrifying if it's a gusty day, from Tingwall airport on Shetland Mainland. The alternative option is a boat trip of more than two hours – even in good weather it's a challenge.

And then, well, it is up to you, with a whole island to explore, from tiny coves and inlets via peaty hills scattered with sheep to the rearing cliffs of Malcolm's Head. There are numerous walks to suit every ability, several archaeological sites and the remnants of a German plane from the Second World War. The island is a haven for migratory birds – and bird watchers – while seals, whales, porpoises and dolphins are a feature of the summer months, when it's light nearly all night. The northern half of the island consists of rocky moorland. The western coast consists of cliffs of up to 200 metres in height, with Ward Hill at 217 metres being the maximum elevation of the island. On the eastern coast the almost detached headland of Sheep Rock rises to 132 metres.

Fair Isle is also noted for its woollen jumpers, with knitting forming an important source of income for the women of the islands. The principal activity for the male islanders is crofting. The majority of the islanders live in the crofts on the southern half of the island. Crofting is a traditional social system in Scotland defined by small-scale food production. Crofting is characterised by its common working communities. Each township manages poorer-quality hill ground as common grazing for cattle and sheep.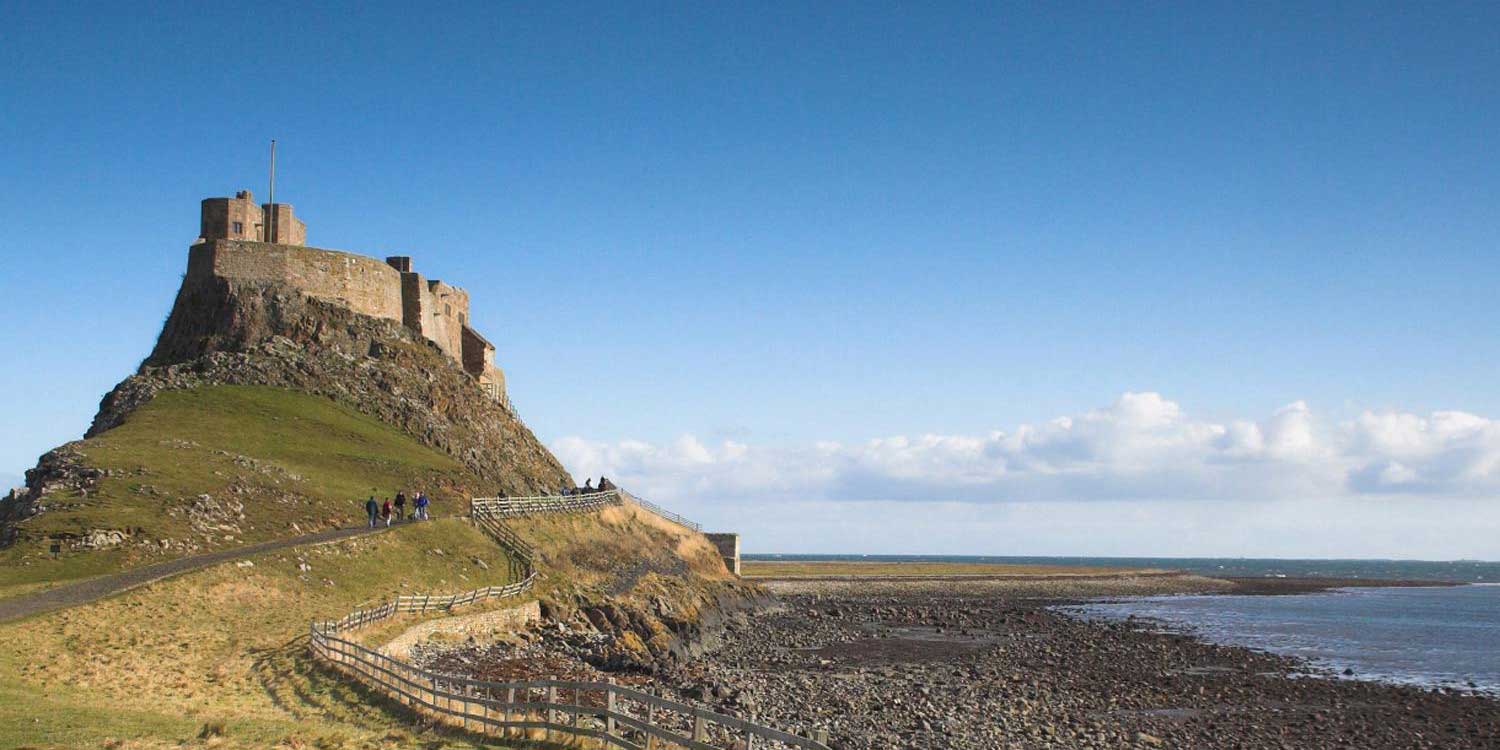 Lindisfarne
The Holy Island is beautiful and strange in equal measure. The old priory ruins and the castle look strangely out of place with modern fishing boats in the foreground. Across the island, you'll find other interesting contrasts. Moody breezes whiplash the coastline, turning the ocean into an icy landscape that looks completely inhospitable. At the same time, swans bathe in the sunny marshes that are sheltered by the island's hilly interior.

Over weekends and during the summer, the tiny population swells into the thousands. You could go to Lindisfarne for a number of reasons: bird watching, quiet relaxation or trekking. Some people come specifically to photograph the ancient ruins and contemplate the passage of time that links the island to medieval society. Just don't forget to watch the tide – the road to the "Holy Island" also disappears – literally – as the tide rises.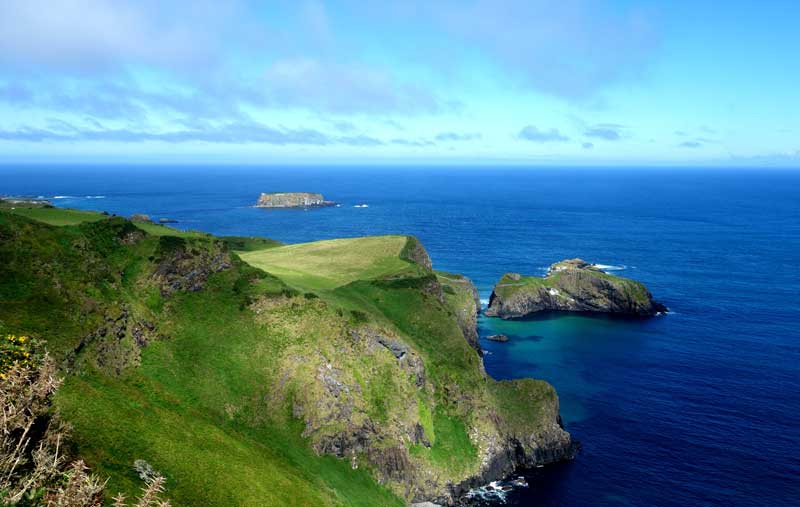 Rathlin Island
Rathlin Island is an Irish dream, just a short ferry ride from the docks at Ballycastle. Bright green hills blanket this small, but marvellously picturesque island. The cliffs show off a distinctly Irish flavour that make it great for walks. Below the cliffs you have a bird's eye perspective of the Atlantic ocean (quite literally, as the biggest sea-bird population call the cliffs home), as well as a view of the other wild residents.

The rugged shoreline is home to a large seal colony, making it a hit with nature lovers. For people wanting an actual 'getaway' in the truest sense of the word, you will be very pleased with the tranquil isolation surrounding you. The village is small and intimate, and most visitors leave with a few friends by the end of their stay.



Outer Hebrides
The Inner and Outer Hebrides are a vast and diverse collection of islands off Scotland's west coast. Any cruise here can only scratch the surface, but the small ship lines like Hebridean will help you get the most out of your visit. The Isle of Skye, the largest of the Inner Hebrides, is one of the most common stops and it's easy to see why with its unspoilt landscape, vast lochs and exciting wildlife, including sea eagles to seals. The Isle of Mull is another Hebridean beauty, where it's possible to spot whales and dolphins in the waters. As you sail into the island's capital, Tobermory, you might recognise the rainbow of cottages on the waterfront from children's TV show "Balamory" – but a trip to the town's historic whiskey distillery is just for adults.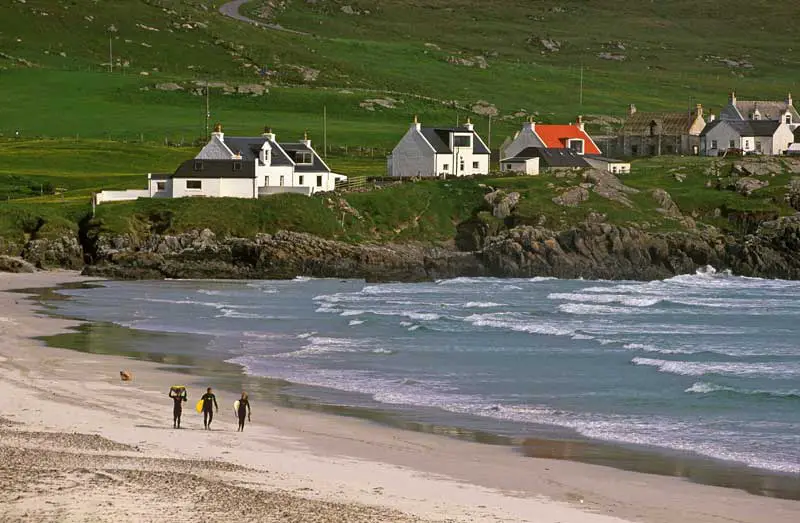 Isle of Tiree
The Isle of Tiree gets may campers' vote as the best summer camping island in Britain. It gets plenty of sunshine, thanks to the moderating effect of the Gulf Stream, which makes the evenings warm enough to sleep under the stars. The island's flat terrain and postcard-worthy beaches also provide campers with a solid base to rest their heads at night. It's a smaller UK island and the most westerly of the inner Hebrides, so tourism is not a massive industry, but you'll generally find a comfortable crowd of families and surfers who are there to enjoy the perfect beaches, warm weather and the bird life.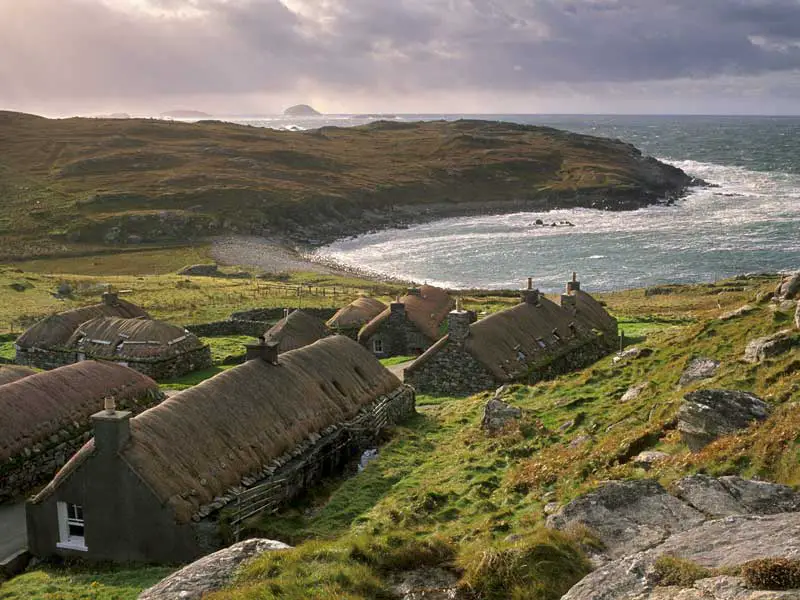 Lewis and Harris
Lewis and Harris in the Outer Hebrides together make up Scotland's biggest island mass, and there is plenty to explore within its vast, unspoiled terrain. While its name suggests otherwise, Lewis and Harris is a single island, with the Northern part known as Lewis, the Southern as Harris. Over 21,000 people live on the island, so you can combine a nature-watching escape with the chance to engage in more social activities, including dining and drinking in the island's cosy and welcoming inns, restaurants and coffee shops.

The biggest town on Lewis and Harris is Stornoway, a busy harbour with its own brewery, radio station and neo-Gothic castle. One aspect of local culture worth noting is that the Christian sabbath is still strictly observes by many islanders, so you'll find that almost everything stops on a Sunday. Tourists have even been known to be turned away from local B&Bs; if they make the mistake of arriving on a Sunday, so be sure to check this detail in advance with your accommodation!

Transport to Lewis and Harris is available either by sea or air, with ferries from several Scottish ports. You can fly direct to Stornoway from several Scottish airports including Glasgow, Edinburgh and Inverness.



Inner Hebrides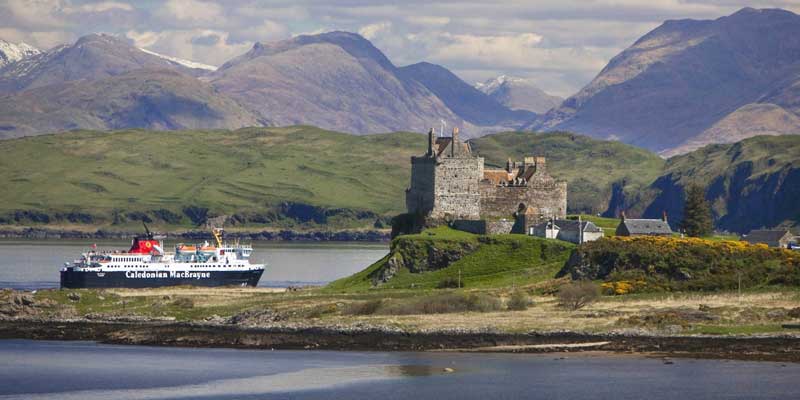 Mull
The second largest of the Inner Hebrides and one of the most popular Scottish islands for holidaymakers, Mull is a wildlife-rich and peaceful spot on the Atlantic coast. Home to rare species such as puffins and dolphins, Mull is also a hotbed of ancient languages: it is one of a few places left in Scotland where you can still hear Gaelic spoken, although you'll of course have no trouble getting by in English!

Mull is also a good place for foodies: it produces one of the UK's best loved and most distinctive varieties of cheddar, so don't miss your chance to see it being made: tours around the cheese cellars are available, and you can enjoy a delicious ploughman's lunch at the end – find out more here.

To get to Mull from the UK mainland you'll need to take one of the ferries operated by CalMac that make the crossing several times a day. Crossings take around 45 minutes, and you can take your car: public transport is sparse on the island so driving the best option during your stay.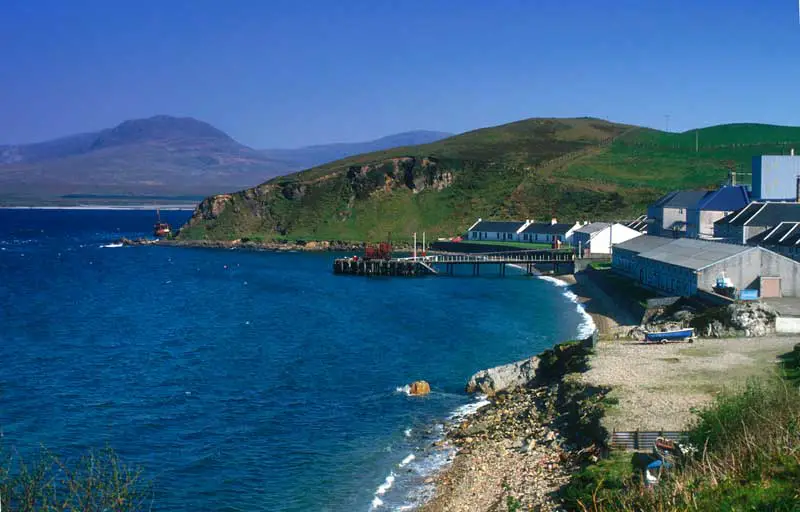 Islay
The most Southerly of the Inner Hebrides and home to around 3,200 residents, Islay is known as the 'Queen of the Hebrides'. Located West of Jura and just 40 km North of the Irish coast, this scenic island is loved for its dramatic, rocky views as well as for its whiskey: there are eight distilleries on Islay, all of which produce a single malt that's enjoyed all over the world.

While nobody visits Scotland or its various isles for the weather, it is worth bearing in mind that Islay benefits from the warm gulf stream, which results in relatively cool winters with little in the way of frost or snow, and mild to warm summers. So if you're lucky, you can even indulge in a bit of sunbathing on one of Islay's beautiful and unspoiled sandy beaches: we recommend Machir Bay which has over a mile of fine white sand and produces some truly spectacular sunsets. Don't forget to a look at Celtic Cross of Kilchoman on the way.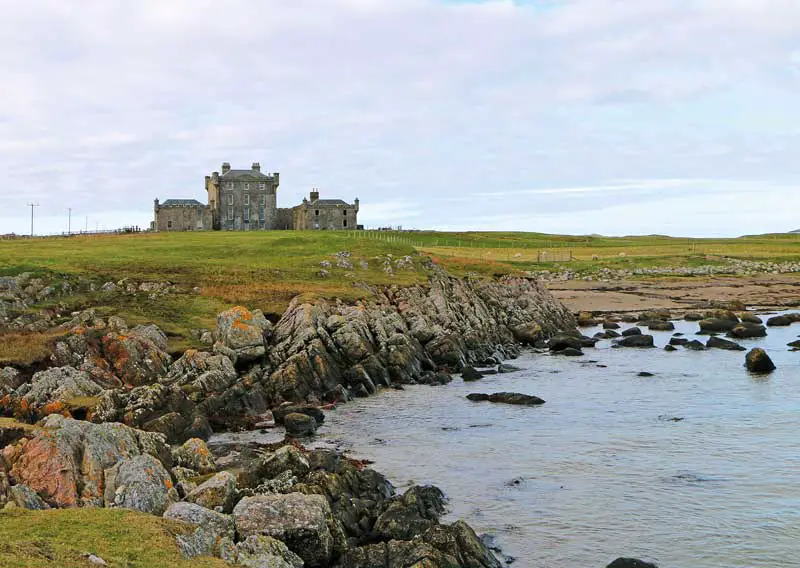 Coll
Do you like the idea of getting away from it all? And by that, we mean really getting away from it? Coll may be your go-to island if so. Hidden away in Scotland's Inner Hebrides, the Isle of Coll has been virtually untouched by humans over the years, allowing visitors to really get close to nature.

With virtually no tourist industry, little in the way of mobile reception and only two recognisable roads, one might ask what the small isle of Coll had going for it as a destination. But we think the island is something of a well-kept secret: it is almost completely surrounded by fine golden sand, is teeming with wonderful wildlife, and its skies clear and pollution-free, making it the perfect spot for stargazing: if you're thinking of a September visit, take a look at Coll and the Cosmos: a specially curated stargazing weekend break on Coll.

Despite its remoteness there are several ways of getting to Coll: by ferry, from Oban, Tiree or Barra. Crossings take approximately two hours. Flights to Coll from the Scottish mainland are operated by Hebridean Air, but be warned – there are only a handful scheduled each week.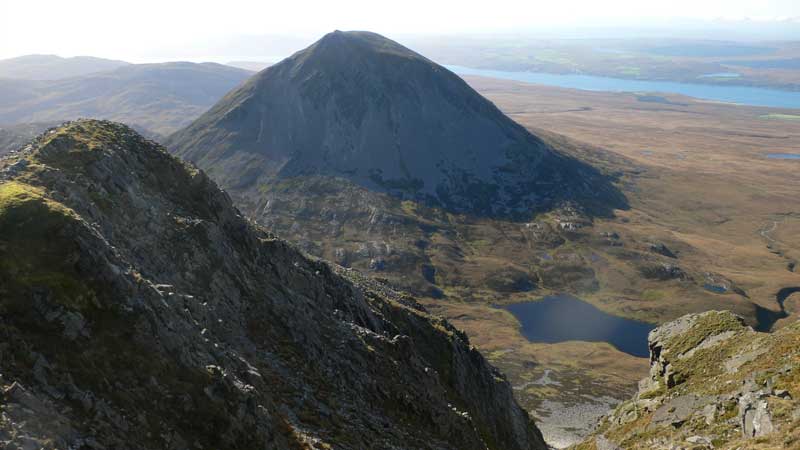 Jura
The Inner Hebrides Isle of Jura off the West Coast of Scotland is one of the UK's most unspoiled 'wilderness' islands, home to just 200 (human) inhabitants. Outnumbering them by a considerable margin are herds of red deer, seals and otters, all of which have made this breathtakingly beautiful, mountainous island their home.

Dominated by the iconic 'Paps' of Jura; three peaks that rise into the misty sky, Jura is the perfect choice for those who really want to go 'off grid' and get away from it all. The main appeal of this remote UK island is its wildlife and outstanding scenery. But between hiking or horse-riding through the hills, you can also taste some of the world's finest whiskey at its dozen distilleries, play a round of golf at the celebrated Machrie, or embark on a sea adventure by taking a boat trip around the rugged coast. This is one trip your camera will particularly love!

There are several travel options for visitors to Jura coming in from the Scottish mainland, but if you want to drive you'll need to cross first to the nearby island of Islay: you can do this by sea, or by air from Glasgow airport (a flight that offers some truly spectacular views), before hiring a car to drive on to the Jura ferry from Port Askaig. Transport direct from the mainland is limited to a summer-only foot passenger ferry service – see some great advice on Jura transport options here.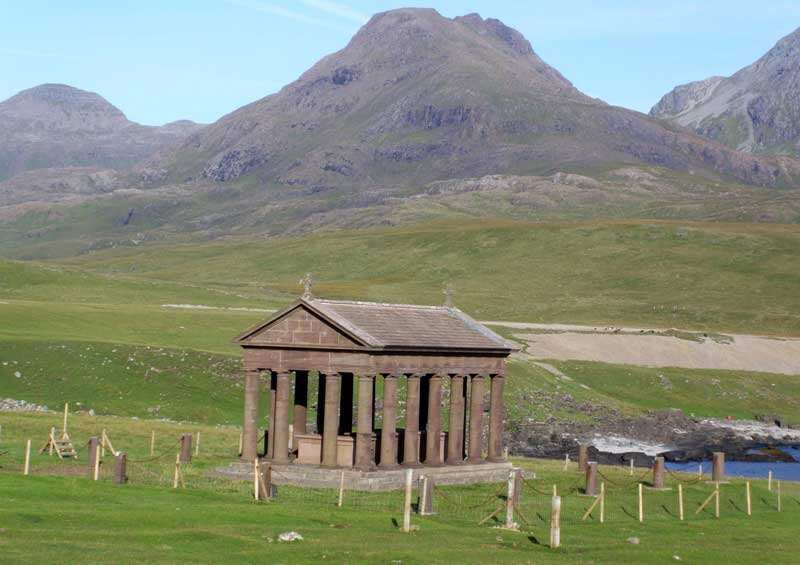 Isle of Rum
A green, diamond-shaped island in Scotland's Inner Hebrides, Rum sits on the West Coast of the British Isles, home to only around 30 permanent residents. Due to its volcanic nature the island has some spectacular, mountainous scenery and rocky terrain – an invitation to the many hill-walkers that visit the island each year. But if you are looking for a more relaxing Rum break, there is plenty to do without breaking out the hiking boots!

If you're up for a bit of sightseeing, Kinloch Castle is a stunningly well-preserved Edwardian aristocratic home that you can visit with guided tours from April-October, and regular boat trips take place around the island during the summer months. Rum is also an animal-lover's paradise, with herds of wild ponies, goats and red deer. Looking to the sky, the island's Manx shearwaters and white-tailed eagles are of particular importance, as around a third of the world's species of these rare birds travel here to nest from South America each year.

Transport to the Isle of Rum is by sea only, with ferries operated by CalMac. Departing from Mallaig in Mainland Scotland, the crossing takes about 1 hour 20 minutes.



Firth of Clyde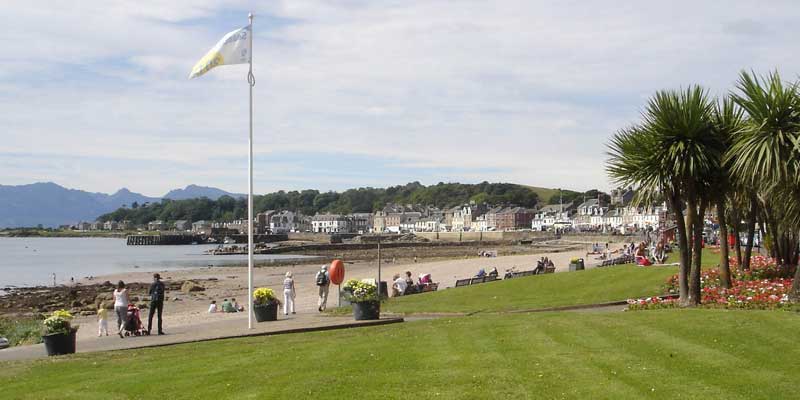 Isle of Cumbrae
The Isle of Cumbrae, also known as Great Cumbrae, lies on the Ayrshire coast and is roughly 6.5 km long and 3 km wide. Just a short ferry trip from Largs, Cumbrae is regarded as Scotland's most accessible island. The only settlement is Millport, a seaside town with a Victorian promenade which curves around an attractive hilly bay on the south coast. Millport is home to Britain's smallest cathedral. Cycle hire is available from Millport – you can follow the 16 km circular loop around the island's main road, which is suitable for families and offers view of North Ayrshire coast and the Isle of Bute.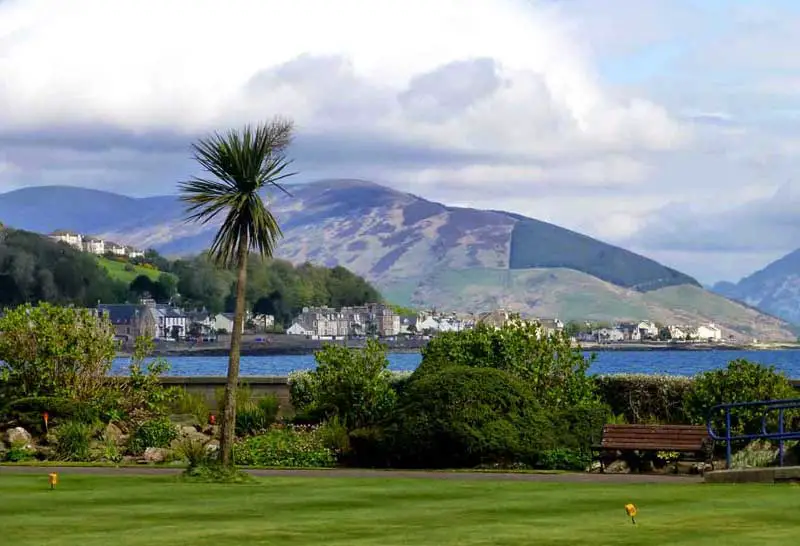 Island of Bute
Bute lies in the Firth of Clyde, a short distance from Scotland's biggest city. Bute, the beach resort of choice for fashionable Glaswegians of last century, still has that rare blend of worldliness and wilderness. Beyond the up-and-coming town of Rothesay are peaceful, windswept Hebridean vistas. The West Island Way runs the length of the island, providing good, waymarked footpaths through the hills. At Kingarth, near the southernmost tip of Bute, the ruined monastery of Saint Blane is hidden in a green fold in the hills: among stone arches sit the graves of monks slaughtered by Viking raiders. The ridges of a prehistoric hill fort jutted against the sea, with the mountains of Arran rising mistily in the distance. The Isle of Bute is reached by ferry from Wemyss Bay.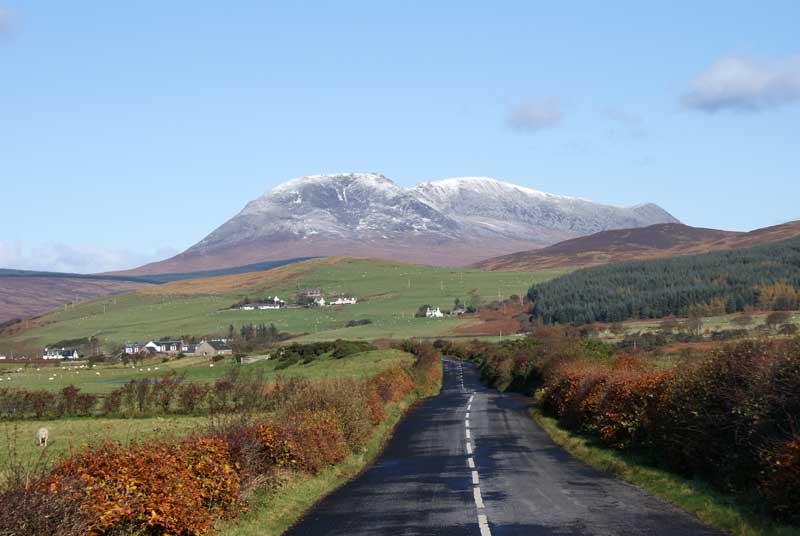 Isle of Arran
Arran is the largest island in the Firth of Clyde and the seventh largest Scottish island (32 km long and 16 km wide). Nestled between Kintyre and Ayrshire in the Firth of Clyde, Arran is a place of jaw-dropping natural beauty and fascinating pre-historic significance. One of Scotland's larger islands with a population of over 4,000, Arran offers plenty in the way of activities, as well as a diverse and beautiful landscape. If you want to enjoy a little culture on your island adventure, Arran has a regular comedy festival, folk festival and even a Mountain Festival for hikers.

One of the most mysterious and intriguing sights on Arran is that of the six standing stones at Machrie Moor. The sandstone structures date back to the Bronze Age, and there is evidence of even earlier Neolithic activity around the island. There are a number of guided walks around the site.

You can get to Arran from mainland Scotland by taking the MV Caledonian Isles car ferry, which takes approximately 55 minutes.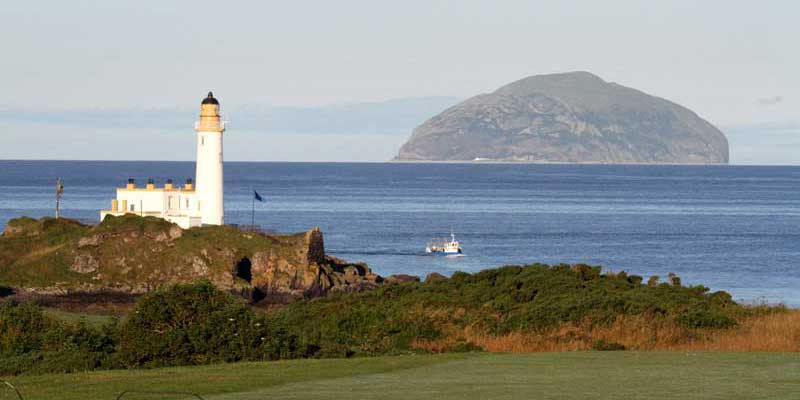 Ailsa Craig
Ailsa Craig is an island of 99 hectares (240 acres) in the outer Firth of Clyde, 16 kilometres from mainland Scotland, upon which blue hone granite was quarried to make curling stones. The now uninhabited island is formed from the volcanic plug of an extinct volcano. The island was a haven for Catholics during the Scottish Reformation in the 16th century, but is today a bird sanctuary, providing a home for huge numbers of gannets and an increasing number of puffins. Ailsa Craig is sometimes known as Paddy's Milestone, being approximately the halfway point of the sea journey from Belfast to Glasgow, a traditional route of emigration for many Irish labourers going to Scotland to seek work.


The 12 metres (39 ft) high ruins of a 3-storey castle that stands on the eastern side of the island was built in the late 1500s by the Hamilton Family to protect the island from King Philip II of Spain. The island was used as a prison during the 18th-19th century. The castle has two vaulted storeys and an oven is located in a cellar with evidence of a spiral stairway that once ran to the top of the tower. Three cinquefoils arranged in a 'V' shape are carved on the tower and indicate that the Hamiltons were linked with the structure. There are indications of an adjoining building that ran to the north. The Lighthouse was built between 1883 and 1886 by Thomas Stevenson. The gasworks are still a prominent feature on the island and the cable-powered tramway was partly built to haul wagons full of coal up to it from the North Port.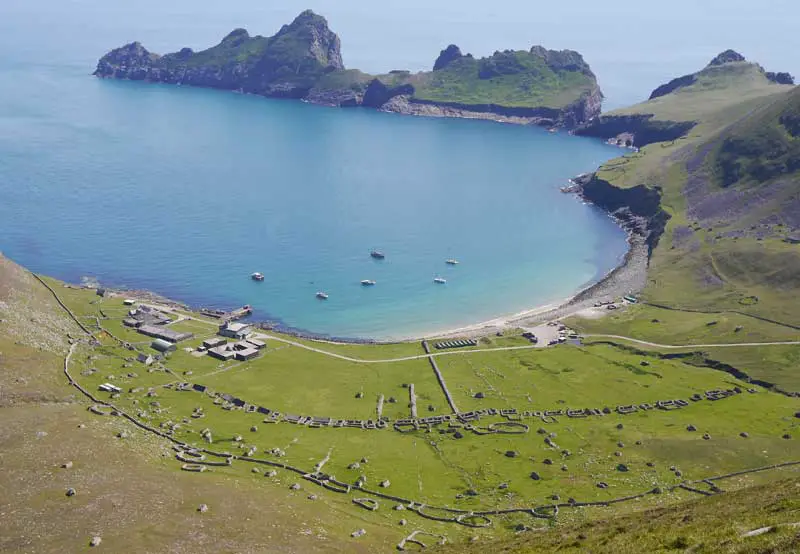 St Kilda
A day trip to St Kilda is like visiting Jurassic Park. It's a mesmerising place that doesn't feel like part of the real world, and not just because of the enormous cliffs that tower over the jagged coastline, which happen to be the highest in the British Isles! Part of what makes this British island so wonderful is the the untameable ocean currents and the isolation of this archipelago; it lies some forty miles west of Scotland's Outer Hebrides. The islands are home to some of the oldest remaining Bronze and Iron Age ruins making this archipelago an unmissable UNESCO World Reserve. A walking tour of the islands is like stepping back into ancient times. Combined with the beautiful marine and bird life, it's unmissable if you are close enough to book a day trip – the islands are uninhabited except for a few National Trust workers and military staff.



Bass Rock
Bass Rock, or simply the Bass, stands in the outer part of the Firth of Forth in the east of Scotland. It is a steep-sided volcanic rock, 107 metres at its highest point, and is home to a large colony of gannets. The rock is currently uninhabited, but historically has been settled by an early Christian hermit, and later was the site of an important castle, which after the Commonwealth period was used as a prison. The island belongs to Sir Hew Hamilton-Dalrymple, whose family acquired it in 1706, and before to the Lauder family for almost six centuries. The Bass Rock Lighthouse was constructed on the rock in 1902, and the remains of an ancient chapel survive.



Scilly Isles
Just off the Cornish peninsula sit the Scilly Isles, an unspoilt collection of five islands offering a natural wonderland to explore. From snorkelling with seals on St Martin's to horse-trekking the coastline of St. Mary's, it's a perfect place for those who like to be active in the great outdoors. The Tresco Abbey Gardens are a must, as the island's warm microclimate means that you can see exotic plant species that you won't find anywhere else in the UK.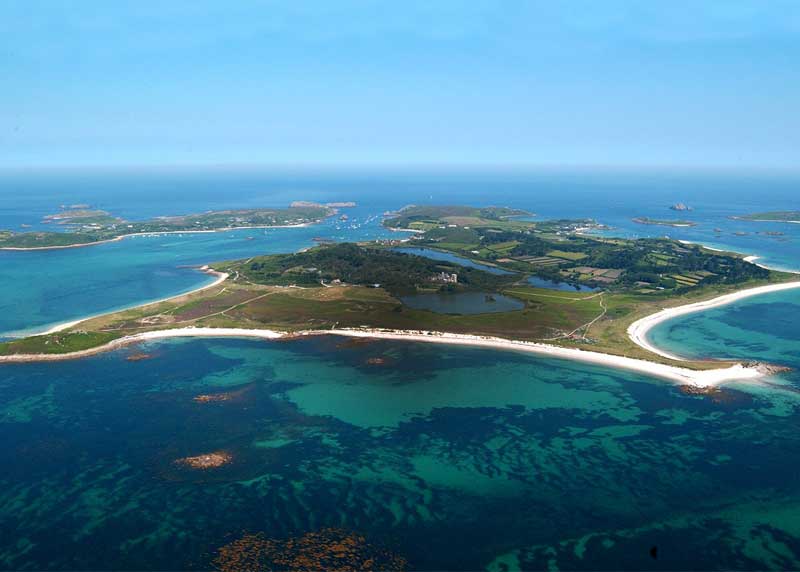 Tresco
The offshore oasis of Tresco in the Scilly Isles, near the Coast of Cornwall is one of the most naturally stunning UK islands, with pristine white sand said to rival that of the Caribbean. Charming and compact, Tresco is the only privately-owned island in the Scilly Isles, and visitors love its relaxed character and well-tended looks.

Like mainland Cornwall, Tresco gets more than its fair share of sun in the summer months, so if you come at the right time, you'll feel like you have come to a tropical paradise, particularly if you venture into the Tresco Abbey Gardens with its towering palm trees, succulents and cacti, imported from as far afield as South Africa and Australia by the 19th Century proprietor of the islands, Augustus Smith. Within the gardens you will also find the Valhalla museum, which houses a unique collection of 30 figureheads from ships wrecked on the island's coast over many years. The eerie figures now hang from rafters, preserved in vibrant colours.

Getting to Tesco is relatively straightforward, with flights available from Newquay or by taking the Scillonian III passenger ferry from Penzance to St Mary's, where passengers change to a short crossing over to Tresco.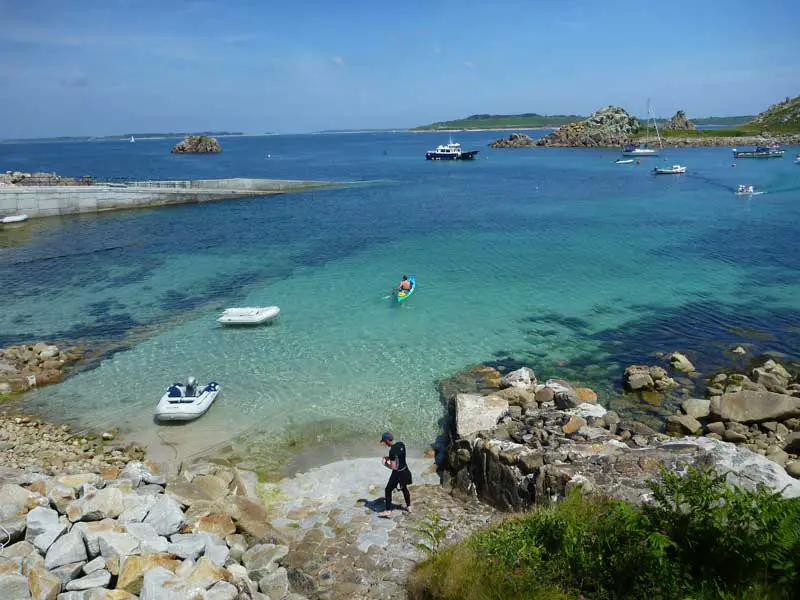 St. Martin's
St. Martin's, in Cornwall's sunny isles of Scilly is a delightful UK island that lays claim to some of the best beaches in the world. A tiny landmass at just two miles across and a population of just over 100, St Martin's packs quite a punch for its diminutive size, with a diving school, artisan bakery, selection of restaurants and tea rooms and even its own vineyard.

The main draw for most visitors to St. Martin's, however is its fine sandy coast and seaside spots – particularly Par beach, Great Bay, Little Bay and the wonderfully-named Bread and Cheese Cove. This is a great destination for those chasing the holy grail of unspoiled, uncrowded beaches that have stood the test of time. The clean, shallow waters make for great bathing options with warm temperatures in the summer, and snorkeling is a popular activity.

To get to St Martin's from the mainland, you'll need to go via St. Mary's, the largest of the Scilly isles and transport hub. You can either fly into St Mary's or take the Scillonian III boat from Penzance, for onward sea travel to St. Martin's from St. Mary's Quay.


St. Mary's
The largest of the Scilly Isles (but still a diminutive 2.5 square miles), St Mary's offers plenty to do for those looking for a relaxing break with plenty of sea and sand. St. Mary's has two major settlements: Hugh Town and the Old Town, as well as two popular sandy beaches.

St. Mary's is a great place for family holidays, with plenty of kids' activities and amenities. Porthcressa Beach has a well-equipped play park, there are regular family swimming sessions at the Normandy swimming baths and if the weather isn't playing ball, kids can let off steam at the Kings of the Castle soft-play zone in Old Town. But the island has a good programme of activities for visitors of all ages, including horse-riding along the coast and snorkeling with St Mary's resident seals.

Since St. Mary's is the gateway to all of the Scilly isles it's also the easiest to reach, with direct sea crossings from Penzance Harbour. There are regular shuttle buses between the airport and all accommodation on the island, and there is a luggage drop-off service for those arriving by boat, so there is no need to wait for your bags when you disembark.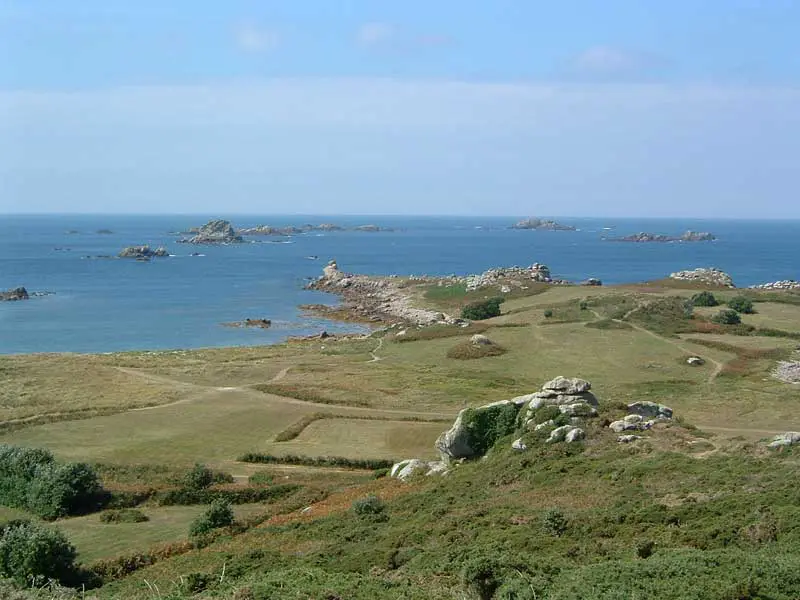 Bryher
The westernmost of the inhabited Isles of Scilly, just a few hundred yards across a shallow bay from Tresco, Bryher can feel like the end of the world – or the beginning. For there is nothing between here and landfall in the United States except water. To gain the full effect, climb Gweal Hill and gaze south-west, past Bishop's Rock lighthouse two miles away, to where the boundless Atlantic stretches away in a haze of nothingness. Then walk the rest of the island. You can do it in an hour, passing through stony fells, verdant valleys and sandy coves.

If youspend a few days there, take a boat to other nearby islands, or a nature-watching trip with one of Bryher's expert boatmen – smug in the knowledge that you'll be returning to one of Britain's finest coastal hotels. Tucked on the wild west coast, Hell Bay is a cluster of low-rise buildings with a feel of both the Caribbean and New England in its decor. Local crab and lobster are on the menu, and those Atlantic views have a mesmerising effect on the eyes and the soul.



Channel Islands
The Channel Islands sit between the UK and France, boasting a unique blend of elements of both countries, while being proudly independent from either. Jersey, Guernsey and Alderney are the largest islands, with bags of 'olde worlde' charm between the cobbled lanes, stunning sea-cliffs, pretty harbours and endless green, while tiny, traffic-free Sark and Herm instil an unrivalled feeling of remoteness. The Jersey War Tunnels and Guernsey's Hauteville House (where Victor Hugo wrote "Les Miserables") are good itinerary fillers, and many cruises combine the Channel Islands with trips to Brittany or Normandy on the French mainland.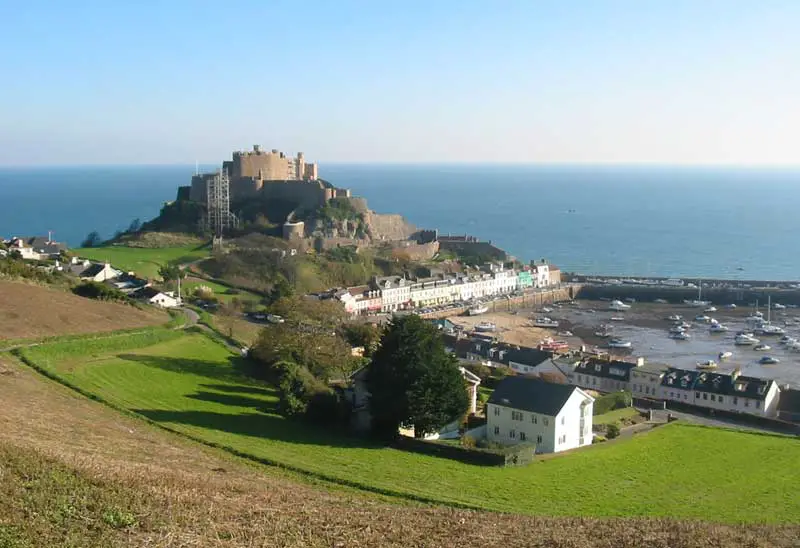 Jersey
Jersey may be the largest of the Channel Islands, but at just nine miles by five across, this is a destination you can get to know very well in just a few days. Jersey, just like the Isle of Man and Guernsey is not actually part of the United Kingdom. Situated just off the coast of Normandy, Jersey has a mixture of French and English influences, and its capital Saint Helier is a busy, cultural hub where you can experience great seafood, cinema, food and music festivals and other outdoor events throughout the summer.

Those with an interest in history will appreciate the island's fascinating Medieval sites, including Elizabeth Castle, which played a key role in defending the island from attack from as far back as 550 A.D through to World War II and into the 20th century. Based on a nearby islet, you can either cross on foot at low tide, or take a regular ferry service across to the castle.

Unlike many other islands around the UK, Jersey is served by a number of major airlines including Easyjet, British Airways and FlyBe, and there is a choice of direct routes from the mainland. If you want to take your car, you can also take a ferry from Portsmouth or Poole, making it one of the most accessible choices for an island holiday.


Guernsey
Like the Isle of Man and Jersey, Guernsey is not actually a UK island. Set off the coast of Normandy and part of the Channel Islands archipelago, Guernsey is a great spot for an island holiday due to its white sandy beaches, cliff top walks and relatively mild climate compared with much of mainland Britain. Arriving at picturesque St. Peter Port, you'll be struck by the charming regency architecture; a distinctly English feature that contrasts with the 'foreignness' of much of the scenery.

Guernsey has a rich history that offers much in the way of sightseeing opportunities. Victor Hugo lived on the island and wrote Les Miserables in the ornate Hauteville House, which you can explore by guided tour or at your leisure. Castle Cornet is a large, 13th century fortification based on its very own island just off Guernsey's coast, and there is still a daily ceremonial firing of the canons at noon. Guernsey was occupied by the Germans during most of WW2, and you can learn about this fascinating chapter of the island's history at the German Occupation Museum.

There are several options for travel to Guernsey: you can either take a ferry from Poole or Portsmouth which takes about 3 hours, or fly from several major UK airports on Aurigny or FlyBe – a much shorter journey of around half an hour.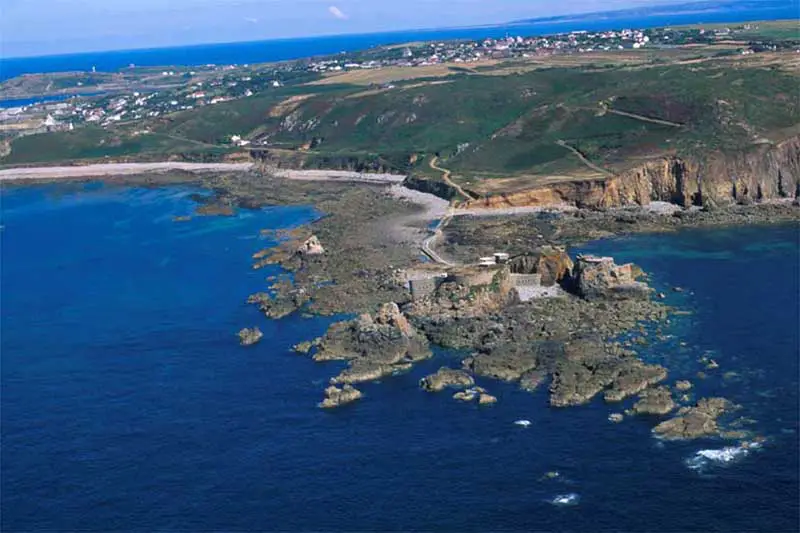 Alderney
Less famous than its larger cousins Jersey and Guernsey, Alderney is one of the most picturesque of the Channel Islands and has a unique, off-the-beaten-track charm about it that's well worth getting to know. Located off the coast of Northern France, Alderney has a resident population of just under two thousand, and a microclimate that makes for a great beach holiday option in the summer.

Braye Beach and Saye Bay are among the best-loved spots for sunseekers, while those with an interest in Britain's past will be intrigued by the island's wartime history, including dozens of well-preserved bunkers and fortifications. The lighthouse, whose booming foghorn is a familiar refrain across the island, allows for incredible views at its summit on a clear day. On a visit to Alderney you'll see many sights that are strangely familiar yet just a little different – including yellow phone booths and classic British postboxes painted blue. That's very much the Alderney way, and is all part of its familiar yet other-worldly charm.

There is no direct route to Alderney from the mainland at present, but Aurigny airlines operates regular flights from several UK airports into Alderney via Guernsey.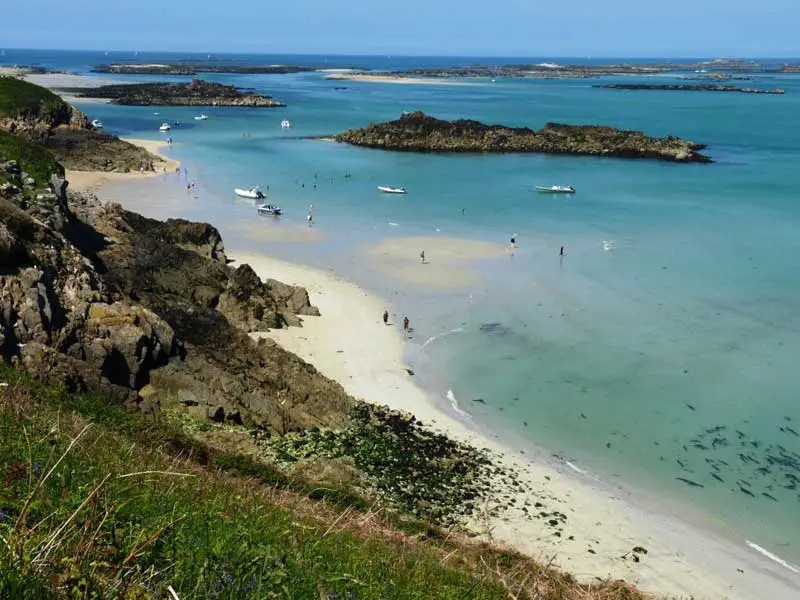 Herm
What's surprising about the tiny, car-free island of Herm is that despite being just half a mile wide, and a mile and a half long, it can fit six sandy beaches into its coastline. The longest of these is Shell Beach; close your eyes, run your hands through the fine grains, and you could be in the Caribbean, not three miles off Guernsey.

On the other side of this smallest of the Channel Islands, Fisherman's Beach has the same sand, and hundreds of rock pools at low tide. Perfect, in other words, for parents with small children. Those youngsters who tire of swimming or sandcastles can go off exploring without getting lost; there are plenty of coppices and rocky hillocks, all with sea views. Herm also has a pub, and a family-friendly hotel – The White House – which has no televisions, clocks or phones in the rooms, and serves high tea every day at 5.15. By which time most of the day-trippers have departed, taking the 20-minute ferry back to St Peter Port. The silence has to be heard to be believed.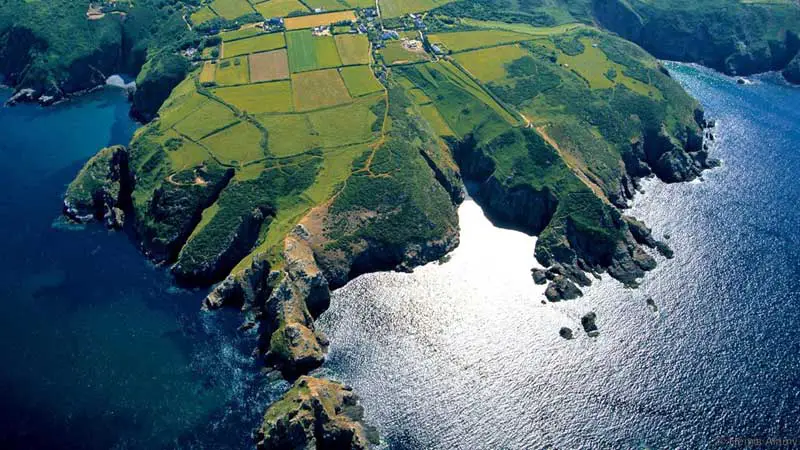 Sark
One of the smallest islands around the UK, Sark has a population of just 600, but what it lacks in size, it more than makes up for in raw, rugged beauty as well as its unique historical standing. Based just off the coast of Normandy, the island has its own parliament, as well as its own set of laws based on Norman law. Cars are banned on Sark, and the only vehicles you'll see on a visit here are modified tractors or horse-drawn carts.

Sark is composed of two sections: Greater Sark and Little Sark, connected by a narrow peninsular path called La Coupee. So steep is the drop on either side of the path that children used to be told to cross it on their hands and knees – but fortunately for present-day visitors, protective railings have now been installed on either side of the track!

Popular activities on Sark include cycling (ideal for nervous cyclists due to the lack of motor vehicles!), guided walks, and visits to the tranquil La Seigneurie Gardens, where flowers bloom that are rarely seen on the British mainland due to Sark's relatively warm climate. Sark has no airport, so visitors can either travel by ferry or sailing-boat from Jersey or Guernsey (both of which can be reached by air), or from St Malo in Normandy, which can be reached from Portsmouth by ferry.