Visiting Darwin
An Australian capital city with a difference, Darwin boasts an easy-going lifestyle (in the dry season at least) and extends a warm welcome to visitors from the south, eager for a taste of Territory life.
A modern city of over 100,000 people, Darwin is Australia's most northerly city. Darwin has a tropical climate, and is subjected to tropical thunderstorms and cyclones during the wet season (December to March). Darwin has felt the fury of tropical cyclones or more than one occasion - the first recorded cyclone to hit Darwin was the 1867 cyclone, and much of the city was destroyed by Cyclone Tracy in 1974. It is also the only Australian city to have come under substantial attack during any war: Japanese planes bombed Darwin during the Pacific War.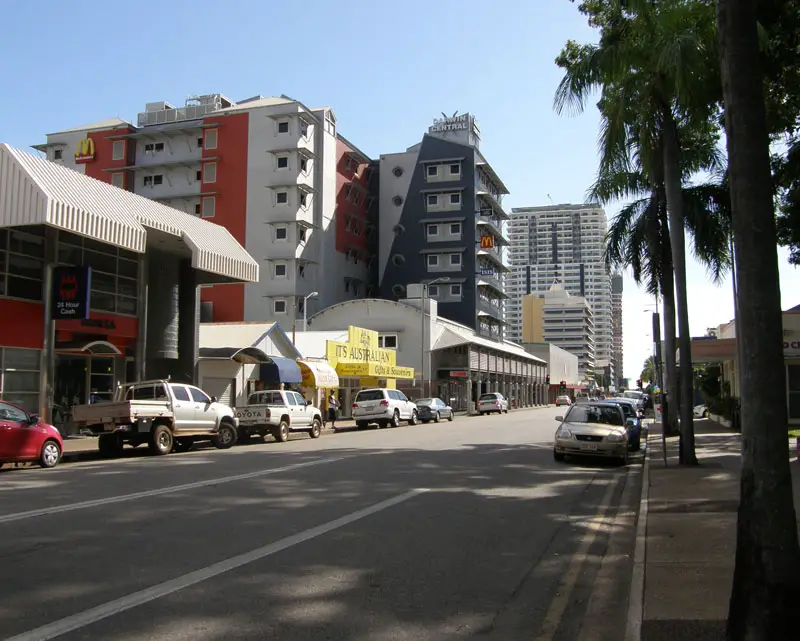 Modern Darwin has a new, clean feel, no doubt a legacy of Cyclone Tracy Darwin which largely destroyed Darwin on 25th December 1974, killing 50 people and flattened over 70% of the city's buildings. After the disaster, an airlift evacuated 30,000 people. The town was subsequently rebuilt with newer materials and techniques during the late 1970s by the Darwin Reconstruction Commission. A satellite city of Palmerston was built 20km south of Darwin in the early 1980s.
A milestone in Darwin's recent history was the completion of the Adelaide - Darwin railway in September 2003, linking the city to the rest of Australia by rail for the first time and offering visitors to the Territory's capital a new way to experience the vast open spaces of Northern Australia.

What we Like To Do In Darwin
I wouldn't miss Mindil Beach Markets where, on a balmy winter evening, you can choose from an unbelievable variety of cuisines, then consume it watching the most amazing sunsets. The markets aren't the only place where you get a good feed in Darwin, especially if want to taste the local seafood. I've tried numerous establishments and not one has failed to please.
I love to hang out at the old Qantas Hangar at Fannie Bay and watch the car buffs restoring their prized possessions. The old cars are a delight; I also get a buzz gazing up and looking for (and finding) the bullet holes from Japanese wartime gunfire that riddle sections of the walls and roof. It's not one of the regular tourist haunts, being tucked away off the beaten track, but it is well worth checking out and entry is by donation.
A day drive down to Litchfield National Park always ends up on my agenda. The waterfalls are quite special and afterwards I like to drive a little further on to the township of Adelaide River, where I've spotted a wild croc or two on the riverbank. Speaking of the Adelaide River, a trip on the river on a Jumping Crocodile cruise just past Humpty Doo on the Kakadu NP road is a real treat. Seeing wild crocs in their natural habitat jumping right out of the water to be fed is not a sight one forgets in a hurry.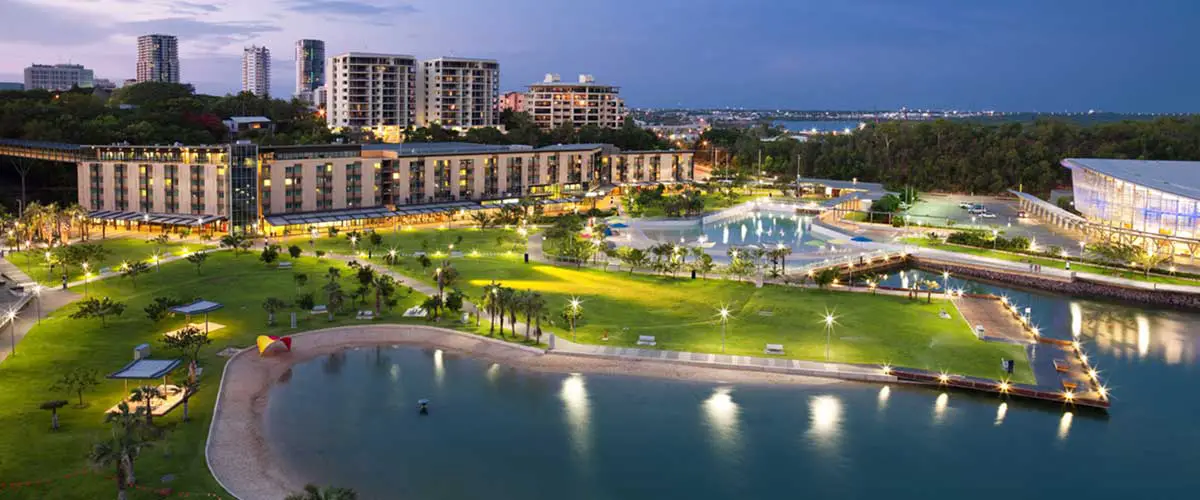 Why Go There?
Intrigue:
Like Perth, Darwin is an isolated city in terms of its proximity to the other states and capital cities, which raises a curiosity in people's minds as to what it is like. For many Australians, to travel so far is like going to another country, except here there are Aussies just like them living a lifestyle similar to theirs. That is a very attractive (and justified) proposition for people who want to do some serious travelling to somewhere far away from home, but don't want the hassles, risks and safety concerns in going to another country.
Its tropicality:
Darwin is unique among Australia's capital cities in that it is the only capital in the tropics. Darwin's climate, vegetation, wildlife and dress code are all quite different to those of the other capitals; Townsville and Cairns are the only other Australian cities to share a similar tropical climate and lifestyle.
Its uniqueness:
Where else in Australia can you experience a live crocodile show in the main street, grab a bite to eat at an oceanside market and then watch an incredible sunset from your vantage point on the beach as you dine, or decide take a drive and end up in Kakadu National Park before lunchtime?
Why Do We Go There?
For all the reasons above, which can all be summed up in one simple phrase – it's different to anywhere else in Australia. It does cost a bit more to get to than most Australian destinations, and its accommodation is the most expensive of any Australian capital city, but there's nowhere quite like Darwin anywhere else in Australia and it's worth visiting for that reason alone.

How To Get There
By Road
The Explorer's Way follows the route of John McDouall Stuart, a famous Australian explorer who was the first to traverse the continent in 1862. This drive, along the Stuart Highway, connects Australia's south and north, from Adelaide in South Australia to Darwin in the Northern Territory, and takes in many of Australia's best-known icons, including the Flinders Ranges, Alice Springs, Uluru (Ayers Rock) (as a detour), Kakadu National Park (detour) and Darwin.
One of Australia's ultimate adventure drives, The Savannah Way traverses the top end of Australia, linking Cairns in Tropical North Queensland with the historic pearling town of Broome in Western Australia, via Darwin and the natural wonders of Australia's far north. Some sections of the road are suitable for 4-wheel drive vehicles only, but others are sealed, making it possible for anyone with a motor vehicle to complete sections of the drive.
By Rail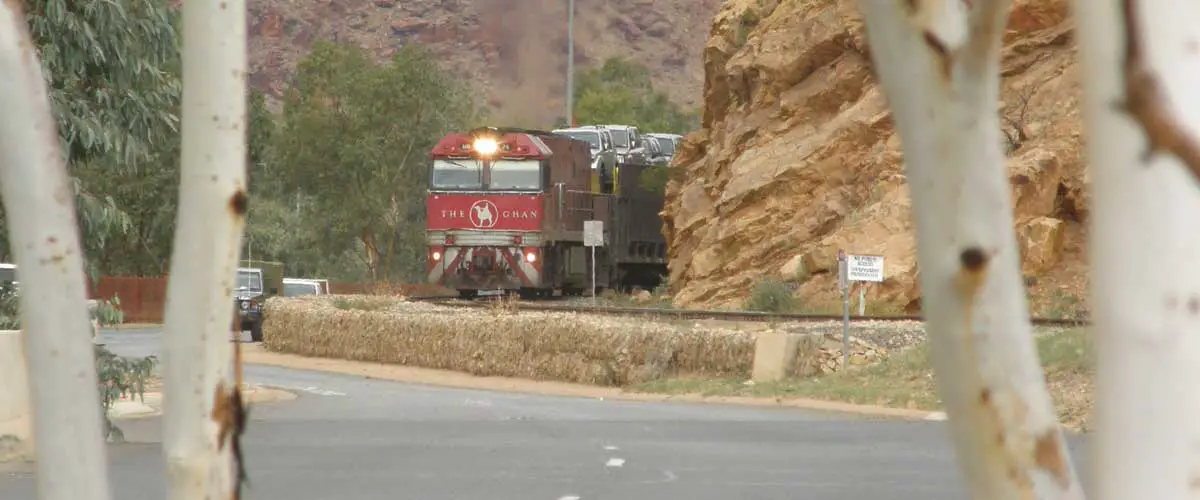 Darwin is linked to Adelaide and the rest of Australia's capital cities via The Ghan. During the peak tourist season, there are two services in each direction every week. At other times there is one service in each direction every week.
Whereas the Indian Pacific travels from east to west, The Ghan travels north to south, providing a rail link between Darwin and Adelaide via Alice Springs. The Ghan is a great way to see Australia's Red centre – you get a real feel for the scale of the Australian outback, which you simply don't on an aeroplane. The journey is ideally split into two 24-hour sectors with a stop-over in Alice Springs.
By Air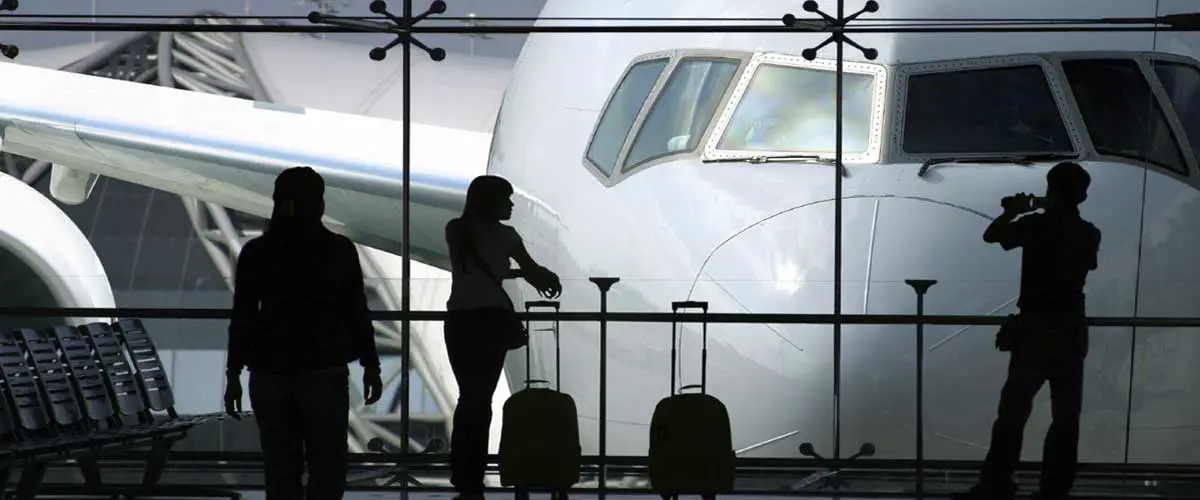 Daily flights operate from all Australian capital cities to Darwin airport.

Best Time To Go
Darwin has a tropical climate with distinct wet and Dry Seasons. The Wet Season is associated with tropical cyclones and monsoon rains. The majority of rainfall occurs between December and March when thunderstorms are common and humidity is regularly over 70 per cent. Darwin's climate averages are:
Mean January maximum temperature – 32°C
Mean January minimum temperature – 24°C
Mean July maximum temperature – 30°C
Mean July minimum temperature – 19°C
Mean annual rainfall – 1669mm
Wettest month on average – January, 422 mm
Rain Days: 110
The Dry Season, from April/May until September/October, yields pleasant weather that is similar to summer in the southern states. In Darwin during these months, humidity is low, the temperature is almost monotonously constant (around 30 degrees), and the days are warm and pleasantly sunny. For this reason, the Dry Season is also the peak tourist season.
The Wet Season is hot and humid with high rainfall. The tropical cyclones, choppy seas, endless days of rain and high humidity levels associated with the Wet Season would indicate that the Wet is not the time to visit the Top End, but there are actually two sides to this picture. The Wet Season brings forth the lush scenic beauty, raging waterfalls, an abundance of barramundi for those who love fishing, low prices all round and a lack of crowds at popular tourist haunts.
So there is a side to the Tropical North that you will never see if you are not there during the Wet Season, but there is a price to pay – heat, humidity, rain and the possibility of cyclonic weather. September to December, whilst not being particularly wet, are nonetheless very humid and quite unbearable, so it is best to stay away during those months too if you find humidity unbearable.