About Cairns and North Queensland
To the locals, along with holidaymakers who regularly visit here, Far North Queensland is the perfect picture of a tropical paradise – palm trees wafting in a balmy breeze above endless clean white beaches. Why go overseas when paradise is right here on your doorstep, they say, and after spending some time exploring the region, you can't help agreeing with them. After all, Cairns & The Great Barrier Reef Region is the only place on earth where rainforests meet the reef.
Providing an inspiring visual backdrop to this magical tropical coastline are majestic mountains and tablelands containing tropical rainforests, waterfalls, crater lakes and ancient lava tubes, the remnants of long extinct volcanoes. For visitors, the Tablelands and the Outback beyond present opportunities for bush walking, bird watching, limestone cave tours, a wildlife cruise, wildlife spotting, hot air ballooning and water sports as diverse as fishing, water skiing and white water rafting.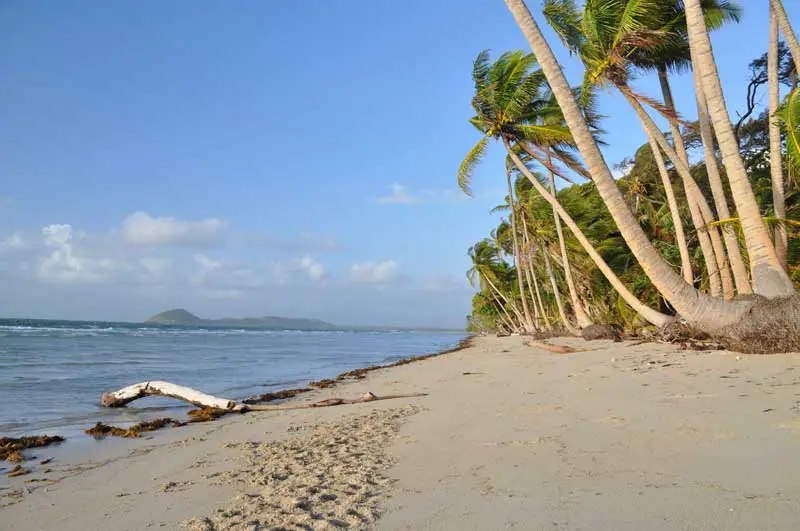 North Queensland is a tropical region, so there are two very distinct seasons – Wet and Dry. The Wet season (January to April) brings steaming hot temperatures, high rainfall and high levels of humidity. The up-side of the wet season is that the rainforest is amazing, everything is so Green. The bird life is spectacular and the waterfalls are stunning – more often than not they are raging torrents.
The dry season, which is at its mildest from July to September, sees little or no rain, low humidity, pleasant days with equally comfortable, balmy nights. April to September offers the clearest skies, while November and December are the hottest time of the year.
July to September is the peak tourist season; if you are planning to visit then, you are advised to book your travel arrangements in advance, especially during school holidays when the best accommodation gets booked up anything up to six months in advance.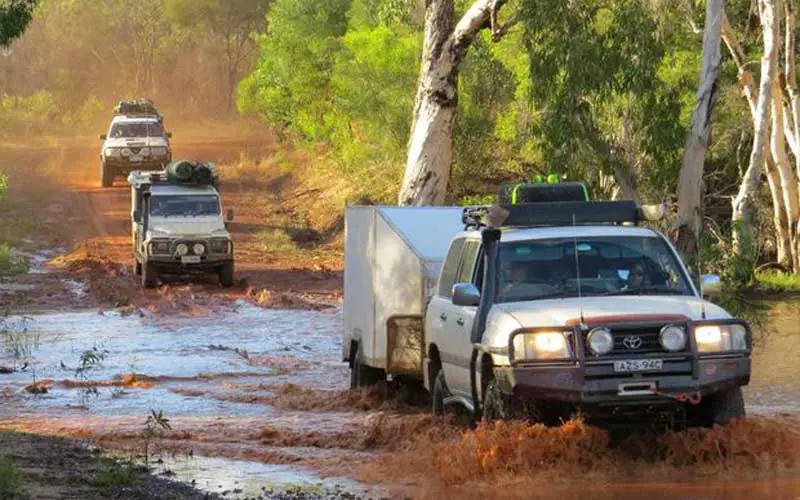 About Far North Queensland (Cape York)
Truly the last frontier in Australia, a trek to the northernmost tip of Australia is the ultimate journey for 4-wheel drive enthusiasts and it isn't difficult to see why. Cape York Peninsula is a wild and sparsely populated wilderness area that is only accessible during the dry months from April to December, and only then by 4WD vehicle. Extending from the Great Dividing Range in the east, to the Northern Territory border in the west, the Gulf Savannah region covers an area of 186,000 square kilometres – true safari country featuring golden savannah grasslands abounding with wildlife. The Gulf Savannah, renowned for its distinctive coastline and wild and sparsely populated wilderness, is rich with history of gold rushes, bushrangers and wandering Aboriginal tribes.
Visitors can explore deserted ghost towns and small isolated communities that serve the mining, pastoral and fishing industries. As one travels further west, lush tropical rainforests give way to an ever-changing landscape of open woodlands and savannah grasslands, dramatic volcanic landforms, rugged escarpments and cool, fresh-water gorges.
About Queensland
Queensland forms the north-east corner of the Australian continent and is the country's second largest state after Western Australia. Covering 1.8 million kilometres, Queensland is more than 7 times the size of the United Kingdom.
Queensland offers a diversity of holiday and touring opportunities, with the Great Barrier Reef, tropical islands, rainforest and wilderness, open sandy beaches, and the vast outback, as well as the sophisticated attractions of Brisbane, the Gold Coast and the Sunshine Coast.
Apart from the far north and Gulf Country, Queensland is an all year-round destination and the state is a major tourist destination. The best time time of year will be that which matches the activities you have planned. Whether it's a car, 4WD, motorhome or motorbike, make sure you slip off the main road and discover all that's on offer for a memorable road trip. If you d rather not self-drive, there are coaches, airplanes, helicopters and ferries to get you where you want to be. Or for a unique travel experience, why not embark on a rail journey around Queensland. Travel in style on one of the modern trains or go back in time on a vintage rattler.