Things To see And Do
Sullivans Cove: the historic Hunter Street precinct and Constitution Dock. Ever since Hobart was founded in 1804, Sullivans Cove has been its dock area. The cove area itself is now known as Macquarie Wharf and still serves as the main port for the city. As one of Australia's finest deepwater ports, the River Derwent became the centre of the Southern Ocean whaling and the sealing trade, Sullivans Cove rapidly grew into a major port, with allied industries such as shipbuilding. Sullivans Cove still holds large historical and sentimental value for the city; it is here that the migrant forefathers of many present-day Tasmanians first came ashore to begin a new life, and it is here where most tours and sea journeys around the shores of southern Tasmania begin and end, the most well known being the Sydney to Hobart Yacht Race, which finishes with celebratory champagne at Constitution Dock every December. For visitors, it has become a place to meet, to select a tour or trip or join others in one of the many eateries dotted around its shores. Hunter Street, on its northern side, is lined by historic sandstone warehouses.
Location: Franklin Wharf, Hobart.
---
Battery Point historic precinct: walk around an intact genuine Georgian era village. Retaining the character of a Cornish fishing village of the last century, the inner Hobart suburb of Battery Point began life as a home for mariners who worked out of Hobart Town. It is still mainly a residential area, with many historic homes and shops, some which are open for inspection as folk museums and art galleries. More >>
---
Salamanca Place historic precinct: historic buildings and wharves and iconic weekend markets. Once a hive of maritime activity with sailing ships loading and unloading their cargo on the wharves of Sullivan Cove nearby, today it still buzzes, but as Hobart's foremost entertainment hotspot. The rows of Georgian era sandstone warehouses that serviced the clippers have been converted into a plaza of restaurants and shop, with pubs, artists, galleries, craft shops and nightlife adding to the relaxed atmosphere of the place after sundown. Every Saturday, Salamanca Place takes on a totally different look and carnival atmosphere when it hosts the famous Salamanca Markets. Over 300 stallholders congregate to sell produce and crafts from all over Tasmania as buskers, artists and performers keep the crowd entertained. At the northern end of Salamanca Place is St. David's Park, a popular lunchtime relaxation spot for the city's workers. Parliament House adjacent to Salamanca Place.
Website. Online Salamanca Guide.
Location: Salamanca Place, Hobart. How to get there: from city centre, walk south down any cross street to Franklin Wharf, then head right towards Castray Esplanade.
---
Mt. Wellington: panoramic views of the city of Hobart and the River Derwent. No other Australian capital city has a lookout like Mt. Wellington. Towering 1270 metres behind the city, it is high enough to not only give views across Hobart and the upper and lower River Derwent, but Storm Bay in the east and the southern section of the vast World Heritage Tasmanian Wilderness areas are also visible from its peak. A road leads to a lookout at the summit. In good weather the Mt. Wellington lookout is less than a half-hour leisurely drive from Hobart city centre. When bad weather closes in, fog or ice and snow on the road make the journey slow and hazardous. At the best of times, it is nearly always windy, so make sure you are wear warm clothes for when you leave your car at the lookout, even if the weather down in Hobart is warm and pleasant.
More >>
---
Cascade Brewery: tour and visitor centre of Australia's oldest continuously operating brewery. Australians love there beer so you'll always find plenty of Aussies around here sampling the wares of Australia's oldest brewer. Nestled in the rolling hills of South Hobart, these historic buildings came into being when, in 1824, Peter Degraves vowed then to produce "genuine beer... beer that cannot be excelled in this colony." One-and-a-half hour tours are conducted by guides several times per day, 7 days a week from the Visitors Centre; bookings are essential, tour charges apply. As it is a fully operational brewery, visitors are advised to wear appropriate clothing, particularly footwear.
Contact: (03) 6224 1117. Website. Location: 140 Cascade Rd, South Hobart. How to get there: by car, travel south from Hobart along Macquarie St, then Cascade St. The brewery is on the left past Wellesley Park.
---
Taroona Shot Tower: Used in the manufacture of lead shot for muskets, the tower was built in 1870, at which time it was the tallest man made structure in Australia. One of three surviving in Australia (the most well known is in the heart of the Melbourne CBD), it is a remarkable tapered structure 48 metres tall and features an internal spiral staircase of pit-sawn timber and an external gallery at its top which was probably used to store firewood for the upper cauldron. The gallery is now a viewing platform. I won't tell you how many steps there are to the top, as those who make the trek and get the count right are given a certificate to say they climbed it. Entry fees apply.
Location: 234 Channel Hwy, Taroona. How to get there: travel south from Hobart along Sandy Bay Rd, the tower is one the left on the outskirts of Taroona just before a sharp bend.
---
Cadbury Chocolate Factory: visit the Cadbury Visitor Centre in Claremont. Visits include a talk on how chocolate is made, the history of Cadbury and viewing a short film showing the production in the factory. Entry fees apply; bookings essential. Contact: 1800 627 367. Website. Location: Cadbury Rd Claremont. How to get there: by car, drive north from Hobart on Brooker Hwy, take the Claremont Link Rd exit, right off Main Rd into Bilton St, right into Cadbury Rd.
Kangaroo Bluff: an historic fort built to protect Hobart. The Kangaroo Bluff Battery was built to support the Queens Battery (located at the Domain in Hobart) and the Battery Point battery. It was developed to stop any enemy vessels from shelling Hobart Town from just outside the range of the Domain and Battery Point batteries. More >>
---
Risdon Cove historic area: site of first European settlement in Tasmania. The European settlement of Tasmania had a false start, and it happened at Risdon Cove in 1803 on the eastern bank of the River Derwent. Lieutenant John Bowen was sent to establish a settlement in Van Diemen's Land (Tasmania) with 48 free settlers. The Lady Nelson anchored at Risdon in September 1803; it was followed five days later by the whaler Albion with Lt. Bowen on board. More >>
---
Anglesea Barracks: Tour the oldest military establishment in Australia. Built in 1811, this is the oldest military establishment in Australia. Many of the buildings have been restored and the external grounds are open to the public. Access to the interior of the barracks is limited to one tour per week as the Australian Army still uses the facility. The tour incorporates the hospital (now commander's residence), the original officers' quarters and mess, various military memorials, the old drill hall and the jail, which is now the 6th Military District Museum. Contact: (03) 6237 7160. Location: Davey Street, Hobart.
---
Cascades Female Factory: historic convict building complex. Cascades Female Factory was a work factory which employed female convicts under sentence in the colony and housed them prior to the erection of the Campbell St Gaol. Operated between 1828 and 1856 on a site previously owned by Lowes Rum Distillery, the existing buildings were extended in 1827 to house the increasing numbers of female convicts under sentence in the colony. The complex gradually extended to encompass a series of five yards, around which cells, storerooms, workrooms and offices were built. Female factories were a unique Australian response to the management of convict women, and one that reflects 19th century moral and penal philosophies. The Cascades Female Factory is the only remaining female factory with visual fabric and ruins remaining. It is today operated by a private company as a museum and interpretive centre. Entry fees apply.
Contact: (03) 6223 1559. Website. Location: 16 Degraves St, South Hobart. How to get there: by car, travel south from Hobart along Macquarie St, then Cascade St; on foot, follow the walking track along the Hobart Town Rivulet.
Royal Tasmanian Botanical Gardens: on the fringe of the city centre, the Royal Tasmanian Botanical Gardens are Australia's second oldest botanical gardens. Prior to European settlement local Aboriginal tribes used the site, and traces of their occupation are still apparent. A number of historic structures, including two convict-built walls, date back to the Gardens' earliest days. The sheltered, landscaped grounds of the hold historic plant collections and a large number of significant trees, many dating from the nineteenth century. It also has an increasing number of important conservation collections of Tasmanian plants and the world's only Sub-Antarctic Plant House.
The Gardens are open 7 days a week, 365 days a year. The Gardens' Visitor Centre offers facilities and Botanical Gardens Visitor Centre and Restaurant services to make your visit even more enjoyable.
Location: The Queens Domain is approximately 2 km from the heart of Hobart off Tasman Hwy. Website
---
St David's Park: located on the site of St David's cemetery, St David's Park was laid out in 1926. The park contains numerous memorials, including the Anglesea Barracks Memorial Wall, Norfolk Islanders and Firtst Fleet convicts who came to Tasmania and were buried here. The gravestones and memorials in the park include those of Lieut. Governor David Collins who established the colony at Hobart; author and colonial secretary James Ebenezer Bicheno; Lachlan M Sorell, the infant son of Lt Governor Sorell; Sir John Eardley-Wilmot, Lieut. Governor in 1840s.
Location: Cnr Davey Street and sandy Bay Road, Hobart.
---
Franklin Square: a pleasant, small park in the centre of Hobart, diagonally opposite the Tasmanian Travel and Information Centre. A statue of Sir John Franklin stands at its centre. He was Governor of Van Diemen's Land from 1837 until 1843, and was also a polar explorer. He perished while trying to locate the North-West Passage.
Location: bounded by Macquarie, Davey and Elizabeth Streets, Hobart.
---
Inverawe Native Gardens and Nature Trails: an impressive display of over 6000 water wise, low maintenance plants on the shores of North West Bay.
The gardens were created primarily as a showcase for the natural flora of Tasmania. Plants have been placed in a semi formal landscaped design and walking paths give access to the vast array of plants in its two distinct areas - a natural woodlands remnant and a former tidal swamp that has yielded to rich, grassy flats. Rabbit Hill, at the northern end of the grasslands, affords views across the gardens down North West Bay to Bruny Island. Being a fringe habitat, where forest and pasture meet the shoreline, the wetlands and the tidal flats is an ideal place for bird watching. Entry fees apply.
Contact: (03) 6267 2020. Website. Location: 1565 Channel Highway, Margate. How to get there: take the Southern Outlet from Hobart, then join the B68 toward Margate. Take the Margate Train exit 1 km north of Margate. Park in the laneway. Entry to Inverawe is clearly marked. By bus, Metro Bus No. 93, 94, 96, 98.
One of Australia's best outdoor markets, Salamanca Market takes place every Saturday at Salamanca Place in Hobart. Set between graceful plane trees and the mellow sandstone facades of historic warehouses, Hobart's famous market at Salamanca Place attracts thousands of locals and visitors who come to enjoy the sights, sounds, flavours, action and colour of this weekly event.
Location: Salamanca Place, Hobart
---
Hobart Showground Sunday Market offers a wide range of stalls to browse, and takes place every Sunday. Choose from second hand electrical goods, beautiful glassware and ceramics, tools, quality restored furniture, books or other collectables. Visitors can outfit yourself from head to foot with second hand clothing and accessories or choose from a range of goods from new sunglasses, jewellery, crafts, lace, to home cooked cakes and chutneys.
Location: Cnr Brooker Highway and Howard Rd, Hobart
Zoos, Wildlife Sanctuaries
Bonorong Park Wildlife Centre: wildlife park featuring predominantly native Tasmanian animals, Bonorong Wildlife Conservation Centre specialises in wildlife conservation, education and animal care, particularly in the conservation of Tasmania's native species. Kangaroos, the Tasmanian devil, quolls, koalas and echidnas are among the animals which are displayed, most in their natural surroundings. The park allows visitors to feed Forester Kangaroos with complimentary food. Personalised keeper tours, which allow close viewing of animals, are available. Entry fees apply.
Contact: (03) 6268-1184. Website. Location: Briggs Rd, Brighton. How to get there: by car, drive north along Brooker Hwy to Bridgewater, proceed along Midlands Hwy, to Brighton, right into Andrew St, right into Briggs Rd.
Major annual events include the Hobart Christmas Pageant which sees the Hobart Central Business District come alive with thousands of spectators lining the route to watch the parade; and the annual Carols by the Bay.
The festive season continues with the annual Taste of Tasmania Festival, featuring eight days and nights of events and activities. Hobart's waterfront is filled with aromas, sights and sounds as we celebrate contemporary Tasmanian produce. Hobart Summer Festival is held at the same time.
Blooming Tasmania is a celebration of the State's diverse horticultural and botanical delights. It is a joy to watch not only the gardens distinct seasonal characteristics as they move through their annual cycle, but also the effects of this phenomenon on the broader landscape and the Tasmanian lifestyle. Blooming Tasmania is held in September.
Spring Tulip Festival is held in the Queens Domain, Hobart, every October. It's a weekend full of music, dance, food, fun, tulips and stunning displays of other spring colour with music, dance, fun and of course tulips. Since its inception in 1985, the Tulip Festival has grown into what is possibly Tasmania's foremost celebration of Spring.
Southern Vineyards White Wine Weekend, which celebrates the produce of the Huon Valley and districts wine region, is held over the October Long Weekend. Royal Hobart Show is conducted during the latter weeks of October. The Tasmanian Beerfest is held each November.
The world class Salamanca Market held each and every Saturday in historic Salamanca Place.
---
Sydney to Hobart Yacht Race: Each December super yachts charge through Sydney Heads as they take part in the Sydney to Hobart Yacht Race. Once through The Heads, they turn south knowing they are casting their fate to the might of the great Southern Ocean and the winds of the Roaring Forties. The 628 nautical mile course is described as one of the most gruelling ocean races in the world. Since 1945, this blue water classic has thrilled Australians, and thousands line Sydney Harbour or form farewell flotillas to cheer the departing yachties.
Days later, in Hobart, the excitement builds as news of who will be the first boat to arrive comes through. You could be one of the hundreds who head to Constitution Dock to welcome the weary crews. Then it is celebration time with the Taste of Tasmania food fair and the Hobart Summer Festival.
Wrest Point Hotel Casino: completed in 1973 as Australia's first casino, Wrest Point and has become a readily recognised Tasmanian landmark. Its revolving restaurant offers panoramic views of the city of Hobart.
Location: 410 Sandy Bay Road, Sandy Bay. Phone: (03) 6225 7091. Website
---
Antarctic Adventure Centre: Hobart has been the staging post for Antarctic expeditions since the early 1800s. To explore the Antarctic (without the hardship of going there!) visit the Antarctic Adventure Centre in Salamanca Place and the Australian Antarctic Division in Kingston. Hobart is a major world centre for work involving Antarctic and subantarctic regions and their oceans, and the site of the Australian Antarctic Division's headquarters. The Antarctic Adventure Centre has over fifty interactive exhibits dealing with Antarctica and Australia's presence there. More information
Location: Antarctic Adventure Centre, 2 Salamanca Place, Hobart. Phone (03) 6220 8220
---
Mount Nelson Lookout: Though not as well known or frequented as often as its higher and more famous neighbour, Mt. Wellington, Mt. Nelson is the perfect place to get an alternate bird's eye of Hobart and surrounds, particularly on the days when Mt. Wellington is shrouded and mist or snow, which is quite often. This lookout provides a dramatic panorama of the city even on days with relatively poor visibility. During the day a visitor can experience the beauty of the city, river and harbour and at night the city is studded with twinkling lights. Lunch or teas can be taken at the restaurant.
Contact: (03) 6230 8233. Location: Nelson Road, Mt. Nelson. How to get there: by car, travel south out of Hobart via Davey St and the Southern Outlet, take the Mt. Nelson exit at Tolmans Hill along Olinda Grove and on to the lookout at the end of Nelson Rd.
---
Tudor Court Model Village and Model Railway: Ten kilometres south of Hobart, at Margate, is the Tudor Court Model Village, an intricate village model. This miniature version of Old English village was created in 1957 by John Paletta, a polio sufferer with movement in only one hand. It was made from dental plaster, matchsticks & wire and took ten years to build. The church alone took two years to build, with 2,000 matchsticks being finely split to hold stained glass windows. On the same premises is German Model Train World. Built by Eric Sablowski, it is built around a replica of a German Village complete with tunnels, mountains, fair grounds.
Location: Brookfield Vineyard, 1640 Channel Highway, Margate. Ph: (03)6267 2880. Website
---
Alpenrail: one of the largest model railway layouts in Australia exhibiting such incredible craftsmanship to be rated as one of the top 5 models worldwide. This indoor village and model railway display places you in the Alps of Switzerland; you listen to Swiss music while gazing upon rivers, lakes and the magnificent scenery that can only be found in Switzerland. Some of the model represents a real area in Switzerland that has been recognized by countless visitors. The attraction also includes Wildwoods Gardens, which has a fairy garden theme. Admission includes entry to both attractions.
Location: 82 Abbotsfield Road, Clermont, opposite Abbotsfield Primary School. Phone: (03) 6249 3748. Website
Tasmanian Museum and Art Gallery: housing Tasmania's state art and historical artefacts collection. Tasmania's state museum and art gallery was established in the 1840s as the museum of the Royal Society of Tasmania. The buildings and site are of historical significance and include the first purpose built museum building dated 1863. The collections include Natural Sciences (Zoology, Botany, Geology), Applied Science, Humanities (Art, Decorative Arts, Costume, Social History, Indigenous Cultures, Numismatics, Photographs, Documents and Ephemera) and Library. The Tasmanian Museum and Art Gallery also includes the Tasmanian Herbarium. Free admission, except for some special exhibitions.
Contact: (03) 6211 4177; recorded information (03) 6211 4114. Website. Location: 40 Macquarie St, Hobart
---
Maritime Museum Tasmania: displaying Tasmania's rich maritime heritage. The Museum's collection includes historic items, paintings and ships models. The displays cover the exploits of early explorers, the whaling industry, stories of trading barges and ferries in the everyday life of days now gone, and the central role of sailing ships and steam ships in the export of apples, minerals and timber. Entry fees apply. The Museum operates 2-hour Port Walk guided walking tours which take in The Maritime Museum, Colonial Gallery (Tasmanian Museum and Art Gallery), Hunter Island, Victoria Dock, Constitution Dock and the ketch, May Queen, Mawson Place, Waterman's Dock, Salamanca Place and Abel Tasman Memorial (charges apply, bookings essential).
Contact: (03) 6234 1427. Website. Location: Carnegie House, 16 Argyle Street, Sullivans Cove, Hobart.
---
Allport Library and Museum of Fine Arts: Henry Allport bequeathed the contents of the Allport Library and Museum of Fine Arts to the people of Tasmania in 1965. Convict artists and the work of many colonial landscape artists are a feature of the collection. The Allport Library contains almost 6000 books and pamphlets. The Gallery presents several exhibitions a year showing artwork and other items from the collections. Disabled access available.
Location: State Library of Tasmania, Ground Floor, 91 Murray Street, Hobart. Contact: (03) 6233 7484. Website
---
John Elliott Classics Museum: displays a collection of approximately 800 Greek vases. The Museum's collection contains representative examples of the art and culture of ancient Egypt and Mesopotamia, Greece, Etruria and Rome. Collection is the realisation of the vision in 1954 of the then Professor of Classics, JR. Elliott, to create a collection which would both serve as a teaching adjunct to the courses in the Department of History and Classics and provide an exhibition of original antiquities accessible to all Tasmanians.
Contact: (03)6226 2235. Location: University of Tasmania, University Centre, Churchill Avenue, Hobart. How to get there: proceed south on either Lacquarie or Davey Streets, right into Antill St, then into Regent St and Churchill Ave. Website
---
MONA Museum of Old And New Art:

a museum and gallery housing an exquisite collection of antiquities. Located among vineyards on a private peninsula on the Derwent River, pieces from Africa, pre-Columbian Costa Rica (including some gold), Egypt and the Roman colonies are on display in a series of light-filled galleries. Guided tours are available each day at 11 am and 2 pm. Free admission.Contact: (03) 6277 9900. Website. 655 Main Road, Berriedale. How to get there: by car, drive north from Hobart on Brooker Hwy, take the Main Rd exit at Berriedale. A jetty provides private and charter access to the site and there is a fast catamaran service from the Hobart waterfront.
---
Tasmanian Transport Museum: historical items and memorabilia relating to Tasmania's transport history. The museum exhibits include railway locomotives, railmotors, carriages and wagons, trams, trolley buses, motor buses, stationary steam engines and many other items of historical interest. There is also a display of historical photographs and other small objects. Diesel hauled train trips are run at the museum twice a month, on the first and third Sunday. Entry fees apply.
Contact: 0428 386 843 or (03) 6272 7721. Website. Location: Anfield St, Glenorchy. How to get there: by car, north from Hobart on the Brooker Hwy, take the Elwick Rd, Glenorchy exit, right into Grove Rd, left into Anfield St; by bus, Metro Bus No. 15, 16.
---
Old Hobart Gaol: the Penitentiary Chapel Historic Site was built in the early 1830's according to the design of Colonial Architect and Civil Engineer John Lee Archer. Originally designed as a chapel for the growing convict population of Hobart Town, there was also the inclusion of 36 solitary confinement punishment cells, unlit and poorly ventilated, constructed beneath the chapel floor. This chapel served the adjoining Prisoners Barracks which later became the Hobart Gaol. Today the Penitentiary Chapel complex remains a fascinating insight into Colonial Tasmania. Day tours and evening ghost tours available.
Location: Cnr Campbell and Brisbane Streets, Hobart. Phone: (03) 6231 0911. Website
---
Narryna Heritage Museum: Narryna is a handsome Georgian house set in a picturesque, old-world setting. The museum houses many unique and rare items from Tasmania's colonial past. Each room contains items that represent life for a wealthy merchant in Hobart, as well as showcasing many items complementing the domestic duties that were carried out by servants. Narryna also has one of the largest costume collections in the Southern Hemisphere. Costumes are rotated regularly throughout the museum and represent the clothes worn by women of the period. We invite you to come and visit Narryna and experience what life was like for a wealthy merchant of colonial Tasmania. Entry fees apply.
Location: 103 Hampden Road, Battery Point. Phone (03) 6234 2791. Website
The Huon Valley:

No trip to Hobart and Southern Tasmania is complete without a drive along the Huon Trail. Taking in the the fruit growing district of the Huon River valley, Port Huon, Bruny Island and the vast expanse of the D'Entrecasteaux Channel, the Huon Trail incorporates busy towns and sleepy villages, serene boutique farms and World Heritage Wilderness areas accessed by roads that wind through a world of extensive and beautiful valleys and waterways. More >>
Tasman Peninsula: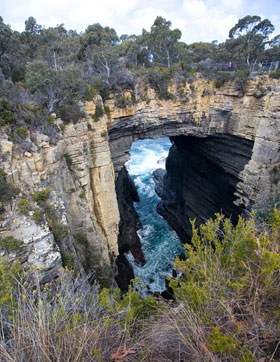 An extremely scenic part of Tasmania that dominated by rolling pastures and heavily timbered hills and surrounded by dramatic coastline of sheer cliffs, towering rocky outcrops, sheltered bays and sea caves. Walking tracks and kayaks give access to the area's more isolated corners. And if that isn't enough to entice you to jump on a plane to Tassie and go see it for yourself, there's the added bonus of the peninsula being steeped in Australia's convict history; it contains some of the country's most important convict heritage sites, the jewel in the crown being the Port Athur settlement. More >>

The River Derwent near New Norfolk
New Norfolk and the Derwent Valley
A picture perfect Georgian town set idylically on the banks of the River Derwent. New Norfolk is centrally located and is a perfect base from which to explore the surrounding areas. Mount Field National Park with its rugged beauty and seclusion is only 30 minutes away. New Norfolk is a recommended day trip destination from Hobart. The stretch of Lyell Highway between Bridgewater and New Norfolk is particulary pretty, especially in the early morning with the river is calm and the reflection on the water of the hills is mirror-like. More >>
Heritage Highway Drive

The Heritage Highway follows the original inland road from Hobart to Launceston that was pioneered by Tasmania's early European settlers and built by convict road gangs in the 1810s. Aptly named, the Highway passes through some of the most complete and well preserved Georgian era villages in the world today in which the finest examples of colonial architecture and convict craftsmanship in Australia can be seen and appreciated. More >>